The First and Only Weekly Online Fanzine Devoted to the Life and Works of Edgar Rice Burroughs
Since 1996 ~ Over 15,000 Webpages in Archive
Volume 0466
ERB ECLECTICA 2000.10.20
MOTES & QUOTES No. 32
Part of the ERBzine Eclectica Series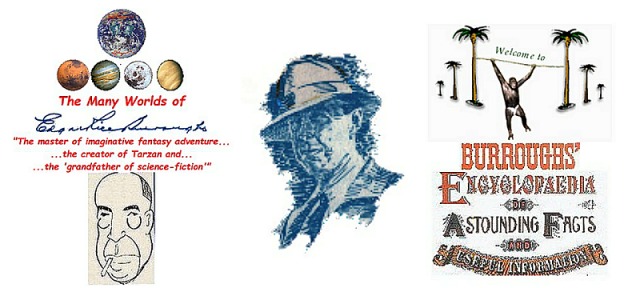 Note: The Links shared here were posted in October 2000
Some of the off-site, non-ERBzine links may be no longer active.
NOTE:
Before Social Media There Was ERBzine Eclectica that we debuted in January 2000.
Our ERB Motes & Quotes Eclectica was a weekly showcase for all.
This was one of many Webpages that were featured in ERBzine Weekly Webzine
-- an online fanzine that we have published every week since 1996.
the latest ERB news, releases, readers letters, and a boundless collection of items
of interest to Burroughs and SF/Adventure Fans.
Images were smaller then as the Internet and computer systems were slower
-- also server storage was much more expensive.
Sadly, some of the off-site non-ERBzine links we've shared are no longer active
- that, we have no control over but they are left here as a curiosity or reference.

PERUSING OUR LIBRARY



SNOWS OF OLYMPUS
A Garden on Mars:
The illustrated story of
man's colonization of Mars
1994: W.W. Norton & Company:
New York ~ London
by Arthur C. Clarke

Page 18: "Perhaps even more widely read than The War of the Worlds were the eleven novels, beginning with A Princess of Mars (1912-1917), that Edgar Rice Burroughs set on a planet which clearly owed much to Lowell's speculations. Yet Burroughs added one brilliant touch which, as far as I know, was original: the 'atmosphere machine' which alone made life possible on his exotic but worn-out Barsoom. This was indeed a remarkable anticipation of terraforming."

Page 20: Clarke quotes JPL Director Bruce Murray: "Lowell's legacy is still plaguing us... optimism about Mars ... somehow has extended and endured beyond the realm of science to so grab hold of man's emotions and thoughts that it has actually distorted scientific opinion about it. So it isn't just the popular mind that has been misled, but the scientific mind as well... We want Mars to be like Earth.... We are so captive to Edgar Rice Burroughs and Lowell that the observations are going to have to beat us over the head and tell us the answer in spite of ourselves..."

Page 21: "It now appears that, by one of those ironies not uncommon in science, the earlier Mariner results caused the pendulum to swing too far to the other extreme -- away from the hopelessly romantic view of Mars. For the few years from 1965 to 1972 Mars was a cosmic fossil like the Moon -- no, not even a fossil, because it could never have known life. The depressing image of a cratered, desiccated wilderness was about as far removed from the Lowell-Burroughs fantasy as it was possible to get."
... but "As the Mariner 9 evidence started to accumulate early in 1972, many scientists were literally unable to believe their eyes. Mars has the most spectacular scenery ever discovered...."

Page 42: "In one sense, though, there are already people on Mars. As soon as good maps of the planet were available form the Mariner and Viking missions, the hundreds of newly revealed features had to be given names. . . . Three of the greatest science-fiction writers are already there: H. G. Wells, Jules Verne and their German counterpart Kurd Lasswitz, and so is Edgar Rice Burroughs."
---
ERB GALLERY
Honey (c. 1934)
by
John Coleman Burroughs

A lithograph (28/30 - 14 3/4 x 10 1/4) printed in the lithography studio of Lynton Kistler - a well-known figure in the Western art community since the early 1930s. The print is signed in stone - monogrammed blindstamp from a '40s and '50s printing. This 1930 portrait is possibly of JCB's first wife, Jane Ralston Burroughs, based on one of the photographs taken of her as a child.

Featured in
ERBzine 334
The introduction to our 20-webpage long
Tribute to John Coleman Burroughs
Featuring Contributors:
Mary Burroughs
Jim Thompson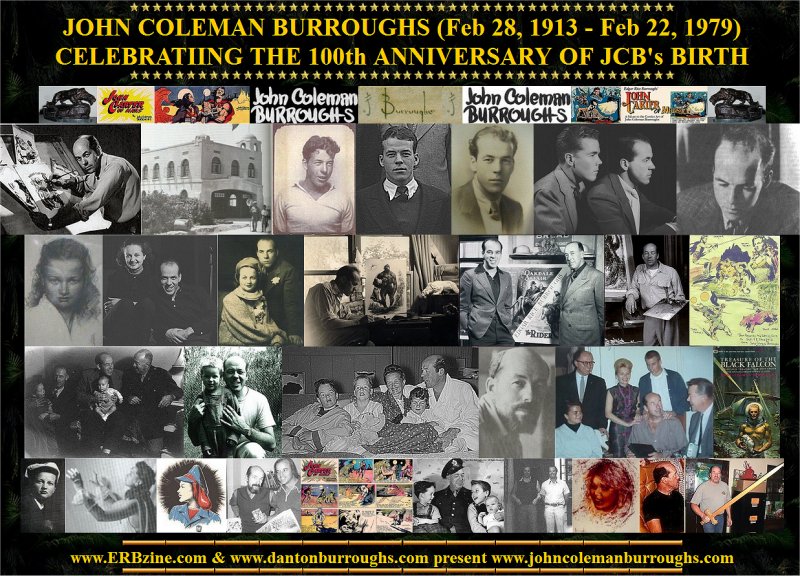 Click for full size
---
Marker Study of Dejah Thoris
for
Jeff Doten's
"A Princess of Mars"
movie poster painting

"The canvas is in the studio right now, but so are several other projects, so this one is something that I work on around the others. I'm thrilled to be starting it though, this is something I've been wanting to do for years. If you haven't already, check out my Barsoom Gallery and the color study for the movie poster at my home site."

~ Jeff

Jeff Doten's Illustration Studio
www.cadvision.com/dotenj/studio.htm

See more of Jeff's work in ERBzine 0438
where he has illustrated
Fredrik Ekman's "Study of Martian Fashion"
DRESSED TO KILL
OKAR: A NEW CANADIAN ERB CHAPTER
Jeff Doten, Calgary artist and Edgar Rice Burroughs fan, is putting together a Canadian ERB fan network: OKAR. The intent is to link fans across the nation, make new friends and to provide Canucks a chance to get together and natter about ERB.
Check out Jeff's OKAR website at: www.cadvision.com/dotenj/OKAR.htm and enjoy all the features and original art. While there you'll want to wander through Jeff's Illustration Studio: www.cadvision.com/dotenj/studio.htm
---


ERB TRAVELLER REPORT by Laurence Dunn
The October 5th edition of The Wharf (a local London newspaper) has the following report...

The sparkle of Disney magic returns to London Arena in this year's ice show spectacular - Disney On Ice Jungle Adventures. The show combines three of the most popular movies - classic 'Jungle Book' and modern smash hits 'The Lion King' and 'Tarzan' - to provide more than two hours of fantastic family entertainment. After more than a year of preparation, the all-new ice show is one of the best yet, with typical Disney humour, top class figure skating routines, and show stopping stunts. From the opening chant of 'The Lion King', character Rafiki introduces all the favourite characters from 'The Jungle Book', including the four vultures, now updated as a parody of the Backstreet Boys. Everyone has their own Disney favourites, but the Tarzan and Jane aerial acrobatics routine on a free hanging rope is undoubtedly one of the highlights of the evening. Skaters Stephane Morel (Tarzan) and Robin Johnstone (Jane) had to undergo six weeks of intensive circus training in preperation for the theatrical feat. Producer Kenneth Feld, said, "This is one of our best shows yet, and took a lot of preparation, but it has really paid off."

The show opens in London on October 19th. I'll be there!

---


October 19, 2000 Report
I found the two-hour ice spectacular a thoroughly enjoyable evening as they put together Jungle Book, Tarzan, and the Lion King. The first two dominated the time slot with Lion King only having perhaps 15 - 20 minutes given to telling the story. All three follow the films closely, albeit shorter versions. Tarzan begins when he is an adult and the only switch from the film is when Kala shows Tarzan his origins after Kerchak has been killed. The finale has all three groups on the ice at the same time giving the audience the opportunity to applaud the skaters. If this ever turns up in the U.S., take the time to go and see it - you won't be disappointed.

See ERBzine 0439 for Laurence's Greystoke Castle '88 Report
and
In two weeks: The launch of the Official Laurence Dunn: ERB Traveller Website

---


MAILSTROM
I was eight years old and bored in the backseat of the chrysler, when I picked up my dad's purchase of "The Cave Girl." Ohio to Illinois, I was in heaven. It was the first paperback I'd read and when I asked how to pronounce b-r-e-a-s-t it was almost my last. Luckily, dad said," Let her read it," and Ralph and Nandara became good friends. I still have my comic collection of Tarzans.
Smiles, Denise
October 3, 2000

---
APE LIFE BEFORE TARZAN
CAPTURED BY APES by Harry Prentice
286 pages ~ © 1892 A.L.Burt, Publishers

In his book, EDGAR RICE BURROUGHS: MASTER OF ADVENTURE, Richard Lupoff notes:

"In 1888 an author long since forgotten, Harry Prentice, produced a book called CAPTURED BY APES: or HOW PHILIP GARLAND BECAME KING OF APELAND. In it, Garland is shipwrecked... on an island... inhabited by simians."

Later Prentice produced CAPTURED BY ZULUS (two white boys in Africa). Edgar Rice Burroughs, born in 1875, would have been just the right age to have read these books at 13-15 years old. Could CAPTURED BY APES have influenced him to write TARZAN? And could the ZULU book have influenced the TARZAN TWINS?
IT'S A BOY!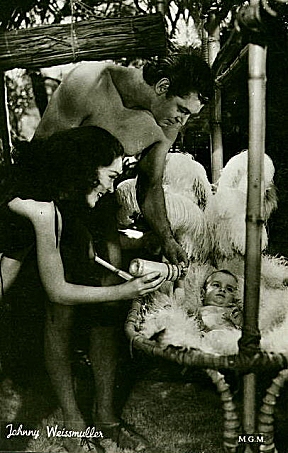 RARE PULPS
Weekly TARZAN - PULP FICTION booklets which were published in
Hebrew by Hakarnaf Publishers during the 1950s in Tel Aviv.
On each of the covers of the booklets there is a picture of a
Hollywood Tarzan: Weismiller, Barker, Scott and others.
We have just added 8 of these covers to our
PULP BIBLIOGRAPHY: BEYOND 50 Section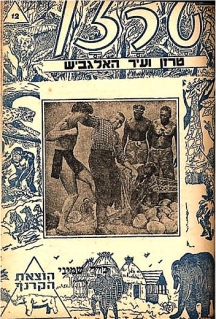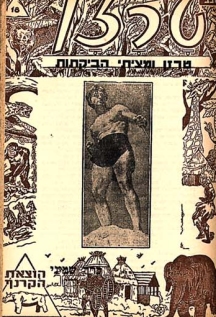 ---
CARRYING THE TORCH
First they brought you:
Edgar Rice Burroughs
The Exhaustive Scholar's and Collector's Descriptive Bibliography of
American Periodical, Hardcover, Paperback, and Reprint Editions
by Robert B. Zeuschner
and then...
The Burroughs Cyclopædia
Characters, Places, Fauna, Flora, Technologies, Languages, Ideas and
Terminologies Found in the Works of Edgar Rice Burroughs
by Clark A. Brady
And now... New from McFarland Publishers:
The Tarzan Novels of Edgar Rice Burroughs
An Illustrated Reader's Guide
ISBN: 0-7864-0825-1
[320]pp. illustrations, appendices, index $45 illustrated case binding 2001
by
David A. Ullery
Writer and illustrator living in Highland, Utah
McFarland Promo Blurb:
Those who recognize that the original Tarzan is a literary creation of Edgar Rice Burroughs—and not an animated Disney hero who surfs through the jungle and not Johnny Weismuller in a cheaply made film—understand that the exploits of Tarzan are best explored through the magical medium of the printed word. Readers can experience a journey that lasts through 24 books and wanders not only into the jungle depths but farther down through the Earth's crust into the savage prehistoric land of Pellucidar. This book serves as a literary guide to all the Tarzan novels. Section One provides an overview of Tarzan the character, including a list of the many names and titles used by and given to Tarzan; Section Two covers the mythical language used in the novels, including a dictionary of the ape language; Section Three enumerates the lost cities, civilizations, tribes, peoples and religions discovered by Tarzan, detailing their religious rites and locations; Section Four describes the characters (human and otherwise) found in the novels; and Section Five gives summaries of all 24 books that comprise the Burroughs canon. The book also includes over thirty illustrations from the series' various printings.

Submitted by Frank Blisard
See the
Official Frank Blisard Website
launched in this week's ERBzine 0457
http://www.erbzine.com/mag4/0457.html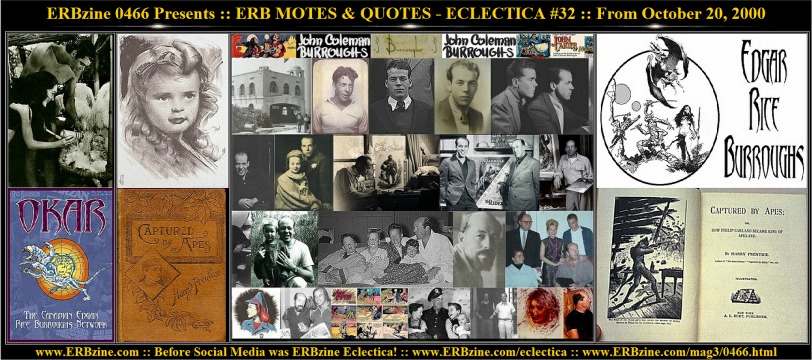 Click for full size



Volume 0466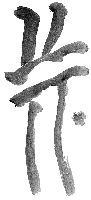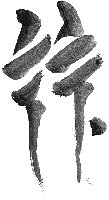 BILL HILLMAN
Visit our thousands of other sites at:
BILL and SUE-ON HILLMAN ECLECTIC STUDIO
ERB Text, ERB Images and Tarzan® are ©Edgar Rice Burroughs, Inc.- All Rights Reserved.
All Original Work ©1996-2004/2010/2020 by Bill Hillman and/or Contributing Authors/Owners
No part of this web site may be reproduced without permission from the respective owners.