First and Only Weekly Online Fanzine Devoted to the Life and Works of Edgar Rice Burroughs
Since 1996 ~ Over 10,000 Webpages and Webzines in Archive
Volume 0401



135th Birthday for Edgar Rice Burroughs
September 1, 1875 - March 19th, 1950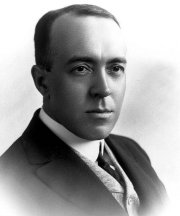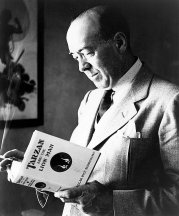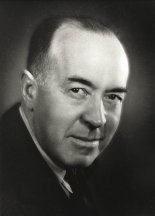 click


The Writers Almanac with Garrison Keillor
Writers Almanac Public Radio.org ~ September 1, 2008

It's the birthday of one of the most popular pulp fiction writers in American history, Edgar Rice Burroughs, (books by this author) born in Chicago (1875). He had read Darwin's book Descent of Man back in 1899, and he was fascinated by the idea that human beings were related to apes. He began to wonder what might happen if a child from an excessively noble, well-bred family were somehow left in the jungle to be raised by apes. The result was his story "Tarzan of the Apes," which filled an entire issue of All-Story magazine in October of 1912.

He went on to write all kinds of stories, from science fiction to adventure, but Tarzan was his most popular character and one of the most widely recognized fictional characters of all time. When the first Tarzan movie came out in 1918, as a silent film, it was one of the first movies ever to gross more than $1 million. Tarzan was also one of the first fictional characters to become an icon for mass-market merchandise. There were Tarzan bathing suits, Tarzan chewing gum, Tarzan ice cream, even Tarzan bread. There have since been more than forty Tarzan movies, as well as comic strips, radio serials, and TV shows.

For the first half of the twentieth century, Burroughs was the most widely read author in America. His novels have since sold more than 100 million copies.


PHOTO GALLERY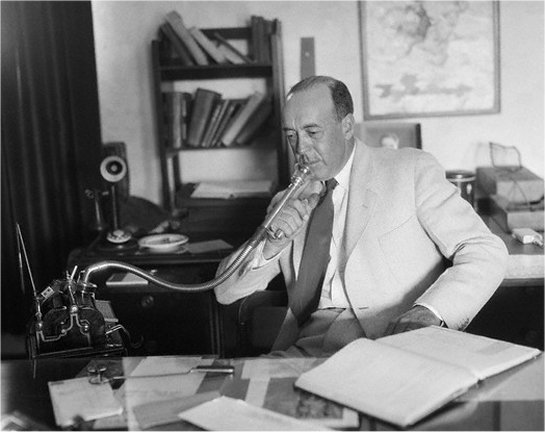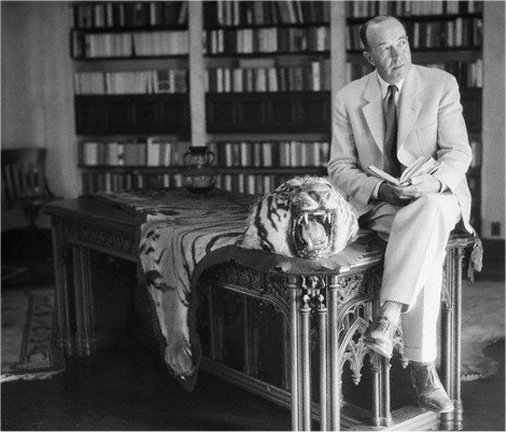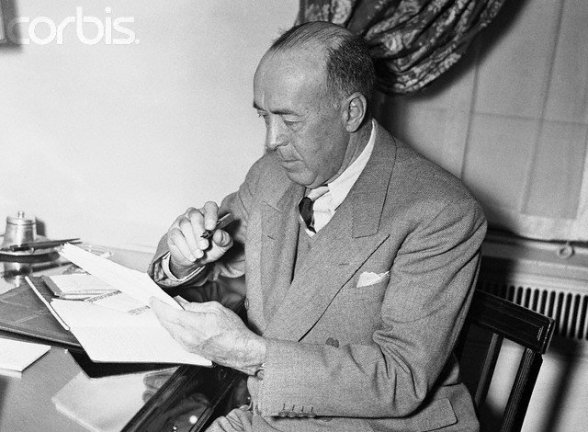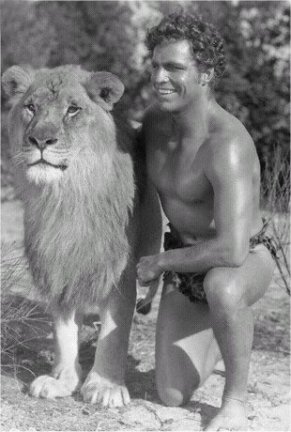 Caught in our Net on the Web


'Tarzan' chameleon discovered in Madagascar
mongabay.com ~ August 31, 2010
Scientists have discovered a new species of chameleon in a small block of rainforest in Madagascar. The color-changing lizard, which is described in the current issue of Salamandra Journal, is named Calumma Tarzan. The chameleon is typically yellow or green and adopts an attractive striped pattern when stressed.

The Tarzan chameleon was discovered by a team of German and Malagasy researchers, who say they chose a "celebrity name" that would "promote protection for this last patch of forest" instead of naming the species after themselves, as is convention. They recommend it be listed as "critically endangered" under IUCN Red List criteria for endangered species due to its restricted range of about 4 square miles and threats from deforestation.

Madagascar is home to about 40 percent of the world's known chameleon species, including the largest and the smallest kids. Nine new species of Calumma, the genus under which Tarzan's chameleon is classified, have been described in the last 15 years, according to the authors. Over the past half century, Madagacar's forests have been greatly diminished by subsistence rice cultivation, fuelwood collection, charcoal production, logging, and fires set for cattle grazing. Recent political instability has ushered in widespread illegal logging of the country's rainforest parks for precious timber, putting rare and endemic species at risk.

Female Calumma tarzan with relaxed (top)
and stress coloration (two forms-bottom).


Male Calumma tarzan with relaxed (top)
and stress coloration (bottom).

John Carter and Tars Tarkas model on display at ComicCon 2010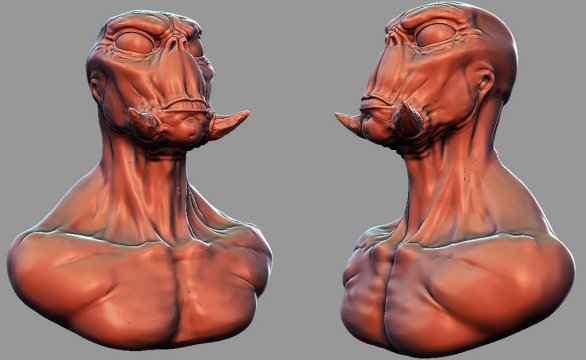 Thark on the Web
Moab and Movies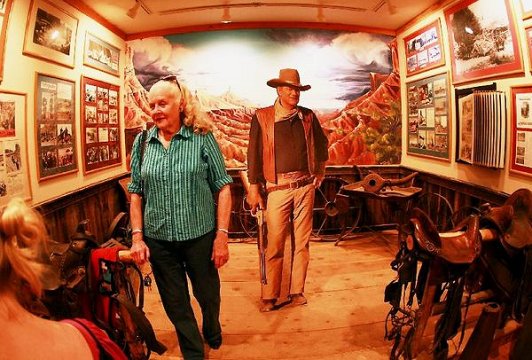 Moab to Monument Valley Film Commission Museum and Library in the Red Cliffs Lodge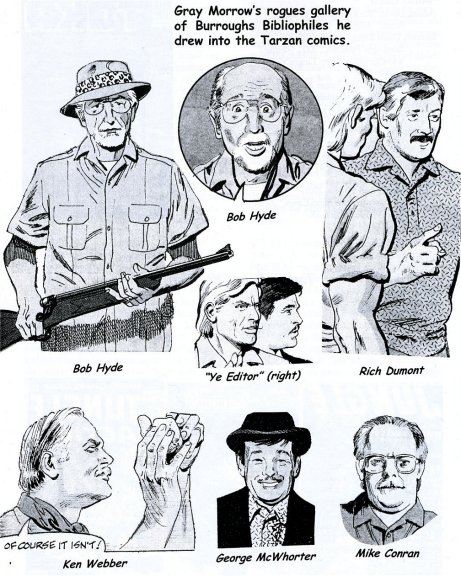 Gray Morrow art from Burroughs Bulletin No. 49

ON THE HORIZON

Tarzan!
by Pascal Dibie


An exploration of the legendary hero's journey through pop culture. Apeman. Lord of the Jungle. Eco-warrior. Whatever you call him, Tarzan is, above all else, a legend. First created by Edgar Rice Burroughs in Tarzan of the Apes in 1912, Tarzan was more than a European orphan adopted by gorillas in darkest Africa. He quickly became a legendary opponent of colonialism, a valiant symbol of equality, a dangerous yet undeniably attractive lover, and a seemingly immortal hero to us all. Tarzan, who has starred in countless books, movies, radio and television programs, and in recent years Broadway productions and video games—not to mention hundreds of toys, games, and ephemera—holds a unique place in popular culture and in society. As times changed, so did Tarzan and his world: changing mores demanded Jane wear more clothing; developing ethnic tolerances shaped Tarzan's relationship with his African friends and enemies; and people began to see Tarzan's thoughtful coexistence with nature and his animal brethren as a bastion of environmentalism. Pascal Dibie, along with other scholars, shine's a critical yet celebratory light on Tarzan and Burroughs, and explores the relationship between the character and his times. An amazing retrospective of the legendary character, Tarzan! is filled with scenes from the many films, including photographs of stars such as Johnny Weissmuller, Buster Crabbe, Christopher Lambert, Maureen O'Hara, and of course, Cheetah, in addition to classic comic strips, vintage book jackets, retro Viewmaster scenes, and art created especially for this book.

Pascal Dibie is an author and ethnologist teaching at the University of Paris.
Pub Date: October 2010 ~ Format: Hardcover
Category: Art - Collections, Catalogs, Exhibitions
US Price: $30.00 ~ ISBN: 978-0-8478-3515-7 (0-8478-3515-4)
Publisher: Skira Rizzoli ~ Trim Size: 9-1/2 x 10-3/4

GALLERY OF COLLECTIBLES

Tarzan and the Dagomba Treasure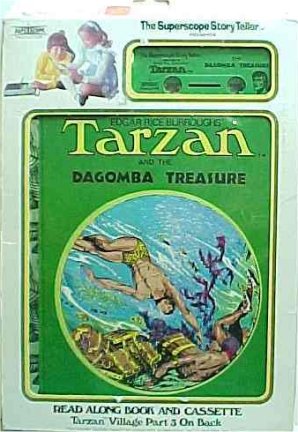 .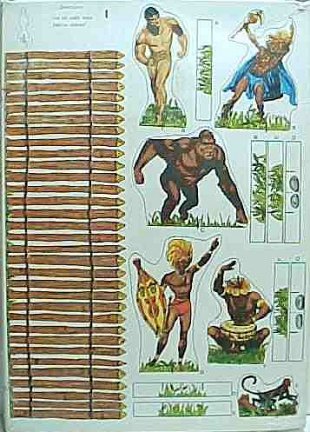 A Tarzan Superscope Story Tell set issued in 1978. The boxed set contains a book and cassette tape. The book follows cassette, word for word. The backside of each box contains full-color cut-outs of Tarzan and other characters, animals and scenery. Each box in the series is different. Based on illustrations by Hogarth, designed and adapted by Jeff Skelley with story assistance by Paul Stein.
.
| | |
| --- | --- |
| | |
| Mattel TARZAN COMIC GAME ~ 1971 | TARZAN Magic Slate ~ 1968 Watkins-Strathmore #4445 |
.
JOHNNY WEISSMULLER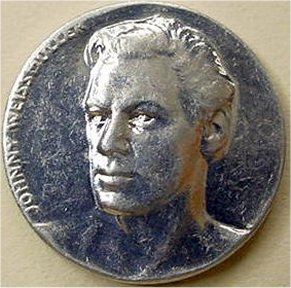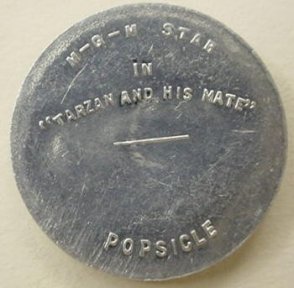 A Tarzan aluminum premium coin the size of a quarter from Popsicle.
The front side has a raised portrait of Johnny Weissmuller while
the reverse says M-G-M STAR IN "TARZAN AND HIS MATE" and POPSICLE

.
A Johnny Weissmuller and Johnny Sheffield
full-colour Tarzan postcard from Holland
~ Filmphoto Service, circa 1939 ~ size 5" by 3 ½"

A program from Billy Rose's AQUACADE at the Great Lakes Exposition 1937.
34 pages, large format. It features an article with two photos of Johnny Weissmuller
as well as a centerfold with him and Eleanor Holm wearing her Olympic Swim suit.
.
Tarzan plaster figurine 4.75" tall
Fould's Macaroni premium 1939

Midnite, Sept. 10, 1932 ticket ~ SIGNAL TARZAN RADIO PREMIER
Fox Pantages theater ~ 6233 Hollywood Avenue

Tarzan store sign for
5 Cent Custard Cup


STUDLEY BURROUGHS ART
Bob Thomas has just consigned a rare Studley Burroughs painting to Morphy Auction
This is an original, large advertising painting for Taystee Bread, featuring a dynamic image of Uncle Sam.
The painting is about five feet long, and is quite vibrant in color.
The painting will be sold in October,
but Gary Metz, Morphy's advertising expert, may be contacted for additional information.
| | |
| --- | --- |
| From the collection of Bob Thomas | |
The ERBzine Tribute to
Studley Oldham Burroughs
is featured at: ERBzine 0053
Looking for information on an R. Manning picture
"I was given this 1959 painting/ink drawing by R. Manning.
Do you think it's by Russ Manning?
I see that he did a lot of comic stuff but I think this could be one of his … what do you think?
I would appreciate any help or direction in finding out about this piece of art." ~ Barbara Toothaker
The ERBzine Tribute to
Russ Manning
is featured at: ERBzine 0830
From



tarzana.ca
The Fantastic Worlds of Edgar Rice Burroughs
| | | | |
| --- | --- | --- | --- |
| Tarzan.com | ERBzine.com | DantonBurroughs.com | Tarzan.org |
| BurroughsBibliophiles.com | JohnColemanBurroughs.com | Tarzan.com/tarzine | JohnCarterOfMars.ca |
| erbzine.com/edgarriceburroughs | Weekly Webzine | Weekly Webzine | Pellucidar.org |


BILL HILLMAN: Editor and Webmaster
BILL & SUE-ON HILLMAN ECLECTIC STUDIO
ERB Text, ERB Images and Tarzan® are ©Edgar Rice Burroughs, Inc.- All Rights Reserved.
All Original Work ©1996-2010 by Bill Hillman and/or Contributing Authors/Owners
No part of this web site may be reproduced without permission from the respective owners.