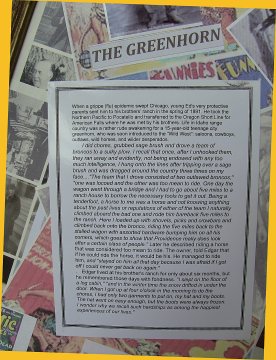 When a grippe (flu) epidemic swept Chicago, young Ed's very protective parents sent him to his brothers' ranch in the spring of 1891. He took the Northern Pacific to Pocatello and transferred to the Oregon Short Line for American Falls where he was met by his brothers. Life in Idaho range country was a rather rude awakening for a 15-year-old teenage city greenhorn, who was soon introduced to the "Wild West": saloons, cowboys, outlaws, wild horses, and wilder desperadoes.

"I did chores, grubbed sage brush and drove a team of broncos to a sulky plow. I recall that once, after I unhooked them, they ran away and evidently,, not being endowed with any too much intelligence, I hung onto the lines after tripping over a sage brush and was dragged around the country three times on my face. . . " "The team that I drove consisted of two outlawed broncos;" "one was locoed and the other was too mean to ride. One day the wagon went through a bridge and I had to go about five miles to a ranch house to borrow the necessary tools to get it out. Being a tenderfoot, a horse to me was a horse and not knowing anything about the past lives or reputations of either of the team I naturally climbed aboard the bad one and rode him bareback five miles to the ranch. Here I loaded up with shovels, picks and crowbars and climbed back onto the bronco, riding the five miles back to the stalled wagon with assorted hardware bumping him on all his corners, which goes to show that Providence really does look after a certain class of people."

Later he described riding a horse that was considered too mean to ride. The owner, told Edgar that if he cold ride the horse, it would be his. He managed to ride him and "stayed on him all that day because I was afraid if I got off I could never get back on again."

Edgar lived at his brothers' ranch for only about six months, but he remembered those days with fondness. "I slept on the floor of a log cabin," "and in the winter time the snow drifted in under the door. When I got up at four o'clock in the morning to do the chores, I had only two garments to put on, my had and my boots. The hat went on easy enough, but the boots were always frozen. I wonder why we recall such hardships as among the happiest experiences of our lives."