Official Edgar Rice Burroughs Tribute and Weekly Webzine Site
Since 1996 ~ Over 10,000 Web Pages in Archive
Volume 3608

DEVELOPMENT OF PAGE 17
Rob Hughes: Script ~ Michael Kaluta: Layout ~ Thomas Yeates: Pencils and Inks
Colors by Thomas Yeates and Lori Almeida ~ Letters by Steve Dutro
.
Kaluta Layout and Notes


Yeates Pencil Sketch


Michael Kaluta's Notes for Page 17

Pnl 1: Richard queries Simon, Simon's body language says "it's out of my hands",
meaning it's time for Simon to exit the gardens.
Pnl 2: 3/4 down shot as Simon makes his Farewell To Maud bow...
Richard moves toward Simon.
(Somewhere in these and earlier garden pages we should show the Gardener
we'll see at the postern gate, just for story continuity...
he can appear in the background in two or more panels
and not be really noticed until he becomes a player...)
Pnl 3: Large: either a half-page bleed or just a large panel with pnls 1 and 2 inset.
Simon on one knee gives Richard an It's All Right hug
Pnl 4: Small Panel with Simon's last words...
neither Richard nor Maud is in this little panel
Simon a silhouette WAY in the background,
Richard in mid panel with his ball, Maud up close to us:
she can be in shadow or as I've suggested, full sunlight.
.
ROB HUGHES ADAPTATION AND SCRIPT
PAGE 17

---

Panel 1

---

Young Richard looks up at Simon as if silently asking him what he should do. Simon smiles down at him.
SIMON: Yes. Tis time I take my leave.
YOUNG PRINCE RICHARD: Ah.

---

Panel 2

---

Simon and Lady Maud both make a parting bow to each other.
LADY MAUD: My Lord, Simon.
SIMON: My Lady.

---

Panel 3 Large

---

Richard runs up to Simon and hugs him as if his very life depended upon it.
SIMON: See you soon.
YOUNG PRINCE RICHARD: Promise?

---

Panel 4

---

Simon bows to Richard.
SIMON: I Promise, my prince.

---

Panel 5

---

Turning to Lady Maud, the lad takes out a small ball from his tunic and points over at a small bush near them by the tower wall.
YOUNG PRINCE RICHARD: Stand you there, Lady Maud, by yonder bush. I would play at toss.
.
| | |
| --- | --- |
| Yeates B/W | Yeates Colour |
.
Finished Page 17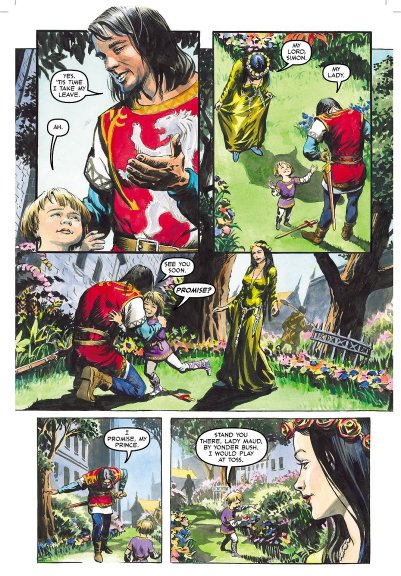 .Click for full page
.
BACK TO
THE PRINCE INTRODUCTION





BILL HILLMAN: Editor and Webmaster
BILL AND SUE-ON HILLMAN ECLECTIC STUDIO
ERB Text, ERB Images and Tarzan® are ©Edgar Rice Burroughs, Inc.- All Rights Reserved.
All Original Work ©1996-2011 by Bill Hillman and/or Contributing Authors/Owners
No part of this web site may be reproduced without permission from the respective owners.