Official Edgar Rice Burroughs Tribute and Weekly Webzine Site
Since 1996 ~ Over 10,000 Web Pages in Archive
Volume 3604

DEVELOPMENT OF PAGE 13
Rob Hughes: Script ~ Michael Kaluta: Layout ~ Thomas Yeates: Pencils and Inks
Colors by Thomas Yeates and Lori Almeida ~ Letters by Steve Dutro
.
Kaluta Layout and Notes


Yeates Pencil Sketch


Michael Kaluta's Notes for Page 13

Pnl 1, as described
Pnl 2, looking up past fighting knights toward Simon and Richard looking down.
I've moved the pnl 3 word balloons to panl 2
Pnl 3... After Simon's Word Ballon, about Ah, I see add First word balloon from pnl 4
(Were you and daddy fighting...
to Richard's little figure, then a second balloon to Simon below,
just above or even partly crossing over the inset panel
Pnl 4: Inset Panel: Richard's face: balloon: "Why?"
Panel 5 Simon with small part of Richard's face in the corner:
Big Speech Balloon and young richards answer
Pnl 6 CU Simon's face
.
ROB HUGHES ADAPTATION AND SCRIPT
Page 13


---

Panel 1

---

Young Richard pulling Simon by his sur-coat to follow him.SIMON: How fares my favorite royal nephew on this gloriously fine day?
YOUNG PRINCE RICHARD: Come watch the dancing Bone-Men with me.
FATHER SUPERIOR (V.O.)

---

Panel 2

---

Simon and Richard looking off panel.
SIMON: Dancing Bone-Men?
YOUNG PRINCE RICHARD: Yes, the Bone-Men. Bone Men!
SIMON: Ah, yes. I see what you mean. What an extraordinary imagination you have, my young prince.

---

Panel 3

---

Richard excitedly points to the area where the armored knights, with visors lowered, are competing with one another.
They have the appearance of medieval armor come to life, without any semblance of actual bodies within them: the dancing Bone-Men.
Close-up on Young Richard looking up at Simon.
OTS Simon.
YOUNG PRINCE RICHARD: Were you and daddy fighting again?
SIMON: (Sadly) Yes.

---

Panel 4

---

Insert (Close-up Richard.)
YOUNG PRINCE RICHARD: Why?

---

Panel 5

---

OTS Young Richard looking up at Simon (MCU Simon).
SIMON: Because...sometimes, powerful men do not always think alike. They choose to walk down different paths, which they believe will lead to the same desired goal.
(2nd balloon): Do you understand?

---

Panel 6

---

(POV Simon) looking down at a puzzled Young Richard.
YOUNG PRINCE RICHARD: No.
(2nd balloon): I donít believe I do.

---

Panel 7

---

(Long Shot) Simon and Richard watching armored knights fighting.
SIMON: Sigh.
(2nd balloon): Iím not sure I do either.
SFX
WACK
.
| | |
| --- | --- |
| Yeates B/W | Yeates Colour |
.
Finished Page 13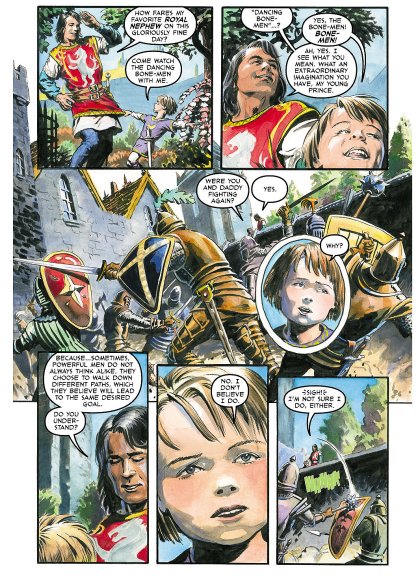 .Click for full page
.
BACK TO
THE PRINCE INTRODUCTION





BILL HILLMAN: Editor and Webmaster
BILL AND SUE-ON HILLMAN ECLECTIC STUDIO
ERB Text, ERB Images and Tarzan® are ©Edgar Rice Burroughs, Inc.- All Rights Reserved.
All Original Work ©1996-2011 by Bill Hillman and/or Contributing Authors/Owners
No part of this web site may be reproduced without permission from the respective owners.