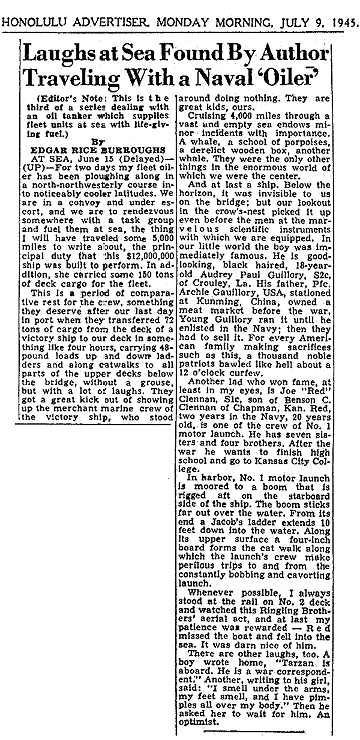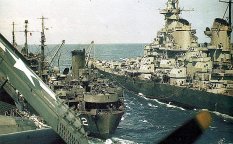 USS SHANGRI LA (CV 38),
USS CAHABA (AO 82),
and USS IOWA (BB 61)
Third Fleet, Western Pacific, 1945.
3. Laughs at Sea Found by Author
Traveling With a Naval "Oiler"
Honolulu Advertiser ~ July 9, 1945
(Editor's Note: This is the third of a series dealing with an oil tanker
which supplies fleet units at sea with life-giving fuel.)
by
EDGAR RICE BURROUGHS

AT SEA, June 15 (Delayed) - (UP) - For two days my fleet oiler has been ploughing along in a north-northwesterly course into noticeably cooler latitudes. We are in a convoy and under escort, and we are to rendezvous somewhere with a task group and fuel them at sea, the thing I will have traveled some 5,000 miles to write about, the principal duty that this $12,000,000 ship was built to perform. In addition, she carried some 150 tons of deck cargo for the fleet.

This is a period of comparative rest for the crew, something they deserve after our last day in port when they transferred 72 tons of cargo from the deck of a victory ship to our deck in something like four hours, carrying 48-pound loads up and down ladders and along catwalks to all parts of the upper decks below the bridge, without a grouse, but with a lot of laughs. They got a great kick out of showing up the merchant marine crew of the victory ship, who stood around doing nothing. They are great kids, ours.

Cruising 4,000 miles through a vast and empty sea endows minor incidents with importance. A whale, a school of porpoises, a derelict wooden box, another whale. They were the only other things in the enormous world of which we were the center.

And at last a ship. Below the horizon, it was invisible to us on the bridge; but our lookout in the crow's-nest picked it up even before the men at the marvelous scientific instruments with which we are equipped. In our little world the boy was immediately famous. He is good-looking black haired, 18-year-old Audrey Paul Guillory, S2c, of Crouley, La. His father, Pfc. Archie Gauillory, USA, stationed at Kunming, China, owned a meat market before the war. Young Gauillory ran it before he enlisted in the Navy; then they had to sell it. For every American family making sacrifices such as this, a thousand noble patriots bawled like hell about a 12 o'clock curfew.

Another lad who won fame, at least in my eyes, is Joe "Red" Clennan, S1c, son of Benson C. Clennan of Chapman, Kan. Red, two years in the Navy, 20 years old, is one of the crew of No. 1 motor launch. He has seven sisters and four brothers. After the war he wants to finish high school and go to Kansas City College.

In harbor, No. 2 motor launch is moored to a boom that is rigged aft on the starboard side of the ship. The boom sticks far out over the water. From its end a Jacob's ladder extends 10 feet down into the water. Along its upper surface a four-inch board forms the cat walk along which the launch's crew make perilous trips to and from the constantly bobbing and cavorting launch.

Whenever possible, I always stood at the rail on No. 2 deck and watched this Ringling Brothers' aerial act, and at last my patience was rewarded -- Red missed the boat and fell into the sea. It was darn nice of him.

There are other laughs, too. A boy wrote home, "Tarzan is aboard. He is a war correspondent." Another, writing to his girl, said: "I smell under the arms, my feet smell, and I have pimples all over my body." Then he asked her to wait for him. An optimist.