Official Edgar Rice Burroughs Tribute Weekly Webzine Site
Since 1996 ~ 10,000 Web Pages In Archive
Volume 3042
The Bruce Wood Legacy Series
From Abner Perry's ERB Atlas

| | | |
| --- | --- | --- |
| Map Name | General Comments | Artist(s) |
| Pellucidar 1 | Original Map From the First Edition Pellucidar | Edgar Rice Burroughs |
| Pellucidar 2 | Pellucidar Map From The Burroughs Reader & Thuria | Bruce Wood |
| Pellucidar 3 | Pellucidar Map From ERBdom | Bob Barrett & Reed Crandall |
| Pellucidar 4 | Pellucidar Map From the First Edition Savage Pellucidar | Edgar Rice Burroughs |
| Pellucidar 5 | Pellucidar Map From The Burroughs Bulletin | Frank J. Brueckel |
| Pellucidar 6 | Pellucidar Map From The Burroughs Bulletin | Bob Barrett |
| Pellucidar 7 | Pellucidar Map From Blue Book Tanar of Pellucidar | Edgar Rice Burroughs |
| Pellucidar 8 | A Colorized Map From Spain | Eusebio Arias after ERB |
| Pellucidar 9 | Pellucidar 3D Cut-Away Earth Globe | Bruce Wood |
| Pellucidar 10 | Some Pellucidar "Photos" | Bruce Wood |
| Pellucidar 11 | Abner's newest Pellucidar map | Bruce Wood |
| Pellucidar 12 | Stereoview of Pellucidar | Bruce Wood |
click for larger images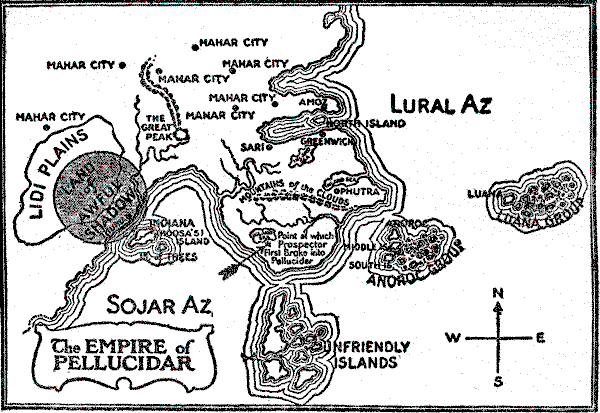 Edgar Rice Burroughs
From the McClurg first edition
This is the map of Pellucidar as it originally appeared in the first edition.
The map was drawn by ERB and shows the crossed-swords to
the east of the Unfriendly islands where tha Naval battle with Hooja took place.
---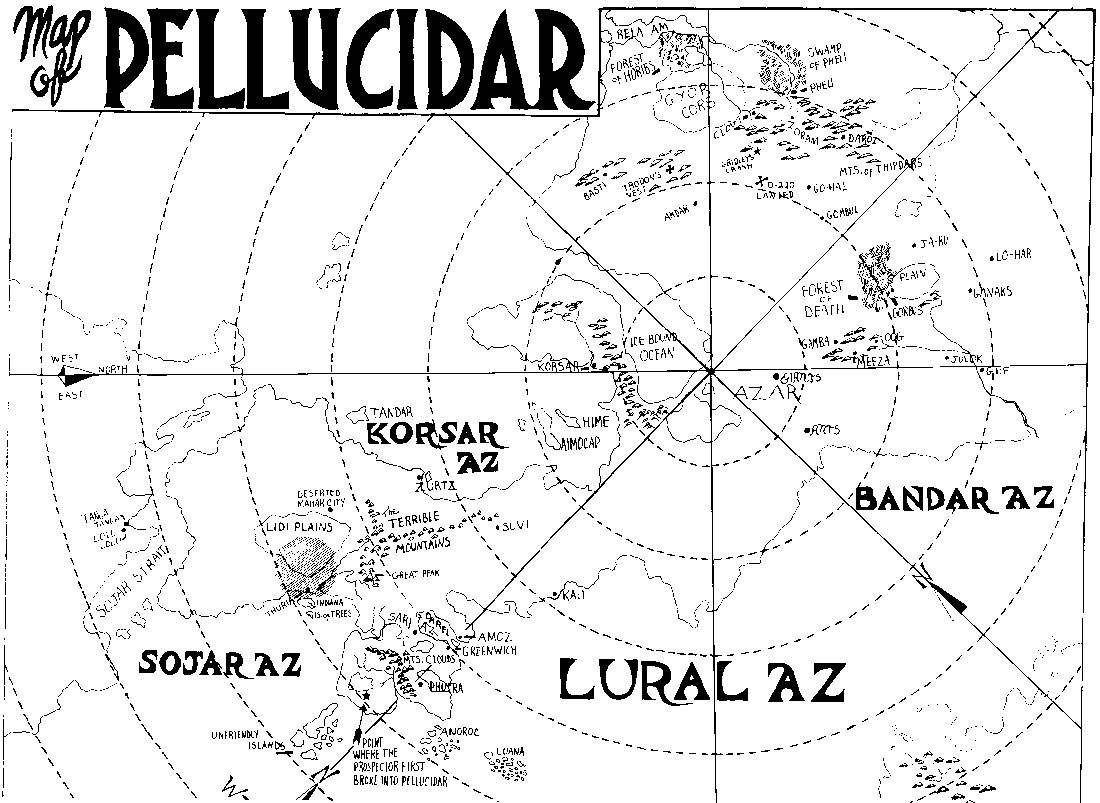 Bruce Wood
The Burroughs Reader and Thuria
There is a reproduction of the article which accompanied this map if you would like to read it.
---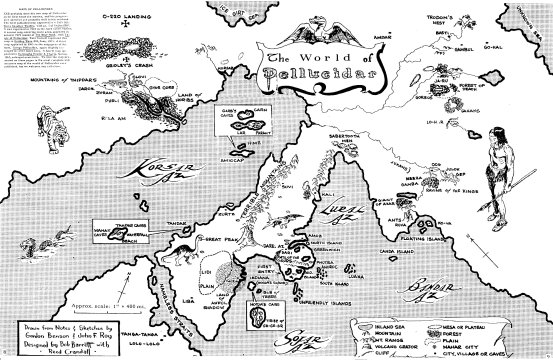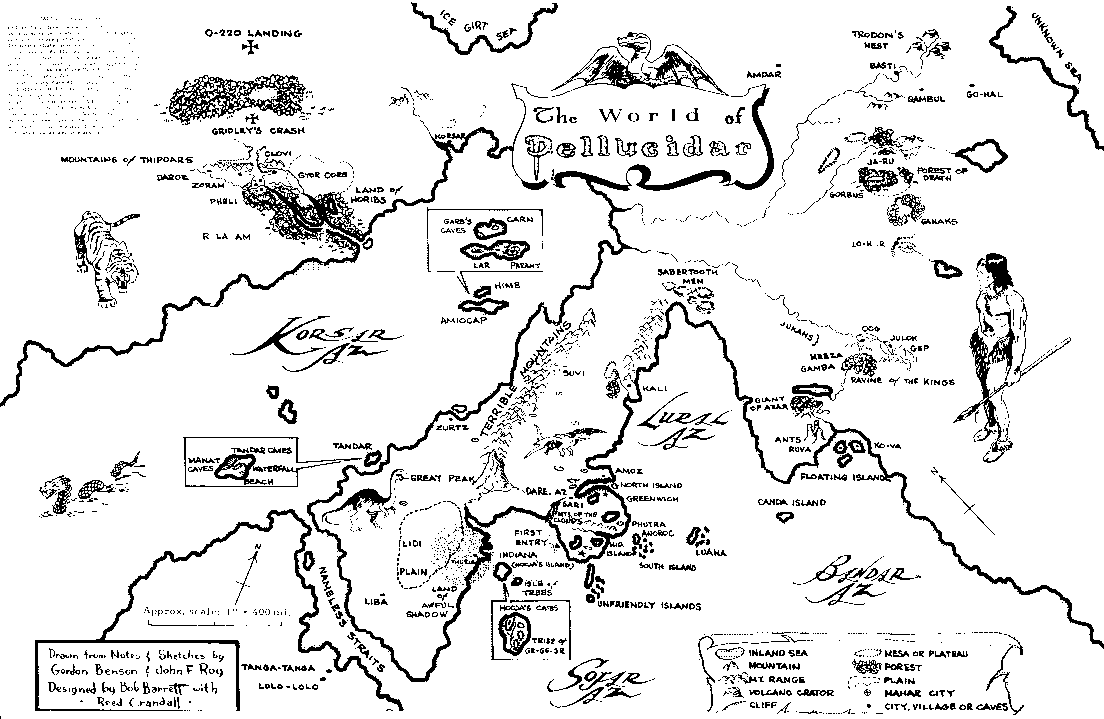 Bob Barrett & Reed Crandall
ERBdom Fanzine
From notes by Gordon Benson & John F. Roy
---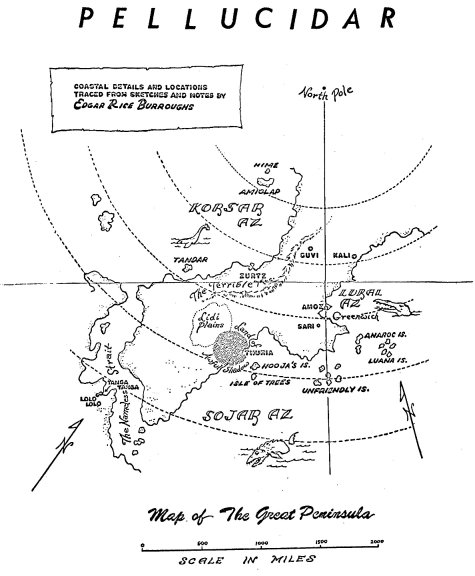 Traced from the sketches and notes of
Edgar Rice Burroughs
Savage Pellucidar
This map is from the book Savage Pellucidar and yet Korsar and the surrounding areas are not present.
---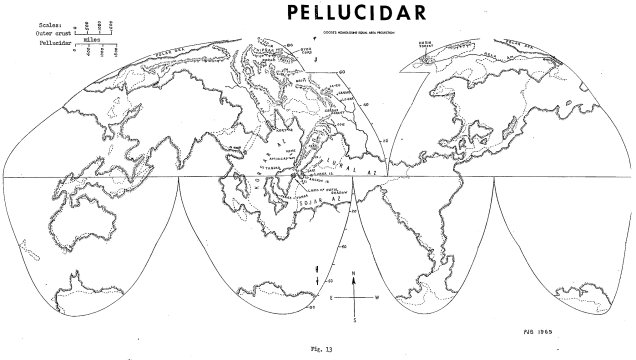 Frank J. Brueckel
The Burroughs Bulletin
---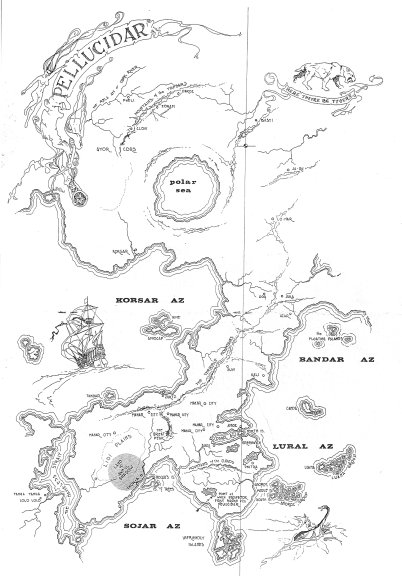 Bob Barrett
The Burroughs Bulletin
From George McWhorter.

---

Pellucidar Map
From Tanar in Blue Book Magazine
Map contributed by George McWhorter
---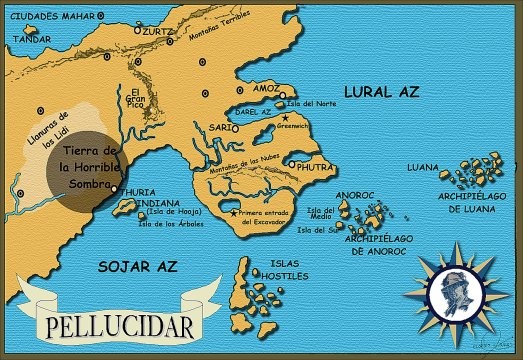 Eusebio Arias
Appeared for the first time in ERBAtlas
This is map of Pellucidar from Spain colored by Eusebio Arias
who would like to have e-mail communication with persons
interested in cartography in general and Pellucidar cartography in particular.
He also has this same map in an all English version.
---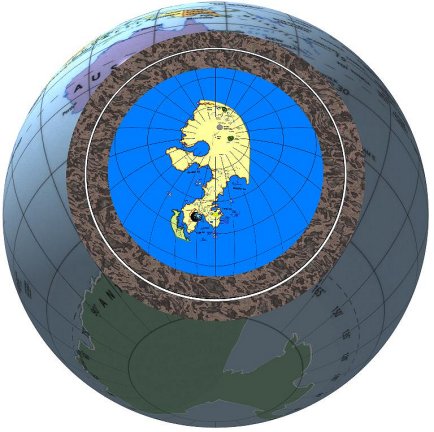 Globe of Pellucidar by Bruce Wood
First appeared in ERB Collector #40 as a black & white image

This globe had been a pet project of Abner Perry for many years. It is a representation of the Earth with about a 1/3 slice removed so we can peek inside. No claim is being made that the globe is really to scale, it has just been made to look good. The locations are indicated with dots but no text is added. I think of this as a picture rather than a map.

---
Pellucidar "Photos"
Looking to the Luana Islands and a look toward Korsar
Pellucidar "Photos" by Abner Perry
ERBatlas

The four pictures here are not really maps. These images were generated using the 3D globe model. The viewpoint is about 60 miles south east of the first entry point of the Prospector looking in the direction of the great peak from an altitude of 6 feet. The inland sea and the river leading to Sari are easily visible. The first image incorporates atmospheric haze while the second is a "clear" atmosphere. In the hazy image the viewing distance is about 500 miles, actually further than ERB hinted. It can be seen that the full-sized model created problems in that a single pixel from the map has an area of about 50 square miles on the picture, making it choppy in appearance, even though the map was 2560X1920 pixels before being texture mapped. This image required 20 MB so improvement in resolution is possible. The gray cone is a single "mountain" placed at the location of the great peak. More images will be developed with an improvement in technique. The images are very barren at present. There is no terrain, just color. There are only small downloads for these images currently.
---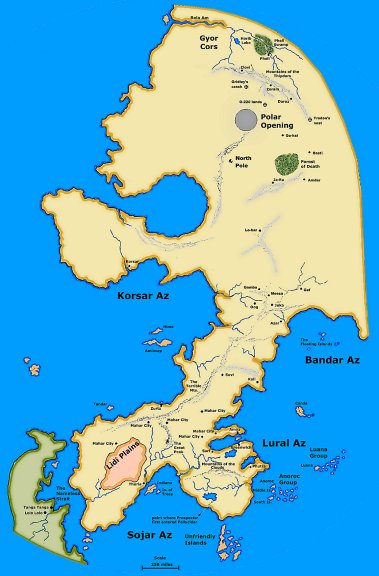 Bruce Wood
The Burroughs Reader and Thuria
---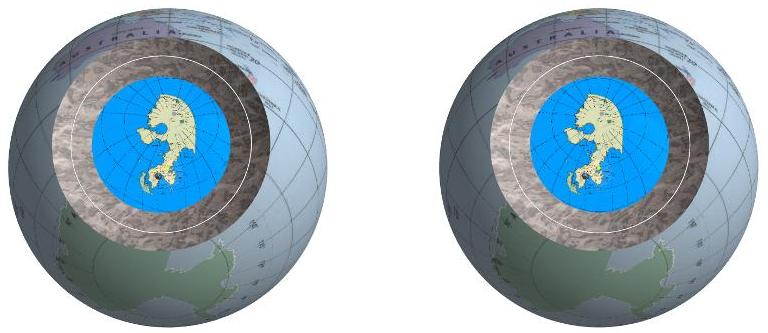 Stereo Globe of Pellucidar
by Bruce Wood
This picture is intended to be viewed using the 'crossed-eyes' technique.
Just look at the picture and cross your eyes until there are three images.
Now concentrate on focusing on the CENTRE image and you will see it in stereo.
---
The Bruce Wood Legacy Series
ERBzine 3039
TRIBUTE
ERB ATLAS CONTENTS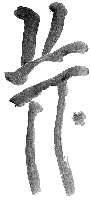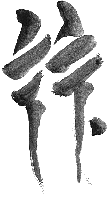 BILL HILLMAN
Visit our thousands of other sites at:
BILL & SUE-ON HILLMAN ECLECTIC STUDIO
ERB Text, ERB Images and Tarzan® are ©Edgar Rice Burroughs, Inc.- All Rights Reserved.
All Original Work ©1996-2010 by Bill Hillman and/or Contributing Authors/Owners
No part of this web site may be reproduced without permission from the respective owners.