First and Only Weekly Online Fanzine Devoted to the Life and Works of Edgar Rice Burroughs
Since 1996 ~ Over 15,000 Webpages and Webzines in Archive
Volume 0363
ERB ECLECTICA 2000.06.09
MOTES & QUOTES No. 21
Part of the ERBzine Eclectica Series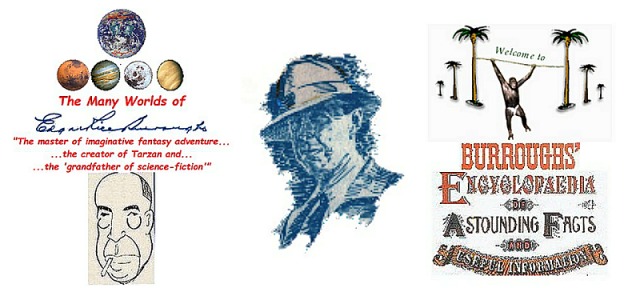 Note: The Links shared here were posted in June 2000
Some of the off-site, non-ERBzine links may be no longer active.
NOTE:
Before Social Media There Was ERBzine Eclectica that we debuted in January 2000.
Our ERB Motes & Quotes Eclectica was a weekly showcase for all.
This was one of many Webpages that were featured in each week's ERBzine Webzine
-- an online fanzine that we have published every week since 1996.
the latest ERB news, releases, readers letters, and a boundless collection of items
of interest to Burroughs and SF/Adventure Fans.
Images were smaller then as the Internet and computer systems were slower
-- also server storage was much more expensive.
Sadly, some of the off-site non-ERBzine links we've shared are no longer active
- that, we have no control over but they are left here as a curiosity or reference.


---
1. LOST WORDS OF ERB
The Writer's 1932
Year Book & Market Guide:
Protecting the Author's Rights by ERB

All-Story Weekly ~ January 20, 1917
Announcement of the
formation of the Tribe of Tarzan
Rob Wagner's Script Weekly
May 28, 1932
"The Red Necktie" mystery

Rob Wagner's Script Weekly
July 9, 1932
"Edgar Rice Burroughs Tells All"
A tongue-in-cheek autobiography
These covers and more have just been added to our bibliography of ERB's short works:
ERBzine 0219: The Lost Words of ERB
This reference in hypertext has links to over
50 shorter works of ERB featured in our ERBzin-e archive.
---
2. UNUSUAL ERB COLLECTIBLES
TARZAN the Human Ape
1937 Circus Window Card
Ape is wearing a 3 piece tuxedo
and using a knife and fork,
eating at a perfectly set table

CAB CALLOWAY and his Orchestra
on a 10-inch, 78 rpm VOCALION record.
Songs are "Tarzan Of Harlem" (WM1102)
and "A Bee Gezindt" (WM1113).

Tarzan Song on Little Golden Records
b/w Superman Song
45 rpm record
Film Fax #12:
Contains an article about how
Edgar Rice Burroughs' "Jungle Girl"
became the Nyoka movie serial.

A 1939 color trading card showing Johnny Weissmuller, famous Olympic Gold Medal winner and star of numerous Tarzan movies. It is from a set called Famous Film Stars, issued with Mars Milky Way candy bars in England. There is a text writeup about Weissmuller on the back. The card measures 1 5/16 x 2 11/16 inches.

Johnny Weissmuller
Olympic Trading Card
No. 77 ~ '30s
A portrait of ERB
burned into basswood by artist fan.

Johnny Weissmuller, Jr. (the tall actor on the left)
watching "Uncle Andy" (Rooney) dance.

Argosy April 1970
Real-Life Modern Tarzan Found
---

3. AT THE CINEMA WITH ELMO LINCOLN
Be sure to visit:
MY FATHER, ELMO LINCOLN ~ The Original Tarzan by Marci'a Lincoln Rudolph
ERBzine 0283: http://www.erbzine.com/mag2/0283.html
The Son of Tarzan ~ 1920 Serial
Part 6: The Killers
The serial ran in 15 weekly episodes

Adventures of Tarzan ~ 1921 Serial
A 15 week serial taken from the later chapters of
Return of Tarzan
---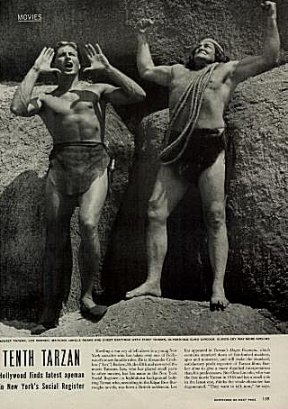 TENTH TARZAN
Hollywood finds latest apeman in New York's social register.
Tarzan #10, Lex Barker poses with Tarzan #1, Elmo Lincoln.

---
4. ERB SCHOLARS
Tarzan and Tradition
Classical Myth in Popular Literature
Erling B. Holtsmark

ERB by Erling B. Holtsmark

40th Anniversary Edition of Esquire
October 1973
"Tarzan Revisited" article by Gore Vidal.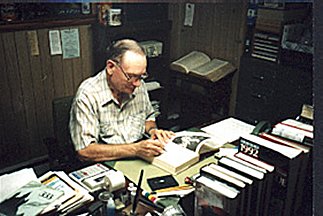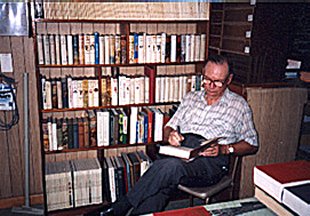 ---
5. NEW IMPROVED ATMOSPHERE PLANT ON MARS

New oxygen machine will let astronauts live on Mars
BY MICHAEL HANLON
SCIENCE EDITOR - DAILY EXPRESS ONLINE
2000.05.31
NASA scientists have successfully tested a machine capable of extracting oxygen from the dusty atmosphere of Mars. Such a device will be needed if astronauts are to spend the year or more on the Martian surface that would be part of any manned mission to the Red Planet. The prototype, about the size of a microwave oven, was placed in a chamber which mimicked the cold, hostile environment. After several days it was able to produce substantial amounts of pure oxygen from the thin Martian carbon dioxide air. Dr David Kaplan, chief scientist behind the project at the Johnson space centre in Houston, Texas, said it "performed brilliantly". The solar-powered machine was supposed to fly to Mars on a lander Nasa planned to launch next year. But the lander - identical to another probe lost last December - has been delayed until at least 2003.Mars is so far away that a round trip would take at least three years, including a year on the surface. Carrying all the water, oxygen and food needed to support astronauts on such a voyage would be impossible, so most of it would have to be produced on the planet.

© Express Newspapers, 2000
---
6. ERB FAN ART GALLERY
Ink drawing of "Death of Kala" by Richard Carsley

I'm a life long ERB fan. At first it was just the Tarzan stories and a few titles like the Lost Continent, The Monster Men (which I think I bought for the Frazetta covers), but in the last couple of years I included almost all of his titles. I really enjoyed his western novels. I'll be 53 this July and later will retire from my job as a police officer for the last 30 years. My next line of work is in Real Estate. I have already started to work part time and will go full time after I retire. In my off time I draw. The main source of my work has been ERB titles. I have done some work that has been published. Several years ago I drew a story for a comic that was a parody of the Rocketeer. I would really like to see a Mars series in comic book form drawn by the likes of Frank Cho. Speaking of comics, I see Dark Horse has canceled the Tarzan River of Blood series. Do you know if we the fans will ever see the conclusion of this neat story? I'm new to the on line world but really enjoy what you are doing.Thanks for such a fine product.
Richard Carsley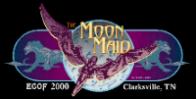 See the list of all of our ECOF follow-up sites,
as well as the whole scoop on what REALLY happened on Day 2...
in this week's
DEJAH'S DIARY Day 2: ERBzine 0386
DUM-DUM 2000
Visit the
Dum-Dum Dossier Site
for more info
~ The Annual Convention of the Burroughs Bibliophiles ~
Dum-Dum 2000 on July 13-16 2000
Special guest will be Johnny Sheffield
Volume 0363

ERB Companion Sites Created by Bill Hillman
The Worlds of Edgar Rice Burroughs
BILL HILLMAN
Visit our thousands of other sites at:
BILL and SUE-ON HILLMAN ECLECTIC STUDIO
ERB Text, ERB Images and Tarzan® are ©Edgar Rice Burroughs, Inc.- All Rights Reserved.
All Original Work ©1996-2006/2020 by Bill Hillman and/or Contributing Authors/Owners
No part of this web site may be reproduced without permission from the respective owners.