First and Only Weekly Online Fanzine Devoted to the Life and Works of Edgar Rice Burroughs
Since 1996 ~ Over 10,000 Webpages and Webzines in Archive
Volume 0318





The Many Worlds of

"The master of imaginative fantasy adventure...
...the creator of Tarzan and...
...the 'grandfather of science-fiction'"


MOTES & QUOTES / ERB ECLECTICA
ERB-Date: 2000.03.31


CONTENTS

LORD GREYSTOKE: POP STAR & MOVIE STAR

TARZAN Wins An Oscar
2000.03.26
Pop star Phil Collins scored the best original song award for his sentimental "You'll be in My Heart" from the animated Disney film Tarzan. It was his first win in three nominations. Collins thanked his three children who, he said, "really wrote this song for me."

Come stop your crying It will be alright Just take my hand Hold it tight I will protect you from, All around you I will be here Don't you cry For one so small, You seem so strong My arms will hold you, Keep you safe and warm This bond between us, can't be broken I will be here, don't you cry Cos you'll be in my heart Yes you'll be in my heart From this day on Now and forever more You'll be in my heart No matter what they say, You'll be here in my heart Always Why can't they understand the way we feel They just don't trust, what they can't explain I know we're different, deep inside us We're not that different at all And you'll be in my heart Yes you'll be in my heart From this day on Now and forever more Don't listen to them Cos do they know We need each other To have to hold They'll see in time I know When destiny calls you, You must be strong I may not be with you, But you got to hold on They'll see in time I know We'll show them together Cos' you'll be in my heart Believe me you'll be in my heart I'll be there from this day on Now and forever more Oh you'll be in my heart you'll be here in my heart No matter what they see I'll be with you here in my heart I'll be there, Always Always I'll be with you I'll be there for you always Always and always Just look over your shoulder Just look over your shoulder Just look over your shoulder I'll be there for you....

TARZAN STILL ON TOP: Tarzan tops soundtrack chart again
2000.03.24
LOS ANGELES (Billboard) - Me, Tarzan, you, runner-up. The album from the hit animated film moves back to the top of the soundtracks chart for the week ending March 19. The Walt Disney Records disc sold 29,000 units, according to SoundScan figures obtained from industry sources. That's down almost 600 copies from the previous week but still enough to boost it from No. 3.
---
4. Look For These New Editions At Your Favourite Book Store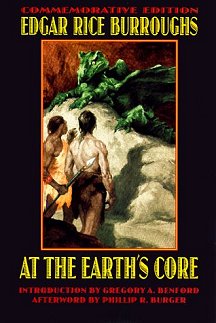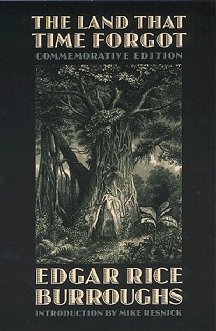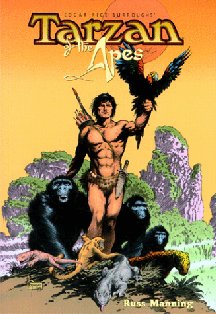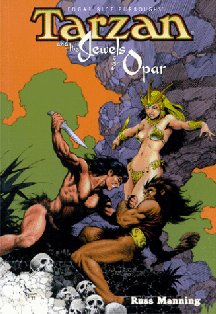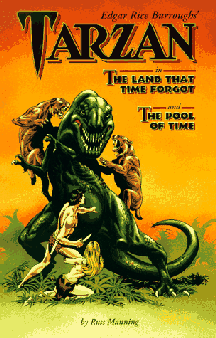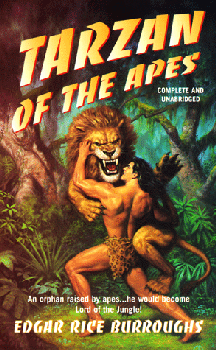 ---

Caught in our Site
5. Would You Like to Swing on a Vine?: The Epic Tradition and Edgar Rice Burroughs
Yale-New Haven Teachers Institute
Essay: Narrative ~ Sample Activities ~ Bibliography
by Anthony F. Franco

Guide Entry to 87.02.05:

Edgar Rice Burroughs was one of the most commercially successful authors of this century and yet is not read with any regularity in the classroom. This unit attempts to introduce Burroughs to the English classroom in grades 7-8 as a writer who could tell a very interesting story. Three of Burroughs' works: "At the Earth's Core," "The Land That Time Forgot," and of course, "Tarzan of the Apes" will be read by students and will be studied in the context of the epic tradition as examples of the early twentieth century romance and the notion of quest.

Suggested activities as a result of this unit include a study of the nature of conflict as seen in Burroughs and as experienced by students as challenges both now and in later years. Also, students will be introduced to journal writing and will maintain a journal throughout the year. Various other writing assignments in the narrative and descriptive vein will round out the students' activities as participants. Class discussion regarding Burroughs, the works read, and the nature and remedies of real-life challenges faced by students will provide ample fodder for these intended writing assignments. The unit may be used in its entirety or in part depending upon the number of readings attempted.

The unit can be easily scheduled over a period of from six to eight weeks with one or two days class discussion per week.

(Recommended for English classes, grades 7-8)
See the essay at:
http://www.yale.edu/ynhti/curriculum/units/1987/2/87.02.05.x.html
A New von Horst Tribute To ERB's Princesses
http://www.geocities.com/elobius/7Princesses.html
To qualify as a "Princess" on this list, the lady had to be beautiful and of strong moral fiber, the main heroine of a series or single book by Edgar Rice Burroughs, a member of royalty, and hail from another planet or lost race.
Dejah Thoris ~ Dian the Beautiful ~ Duare ~ Fou-tan ~
Nadara ~ Nah-ee-lah ~ Victory
You'll also have a chance to vote for your favourite.
djuggler@staffnet.com

---
7. HELP WANTED
APPEAL FROM THE NETHERLANDS
Ron de Laat and Rob Donkers request the following information concerning the poster and book illustrated below:


SPANISH/MEXICAN MOVIE POSTER
Does someone have any kind of information about the movie featured in this poster? (It is not the

silent movie from 1920)? The movie is NOT a silent movie and there for it's not The Son of Tarzan as we know him. Does someone have this poster for sale?


DANISH BOOK: TARZAN MYTEN
The second question is about a Danish book (Tarzan Myten) about Tarzan (novels, comics, movies, etc). Rob Donkers wants to buy this book but it's hard to find it. Perhaps it's easier to find it this way
e-Mail: RDL@fuji-ef.nl


---

COLLECTOR'S TROVE
8. THE BATTLE OF HOLLYWOOD by James H. Pierce

The Battle Of Hollywood by James H. Pierce (Billed as the Oldest Living Tarzan when it was written), Published by House of Greystoke, 1978. It contains 180 pages and measures 8.50 by 11.25 inches with red binding and dust jacket. Chapters include: James H. Pierce's Autobiography, His Life On Tarzan Ranch With Jane, Joan Burroughs Pierce, etc.

---

9. CINEMA STARS CIGARETTE CARD No. 14
CINEMA STARS
A series of 32
No. 14

Johnnie Weissmuller Born in Chicago of Austrian parents, Johnnie Weissmuller made his first appearance in "Tarzan the Ape Man." As a boy, he was so delicate taht doctors advised swimming to build up the body. Eventually he became faous as a swimmer and won every possible championship for ten years. Height 6ft. 3ins. Has dark brown hair and brown eyes.

Issued by
UNITED KINGDOM TOBACCO CO. LTD., London, England. 1933
10. FILM STARS CIGARETTE CARD No. 48
NOTE - The back of this card is adhesive. Ask your retailer for the attractive album specially prepared to contain the complete series of 50 cars.
FILM STARS
48

Johnny Weissmuller was born in Chicago of Austrian parentage on June 2nd, 1904. As a child he suffered from ill health and his doctors suggested swimming as the only cure -- with astonishing results. The Olympic Swimming Champion, who stands 6 feet 3 inches in height, made his screen debut in short sports films, and because of his magnificent physique was given the title role in Tarzan the Ape Man. He has been married twice -- in 1931 to Bobbe Arnst, a well known Broadway actress, and in 1933 to Lupe Velez. His latest film is Tarzan and his Mate.

JOHN PLAYER & SONS ~
Branch of the Imperial Tobacco Co.
(of Great Britain and Ireland), Ltd. 1934
---
11. ERB's Last Driver's License
ERB's Last Driver's License
Now, thanks to the Wazirian, you can see the
very rare photo which accompanied this document
which was issued in 1944.
The AsWeSeeIt site has all of the driver's
license photos, old and new, from every
Department of Motor Vehicles database in the US.
Simply go to:
http://www.asweseeit.com/616LicenseForm.htm
and enter
NAME: Edgar Rice Burroughs
POSTAL CODE: 99999
EYE COLOUR: Brown
YEAR OF BIRTH: 1875
NOTE:
In ERBzine 0248 I mentioned that
ERB claimed to be the originator of the term "Scientifiction."
Curt Wiederhoeft points out, however, that
Clute's Encyclopedia of Science Fiction
credits Hugo Gernsback with having coined the term in
the first issue of AMAZING STORIES (April 1926).
BURROUGHS BIBLIOPHILES BULLETIN BOARD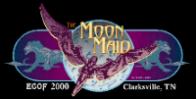 EDGAR RICE BURROUGHS CHAIN OF FRIENDSHIP
Hosted by Jim Thompson
Guests: Barry Stubbersfield & Mary Burroughs
CLARKSVILLE, TENNESSEE
MAY 18 - 21, 2000
DUM-DUM 2000
~ The Annual Convention of the Burroughs Bibliophiles ~
The Michigan Chapter of the Burroughs Bibliophiles (The Mad Kings) will host
Dum-Dum 2000 on July 13-16 2000
at Lands Inn, 3825 28th Street SW, in Grandville, Michigan
(call 1-800-538-LAND or 1-616-531-LAND).
Special guest will be Johnny Sheffield
(boy from Tarzan films w/ Johnny Weismuller).
Room Rates are $49.95 for single or suite.
Registration fees are to be announced soon as they have yet to be determined.

Volume 0318

The Worlds of Edgar Rice Burroughs
BILL HILLMAN
Visit our thousands of other sites at:
BILL AND SUE-ON HILLMAN ECLECTIC STUDIO
ERB Text, ERB Images and Tarzan® are ©Edgar Rice Burroughs, Inc.- All Rights Reserved.
All Original Work ©1996-2000/2010 by Bill Hillman and/or Contributing Authors/Owners
No part of this web site may be reproduced without permission from the respective owners.