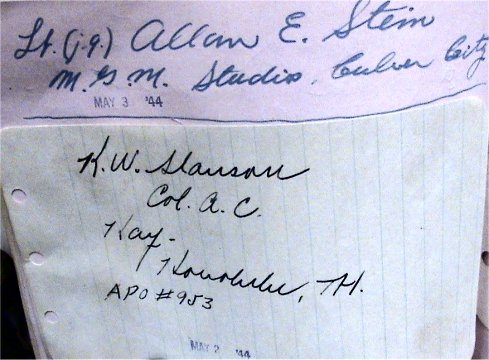 May 3, 1944
Lt. (j.g.) Allan E. Stein - MGM Studio, Culver City
May 2, 1944
K.W. Slausan? - Col. A.C. - Honolulu, TH

---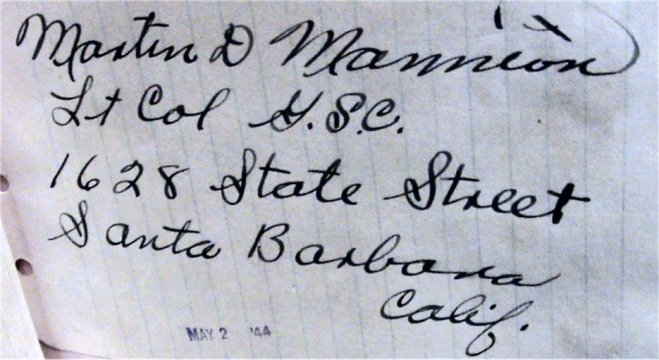 May 2, 1944
Martin D. Mammeon? - Lt. Col USC - 1628 State Street - Santa Barbara, Calif
---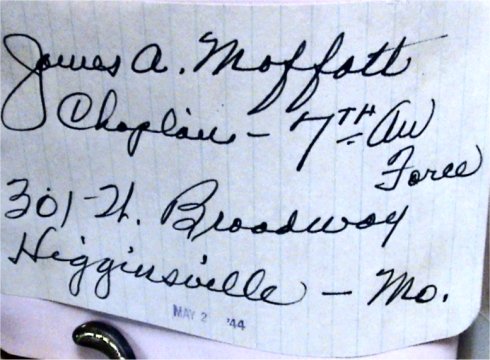 May 2, 1944
James A. Moffatt - Chaplain - 7th Air Force - 301 W Broadway - Higginsville - Mo
---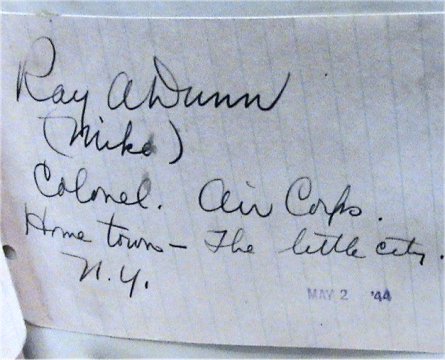 May 2, 1944
Ray A. Dunn (Mike) - Colonel - Air Corps - Home Town: The Little City, NY
---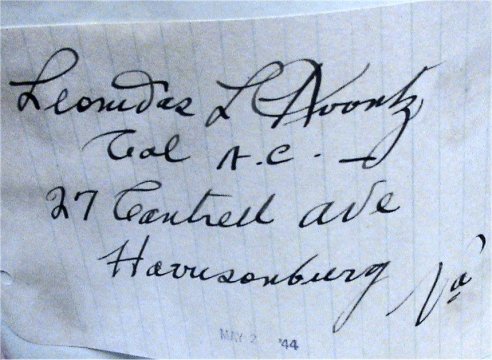 May 2, 1944
Leomdas L. Koontz? - Col A.C. - 27 Cantrell Ave - Harrisburg, Va
---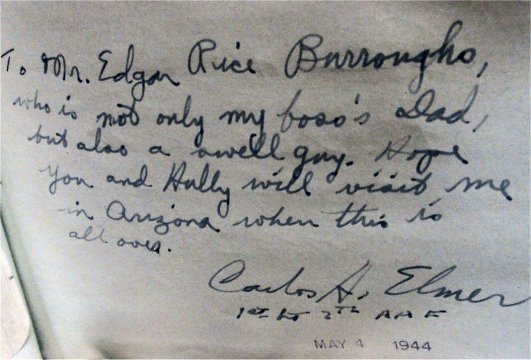 May 4, 1944
To Mr. Edgar Rice Burroughs,
who is not only my boss's Dad, but also a swell guy.
Hope you and Hully will visit me in Arizona when this is all over.
~ Carlos A. Elmer - 1st Lt 7th AAF
---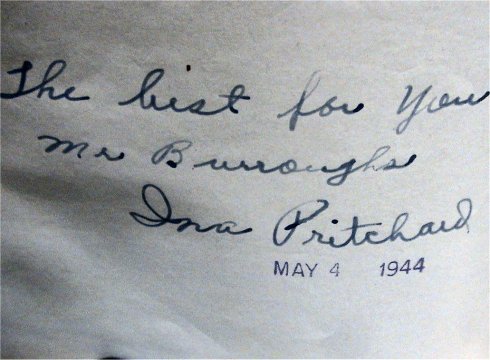 May 4, 1944
The best for you Mr. Burroughs ~ Ina Pritchard
---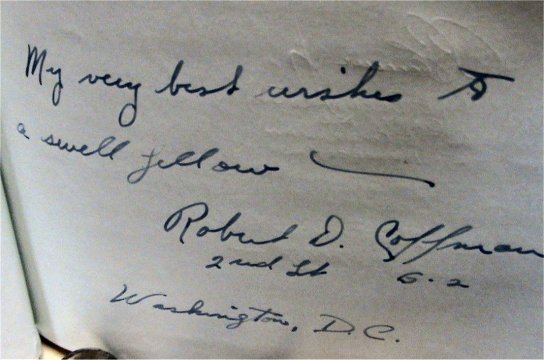 My very best wishes to a swell fellow ~ Robert D. Coffman - 2nd Lt. G-2 - Washington, DC
---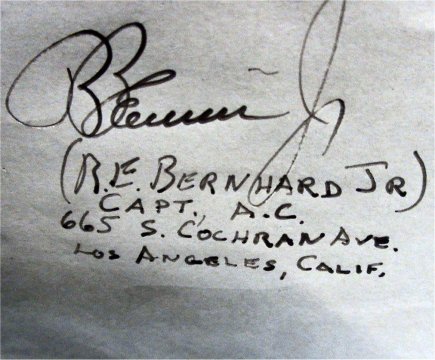 R.E. Bernhard Jr. Capt., A.C. 665 S. Cochran Ave - Los Angeles, Calif
---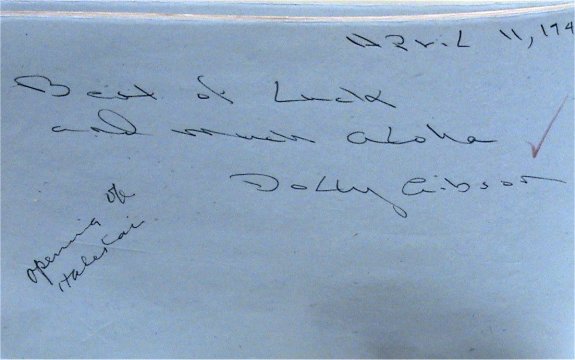 April 11, 1944: Opening of Halekai
Best of Luck and much Aloha ~ Dolly Gibson
---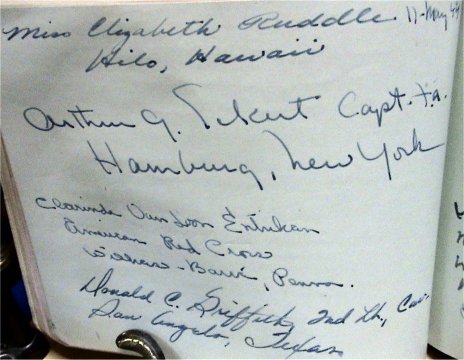 May 11, 1944
Miss Elizabeth Ruddle - Hilo, Hawaii
Arthur G Filcut? - Capt - Hamburg, New York
Clarinda . . . Entrikan? - American Red Cross - Penn
Donald C. Griffith - 2nd Lt. - San Angelo, Texas

---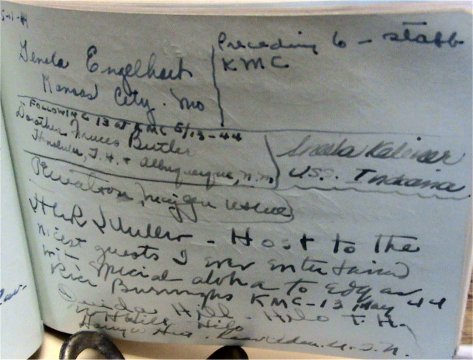 May 13, 1944
Genela Engelbach - Kansas City Mo
Dorothea Frances Butler - Honolulu, TH & Albuquerque, NM
Sheila Kaleiser? - USS Indiana
Lt. WR Schuller? - Host to the nicest guests I ever entertained
with special aloha to Edgar Rice Burroughs KMC
Duida Hill - Hilo T.H.
W.H. Hill - Hilo
Harry W. Hill - USN

---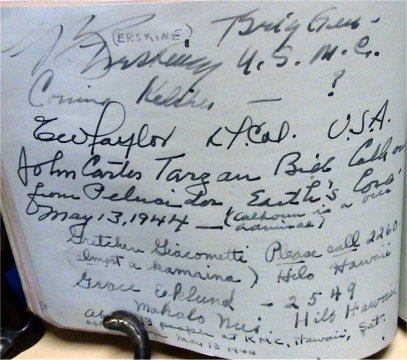 May 13, 1944: At KMC Hawaii
Erskine - Brig Gen - USMC
Corina Keliher?
EW Taylor Lt. Cal USA
John Carter Tarzan , Bill Calhoun from Pelucidar Earth's Core
(Ed: Calhoun is a Vice Admiral)
Gretchen Giacometti (almost a Kamaina) - Hilo, Hawaii - Please call 2260
Grace Eklund - 2549 - Mahalo nui - Hilo Hawaii
---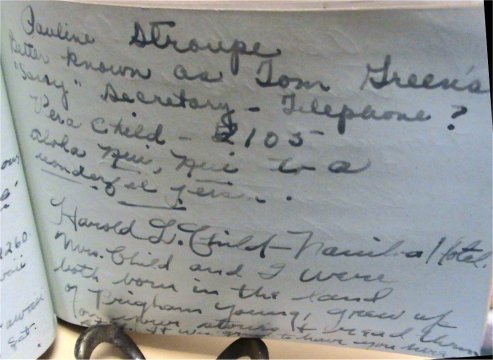 Pauline Stroupe - Better known as Tom Green's "sassy" secretary - Telephone ?
Vera Child - 2105 - Aloha Nui, nui to a wonderful person.
Harold L. Child - Nauila Hotel
Mrs. Child and I were both born in the land of Brigham Young,
grew up on your stories and read them all. It was great to have you here.
---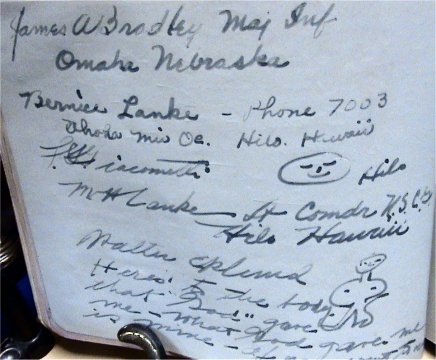 May 15, 1944
James A. Bradley Maj Inf - Omaha Nebraska
Aloha mio oe ~ Bernice Lanke - Phone 7003 - Hilo Hawaii
Giacometti? - sketch face - Hilo
MH Lanke - Lt. Comdr USC - Hilo, Hwaii
Walter Eplima? (Figure sketch)
Here's to the body that "God" gave me - What God gave me is mine
---

May 15, 1944
What "God" gave me! Come up and see me some time?
Where do you get your ideas? ~ Norma B. Dodd USO - Haili St., Hilo, Hawaii - Ph: 3216
May 14, 1944
James
---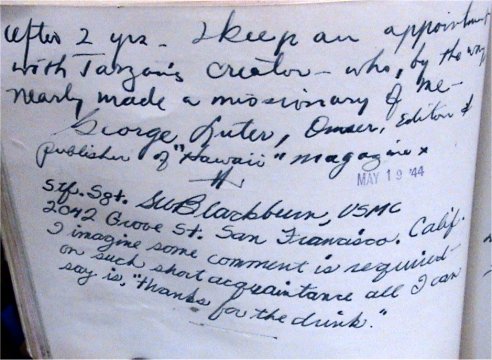 May 19, 1944
After 2 yrs. I keep an appointment with Tarzan's creator -- who, by the way, nearly made a missionary of me. ~ George Luter, Owner, Editor & Publisher of "Hawaii" Magazine
Stf. Sgt. Geo Blackburn, USMC - 2042 Grove St. San Francisco, Calif.: I imagine some comment is required - On such short acquaintance all I can say is, "Thanks for the drink."
---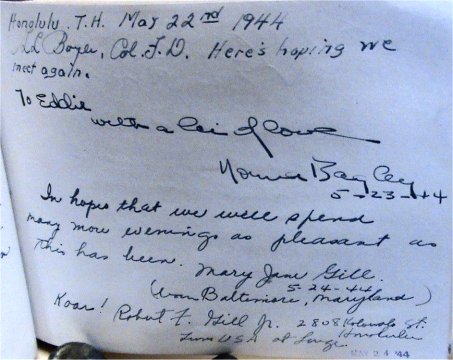 400
May 22nd 1944 - Honolulu T.H.
LL Boyer, Col FD: Here's hoping we meet again.
To Eddie with a lei of love - Norma Bagley 5-23-44
May 24, 1944
In hope that we will spend many more evenings as pleasant as this has been.
- Mary Jane Gill 5-24-44 - (from Baltimore, Maryland)
Kaor! Robert F. Gill Jr. - 2808 Kolorafe? St., Honolulu - From USA at Large
---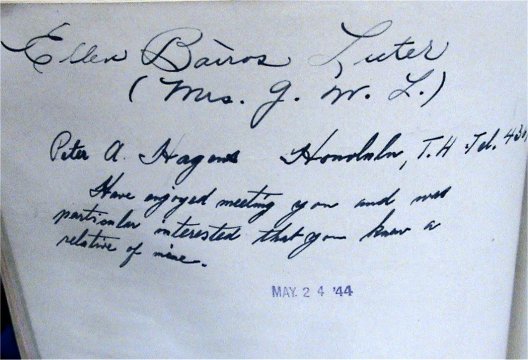 May 24, 1944
Ellen Bairos Luter (Mrs. G. W. L.)
Peter A. Hagons? - Honolulu, T.H. Tel. 430:
Have enjoyed meeting you and am particularly interested that you knew a relative of mine.
---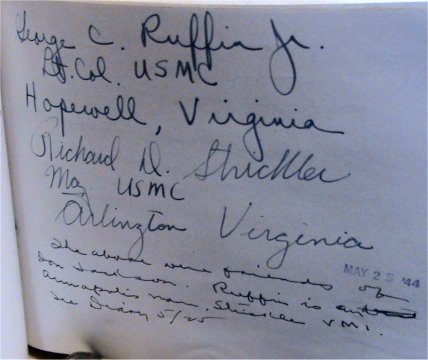 May 25, 1944
George C. Ruffin, Jr. - Lt. Col. USMC - Hopewell, Virginia
Richard D. Strickler - Maj USMC - Arlington Virginia
Ed: The above were friends of Don Gardson?. Ruffin is an Annapolis man. - Strickler VM - See Diary 5/25