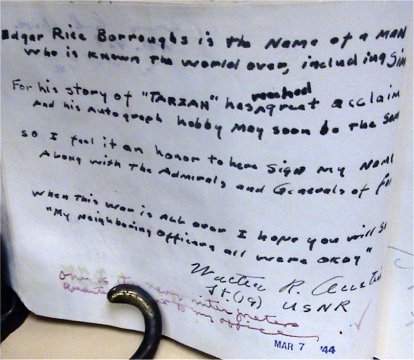 March 7, 1944
Edgar Rice Burroughs is the name of a man
Who is known the world over, including Siam
For his story of "Tarzan" has reached great acclaim
And his autograph hobby may soon be the same
So I feel it an honor to have signed my name
Along with the Admirals and Generals of fame.
When this war is all over I ope you will say
"My neighboring officers all were okay."
Walter R. Alleton? - Lt. (JG) USNR
(Ed: One of the Navy interpreters quartered next to my office.
---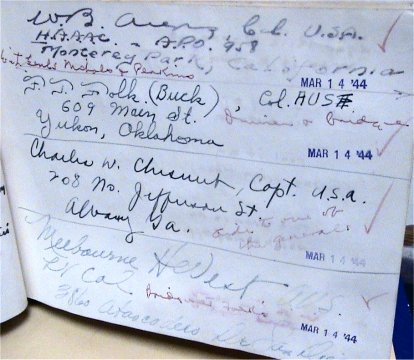 March 14, 1944
W.B. Arens - C.Cl? USA - HAAAC - APO 958 - Monterey Park, California
(Ed: with Kendal, Nichols & Perkins)
Charles W. Chismet? - Capt. USA - 208 No. Jefferson St. - Albany, Ga
(Ed: Aide to one of the generals)
Melbourne H. West - Lt Col ***
---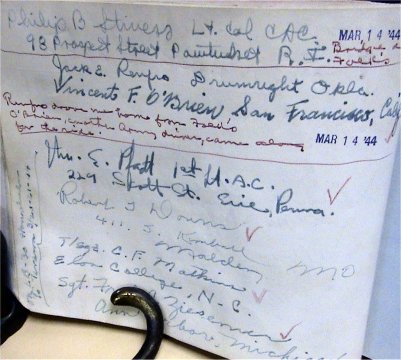 March 14, 1944 (Ed: Bridge at Falk's)
Philip B. Stivers - Lt. Col CAC - 98 Prospect Street - Pamtucket, R.I.
Jack E. Renfro - Drumwright, Okla
Vincent F. O'Brien - San Francisco, Calif
(Ed: Renfro drove me home from Falk's - O'Brien another army driver came along for the night)
E. Pfatt? - 1st Lt. A.C. - 229 Scott St. Erie, Penna
Robert Downs - 411 S. Kimball - Malden, Mo
T/Sgt C.F. Matkins? - Eton College, N.C.
Sgt. Ziesemer - Ann Arbor, Michigan
---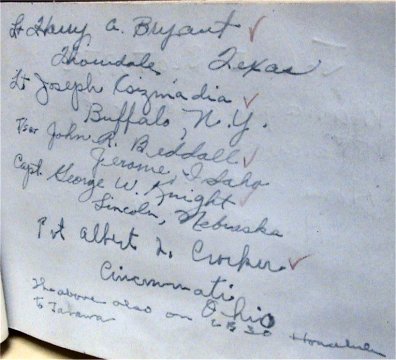 Lt. Harry A Bryant - Thowdale?, Texas
Lt. Joseph Coizmadia - Buffalo, N.Y.
T/Sgt John R. Beddall - Jerome, Idaho
Capt. George W. Knight - Lincoln, Nebraska
Pvt Albert L. Crocker - Cincinnati, Ohio
(Ed: The above also on LB30 Honolulu to Tahawa)
---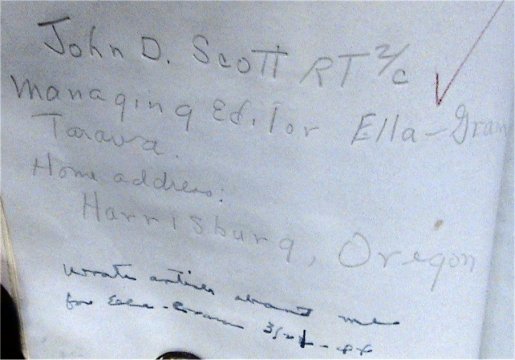 March 21, 1944
John D. Scott - RT 2/c - Managing Editor Ella - Gram? - Tarawa - Home Address: Harrisburg, Oregon
(Ed: Wrote about me for Ella-Grama - March 21, 1944)
---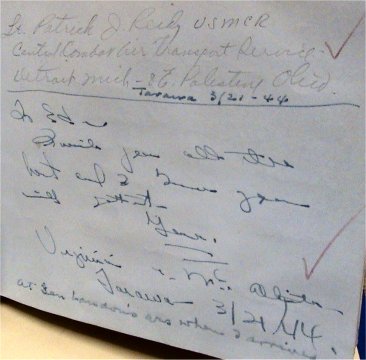 March 21, 1944 Tarawa
Lt. Patrick J. Reily - USMCR - Central Combat Air Transport Service - Detroit, Mich - E. Palestine, Ohio
To Ed - I write you all the . . . . . . . ~ Gene - Virginia & McAllister - Tarawa
(Ed: At Gen Landon's qrs when I arrived)
---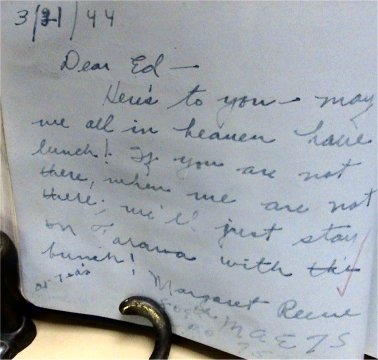 March 21, 1944: At Teds
Dear Ed - Here's to you - may we all in heaven have lunch.
If you are not there, when we are not there
We'll just stay in Tarawa with this bunch ~ Margaret Recue?
---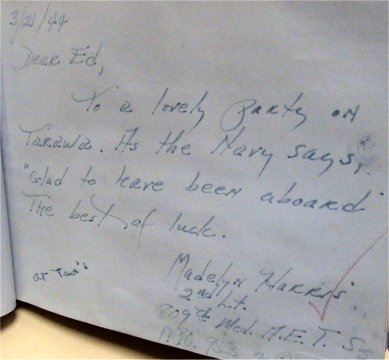 March 21, 1944: At Ted's
Dear Ed - To a lovely party on Tarawa. As the Navy says,
"Glad to have been aboard." The best of luck.
~ Madelyn Harris - 2nd Lt. 809th Med. AETS - APO 903
---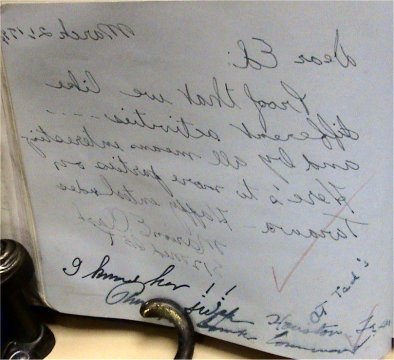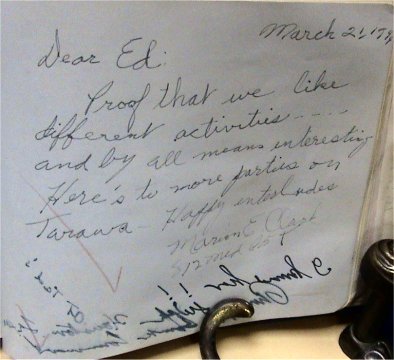 March 21, 1944: At Ted's
Dear Ed: Proof that we like different activities and by all means interesting.
Here's to more parties on Tarawa. Happy Interludes ~ Marion E. Clark - 812 Med
(Ed: I knew her . . . )
---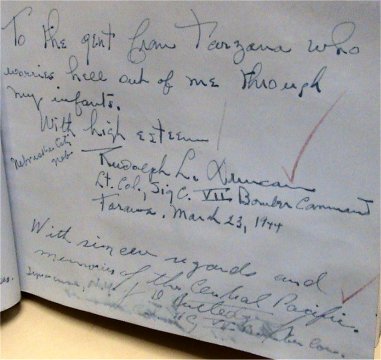 March 23, 1944
To the gent from Tarzana who worries hell out of me through my infants. With high esteem.
~ Rudolph L. Duncan - Lt. Col. Sig C VII Bomber Command - Tarawa - Nebraska City, Neb
With similar regards and memories of the Central Pacific. *** ***
---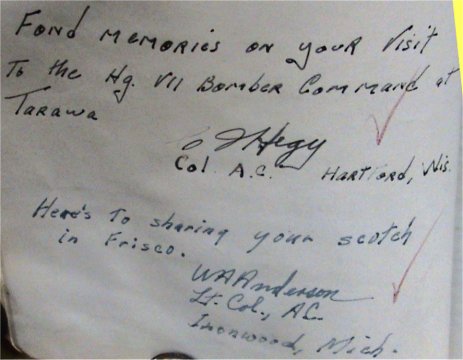 March 23, 1944
Fond memories on your visit to the Hq VII Bomber Command at Tarawa.
~ CJ Hegy? - Col. A.C. Hartford, Wis
Here's to sharing your scotch in Frisco ~ WA Anderson - Lt. Col., A.C. - Ironwood, Mich.
---

Would enjoy having a lunch or something with you some time at the Buffalo Athletic Club
~ Edw M Paullin - Lt. Col. Sig Corps - HDQ 7th A.F. - from Williamsville, NY (Buffalo)
~ William B. Frindel, Jr. - Major, Sig. Corps. - HQ, 7th Air Force
- Wakefield, Mass & Brooklyn, N.Y. (by adoption)
---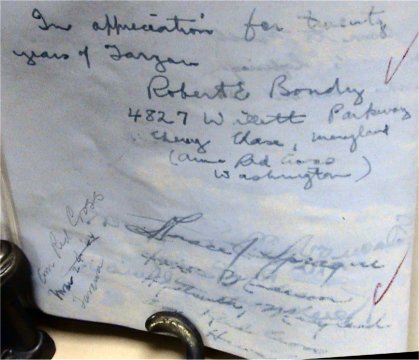 March 24, 1944 - Tarawa
In appreciation for twenty years of Tarzan
~ Robert E. Bondy - 4827 Willett Parkway - Chevy Chase, Maryland
(Army Red Cross Washington)
Horace J. Sprague? - Maryland (Ed: Am Red Cross)

---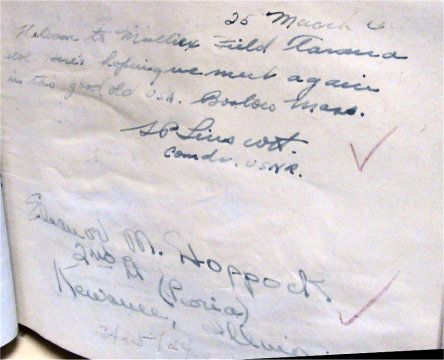 March 25, 1944
Welcome to Mulliex? Field Tarawa atoll. Here's hoping we meet again in the good old USA
~ SP Lius Wit? - Comdr, USNR
Eleanor M. Hoppock - 2nd Lt. (Peoria) Kewance?, Illinois

---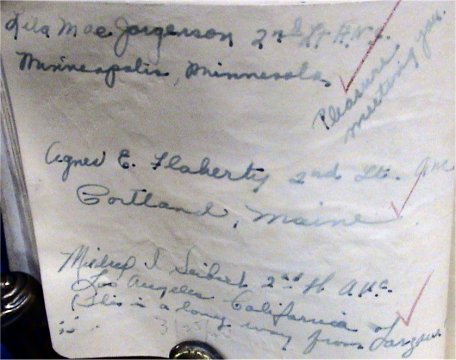 Pleasure meeting you
Lila Mae Jorgenson - 2nd Lt. ANC - Minneapolis, Minnesoda
Agnes E. Flaherty - 2nd Lt. ANC - Portland, Maine
Mildred I Seibrek? - 2nd Lt. ANC - Los Angeles, California
(This is a long way from Tarzana)
---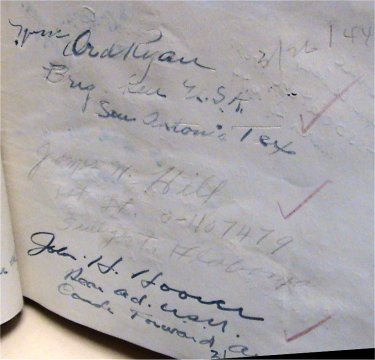 March 26, 1944
Wm Ord Ryan - Brig Gen. USA - San Antonio, Tex
(1943-1946 Commanding General of the Pacific Division, Air Transport Command)
James H. Hill - 1st Lt. 0-1108479 - Alabama
John H. Hoover - Rear Ad. USN - Comdr Forward
---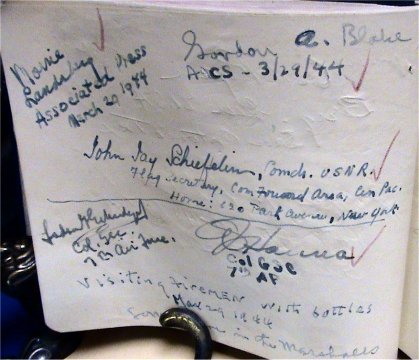 March 29, 1944
Gordon A. Blake
Maisie Landsberg - Associated Press
John Jay Schiefalum? - Comdr. USNR - Flag Secretary, Com Forward Area, Cen Pac -
Home: 620 Park Avenue, New York
*** *** Col. GSC 7th Air Force
Hanna - Col GSC 7th AF
(Visiting firemen with bottles - . . . .in the Marshalls)
---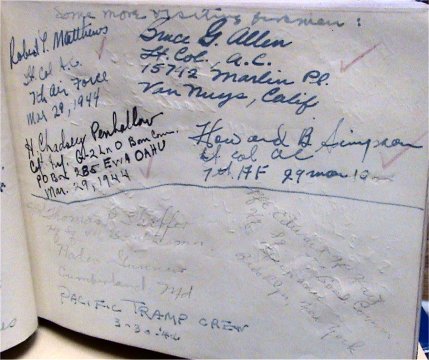 March 29, 1944
(Ed: Some more visiting firemen:)
Bruce G. Allen - Lt. Col, A.C. 15742 Marlin Pl. - Van Nuys, Calif
Robert L. Matthews - Lt. Col AC - 7th Air Force
H. Chadsley Penhallow - Cpt Inf. G-@ Ln D Bom Com - PO Box 285 EWA Oahu
Howard B. Simpson - Lt. Col AC - 7th AF
March 30, 1944: Pacific Tramp Crew
Cpl Thomas Sheffer - Cumberland Md
Pfc Edward H. Hay - Brooklyn, New York

---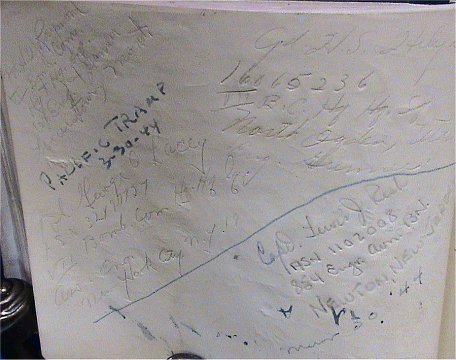 March 30, 1944: Pacific Tramp Crew
Raymond - Lacey - Rish Hely*
---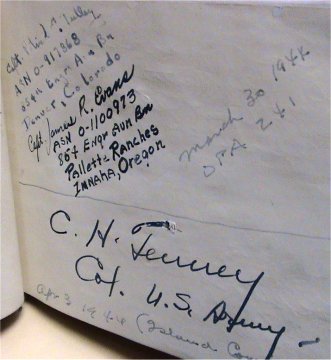 March 30, 1944
Capt Tulley - Denver, Colorado
Capt. James R. Evans - Pallette Ranches, Innaha, Oregon
April 3, 1944
C.H. Tenney - Col. U.S. Army - Island Command)