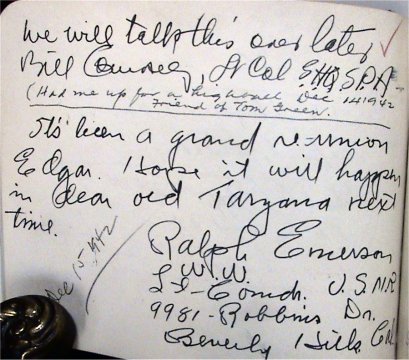 December 14, 1942
We will talk this over later ~ Bill Connely? - Lt. Col - SHQ SPA
(Ed: Had me up for a *** - Friend of Tom Green)
December 15, 1942
It's been a grand reunion Edgar. Hopeit will happen in dear old Tarzana next time.
~ Ralph Emerson - Lt. Comdr - USNR - 9981 Robbins Dr., Beverly Hills, Calif

---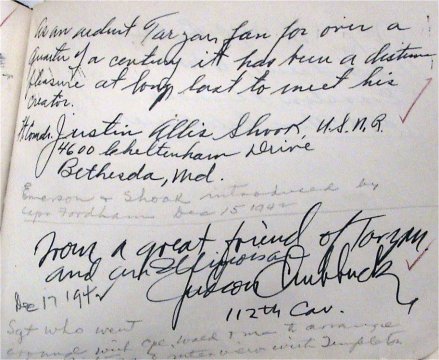 December 15, 1942
Been an ardent Tarzan fan for over a quarter of a century -
It has been a distinct pleasure at long last to meet his creator.
~ Lt. Comdr. Justin Allis Shook - USNR - 4600 Cheltenham Drive - Bethesda, Md
(Ed: Emerson & Shook introduced by Cap Fordham Dec 15, 1942)
December 17, 1942
From a great friend of Tarzan and an Illinoisan ~ Juston Chubbuck? - 112th Cav
(Ed: Sgt who went *** with Cpl Wald & me to arrange *** intervention with Templeton.)
---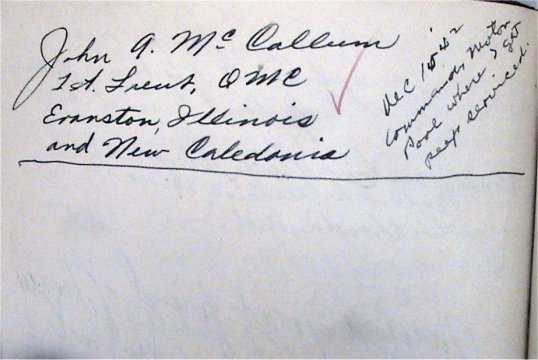 December 15, 1942
John G. McCallum - 1st Lieut. QMC - Evanston, Illinois and New Caledonia
(Ed: Command Motor Pool where I get jeep serviced.)
---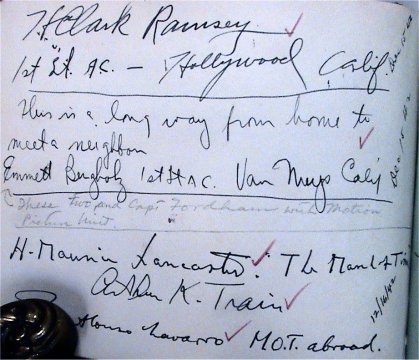 December 15, 1942
H. Clark Ramsey - 1st Lt. A.C. - Hollywood, Calif
This is a very long way from home to meet a neighbor. ~ Emmet Bergholz? - 1st Lt. A.C. - Van Nuys, Calif
December 16, 1942
H. Maunin Lancaster? ***
Arthur K. Train
*** Navarro - M.O.T. abroad
---

December 16, 1942
"Sydney Morning World?" ~ Douglas Gardner - Sydney, Australia
December 17, 1942
I have enjoyd many of your books not meaning to disparage them, I enjoyed your company more.

~ John W. Romlein - Major 70th CA (AA) - US. Army 0-20197 - New York City
---
December 17: Drove to Dumbea Valley to do a story of Royal Navy lieutenant, John Templeton -- now a private with the 112th Cavalry. Wold took many photos (they didn't turn out) of the troops. He then inspected batteries overlooking the harbour and had a look at a rather attractive native leper colony.
December 18: Hurricane season -- there were numerous threats of hurricanes in the vicinity.
December 19: Ed picked up a Negro soldier on way to Tontouta, who directed him to the First Parachute Battalion, USMC. They had recently suffered 50% combat casualties and were here to train replacements.
---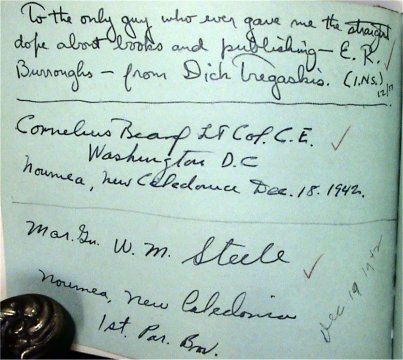 December 17, 1942
To the only guy who ever gave me the straight dope about books and publishing - E.R. Burroughs - from
~ Dick Tregaskis (I.N.S.)
December 18, 1942
Cornelius Beauf - Lt. Col C.E. - Washington, D.C. - Noumea, New Caledonia
December 19, 1942
Maj Gn W.M. Steele - Noumea, New Caledonia - 1st Par Btn
---
December 20: Ed and Lt. Ramsey explored the island's east side with its unusual scenery of jungle and bare volcanic hills. He picked up hitchhikers along the way: a Free French soldier and two Melanesians. During their drive along the bay to the south side of the island they had to get gasoline from a passing army truck. There were free fuel dumps alongside the highways all over the island. During supper, groups of visiting nurses all wanted to meet the famous creator of Tarzan.
---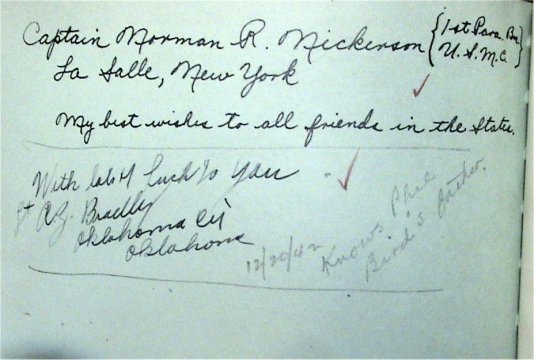 December 20, 1942
My best wishes to all friends in the States
~ Captain Morman R. Nickenson - La Salle, New York - 1st Para Bn - USMC
With lots of luck to you ~ Lt. A.R. Bradley - Oklahoma City, Oklahoma
(Ed: Knows Phil Bird's family)
---

December 19, 1942
Those cool green lawns and friendly homes
And men with pipes and collies
And little girls who sit on steps
A - Talking to their dollies
That is worth fighting for
~ Capt. George R. Stallings - First Parachute Battalion - Augusta, Georgia

---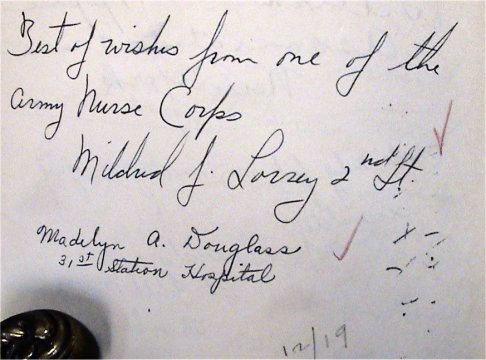 December 19, 1942
Best wishes from one of the army nurse corps ~ Mildred J. Lorrey - 2nd Lt
Madelyn A. Douglass - 31st Station Hospital
---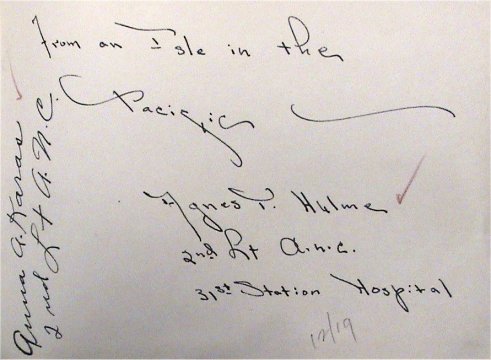 December 19, 1942
From an Isle in the Pacific ~ Agnes T. Hulme - 2nd Lt. ANC - 31st Station Hospital
Anna A. Karas - 2nd Lt. ANC
---
JOURNAL ENTRY: December 29: End of holidays brought clean clothes and a haircut at last. Ed met Pat Robinson of the International News Service -- oldest correspondent until OB came upon the scene. He wrote in Ed's autograph book: "The Dean until Tarzan showed up." Ed and Ham went to the Lyceum to see a Blondie picture and Francot Tone in "A Yank in Dutch" -- "... probably the silliest picture I have ever seen."
---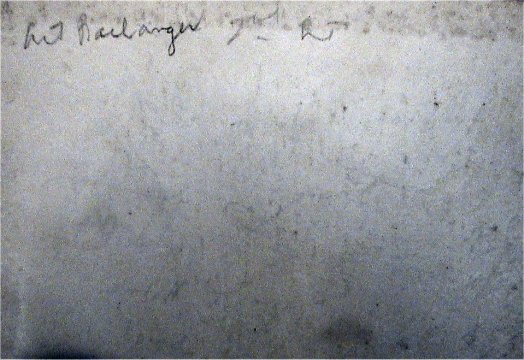 Lt. Ballanger - 2nd Lt
---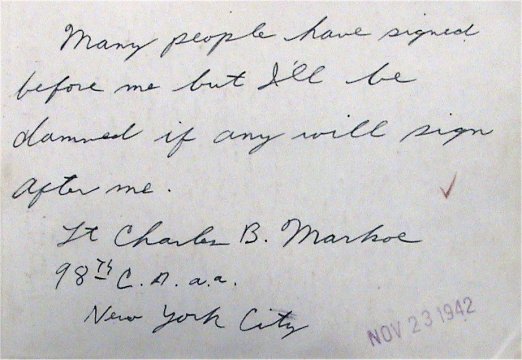 November 23, 1942: Last Page
Many people have signed before me but I'll be damned if any will sign after me.
~ Lt. Charles B. Markoe - 98th C.A. aaa - New York City