---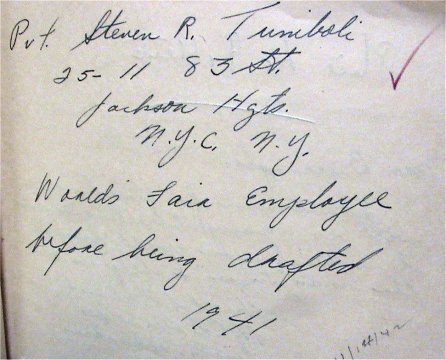 November 14, 1942
World's Fair Employee before being drafted in 1941
~ Pvt. Steven R. Trimboli ~ 25-11 83 St., Jackson Hgts. N.Y.C. N.Y
---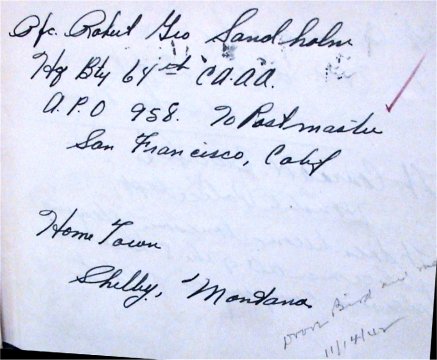 November 14, 1942
PFC. Robert Geo Sandholm ~ Hq Bty 64th CAAA - A.P.O 958
c/o Postmaster, San Francisco, Calif. - Home Town Shelby, Montana
---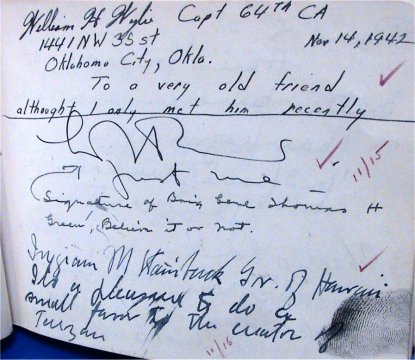 November 14, 1942
To a very old friend although I only met him recently.
~ William H. Wylie ~ Capt. 63th CA - 1441 NW 35 St., Oklahoma City, Okla
-------------------------------------------------------------------
November 15, 1942
Signature of being here shows H *** believe it or not. Just Me ~ ***
It's a pleasure to do a small favor for the creator of Tarzan ~ Ingram M Hainstock? - Gov. of Hawaii
---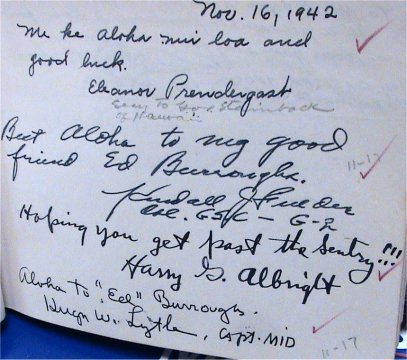 November 16, 1942
Mi ke aloha nui loa and good luck ~ Eleanor Prendergast
(Ed: Secry to Gord? Steinback of Hawaii)
November 17, 1942
Best Aloha to my good friend Ed Burroughs ~ Kendall J. Fielder - Col. GSC - G-2
Hoping you get past the Sentry!!! ~ Harry G. Albright
Aloha to "Ed" Burroughs ~ Hugh W. Lytler ~ Capt. MID
---
---

November 16, 1942
Bob Miller, "allegedly" a war correspondent passes on his best wishes to another "alleged" War Correspondent ~ Bob Miller
To E.R.B. - My "No. 1" tennis, radio & bridge partner - I'll never have a better one - Helen "Janey Allen" Hess
---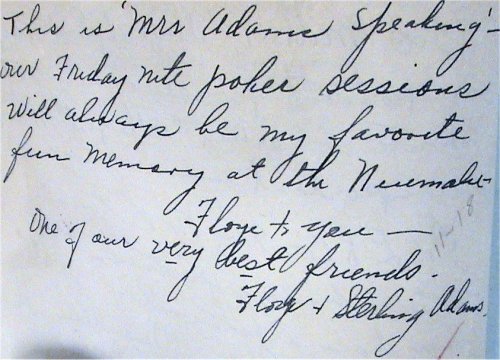 November 18, 1942
This is "Mrs. Adams speaking" - our Friday nite poker sessions will always be
my favorite fun memory at the Niumalu - Floye? to you.
One of our very best friends ~ Floye? & Sterling Adams
---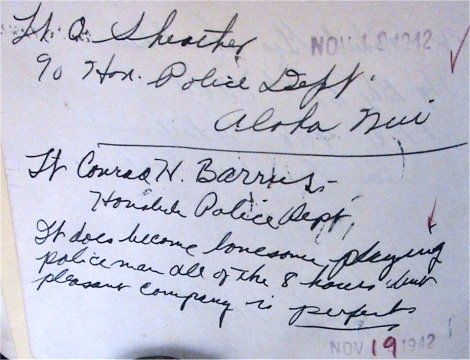 November 19, 1942
Lt. A Sheathy ~ c/o Hon. Police Dept., Aloha Nui
It does become lonesome playing policeman all the 8 hours . . . pleasant company is perfect.
~ Lt. Conrad H. Barris? - Honolulu Police Dept.
---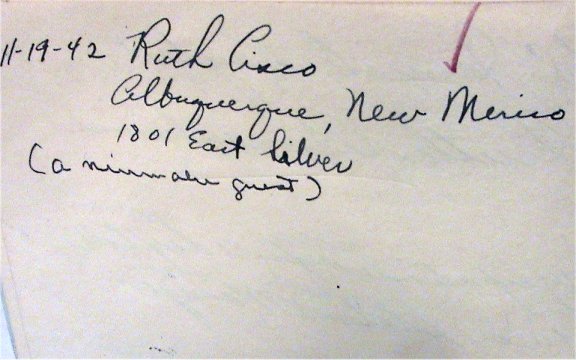 November 19, 1942
A Niumalu guest ~ Ruth Cisco ~ Albuquerque, New Mexico - 1801 East Silver
---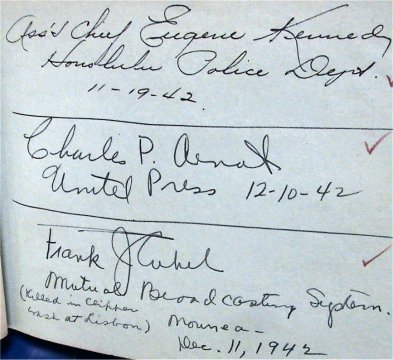 November 19, 1942
Ass'd Chief Eugene Kennedy ~ Honolulu Police Dept.
December 10, 1942
Charles P. Arnot ~ United Press
December 11, 1942
---

Frank J. Cuhel? ~ Mutual Broadcasting System, Moumea
(Ed: Killed in Clipper crash at Lisbon)
---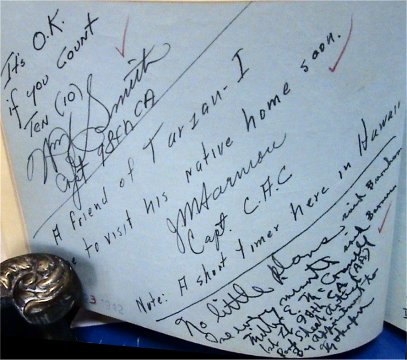 It's O.K. if you count Ten (10) ~ Wm Smith ~ Capt 98th CA
A friend of Tarzan. I hope to visit his native home soon ~ J.M. Aarmon? ~ Capt. CAC
Note: A short timer here in Hawaii
No little plans said *** One every minute said ***
~ Miller E. McConnell - 1st Lt. 98th CA (AA) *** By appointment to Kyokopu?
---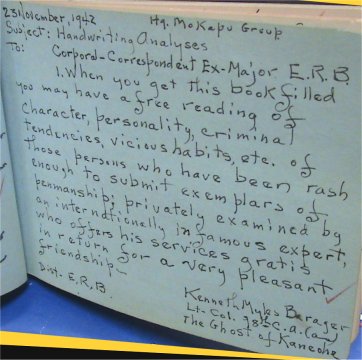 November 23, 1942: Hq MoKapu Group
Subject: Handwriting Analysis
To: Corporal Correspondent Ex-Major E.R.B.
1. When you get this book filled you may have a free reading of
character, personality, criminal tendencies, vicious habits, etc. of those persons
who have been rash enough to submit exemplars of penmanship;
privately examined by an interatinally infamous expert,
who offers his services gratis inreturn for a very pleasant friendship - Dist. E.R.B.
~ Kenneth Myles Barager - Lt. Col. 78th? C.A. - The Ghost of Kaneshe
---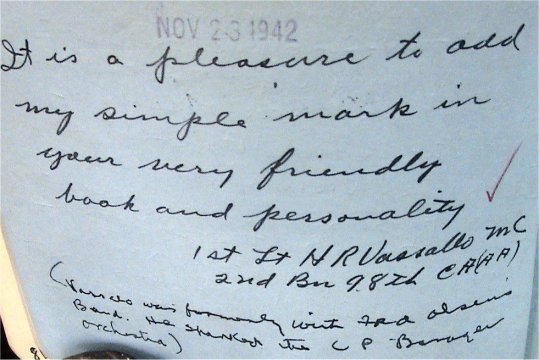 November 23, 1942
It is a pleasure to add my simple mark in your very friendly book and personality
~ 1st Lt. H. R. Vassallo MC 2nd Bn 98th CA (AA)
(Ed: Vassallo was formerly with Fred? Olsen's Band. He shanked the CP Baranger? Orchestra.)

---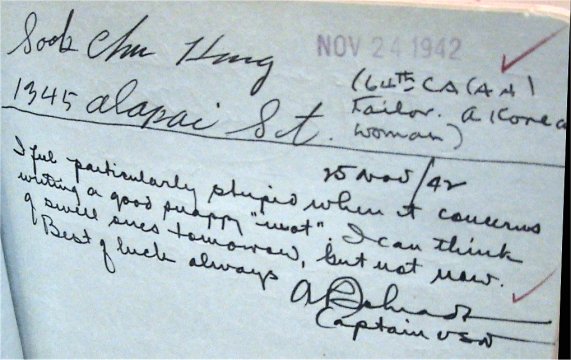 November 24, 1942
Sook Chu Hung ~ 1345 Alapai St. ~ 64th, CA (AA) ~ Sailor - a (Ed: Came as a woman)
November 25, 1942
I feel particulary stupid when it concerns writing a good snappy "mot".
I can think of swell ones tomorrow, but not now. Best of luck always.~ A Dahiard? - Captain USN
---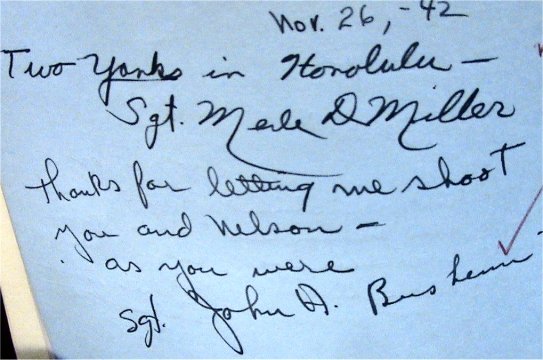 November 26, 1942
Two Yanks in Honolulu ~ Sgt. Merle D. Miller.
Thanks for letting me shoot you and Nelson as you were ~ John A. ***
---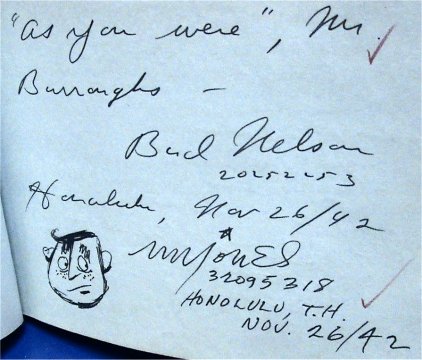 November 26, 1942
"As you were", Mr. Burroughs ~ Bud Nelson - 20252253 - Honolulu
(Face sketch) ~ M. Jones - 32095318 - Honolulu T.H.
---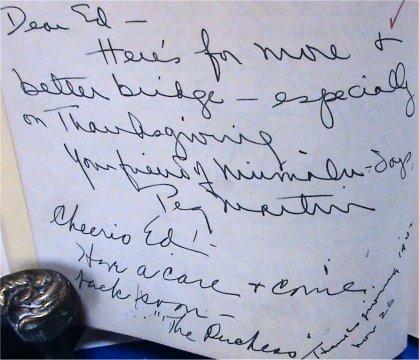 November 26, 1942: Thanksgiving
Dear Ed - Here's for more & better bridge - especially on Thanksgiving. Your friend of Niumalu days ~ Peg Martin
Cheerio Ed. Have a care & come back soon ~ "The Duchess"
---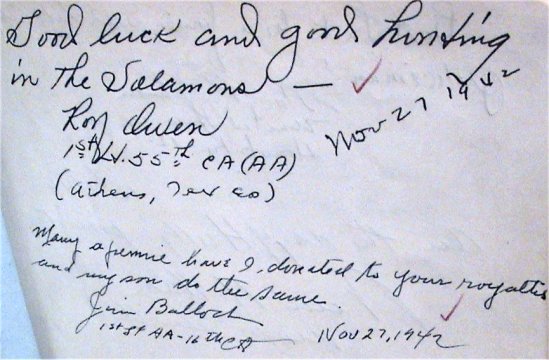 November 27, 1942
Good luck and good hunting in the Solomons ~ Roy Owen - 1st Lt. 55th CA (AA) - Athens, Texas
---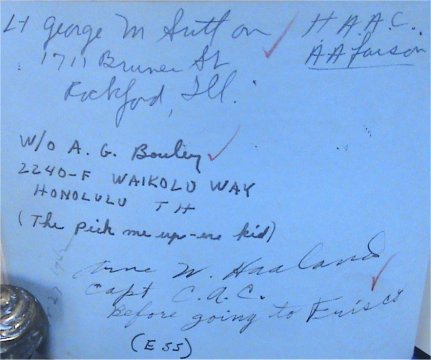 Lt. George M.Stritton ~ H.A.A.C. AA Larson - 1711 Bruner St. Rockford, Ill
W/O A.G. Bouley ~ 2240-F Waikolo Way, Honolulu TH (Ed: The pick me up-er kid)
Before going to Frisco ~Arne W. Hasland - Capt C.A.C (ESS)