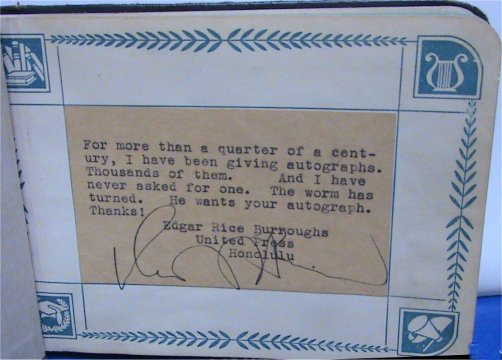 For more than a quarter of a century, I have been giving autographs.
Thousands of them. And I have never asked for one.
The worm has turned. He wants your autograph. Thanks!
Edgar Rice Burroughs
United Press, Honolulu
---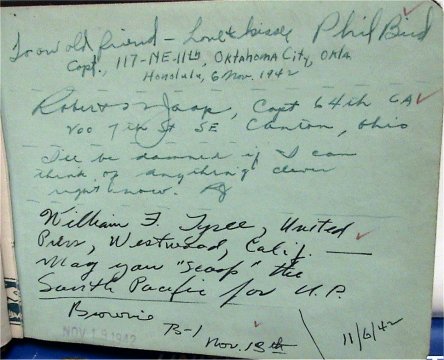 November 6, 1942: Honolulu
To an old friend - Love & kisses ~ Phil Bird - Capt. 117-NE-11th - Oklahoma City, Okla
I'll be damned if I can think of anything clever right now - RJ ~ Robert Jasp - Capt 64th CAV - Clinton Ohio
May you "scoop" the South Pacific for U.P. ~ William F. Tyree, United Press - Westwood, Calif
November 19, 1942
Brownie B-1
---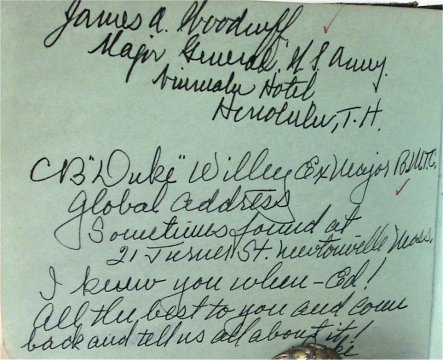 James A Woodruff ~ Major General of U.S. Army - Nuimalu Hotel, Honolulu, T.H.
I knew you when - Ed! All the best to you and come back and tell us all about it!
~ C.B. "Duke" Willey ~ Ex Major BMTC ~ Global Address: Sometimes found at 21 Juruer St., Newtonville, Mass
---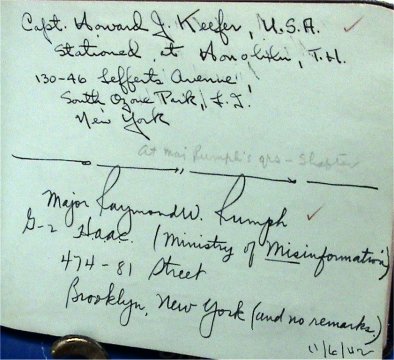 November 6, 1942
Capt. Howard J. Keifer, USA ~ Stationed at Honolulu, T.H. ~ 130-46 Lefferts Avenue, South Ozone Park, New York
(Ed: At Maj Rumple's grs - Shafter?)
---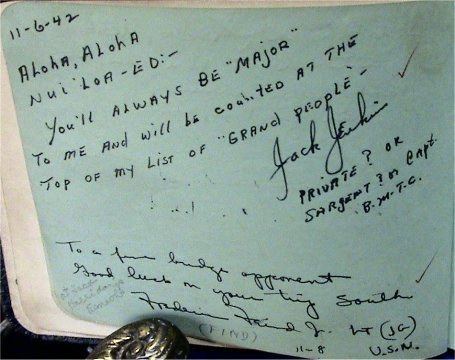 November 6, 1942
Aloha, Aloha Nui Loa - Ed:- You'll always be "Major" to me and
will be counted at the top of my list of of "Grand People."
~ Jack Jenkins - Private ? or Sargent ? or Capt B.M.T.C.
November 8, 1942: At Jack Halliday's
To a fine bridge opponent. Good luck on your trip South. ~ Frederic Friend, Jr?. - Lt. (JG) U.S.N.

---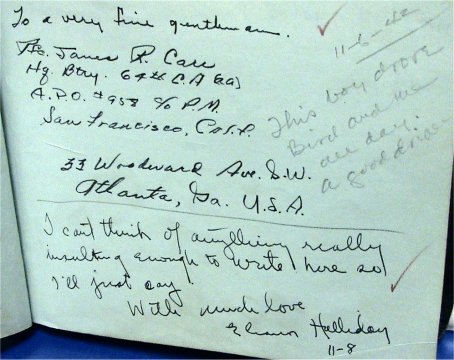 November 6, 1942
To a very fine gentleman ~ PFC James R. Carr - Hq Btry 63th CA (aa) -
APO #958 c/o P.M. - San Francisco, Calif ~ 33 Woodward Ave. S.W., Atlanta, Ga. U.S.A.
(Ed: This boy drove Bird and me all day. A good driver.)
November 8, 1942
I can't think of anything really insulting enough to write here so I'll just say, With much love
~ Eleanor Halliday

---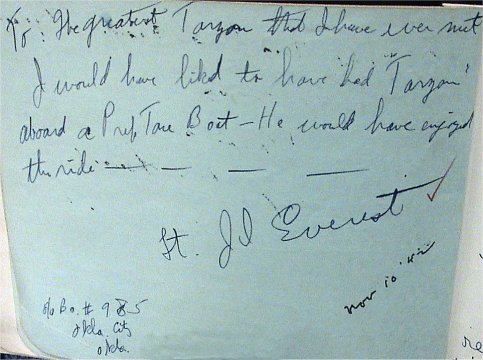 November 10, 1942
To: The greatest Tarzan that I have ever met.
I would have liked to have had "Tarzan" aboard a P T Boat -
He would have enjoyed the ride. ~ Lt. J. I. Everest ~ c/o #985, Okla City, Okla
---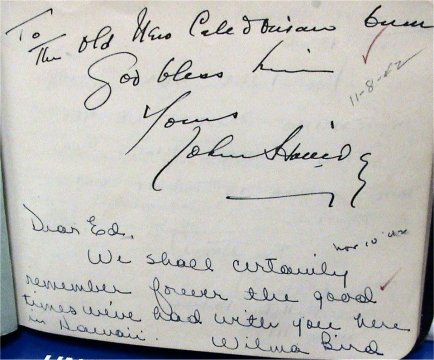 November 8, 1942
To the old *** *** *** - God bless him, Yours, John Hamed?
November 10, 1942
Dear Ed: We shall certainly remember forever the good times we've had with you here in Hawaii. ~ Wilma Bird
---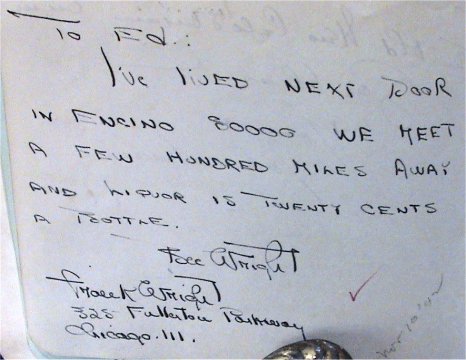 November 10, 1942
To Ed: I've lived next door in Encino 80000.
We meet a few hundred miles away and liquor is twenty cents a bottle. ~ Bee Wright
Frank Wright - 325 Fullerton Parkway, Chicago, Ill.
---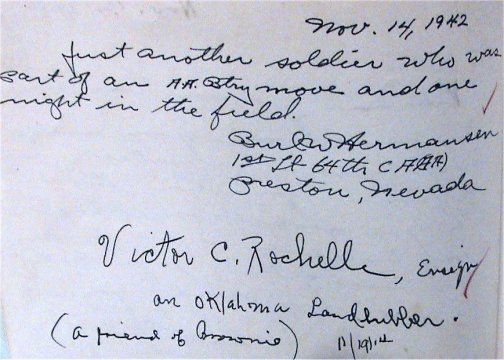 November 14, 1942
Just another soldier who was part of an A.A. Btry move and one night in the field
~ Burl W. Hermansen - 1st Lt 64th CA (AA), Preston, Nevada
November 19, 1942
An Oklahoma Landlubber ~ Victor C. Rochelle, Ensign
(Ed: a friend of Brownie)
---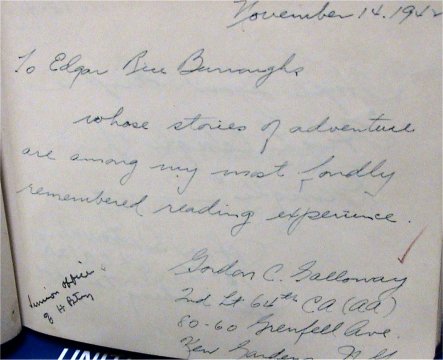 November 14, 1942
To Edgar Rice Burroughs, whose stories of adventure
are among my most fondly remembered reading experience.
~ Gordon C. Galloway - 2nd Lt. 64th CA (AA) - 80-60 Grenfell Ave. Kew Garden, NY
---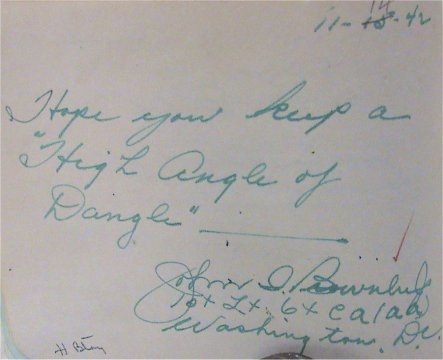 November 14, 1942: H Batallion
Hope you keep a "High Angle of Dangle" ~ John I. Brownley? - Washington DC
---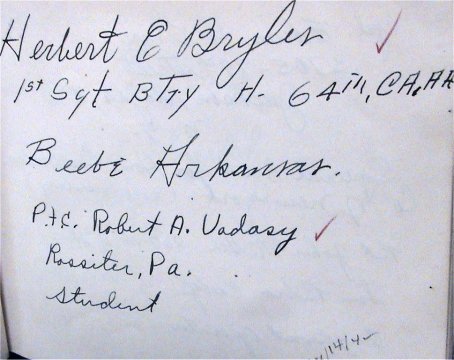 November 14, 1942
Herbert E. Bryles ~ 1st Sgt Btry H - 64th, CA AA - Beebe, Arkansas
PFC Robert A. Vadasy ~ Rossiter, Pa - Student
---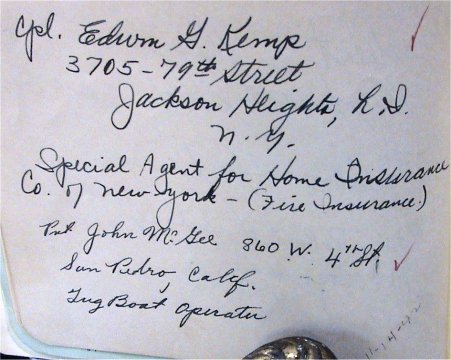 November 14, 1942
Cpl Edwin G. Kemp ~ 3705 - 79th Street, Jackson Heights, R.I., N.Y.
Special Agent for Home Insurance Co. of New York - (Fire Insurance)
Pvt. John McGee ~ 860 W. 4th St., San Pedro, Calif (Tug Boat Operator)
---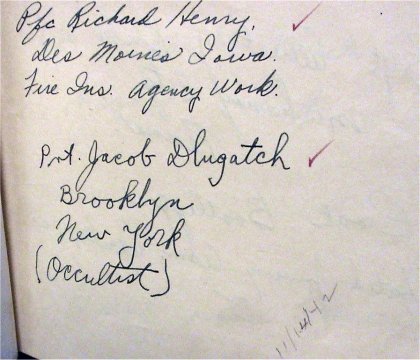 November 14, 1942
Pfc. Richard Henry ~ Des Moines, Iowa (Fire Ins. Agency Work)
Pvt. Jacob Dlugatch ~ Brooklyn, New York (Occultist)
---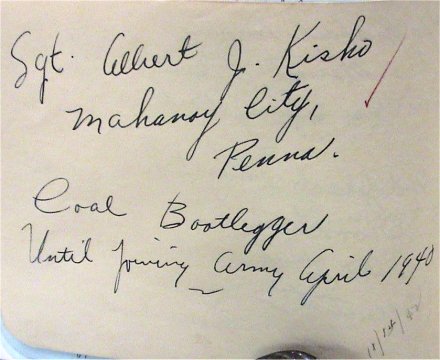 November 14, 1942
Sgt. Albert J. Kisko ~ Mahanay City, Penns.
(Coal Bootlegger until joining army April 1940)
---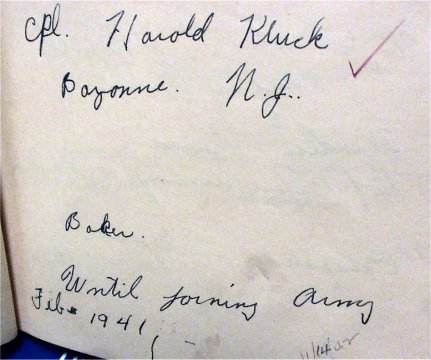 November 14, 1942
Cpl. Harold Kluck ~ Bayonne, N.J. (Baker until joining army Feb 1941)
---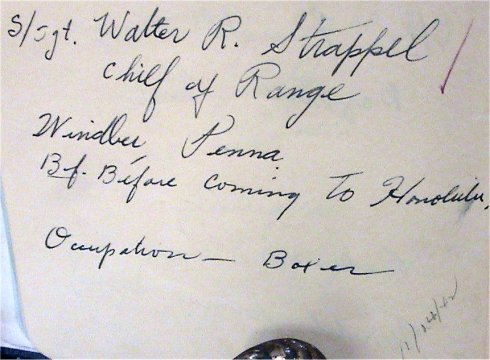 November 14, 1942
S/Sgt. Walter R. Strappel - Chief of Range - Windber, Penns.
(Before for coming to Honolulu - Occupation: Boxer)
---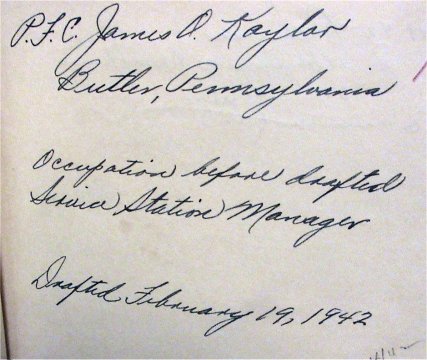 November 14, 1942
PFC James O. Kaylar ~ Butler, Pennsylvania
(Occupation before drafted: Service Station Manager - Drafted February 19, 1942)

---