Official Edgar Rice Burroughs Tribute & Weekly Webzine Site
Since 1996 ~ Over 10,000 Webzines and Webpages In Archive
Volume 2726a
George Du Maurier Art II
George Du Maurier was a famous British artist, cartoonist and novelist. He was born in Paris, but came to London to work as a chemist. His first cartoon was published by magazine Punch in 1860. He remained at the staff until his death. Later in his life his eye sight failed, which led him to drop drawing and turning to writing novels. He was the grandfather of the famous British novelist Daphne Du Maurier ('Rebecca'). This page features Part I of the Du Maurier illustrations for his novel, The Martian.
THE MARTIAN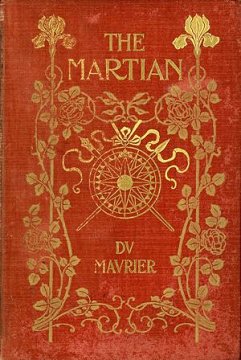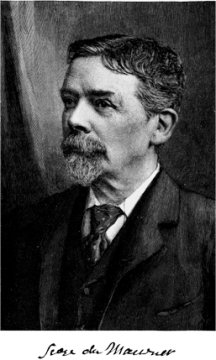 Illustrations by George Du Maurier
Part II

"'À VOUS, MONSIEUR DE LA GARDE!'"


"'I AM A VERY ALTERED PERSON!'"


"THE MOONLIGHT SONATA"


ENTER MR. SCATCHERD


BARTY GIVES HIMSELF AWAY


SO NEAR AND YET SO FAR


"'HÉLAS! MON JEUNE AMI ...'"


"'YOU ASK ME WHY I LOOK SO PALE?'"


"'YOU DON'T MEAN TO SAY
YOU'RE GOING TO PAINT FOR HIRE!'"


"'HE MIGHT HAVE THROWN THE HANDKERCHIEF
AS HE PLEASED'"


DR. HASENCLEVER AND MRS. BLETCHLEY


"'MARTIA, I HAVE DONE MY BEST'"


AM RHEIN


"'DOES SHE KNOW
YOU'RE VERY FOND OF HER?'"


"LEAH WAS SUMMONED FROM BELOW"


"BETWEEN TWO WELL KNOWN EARLS"


"LE DERNIER DES ABENCERRAGES"


"SARDONYX"


"'RATAPLAN, RATAPLAN'"


"'HE PRESENTS ME FIRST TO MADAME JOSSELIN'"


"'I DON'T THINK I EVER HEARD
HIM MENTION YOUR NAME'"


"'I'M A PHILISTINE, AND AM NOT ASHAMED'"


"'ZE BRINCESS VOULD BE SO JARMT'"


MARTY
Works
Illustration
English Society, a collection of more than 130 drawings from Punch and other sources.
Margaret Oliphant's Carita (2 plates)
The Hand of Ethelberta by Thomas Hardy (22 plates)
A Laodicean by Thomas Hardy
The Martian by George DuMaurier (48 plates)
A Rose in June (10 plates)
Three Feathers by William Black (10 plates)
Trilby by George DuMaurier (121 plates)
Zelda's Fortune by R. E. Francillon
Drawings for unidentified texts or places of publication
Novels
Peter Ibbetson
Trilby
The Martian
Poetry
"Vers Nonsensiques"
Art Criticism
"The Illustration of Books from the Serious Artist's Point of View. — I." (1890)
Parody as Art Critricism: "A Legend of Camelot," or Punch on the Aesthetic Pre-Raphaelites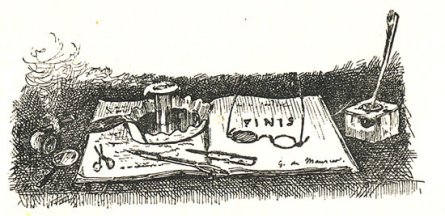 Reviews of Du Maurier's Novels by R.E. Prindle
Part I: Introduction
Part II: Review of Trilby
Part III: Review of The Martian
Part: IV: Review of Peter Ibbetson
Du Maurier Interior Illustrations
The Martian I
The Martian II


The ERB / Du Maurier Connection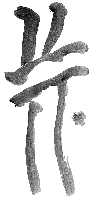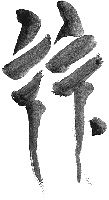 BILL HILLMAN
Visit our thousands of other sites at:
BILL & SUE-ON HILLMAN ECLECTIC STUDIO
ERB Text, ERB Images and Tarzan® are ©Edgar Rice Burroughs, Inc.- All Rights Reserved.
All Original Work ©1996-2009 by Bill Hillman and/or Contributing Authors/Owners
No part of this web site may be reproduced without permission from the respective owners.