Official Edgar Rice Burroughs Tribute & Weekly Webzine Site
Since 1996 ~ Over 10,000 Webzines and Webpages In Archive
Volume 2726
George Du Maurier Art Pt. I
George Du Maurier was a famous British artist, cartoonist and novelist. He was born in Paris, but came to London to work as a chemist. His first cartoon was published by magazine Punch in 1860. He remained at the staff until his death. Later in his life his eye sight failed, which led him to drop drawing and turning to writing novels. He was the grandfather of the famous British novelist Daphne Du Maurier ('Rebecca'). This page features Part I of the Du Maurier illustrations for his novel, The Martian.
THE MARTIAN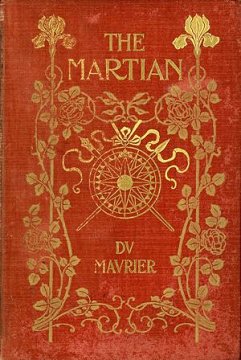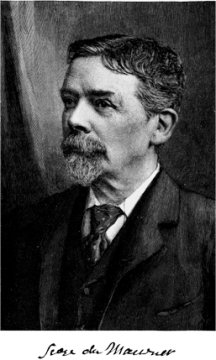 Illustrations by George Du Maurier
George Louis Palmella Busson Du Maurier (6 March 1834 – 8 October 1896)
Part I

INSTITUTION F. BROSSARD


THE NEW BOY


A LITTLE-PEACEMAKER


LOUD RUNSWICK & ANTOINETTE JOSSELIN


"'QUEL AMOUR D'ENFANT!'"


"AMIS, LA MATINÉE EST BELLE"


"TOO MUCH 'MONTE CRISTO,' I'M AFRAID"


LE PÈRE POLYPHÈME


FANFARONNADE


MÉROVÉE RINGS THE BELL


"WEEL MAY THE KEEL ROW"


A TERTRE-JOUAN TO THE RESCUE!


MADEMOISELLE MARCELINE


"'IF HE ONLY KNEW!'"


"'MAURICE AU PIQUET!'"


"QUAND ON PERD,
PAR TRISTE OCCURRENCE," ETC.


THREE LITTLE MAIDS FROM SCHOOL (1853)


SOLITUDE


"'PILE OU FACE—HEADS OR TAILS?'"


"A LITTLE WHITE POINT OF INTERROGATION"


"'BONJOUR, MONSIEUR BONZIG'"


"'DEMI-TASSE—VOILÀ, M'SIEUR'"


PETER THE HERMIT AU PIQUET


"THE CARNIVAL OF VENICE"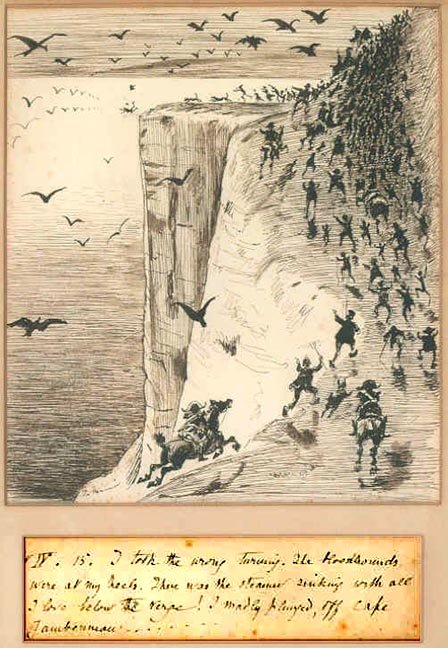 I took the wrong turning.
The bloodhounds were at my heels.
There was the steamer sinking with all I love below the verge!
I madly plunged, off Cape Jambonneau . . .
[The keys to identifying the story illustrated are the writer's use ofthe first-person point of view
(only The Martian fits here) and the geographic location (Cape Jambonneau),
which does not match either Trilby, The Martian, or Peter Ibbetson, the only three novels DuMaurier published.]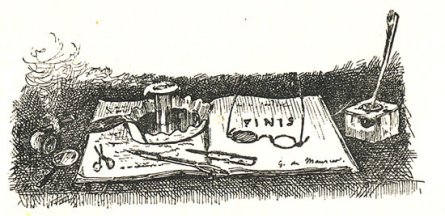 Reviews of Du Maurier's Novels by R.E. Prindle
Part I: Introduction
Part II: Review of Trilby
Part III: Review of The Martian
Part: IV: Review of Peter Ibbetson
Du Maurier Interior Illustrations
The Martian I
The Martian II
The ERB / Du Maurier Connection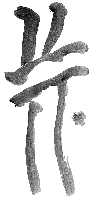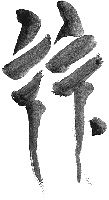 BILL HILLMAN
Visit our thousands of other sites at:
BILL & SUE-ON HILLMAN ECLECTIC STUDIO
ERB Text, ERB Images and Tarzan® are ©Edgar Rice Burroughs, Inc.- All Rights Reserved.
All Original Work ©1996-2009 by Bill Hillman and/or Contributing Authors/Owners
No part of this web site may be reproduced without permission from the respective owners.