Official Edgar Rice Burroughs Tribute and Weekly Webzine Site
Since 1996 ~ Over 15,000 Web Pages in Archive
Presents
Volume 2381
Rex Maxon daily strip art dedicated to ERB
June 10, 1933 ~ Tarzan the Ape-Man


Bo Derek Speaks Out Against Owning Wild Animals
The O'Reilly Factor Interview ~ March 4, 2009
O'REILLY: So Ms. Derek, you made a movie called "Tarzan," and you had some rough experiences with the animals. And then in the year 2000, you, Tipi Hedren and Melanie Griffith lobbied for federal legislation to protect people against wild animals. Tell us about that.

BO DEREK, ACTRESS/ACTIVIST: Well, we share something in common in that all three of us have been mauled on a movie set by wild animals. And in my "Tarzan" film, I was — the python did the whole constricting thing on me. I was mauled. I still have a scar on my shoulder from the lion. The chimps, I was always running away from them. I had my sister on set, and it was, "Run, Bo, run!"

O'REILLY: You actually got bit by a lion?

DEREK: Yes, I was bitten, actually. He didn't have his claws. But he got me down on the ground and went to take off my shoulder. And he was a little too far back, so he just closed it...

O'REILLY: Where was this set? Where was that?

DEREK: We were in the Maldives Islands on a beach.

O'REILLY: OK. So you knew...

DEREK: If it isn't — but if it weren't for the waves coming in — I was right at the shoreline — he would have been moved up and taken my whole shoulder off. In "Tarzan" movies of the future, we're going to have to use computer-generated animals, in my opinion.

O'REILLY: Just like they did in the Will Smith movie, "I Am Legend." You worked with a chimpanzee in "Tarzan."

DEREK: I did.

O'REILLY: That's a — he's a central character. Did he rough you up? What kind of a relationship did you have with him?

DEREK: I produced this film, so I went in thinking, "What a wonderful experience this is going to be, because I'll be able to work with all these animals. And I love animals. They're going to love me. It's going to be wonderful." It was a horror show. And the way they were treated — I brought in the producer — the animal wrangler with the screenplay writers, put them together to write scenes that would take advantage of lions and pythons and especially chimps. We had an orangutan. Take advantage of what they do naturally so we wouldn't abuse them, because I had heard of abusive stories. Sometimes they work off food, but mainly these poor animals were working off a sap, a lead-filled stick or slingshots with great big marbles, and they hit their boney little behind. It was horrible.

O'REILLY: So they were — the trainers were disciplining the animals when you were there. Did the chimp bite you or do anything to you?

DEREK: Yes, I had a real bite that drew blood. Most of the time they'd fake bite. They would just get angry and frustrated. And they'd grab me somewhere and, you know, scream and yell, which is frightening.

O'REILLY: On the set of "Tarzan," you got bit by a lion in the shoulder; you got bit by a chimp that drew blood. I hope you got paid a lot for that movie, Ms. Derek.

DEREK: This is the stupidity. When you're your own producer, you do the most ridiculous, insane things.

O'REILLY: Now, final question. You saw the poor Connecticut woman.

DEREK: Yes.

O'REILLY: Her life is altered forever. You believe there should be federal legislation saying no primates in homes?

DEREK: In homes at all. The only place — and breeding. In some states, there are just no regulations. You can buy a big cat, which is a public safety hazard, off the Internet or in the newspaper. And in my world, no more in movies, no more in private homes. It's just — it's a disaster waiting to happen. But I know the woman who owned the chimp loved that chimpanzee and gave it lobster tail and prime rib and whatever. But she — the animal was held hostage. It must be around its own. And in my world, tomorrow I would say everyone please write, not just on a federal level, state, local, your county supervisors. Demand this now, and it can happen.
3. COLLECTIBLES
THE MUTOSCOPE
A reel for vintage clamshell mutoscopes featuring a classic scene from the 1918 silent film Tarzan of the Apes.
In the scene Tarzan (played by Emo Lincloln) rescues Jane (played by Enid Markey) from the clutches of a native.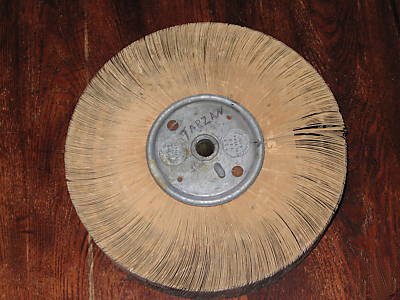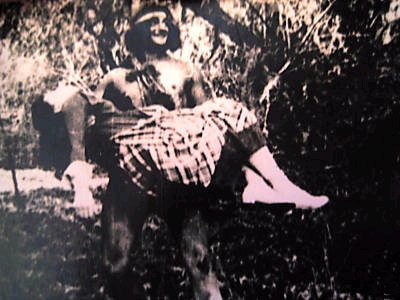 For more information on the Mutoscope,
visit the 1893 Victorian Peep Show in the world's first Midway
part of
Chicago's Columbian Exposition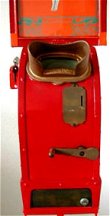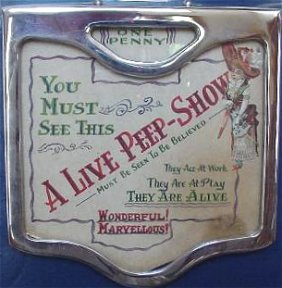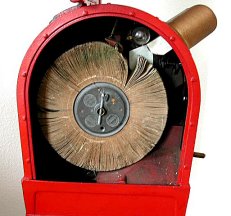 The Mutoscope -- manufactured by the American Mutoscope and Biograph Companies -- works on the same principle as a "flip-book." The individual image frames are conventional black-and-white, silver-based photographic prints on tough, flexible opaque cards. Rather than being bound into a booklet, the cards are attached to a circular reel. The reel holds about 850 cards, giving a viewing time of about a full minute. The reel with cards attached has a total diameter of about ten inches.

Our Mutoscopes will be coin-operated. The patron will view the cards through a pair of lenses enclosed by a hood, similar to the viewing hood of a regular stereoscope. The cards are lit electrically, but the reel is driven by means of a geared-down hand crank.

Each machine holds a single reel and is dedicated to the presentation of a single short subject, described by a poster affixed to the machine. The patron controls the presentation speed but the crank can be turned only in one direction, preventing the patron from reversing and repeating part of the reel. The patron is advised that stopping the crank or slowing it too much will throw the images far enough out of focus to blur them beyond recognition.

---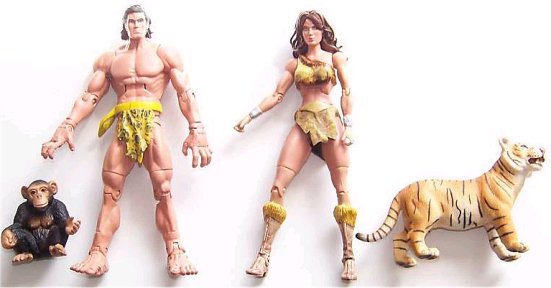 Custom Marvel Legends: Tarzan ~ Jane ~ Cheetah ~ Shah, the Tiger Cub
---

Better Homes and Gardens Magazine
~ August 1931~
Features an article on Edgar Rice Burroughs
and his new Tarzana cottage.


The Famous Authors Series
A Concise Biography of
Edgar Rice Burroughs ~ 2001


T-Shirt
1995 Dum-Dum
Pittsburgh
A PORTFOLIO OF DRAWINGS BY WILLIAM DIXON BASED
ON THE NOVELS OF EDGAR RICE BURROUGHS.
11 drawings, suitable for framing. Published in 1971 by Oswald Train.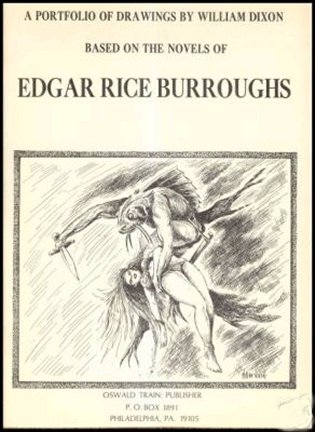 Edgar Rice Burroughs Portfolio ~ 1974 ~ A Limited & Signed Series of 500.
There are five black and white prints each signed by the artist.
| | | |
| --- | --- | --- |
| Edgar Rice Burroughs Portfolio | Pellucidar - Jeff Jones | Tarzan of the Apes - Jeff Jones |
| Carson of Venus - Mike Kaluta | John Carter of Mars - Al Williamson | The Monster Men - Berni Wrightson |

4. ERB PRINT REFS


Visit Tarzan's hangout just a car trip away
L.A. County Arboretum & Botanic Garden
The Desert Sun ~ February 26, 2009
Take a step into deepest, darkest Africa or escape to a lush, tropical isle — all just half a tank away. The Los Angeles County Arboretum & Botanic Garden in Arcadia, just east of Pasadena, delivers a vast array of scenery within its peaceful 127 acres of gardens. Beyond natural beauty, the arboretum is imbued with a rich history spanning the time of the Gabrielino Indians, who camped by the spring-fed lagoon, to movie and television filming from the 1930s to today. During the Mission period and the years that followed, the arboretum land was known as the Rancho Santa Anita. Elias Jackson Baldwin, rich from his share in the Comstock Lode, purchased nearly 80,000 acres of Southern California property — part of this holding was the rancho. The colorful, late-1800s owner of Rancho Santa Anita built the Victorian cottage you'll see on his working ranch for the sole purpose of entertaining his friends. "Lucky" Baldwin himself stayed in the original ranch house, a sparse adobe.

Visitors to the arboretum traverse a one-way trail through the "Prehistoric and Jungle Garden" for a look at Baldwin's Queen Anne cottage and adobe up close.
The trail continues, edging the lagoon lined with towering palms and filled with a wide variety of migratory bird life, taking visitors along the same path Dorothy Lamour, Bob Hope and Bing Crosby followed in the Road to Singapore. You may need to duck under the same wandering vines that cross the jungle route, just as Johnny Weissmuller and Maureen O'Sullivan did when they filmed Tarzan epics on this spot. Past the wooden footbridge over the giant koi-filled lagoon is Baldwin's cottage, which also hosted Fantasy Island's guests. It is easy to visualize the seaplane landing on the lagoon with Tattoo shouting "De plane, de plane" as he rings the bell in the tower. These are but a few of the hundreds of movie classics and television series that have been set in this scenic portion of the Los Angeles County Arboretum & Botanic Garden.

The remaining acreage of the arboretum is composed of flowing green lawns and a bounty of roaming peacocks, waterfalls, koi ponds and various gardens.
Special programs are offered each month. Tram tours take place daily. Guests are transported to the five botanical sections of the arboretum: Africa, Australia, the America, the Asiatic and the Historic Circle — in all, more than 18,000 plants. In addition, you never know when you will catch a glimpse of a new "epic" in production in this perfect setting for movie magic.

---
TO KILL A MOCKINGBIRD QUOTE
In To Kill a Mockingbird when Jem takes Scout to school the first day,
the "order" he give her was:

". . . during school hours I was not to bother him, I was not to approach him with requests to enact a chapter of Tarzan and the Ant Men, to embarrass him with references to his private life, or tag along behind him at recess and noon. I was to stick with the first grade and he would stick with the fifth. In short, I was to leave him alone."
---


FROM THE REFERENCE SHELVES
Edgar Rice Burroughs entries from encyclopedias, dictionaries, and thesauruses

---
The Literature of Burroughsiana
Rare 1963 EDGAR RICE BURROUGHS Reference by John Harwood
"A listing of magazine articles, book commentaries, news items, book reviews, movie reviews, fanzines, amateur publications and related items concerning the life and/or works of Edgar Rice Burroughs. Compiled and with commentary by John Harwood."

The front cover is a portrait of Edgar Rice Burroughs by J. Allen St. John.
The frontispiece has Tarzan art by Roy J. Krenkel, Jr.
The back cover lists highlights of Burroughs' life.

Contents:
Introduction, by Henry H. Heins
Acknowledgements, by John Harwood
Commentary, by John Harwood
Foreword, by Camille Cazedessus, Jr.
Personal Articles, Letters, and News Items by Edgar Rice Burroughs
Articles, Commentaries and News Items Concerning the Life and Works of Edgar Rice Burroughs in Professional Publications
Articles, Commentaries and News Items Concerning the Life and Works of Edgar Rice Burroughs in Amateur Publications
Reviews and Discussions Concerning the Novels and Magazine Stories of Edgar Rice Burroughs
Reviews, Articles and News Items Concerning Motion Pictures Based on Characters Created by Edgar Rice Burroughs
Articles and Indexes Concerning Newspaper Story Strips Based on Characters Created by Edgar Rice Burroughs

From the first page:
"The Literature of Burroughsiana ...was first published in early 1954 in the Burroughs fanzine, Barsoomian, then edited by James V. Taurasi, and contained about 115 entries. This new, revised and enlarged edition, edited and published by Camille Cazedessus, Jr., editor of ERB-dom, contains over 1,000 entries and is the culmination of 24 years of research by John Harwood."

John Harwood
...an avid fan of Tarzan's creator for over 35 years, is considered one of the foremost authorities on Edgar Rice Burroughs and his works. John has been writing about Burroughs since 1947, and has had articles published in nearly every ERB fanzine.
UK PAPERBACKS
W.H. Allen/Pinnacle Editions from the '50s and Four Square Edition from 1966
Thuvia, Maid of Mars Dust Jacket ~ Burroughs Edition
JAMES PIERCE - LAST OF THE SILENT MOVIE TARZANS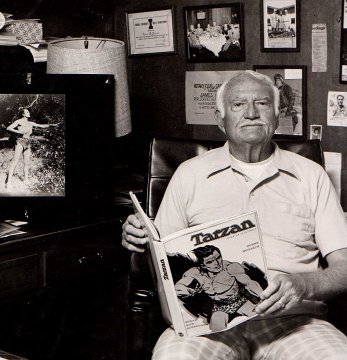 Photo courtesy Keith Johnson
www.thephotoshopguy.net
COMING SOON
The James H. Pierce Bio
| | |
| --- | --- |
| Cheetah (Jiggs) (1932- ) | Cheeta signing the picture. |
Cheetah's Hollywood career began in 1933 after he was taken away from his mother in the jungle when he was only a few months old.
He starred in numerous movies and television shows, most famously many Tarzan films of the 1930s and 1940s,
in which he portrayed a fictional chimp of the same name.


7. DANTON'S JUKEBOX


TARZAN BOY by BALTIMORA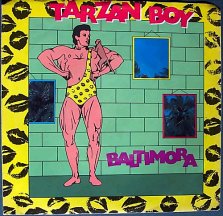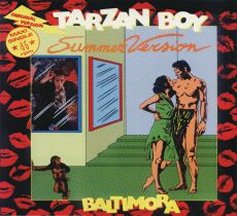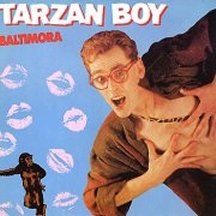 LISTEN
http://www.erbzine.com/mag23/videos/Tarzan_Boy_Baltimora.flv
Oh, oh, oh, oh, oh, oh, oh, oh, oh, oh, oh

Jungle life
I'm far away from nowhere
On my own like Tarzan Boy

Hide and seek
I play along while rushing cross the forest
Monkey business on a sunny afternoon

Jungle life
I'm living in the open
Native beat that carries on

Burning bright
A fire the blows teh signal to the sky
I sit and wonder does the message get to you

Oh, oh, oh, oh, oh, oh, oh, oh, oh, oh, oh

Night to night
Gimme the other, gimme the other
Chance tonight
Gimme the other, gimme the other
Night to night
Gimme the other, gimme the other world

Oh, oh, oh, oh, oh, oh, oh, oh, oh, oh, oh

Jungle life
You're far away from nothing
It's all right
You won't miss home

Take a chance
Leave everything behind you
Come and join me
Won't be sorry
It's easy to survive

Jungle life
We're living in the open
All alone like Tarzan Boy

Hide and seek
We play along while rushing cross the Forest
Monkey business on a sunny afternoon

Night to night
Gimme the other, gimme the other
Chance tonight, Oh Yeah
Night to night
Gimme the other, gimme the other
Night to night
You won't play

Night to night
Gimme the other, gimme the other
Chance tonight, Oh Yeah
Night to night
Night to night
Gimme the other, gimme the other

Oh, oh, oh, oh, oh, oh, oh, oh, oh, oh, oh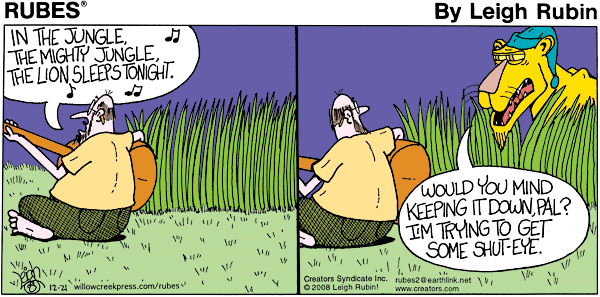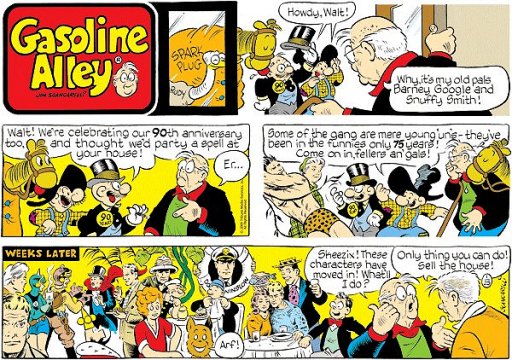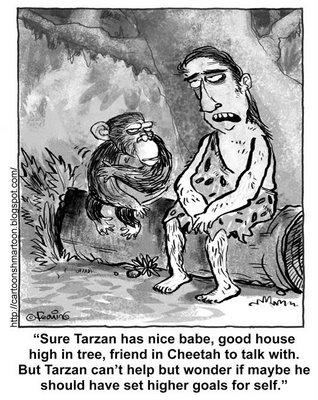 From



ERBzine.com
The Fantastic Worlds of Edgar Rice Burroughs
| | | | |
| --- | --- | --- | --- |
| Tarzan.com | Tarzana.ca | DantonBurroughs.com | Tarzan.org |
| BurroughsBibliophiles.com | JohnColemanBurroughs.com | Tarzan.com/tarzine | JohnCarterOfMars.ca |
| www.ERBzine.com/edgarriceburroughs | Weekly Webzine | Weekly Webzine | Pellucidar.org |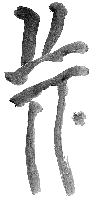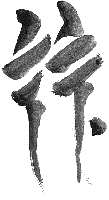 WEBJED: BILL HILLMAN


Bill & Sue-On Hillman Eclectic Studio
Some ERB Text, ERB Images and Tarzan® are ©Edgar Rice Burroughs, Inc.- All Rights Reserved.
All Original Work ©1996-2009/2017 by Bill Hillman and/or Contributing Authors/Owners
No part of this web site may be reproduced without permission from the respective owners.