---
LEGACY: INTO THE 21st CENTURY
---
The fiction works of both men still reach an immensely broad international audience, appealing to both adults and juveniles. Their characters and books have been and are still being adapted to modern media and keep attracting new generations into the 21st century as they are embraced by the new technologies. Their stories have been translated into every major language on Earth.
---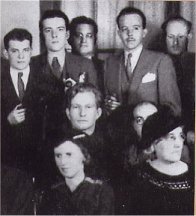 From the beginning of his writing career, LRH has shared his experience with students in speaking engagements at major universities. He conducted forums in which he offered practical advice on how to break into the ranks of professional writers. This dedication led to his election as president of The New York Chapter of the American Fiction Guild in 1935 with a membership that included writers such as Edgar Rice Burroughs, Raymond Chandler, and Dashiell Hammett. He continued to write magazine articles and host radio shows offering guidance to help new writers. His legacy in this field of activity was the creation of the Writers of the Future Contest in 1983, which today is still one of the most prestigious writing contests. See ERBzine No.2346. Since its formation its judges have included a "who's who" of top-name writers. In 1988, Hubbard's vision inspired a companion contest for new and aspiring SF illustrators: The Illlustrators of the Future Contest.

In 1950 LRH embarked from fiction writing to devote his time to extensively researching, writing and lecturing about the human mind and its spiritual nature. The way had been paved by his successful writing career.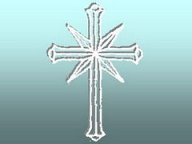 The result, in May 1950, was publication of Dianetics: The Modern Science of Mental Health which remained on the New York Times bestseller list for 26 weeks. By 1952 his research led him to develop Scientology, an applied religious philosophy. For the next three decades he devoted his life to developing and promoting this philosophy, and establishing its structures.
In 1982 he found time to return to the world of science fiction. The result was a defining and widely acknowledged work, Battlefield Earth, the biggest single science fiction novel ever published -- 428,750 words across over 1,000 pages. He notes in the book's introduction that this was the only novel he ever wrote just to amuse himself. It was a project he undertook to celebrate his fiftieth year as a professonal writer. This epic adventure is a novel of an apolcalyptic future in which mankind has been conquered and its survivors brutalized for centuries by an alien colossus. The novel was a monumental international success and blockbuster bestseller. He followed this with the 10-volume, single story 1.2-million-word science fiction satire, Mission Earth. Battlefield Earth and Mission Earth together dominated North American bestseller lists for 153 weeks. His culminating works of science fiction -- Battlefield Earth and Mission Earth -- blazed new paths in the landscape of modern speculative fiction literature.
L. Ron Hubbard's literary output ultimately encompassed more than 260 published novels, novelletes, short stories and screenplays in every genre.
Mr. Hubbard passed away in 1986, but his literary legacy lives on indelibly in works that continue to reverberate down through generations and millions of readers, making him one of the most widely read and highly acclaimed writers of our time.
Of major interest to fans of LRH is the L. Ron Hubbard Exhibition on Hollywood Boulevard in Hollywood, California. There are also the L. Ron Hubbard Houses in Washington, D.C., Phoenix, London and Johannesburg, SA. While these former are landmarks meaningful to Scientologists, they also provide facets of his literary legacy.
Over the years LRH has received countless awards -- a recent one was the dedication of a Los Angeles street in his name: L. Ron Hubbard Way.
Galaxy Press, in addition to keeping the LRH novels in print, also reprints many of the his pulp stories in a modern pulp-type format available at all major newstands and bookstores.
---

"Story Vitality" An article for writers by L. Ron Hubbard ~ See Writers of the Future Herald





The writings of L. Ron Hubbard are available at:
www.galaxypress.com
Pulps ~ Audio Books ~ Best-Selling Novels ~ Writers of the Future Anthologies
http://www.writersofthefuture.com/