---
PULPS: The writing careers of both authors were born of the pulps.
---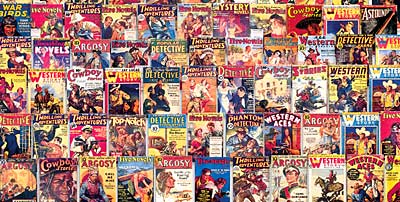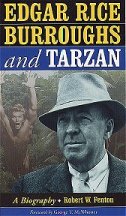 "Although the authenticity and perceptions in Hubbard's stories are drawn from his extensive travels and broad cultural research, his literature is part of an intensely and genuinely American idiom of literary expression and thought that parallels the works of Hemingway, Steinbeck and Faulkner in the 1930s. Hubbard was a significant force in the popular fiction magazines that indelibly shaped American culture in the first half of this century with the post-modernist canon that also included Hammett and Chandler, Gardner, Burroughs and Heinlein. More trenchantly, Hubbard's influence has stayed with us and is now, perhaps even more forcefully, shaping the visage and direction of things to come."

~ The Fiction of L. Ron Hubbard by William J. Widder, MA ~ L.Ron Hubbard Library ~ 1994


Although the lives of both men had much in common, they were born about 35 years apart. In fact, Ron Hubbard was born in 1911 -- the year that Ed Burroughs had his first story published. They were noted for their prodigious output of stories over all genres and were trendsetters in popular fiction for many decades. They shared an ability for captivating storytelling and fast-paced plots and colourful unforgettable characters. Before they ventured into the world of writing they had both lived adventurous lives that rivaled anything their vivid imaginations put to the printed page. Early on they found a market in the very popular and inexpensive "pulp" magazines, which were a natural showcase for the fledgling writers. These low-cost, widely distributed magazines earned the name "pulps" from the rough, unfinished and untrimmed paper stock that made up their pages. Each magazine was embellished with colourful sensationalist cover art and contained exciting black-and white interior illustrations that illustrated a panorama of literary genres: exotic adventures, action, war, western, aeronatics, detective, science fiction, horror, romance, historical, sport, seafaring, fantasy, etc. Both men kept extensive notebooks and journals. Details from their many real-life adventures and travels found their way into their stories . . .often through the kaleidoscope lenses of their inexhaustible imaginations. Both imaginative authors had the good fortune of having their first published stories appear in two of the most popular magazine titles of their day: ERB debuted inAll-Story with the Mars science fiction adventure, "Under the Moons of Mars" in 1911 (later published in hardcover as A Princess of Mars) and LRH's "The Green God" appeared 33 years later in Thrilling Adventures in February 1934.

Both authors sold much material across all genres to pulp magazines and newspapers before publication in book form. This was a very common procedure: most of Jack London's yarns of the Far North, Zane Grey's westerns, H. Rider Haggard's African adventures, O. Henry's stories, Raymond Chandler's mysteries, and the work of numerous other well-known authors -- including Charles Dickens and Arthur Conan Doyle -- appeared in magazines before they became best-selling books. Few pulp writers could work fast enough, however, to make a good living; fewer still ever graduated from the genre: Hubbard and Burroughs were among those who moved on to better things.

Both men were so unique and popular for their time that they played a large part in launching new genres and styles of writing. Each commanded top dollar for his time and won over legions of loyal fans. Their popular themes and imaginative styles eventually spread beyond the pulp markets and influenced most other venues of pop culture. Many of their contemporaries and later authors have paid allegience to the legacy of these two innovators: R. E. Howard, Erle Stanley Gardner, Zane Grey, Max Brand, Isaac Asimov, Robert Heinlein, Ray Bradbury, Stephen King, and just about every author of imaginative fiction.