First and Only Weekly Online Fanzine Devoted to the Life & Works of Edgar Rice Burroughs
Since 1996 ~ Over 10,000 Web Pages in Archive
presents
Volume 2174
EDGAR RICE BURROUGHS



2008.07

---
FROM BRIAN BOHNETT'S NEW ERB SITE AT MYSPACE
http://www.myspace.com/edgarriceburroughs
---
| | |
| --- | --- |
| Inscribed photo to "Detroit Times" staff writer. (1919) | Inscribed photo to Burroughs' British literary agent. (1924) |
.

ERB visiting "Dan the Monkey Man" in the woods outside of Los Angeles
after Dan had spent a night in the woods. (1924)


ERB at home (1929)
.
19th Century Burroughs

Tintype of MMA cadet, Burroughs, with unidentified lady.
(Circa 1892) (Courtesy of Danton Burroughs.)


MMA ad featuring photo of
Burroughs on horseback. (1900)
---
TROLLING THE WEB
---
---
Letters Danton Burroughs sent to a young fan in 1976
http://picasaweb.google.de/douglasdraa/BookCovers
---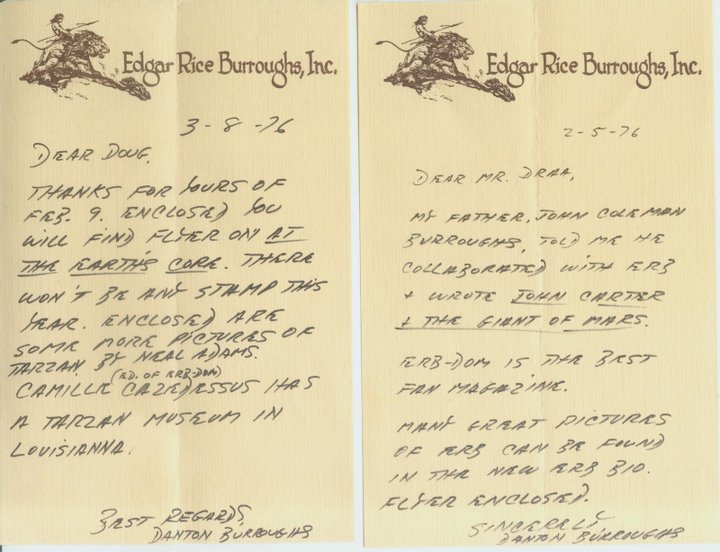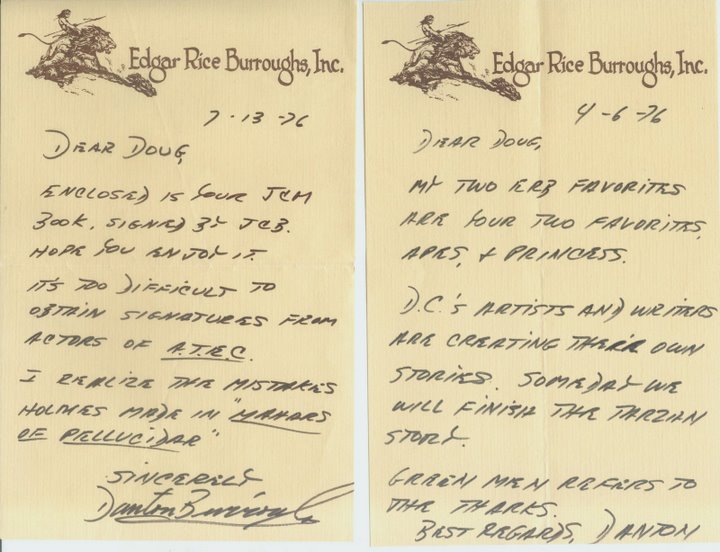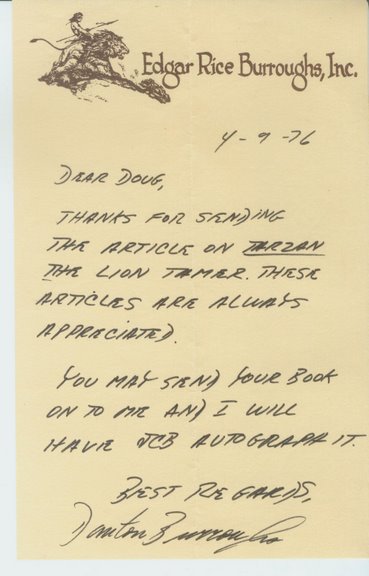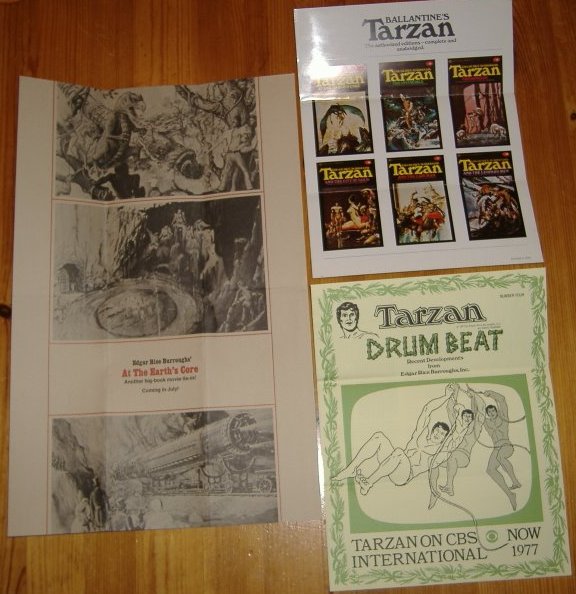 ---

TARZAN MUG
From the David Lemmo Collection

---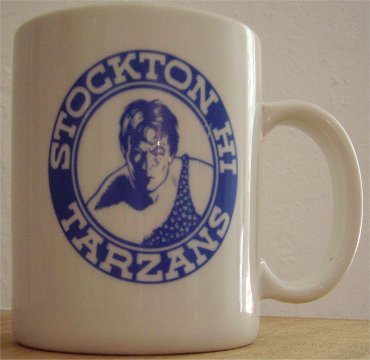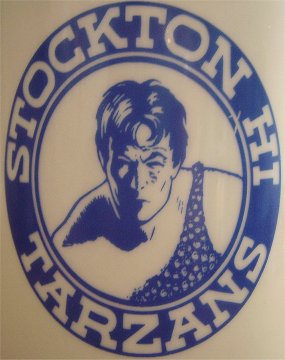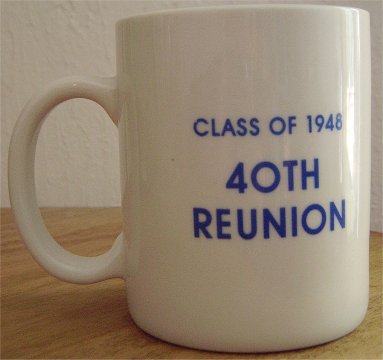 I'm an old time ERB fan and collector and I am working on a 'Museum of Modern Mythology and Pop Culture.' Someone gave me something for my Tarzan collection you may, or may not be aware of. It's a coffee mug with a picture of Tarzan, with a blue circle around him, saying, "Stockton Hi Tarzans." On the opposite side of the mug it says: "Class of 1948 40th Reunion." Apparently, Stockton, California had a high school team named the Tarzans. ~ David Lemmo

---


Q & A with Ray Bradbury

Courier-Journal ~ Louisville, KY
Q: How has your work been shaped by the ways in which American culture has developed over the last 60 years?

RB: You develop it yourself. No matter what anyone tells to you, the answer to everything in life is do what you love and love what you do. So when I was 12 years old, I fell in love with Edgar Rice Burroughs and John Carter, "Warlord of Mars," and when I got a toy typewriter I wrote my first story. It was a sequel to a Martian book by Edgar Rice Burroughs. I collected Buck Rogers comic strips -- it didn't cost any money. And when I was 19, I sold newspapers on a street corner, and I went to a library and educated myself. I didn't need money to go to college. You could educate yourself at the library. So I went to the library every day, and I graduated from the library when I was 28 years old. I didn't have to spend any money. The Depression never touched me, because I knew what to do with my life. I wrote my very first good short story, "The Lake," when I was 23 because I did what I wanted. And then I kept writing and without knowing, I finished a novel called "The Martian Chronicles." So that had nothing to do with society. It had to do with my doing what I wanted to do. So society never catches. I do what I want at all times. I went to Mars when I was 12 years old, and I never came back.

---

TARZAN IN ISTANBUL

---


Ref: http://delirium-vault.org

Onar Films has released this extremely rare movie and - prepare to be surprised - itís not that bad, really.
Tarzan movies had made it across the pond and were quite successful in Turkey. I can only imagine this, why else would they consider a Turkish version of these movies?

An expedition in Africa finds the remains of a Turkish man and his diary. It turns out he and his family were attacked and murdered. The expedition notifies the manís brother in Istanbul and hands him a letter from the deceased. It turns out the letter refers to a location where a treasure can be found and the brother thinks it is time for a new expedition. Of course there is one woman on the crew: it wouldnít be a real Tarzan movie without a Jane, wouldnít it? And of course, not the entire family ended up killedÖ one boy survived and - no surprises there - became the legend that is Tarzan. Tarzan encounters the expedition crew and even manages to save them from a local tribe who are keen to feed them to the crocodiles. Thatís our hero!
He also lures Netzia away from the expedition and shows her his life: the wild animals that listen to him, swimming in the river and fresh delicious fruit. Other than Jane, Netzia isnít immediately wooed by this: no, she asks to be taken back to her friends.

One could complain that the film is full of stock footage and that a lot of scenes donít look like they were shot in the jungle, but rather somewhere in a Turkish field, but to be honestÖ canít we say the same about the original Tarzan movies? (Some stock footage seems so familiar it may have just been taken from older Tarzan movies.)

That Tarzan in Istanbul borrows so much from the 30s movies isnít a bad thing: I recognized bits of plot from Tarzan and the Green Goddess (1935) and Tarzanís Revenge (1938). It looks as if director Orhan Atadeniz watched the movies, took the best ideas and made a new version for the Turkish market. The result is a better film than the originals.

All in all, Tarzan in Istanbul wasnít as silly or awful as Iíd anticipated. My big criticism of the American Tarzan movies was that they often felt like one idea stretched out to end up with a feature-length film. Tarzan in Istanbul at least offers more plot in an equally long movie. Sadly, not all the characters get the attention they deserved from the screenwriters: most characters have no depth whatsoever (including the one-dimensional comedian they always seem to smuggle into this sort of movie) and the romance between Tarzan and Netzia is sadly missing from most of the movie (and thus not entirely credible in the last scenes of the film).

So who should buy this? Tarzan enthusiasts of course, but also the sort of movie collection whoíd like to have at least one movie of each genre in his or her collection. If there still isnít a Tarzan movie in your collection, Tarzanís Revenge or Tarzan in Istanbul are the better options.

Onar Films made sure the DVD was as cleaned up as they could get it: the print looks very good for a Turkish movie thatís more than 50 years old (especially given the state most Turkish movies were kept in), but this does have one negative effect: it is now a bit more obvious to hear that the voices were recorded in a studio. This wonít bother you that much in the end though (and itís something youíre probably used to if you like watching cheaper genre movies).

The extras should get a mention too. Youíre probably used to the extras of Onar Films releases and this movie is no exception: yes, there are a couple of trailers and there is a half-an-hour long conversation with Turkish director Kunt Tulgar. But the real gem is a 30 second clip of archive footage where you can see the director set up a scene. Itís short but sweet and a nice find.

A great release from a movie that deserved to get a bit more attention: Tarzan Istanbulída will always remain an oddity, but it will give you 90 minutes of escapism. To the Turkish jungle, that is.

P.S. You can buy the movie from Onar Films (http://www.onarfilms.com) or Xploited Cinema (http://www.xploitedcinema.com).

Oh, and letís not forget the trailer:
http://www.youtube.com/watch?v=7W-VnjeSfO0&feature=related
---
Louisville Dum-Dum 2007 photos from William Wagner
. . . with his suggested captions
---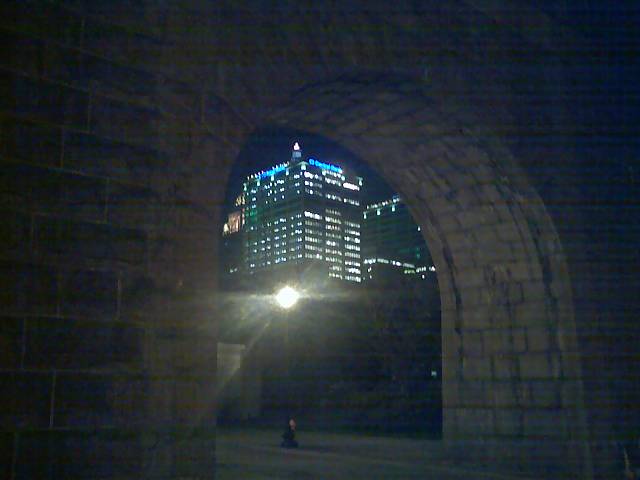 View through an archway on the walk back from the crab shack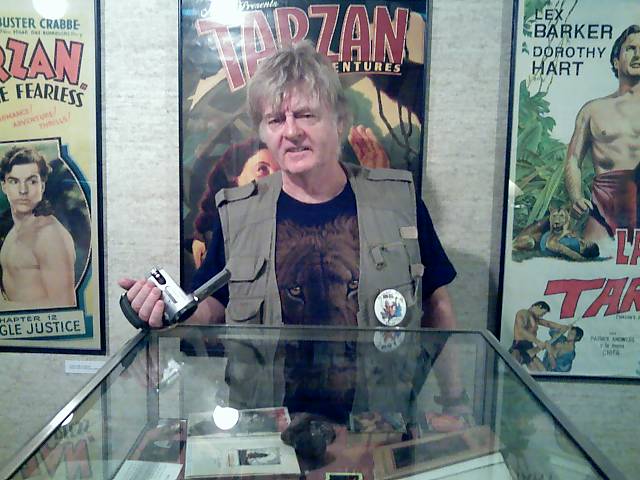 Bill Hillman, looking about the rare books display at the U of L Ekstrom Library
. . . possible captions are:
Do I have a big enough bag for all this?
Do you think they'll notice anything missing?
and my favorite:
Will it all fit in the overhead compartment?
---
CARTOON GALLERY
---

Frank and Ernest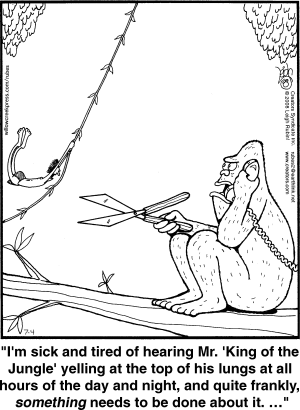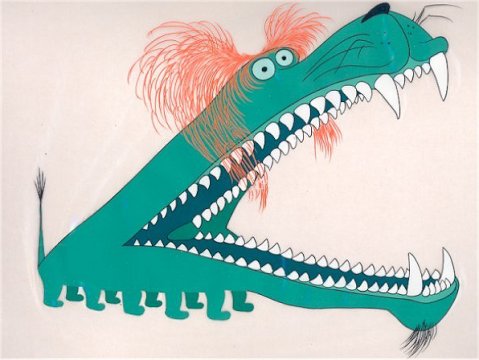 A Banth cel from a Disney '50s film, Mars and Beyond, about the space program, including speculation about life on Mars.
Part 6, Mars in Pop Culture, gave credit to ERB's vision
and even featured cartoon sketches of Martians, a calot, plant men, thoat and banth.
---

TARZAN OF THE APES TO COLOR
Saalfield Publishing Co.: No. 988, 1933
(Coloring Book) (15-1/4.10-3/4", 24 pages)
Contains 1929 daily reprints with some new art by Hal Foster.
Two panels blown up large on each page with one at the top of opposing pages on every other double-page spread.
Most panels are reproduced a second time in B&W to be colored.
From the Jerry O'Hara Collection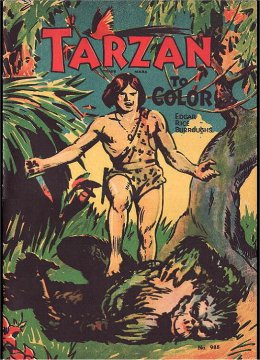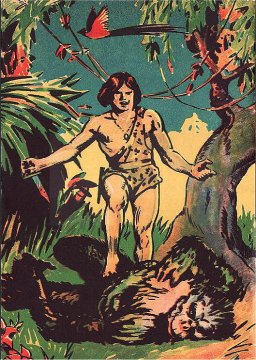 Front and Back Covers (click for full-screen images)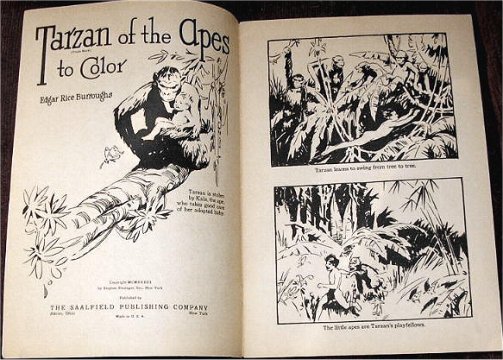 Tarzan is stolen by Kala, the ape, who takes good care of her adopted baby.
Tarzan learns to swing from tree to tree.
The little apes are Tarzan's playfellows.

With mighty strength, Tarzan slays the great ape.
Tublat throws back his head and screams out the fierce ape cry of defence.


The next morning the tribe starts toward the coast.
Sabor, the lioness, crosses their path.
73 more Tarzan pics to colour from Disney
---
IMAGES FROM THE PAST
---
Johnny Weissmuller: Behind-the-Scenes shot on the 1943 Stage Door Canteen set
| | |
| --- | --- |
| Gordon Scott working out between scenes | Click for full screen image |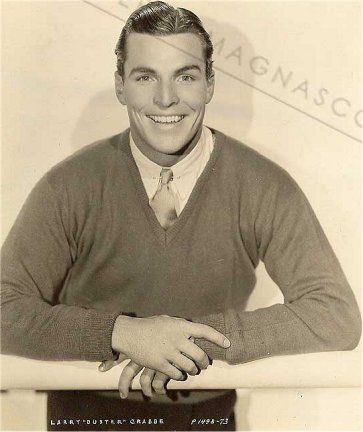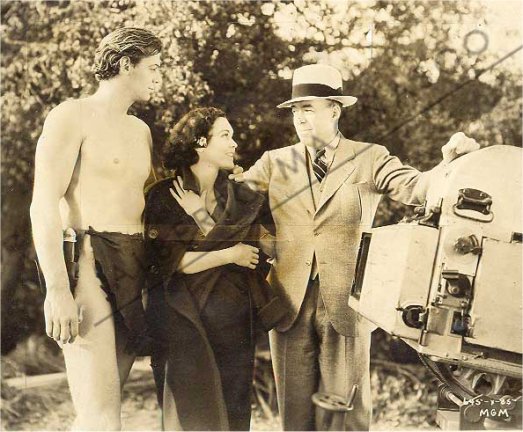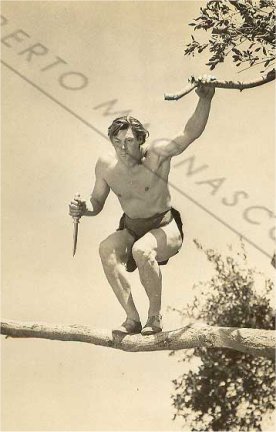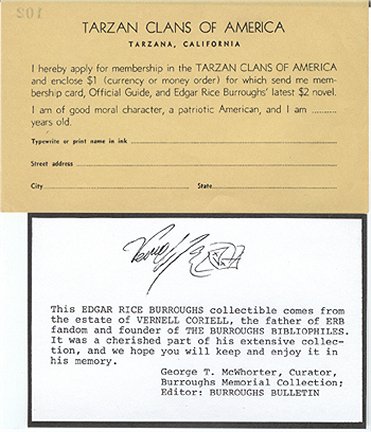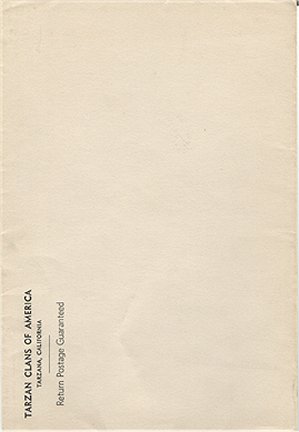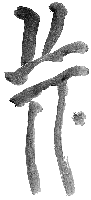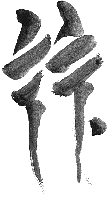 BILL HILLMAN
Visit our thousands of other sites at:
BILL & SUE-ON HILLMAN ECLECTIC STUDIO
ERB Text, ERB Images and Tarzan® are ©Edgar Rice Burroughs, Inc.- All Rights Reserved.
All Original Work ©1996-2008/2010 by Bill Hillman and/or Contributing Authors/Owners
No part of this web site may be reproduced without permission from the respective owners.