Official Edgar Rice Burroughs Tribute and Weekly Webzine Site
Since 1996 ~ Over 10,000 Web Pages in Archive
Presents
SKY BROWER'S PHOTO MEMORIES OF
THE "APE-MAN'S" GREATEST ADVENTURE
and
EDGAR RICE BURROUGHS WAKE 2007 ~ LITTLE ROCK, ARKANSAS
.Volume 1718


Part I: THE APE-MAN'S GREATEST ADVENTURE:
In Search of Gordon Scott
For more details on "The Adventure," check the "Jungle Drums" section at:


.

Scenes from Tarzan's Fight for Life
| | |
| --- | --- |
| Gordon Scott and Eve Brent | Tarzan ~ Histah ~ Jane |
.
GORDON SCOTT
Gordon Scott was the very popular film Tarzan of the '50s & '60s
Mr. Scott starred in six Hollywood releases:
Tarzan's Hidden Jungle (1955)
Tarzan and the Lost Safari (1957)
Tarzan's Fight for Life (1958)
Tarzan and the Trappers (1958)
Tarzan's Greatest Adventure (1959)
Tarzan the Magnificent (1960)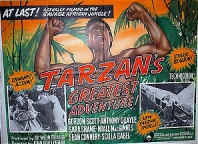 For information on all the ERB films
from over the last 90 years see:
ERBzine Silver Screen
.

..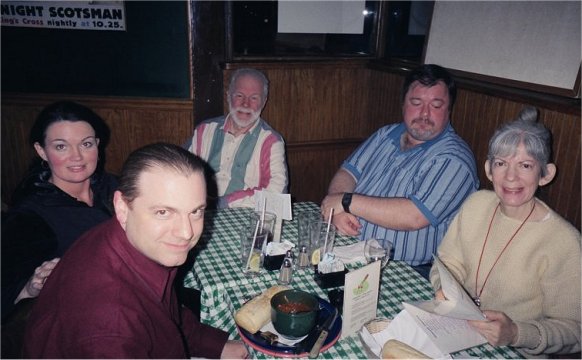 Sky Brower ("the ape-man" on ERBList) at dinner in D.C. with the National Capital Panthans. From (L) to (R), Sky, Susan Brower (Jane Clayton), John Tyner (Quaestor), Steve Wadding (Ghak), and Vic Huckenpoehler (Olga de Coude). Out of shot to Vic's right is her hubby Huck (A.Q. Porter), and the photo was taken by Bob Burrows (Shozz Dijiji).
..
Sky and Susan at lunch the following day with Huck and Vic. This was also in D.C, at a nearby hotel -- it was delicious!
.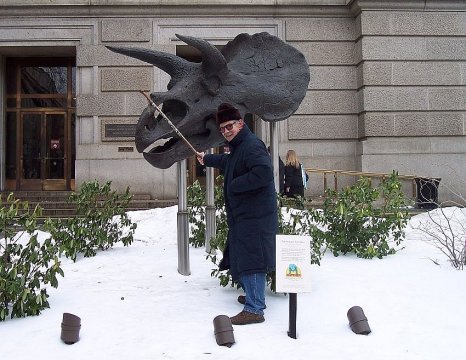 J.G. "Huck" Huckenpoehler ("A.Q. Porter" on ERBList), outside of the Smithsonian Museum of Natural History demonstrating the proper technique for taming a Gryf.
.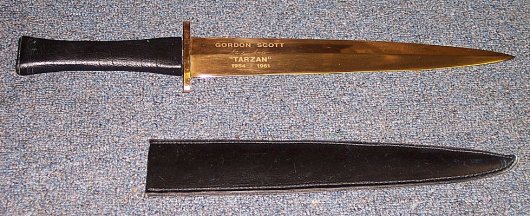 A closeup of Gordon's knife, given to him by the studio after his run as Tarzan.
.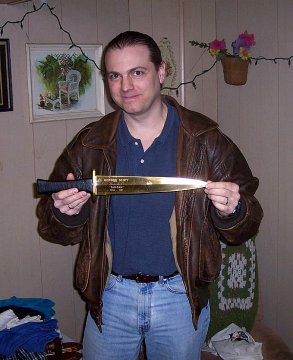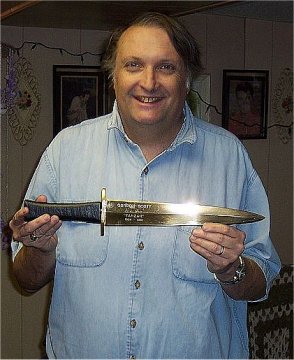 Sky and Bob Burrows (Shozz Dijiji) with Gordon's knife. According to the owner, they were part of only a small handful of guys (outside of Gordon and a few close friends) to ever hold or be photographed with it, and several people over the years have made unsuccessful offers to purchase it.
.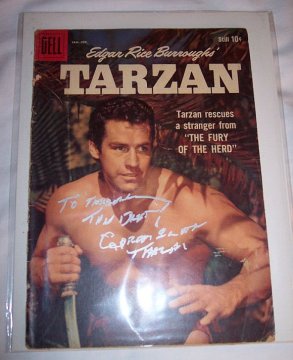 A comic book that Gordon signed for a friend of Sky's during his visit.
GORDON SCOTT
1926-2007
See the Gordon Scott Tribute at Sky Brower's Jungle Drums site
The ERBzine Gordon Scott Tribute is at: www.ERBzine.com/scott

Sept 1, 1875- March 19, 1950


Part II
EDGAR RICE BURROUGHS WAKE
2007
A Band of devoted fans
meet at Little Rock, Arkansas
to pay tribute to
The Master of Fantasy Adventure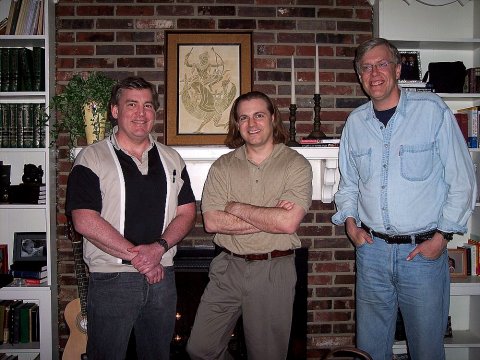 ERBListers Steve Allsup (Korak), Sky Brower (the ape-man), and Jim Hadac (The Red Hawk) at Sky's house, where they also received calls from other list members around the country attending the 2007 Wake by phone.
.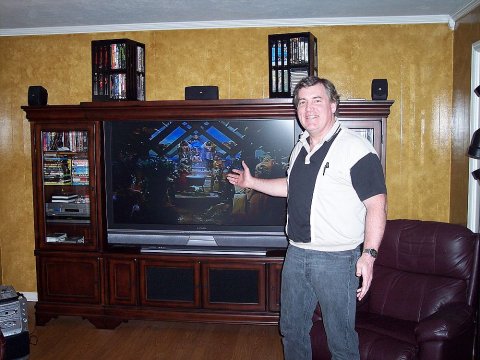 Steve presenting a scene from "Tarzan's Fight For Life" on the ape-man's big screen.

.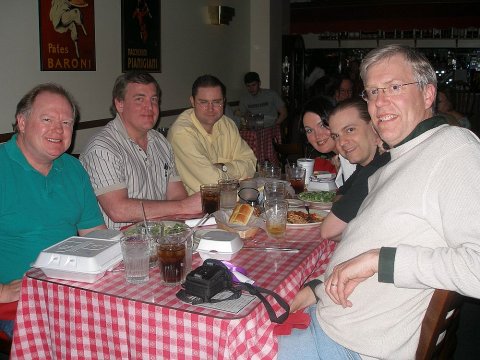 Dinner at Bruno's Little Italy
(L-R) Michael Tierney, Steve, Dennis Christ, Susan, Sky and Jim

.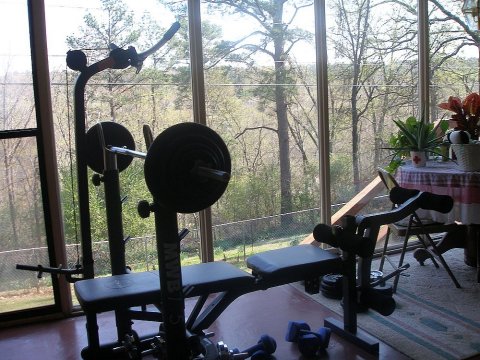 A view of the vast woods behind Steve's house, from the viewpoint of his gym. The windowed wall that spans the back of Steve's living room creates quite a beautiful view, but according to Steve wreaks havoc on his electric bill.
.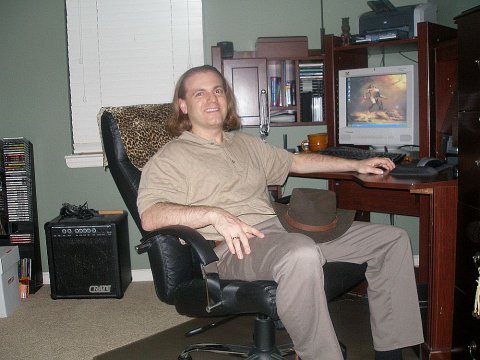 Sky in his office, where his website Tarzan.CC is maintained. Out of sight behind his left elbow is the Dictaphone transcription machine containing his new interview with Eve Brent, which he gave a sneak peak of to Steve and Jim during one of their visits.
.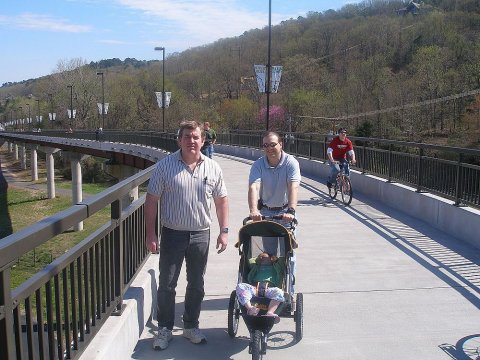 Steve, Sky, and Sky's balu Schuyler (asleep) crossing Little Rock's new Big Dam Bridge, supposedly the largest footbridge in the United States. The Big Dam Bridge was named according to its location at Murray Lock and Dam, and provides a walkway to the opposite shore over the Arkansas River. Though it opened in 2006, it was our first time to even see it, much less cross it.
.

GORDON SCOTT
1926-2007
One of the greatest of the film Tarzans
died on April 30, 2007
See the obituary, articles and tributes at
www.ERBzine.com/scott
,

BILL HILLMAN
Visit our thousands of other sites at:
BILL AND SUE-ON HILLMAN ECLECTIC STUDIO
ERB Text, ERB Images and Tarzan® are ©Edgar Rice Burroughs, Inc.- All Rights Reserved.
All Original Work ©1996-2007/2010 by Bill Hillman and/or Contributing Authors/Owners
No part of this web site may be reproduced without permission from the respective owners.