Official Edgar Rice Burroughs Tribute Site
Since 1996 ~ Over 15,000 Webpages in Archive
Volume 1673a
Presents

TARZAN THE BROADWAY MUSICAL
Before and After Notes II
Arrival
Monday, May 8, 2006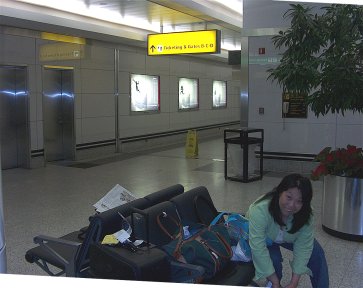 Noon arrival at La Guardia Airport -- waiting for suitcases that arrived six hours later.
The ads in the background all extoll the luxury of the Marriott's King-sized beds and luxury pillows
-- very tempting after our all-night trip.
---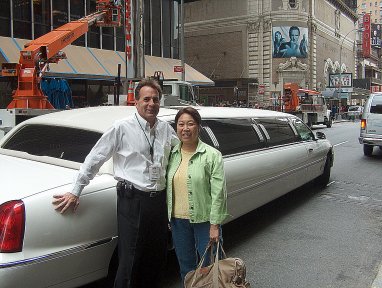 Arrival by limo outside the Marriott Marquis on 45th Street.
Easy job for Joe the driver as we had no luggage for him to worry about.
---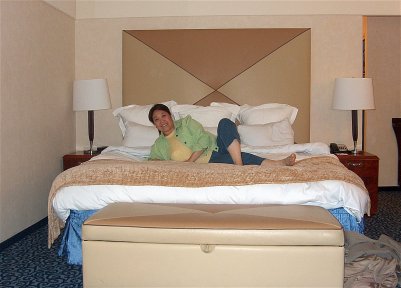 The luxurious Marriott bed and pillows looked tempting after
a three-hour drive to Winnipeg airport and Air Canada flights to La Guardia via Toronto.
We fought the temptation and headed for Broadway.
---
The Coolest Elevators in New York City
---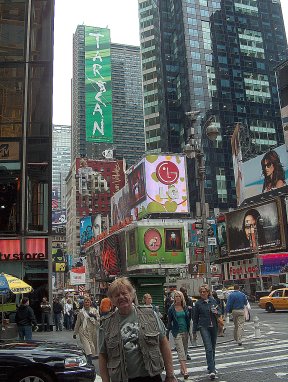 Tarzan has taken over Times Square:
Skyscrapers, wall paper screens, billboards, busses, etc. are all adorned with Disney Tarzan images.
The more authentic image of the ape-man (Bill Stout art) on JoN's T-shirt attracts many stares and questions.
---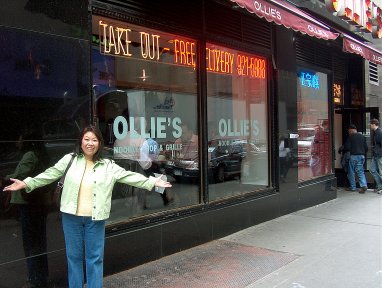 At last! A Chinese restaurant just off Broadway -- our first meal of the day.
---
Internet Cafe on 42nd St.
A time-out to see what the rest of the world is doing and to catch up on ERB business.
---
More sight-seeing. We visit Hello Deli beside the Ed Sullivan Theatre.
A chance to meet Rupert and take away one of his T-shirts.
---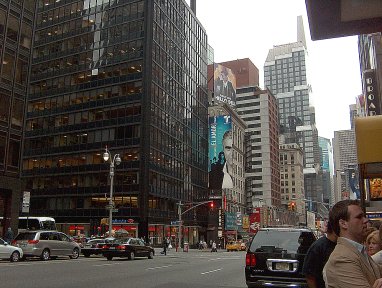 Looking down Broadway toward the Iridium Jazz and Blues Club from the Ed Sullivan Theatre.
---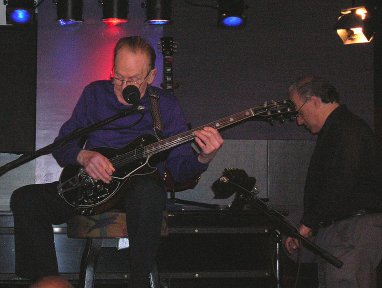 The day ends with a dinner show at the Iridium Club,
where we catch the regular Monday night appearance of 91-year-old guitar and tech legend Les Paul.
Les's reaction when he learns I play a Fender Tele is caught on camera by Nathan seated at the table beside us.
Nathan's young son had the foresight to bring a pick-guard from a
Gibson Les Paul guitar which Les autographed for him.
We had been about to go to the club in our travelling shorts and T-shirts
but our luggage containing our clothes arrived at the last minute.
Les in action at the Iridium on YouTube
---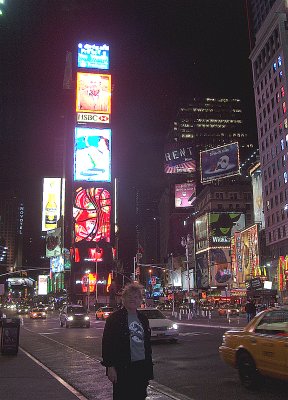 A late night prowl around Times Square.
This famous section of Manhattan Island has been rejuvenated since our last visit many years ago.
Our first adventure plunged us into the middle of a holdup situation.
Sue-On and I were pushed aside by a desperate character who ran past us and down into the subway.
We were immediately surrounded by converging NY police officers, on foot and mounted, all with guns drawn.
They were after a fugitive who had just robbed a nearby liquor store.
Recovering from this we carried on down Broadway until we were stopped by a movie crew
who asked us to look in disbelief at a camera truck that was about to come down Broadway.
They were shooting a modern-day Western and
we were to pretend that we were watching a stage coach coming down the street.

TARZAN THE BROADWAY MUSICAL: BEFORE & AFTER NOTES & PICS
www.ERBzine.com/disney
ERBzine FEATURES ON TARZAN THE BROADWAY MUSICAL


WEBJED: BILL HILLMAN
Visit our thousands of other sites at:
BILL AND SUE-ON HILLMAN ECLECTIC STUDIO
All ERB Images© and Tarzan® are Copyright ERB, Inc.- All Rights Reserved.
All Original Work ©1996-2006/2013/2018 by Bill Hillman and/or Contributing Authors/Owners