Official Edgar Rice Burroughs Tribute and Weekly Webzine Site
Since 1996 ~ Over 10,000 Web Pages in Archive
Presents
Volume 1471
Dum-Dum 2005
Oak Park / Chicago ~ Illinois
Part 2
---
Dick (aka Joog, the Giant of Mars) and Ginnie Spargur
---

Dum-Dum 2005 Trip Report

The Dum-Dum was fantastic!

I think that pretty well sums up the opinion of everyone fortunate enough to have been able to attend it. There were four full days of fun and fellowship and submersion in the life and works of Edgar Rice Burroughs! Jerry Spannrath did a splendid job and we're all grateful to him for his efforts.

A detailed description of the minutia of every day would take pages of text so I'll try to limit my report to the most salient events of the four and a half day long gathering.



Day One, Wednesday, September 10th:

The main event on Wednesday for us, my wife Ginnie and me, was getting to Chicago. It was a hot day and I'd taken off that afternoon from work for the trek from Dayton, Ohio to the Windy City. We hit the road about 12:30 PM. expecting that, with the usual five hour drive to Chicago, we'd arrive with plenty of time to make an appearance at an opening gathering at Jerry Spannrath's home. Like the best laid plans of mice and men, this one was doomed as we encountered severe delays along the way from Dayton to Indianapolis, delays that were caused by the resurfacing going on there on the interstate highway near the Indiana border. This held us up considerably and made our five hour trip into a seven hour ordeal. And the heat didn't help either! But we made it and easily found Jerry's nice condo by using my Mapquest directions. Once we were inside, all the day's travails were soon forgotten.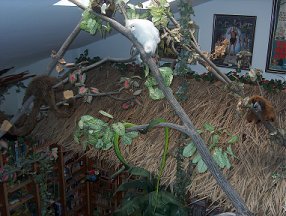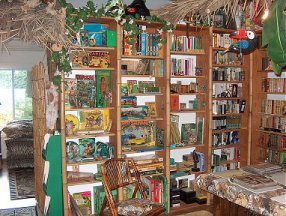 A partial glimpse of Jerry's Jungle Room ERB Collection
Right off the bat I saw many friends: Jerry and his significant other Candy, Brad Vinson, Mike Conran, Pete Ogden, Ray LeBeau and his wife, Bob Hyde and many others (forgive me if I forget some of you). And of course, we saw our old friends, Bill and Sue-On Hillman. Ginnie and Sue-On have become good buddies themselves.



Jerry leads a safari through the Jungle Room
,


Assembling the Dum-Dum packets in Jerry's Coke Room
Sue-On ~ Greg Phillips ~ Joan Bledig ~ Bill Ross ~ Brad Vinson

After many hugs and handshakes, some good wine, conversation and a few munchies, I took some time to view Jerry's collection. He has a whole room decked out with bookcases topped off with jungle grasses (and a thorn boma?), guarded by a few plastic skulls as well. Quite impressive! The walls were covered with posters and bric-a-brac. This guy lives and breathes ERB, just like me!
| | |
| --- | --- |
| Candy brings in Joog's snack | Sue-On Hillman & Edie James Take a Magazine Break |
The Hillmans and we headed to the hotel afterwards to check in and then found a good Greek place for dinner where we were joined by Joan Bledig and Brad Vinson. The food was good and the conversation centered around ERB, as one would expect.

Day Two, Thursday, September 11th:


Museum of Science and Industry

The highlight for Thursday was a trip to the Museum of Science and Industry in Chicago. Jerry Spannrath and Mike Conran had arranged a behind the scenes tour where the Curator had had a few small books pulled from the unbelievable Colleen Moore Doll House, including the famous Tarzan, Junior. Young assistants graciously presented to us the pages of that famous tome as well as pages from other books including a tiny version of the score for "Alexander Ragtime Band" done by hand by Irving Berlin and an autograph book with the signatures of many luminaries including most of the presidents from the thirties to the sixties as well as others such as Neal Armstrong and Albert Einstein. Gosh, was that something to see!


| | |
| --- | --- |
| Colleen Moore's Doll House | Miniature Library with Tarzan Jr. |
| Dick, Sue-On, Allan Hanson and the Tour Guide | Joog switching the Tarzan Jr. Books |

As a related aside. This Winter and Spring, I busied myself with making my own copy of Tarzan, Jr. using JPEGs of the artwork that I had obtained from Bill Hillman's ERBzine site, not realizing we'd be getting a copy as a souvenir of this Dum-Dum. I wanted mine to be pretty accurate so, I made it as small as I could manage, an inch and a quarter square. I bound it in red to look like a little G&D edition and crafted a dust jacket (with blurbs) from a picture of the original book cover. Well, I brought that with me to the museum. At the right moment I showed it to the girl doing the presenting and she allowed me to hold my book next to the real thing so that the two could be photographed together. That was such a thrill to me. So was the book's ultimate purchase at the auction later by Joan (the Vicious) Bledig for a princely sum! Joan also bought my last offering, Tarzan on Mars, two years ago in Louisville and joked that she'll have to start her own shelf of Dick Spargur originals!

I must say that seeing Tarzan, Jr. was the highlight of the whole weekend for me and I imagine for many others too.
| | |
| --- | --- |
| Dick and Ginnie mingling in the Museum's private archive area | Dick and Ginnie at the Conservatory Dinner |
That evening we all gathered again at a local botanical conservatory for a catered dinner and a slide show by the local Oak Park historian. It was a nice night that capped a great day.
Day Three, Friday, September 12th:
| | |
| --- | --- |
| Edie James ~ Joog ~ Huck Huckenpohler | Bruce "Hadron" Salen and Wayne "Tin Tin" James |
On Friday, the Huckster Room finally opened and we all dove in. I came up with some nice additions to my collection including two first edition Tarzan jackets and a jacket for a reprint edition of The Girl From Hollywood. The fact that I blew my budget for weeks to come is mitigated by the fact that I am nearing my quest to acquire a sample of each reprint edition jacket.

That afternoon we went on a bus ride to see Burroughs sites in the Chicago area. The hot weather took its toll on us but, despite the fact that we ran out of time and didn't get to see the Oak Park sites, only the older sites nearer town (samples, "This is where Ed's house used to be in 1875"; "This is where Emma's house was, by the dumpster"; etc.) it was a fun trip for me. By the way, some old time Chicagoans were surprised to learn that Ed had lived near the present site of the Chicago Bulls' field house…
Gary Gianni ~ Bob Garcia ~ Joan Bledig
Randy Kryn ~ Ken Manson


Alan Hanson ~ Tony Menegazzo ~ Bill Hillman
Matt Cohen ~ Mike Conran ~ David Hardy
Afterwards, we were present when a plaque was commemorated on the wall of the office where Ed had once worked in Oak Park and we then attended a reception at a small museum in Oak Park for ERB. Over the weekend a few of the Bibliophiles also found time to visit a museum across from the Write Inn devoted to Ernest Hemingway -- some other Oak Park writer they keep making a fuss over. There were wine and cheese and a lot of talk there among the ERB community. Two interesting guests were Gary Gianni (artist, current of "Prince Valiant") and Matt Cohen (editor of Brother Men, the book of correspondence between Ed and Herb Weston, Ed's old friend and Matt's great-grandfather).

Day Four, Saturday, September 13th:

The last full day had three parts. First the Huckster's Room reopened. Then, afterwards at about 2:00 PM. the auction was held. Many items were offered by the people attending, all as fund raisers for the Burroughs Bibliophiles. My offering was one of my little copies of Tarzan, Jr. that I'd made earlier. That one was not put on the block until the very end and when the bidding was finished it was bought by Joan Bledig (as reported above). I was very pleased to see it go for what it did and to help out the Burroughs Bibliophiles at the same time.

Auctioneers: Mike Conran ~ Bill Ross
Jerry Spannraft ~ Joan Bledig


Guests of Honour: Mystery Writers
Max and Barb Collins
The last event for the day was the annual banquet. Jerry had secured the rooftop of a nearby restaurant, one that had a kind of jungle motif of its own that we all liked a lot, almost as much as we liked the nice cash bar! The dinner was great, served "family style" with platters of good food brought to the table by servers. Afterwards, our guest Max Allan Collins (author of The Pearl Harbor Murders) spoke at length on his fondness for ERB. He was a nice guy and an entertaining speaker.


Joog passing around Jim Thompson's special autograph book

Day Five (the half day), Sunday, September 14th:


Farewell Breakfast

After a little bit of agonizing, Ginnie and I decided to skip the traditional farewell breakfast to get an earlier start to return to Dayton and, of course, felt guilty as hell for doing so… However, we were fortunate to have been in the lobby as so many of our friends were gathering to walk to the breakfast spot that we managed to get in most of our requisite our good-byes before departing. Wanting to avoid the construction that had plagued us when driving from Dayton to Chicago via Indianapolis and that made the normally five hour trek into a seven hour ordeal, we took a different route across Indiana that skirted Fort Wayne, Indiana. We had a nice drive that took us only six hours…!!! But at least there was no construction, less traffic and less stress.

Once home, our cats greeted us with their loving demands to be fed and I hurried to the basement to put my new purchases on my book shelves.

And, of course, Ginnie and I are already making our plans for the next one...


---

Photos and Web Design by Bill & Sue-On Hillman
Additional photos by Dick and Ginnie Spargur
Hundreds more Dum-Dum 2005 Photos from the Hillman Library
are featured at:
ERBzine 1430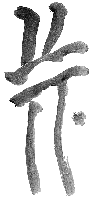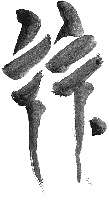 BILL HILLMAN
Visit our thousands of other sites at:
BILL AND SUE-ON HILLMAN ECLECTIC STUDIO
ERB Text, ERB Images and Tarzan® are ©Edgar Rice Burroughs, Inc.- All Rights Reserved.
All Original Work ©1996-2005/2014 by Bill Hillman and/or Contributing Authors/Owners
No part of this web site may be reproduced without permission from the respective owners.