Official Edgar Rice Burroughs Tribute and Weekly Webzine Site
Since 1996 ~ 10,000 Webpages in Archive
Volume 1359
Presents

MOTES & QUOTES
ERB Newsmagazine 2005.01

.
---
Water Marked Stationery and Envelope
for Edgar Rice Burroughs' pseudonym,
John Tyler McCulloch
The name was actually a combination of
Ed's favorite first name with two family names.
The address, 20441 Arminta Street, Canoga Park, Calif
is that of ERB's secretary, Ralph Rothmund.
ERB used this pen name for a number of story submissions:
"Two Gun Doak Flies South," "The Strange Adventures of
Mr. Dinwiddle" and "Misogynists Preferred".
---
50 STEREOVIEW CARDS OF THE SEARS, ROEBUCK CO.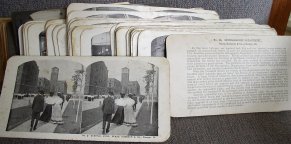 From the Personal Library of Edgar Rice Burroughs
From the Danton Burroughs Family Archive
These set of 50 stereoview photograph cards were made exclusively for Richard (R.W.) Sears of Sears, Roebuck and Co. Customers could order the entire set for 35 cents and the stereopticon viewer for another 15 cents.

The photos feature the sprawling Sears, Roebuck Co. complex in Chicago, including the Merchandise Building, the Sunken Garden, railroad yards with company rail cars, fire department, telephone exchange, talking machine records, electrotype records, pneumatic tube systems, covering machines, butcher shop, beauty shop, and shots of the hundreds of employees people working in the huge complex. Also included is a card featuring the Stenographic Department that ERB managed. On the back of each card is a story about the photo on the front.
---
BARSOOMIAN BATTLE MANUAL

The Barsoomian Battle Manual by Scott Bizar and published by Heritage Modals, Inc.in 1978.

It is a manual of rules to be used to run miniature military campaigns -- both land and airship battles -- on Edgar Rice Burroughs' Mars [Barsoom].

It contains background material on the cities and races. A campaign map of Barsoom is included.
---
Bibliography of Adventure
Mundy ~ Burroughs ~ Rohmer ~ Haggard
by Bradford M. Day
---

Burroughs Brothers
Milk and Cream
Walnut Grove Farm,
Knightsen, California



---
JOHNNY WEISSMULLER: OLYMPIC CHAMPION

Four-time gold medallist Johnny Weismuller was one of those Olympic champions whose fame followed a few years after his sporting exploits. Just as he was the right shape for swimming, with a powerful upper body tapering to his toes, so he fitted the requirement of the film version of `Tarzan`.

Until Mark Spitz at the 1972 Games, Weissmuller was the supreme swimmer, setting a world record of 51 seconds for 100 yards freestyle that stood for 17 years. He was also the first man to swim 100 metres in under a minute - 58.6 seconds in 1922.

Trading Card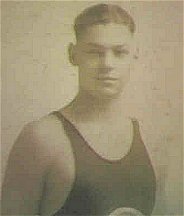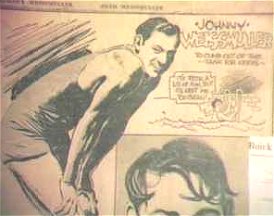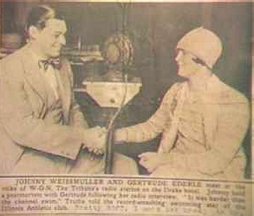 (l) Johnny (Tarzan) Weissmuller before the Olympics in the early 1920s.
Weissmuller won five gold medals in 1924 and 1928.
In the 1924 Olympics, he won three gold medals
in the 100-, 400-, and 800-meter freestyle relay.
He also won a bronze medal as a member of the U.S. water polo team.
In 1928, he took gold in the 100- and 800-meter freestyle relay.
Weissmuller starred in 12 Tarzan films between 1932 and 1948.
(m) Johnny Weissmuller in a sports "Believe It Or Not"
Text accompanying the cartoon: "Greatest Aquatic Star ever produced in America"
Johnny Weissmuller "Hangs Up" his amateur swimming trunks
(r) On WGN Radio
A sterling silver medallion issued from the Franklin Mint in the mid-1980s.
1 1/4 in diameter and .35 oz of pure .925 sterling silver.
Part of a series of sporting events and personalities.

---
An early Tarzan tops list of the state's greatest Olympians
From Herman Brix to Mac Wilkins: a roster of champions
From Seattle Post-Intelligencer Staff
HERMAN BRIX
Amsterdam, 1928
Brix, who played for the UW football team in the 1925 Rose Bowl, set a world record in the shot put with a throw of 51-0, but lost the gold medal minutes later when John Kuck of the USA beat his mark by five inches. Selected by author Edgar Rice Burroughs in 1935 to portray Tarzan in "The New Adventures of Tarzan," Brix went on to appear in more than 140 films and starred opposite Humphrey Bogart in "Treasure of Sierra Madre (1948)." He also acted in such clunkers as "The Alligator People (1959)" and "The Fiend of Dope Island (1961).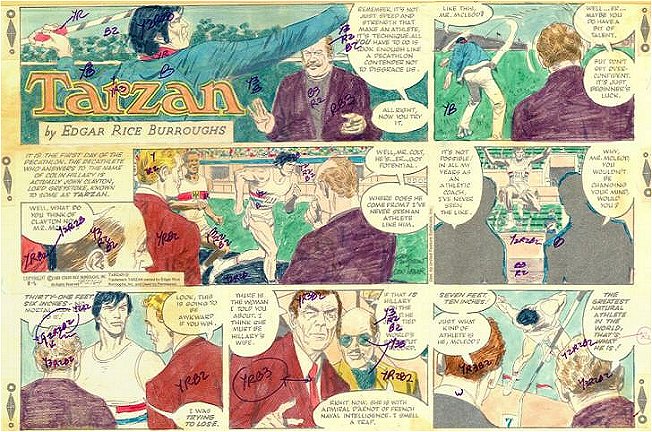 "Tarzan at the Olympics ~ August 3, 1984 ~ Colour Guide
Tarzan in the decathlon - javelin, long jump, high jump, running -
at the 1984 Olympics in this original art Sunday strip, by Gray Morrow and Don raar.
---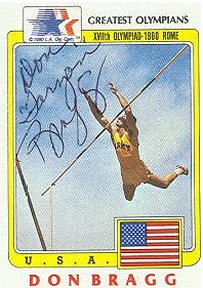 Autographed 1983 Topps Greatest Olympians card of
Olympic Pole Vaulter Don "Tarzan" Bragg.
He was the 1960 Olympic Champion in Rome, Italy.

Frazetta's Princess by Clayburn Moore. Limited Edition..
Cold cast porcelain figure.Hand painted. Issued in 1996.
9 inch statue, 10 inches with wood base.


Dejah Thoris Statuette
inspired by Frank Cho
.
---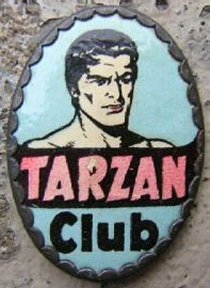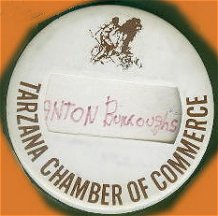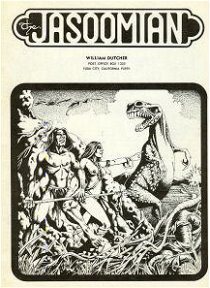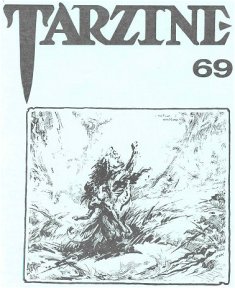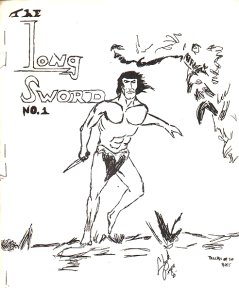 ---
LIMITED EDITION ECOF 2004 COASTER SET

A 5-piece coaster set featuring art by Dan Parsons.
Four cork coasters each with a different image of one of
ERB's famous series of characters:
Tarzan, John Carter, David Innes and Carson Napier
They are displayed in wooden holder.

This limited edition coaster set is
one of 75 specially-made for ECOF 2004
in Sacramento, CA August 12-14.






Autographs by
C. Ralph Rothmund ~ Emma H. Burroughs
Florence G. Burroughs ~ John Coleman Burroughs
Edgar Rice Burroughs.
---


ERB cheque made out to C.R Rothmund for $10.50 on April 23, 1945


Emma Burroughs cheque made out to Cash for $3.00 on December 22, 1942

ERB cheque made out to Florence G. Burroughs for $250.00 on October 3, 1939


An Edgar Rice Burroughs 1939 Tarzana Check #A 170, drawn on the
Citizens National Trust and Savings Bank, Los Angeles, made out to illustrator son
John Coleman Burroughs. Made out in the amount of $25.00 and
endorsed by John Coleman Burroughs, Dated Feb 28, 1939.
| | |
| --- | --- |
| November 4, 1937 ~ Sunset Plaza | Irwin King Movie Distributor LA ~ July 14, 1939 ~ $100 |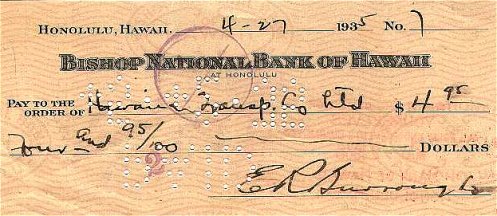 Honeymoon Cheque ~ April 27, 1935 ~ Hawaii Transport Co. ~ $4.95


Officers' Mess APO 958 ~ May 9, 1945 ~ $1.50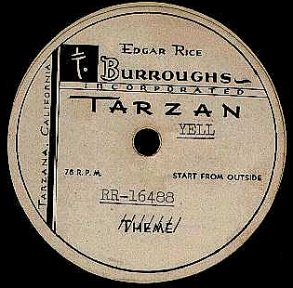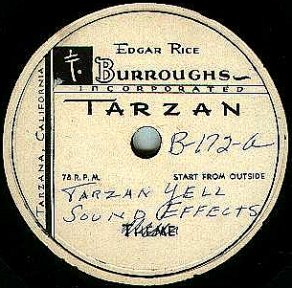 10 inch 78 rpm records with the label of
Edgar Rice Burroughs Record Company in Tarzana.
The records come in a plain brown covers,
are recorded on one side only and features
several recordings of the same Tarzan Yell and sound effects
used in the radio shows of the early '30s
~ circa 1933-34
---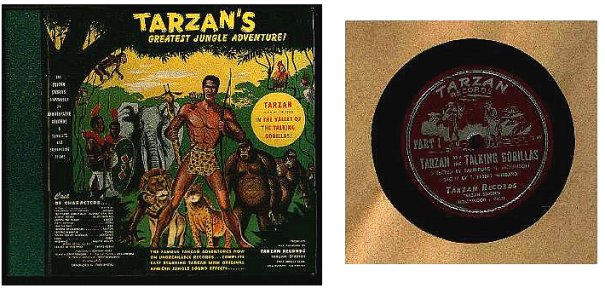 Tarzan's Greatest Jungle Adventure
Three 78 rpm records (6 sides of play ) from 1948
Tarzan King Of The Apes, In The Valley of The Talking Gorillas
Produced and recorded by Tarzan Records, Tarzan Studios, 6607 Sunset Blvd. Hollywood, CA.
The production features a complete cast of chacters
with jungle sounds and sound effects with organ accompaniment.
There is a different scene on each record label and
the back cover of the album shows photos of Tarzan's animal friends in Jungle-Land.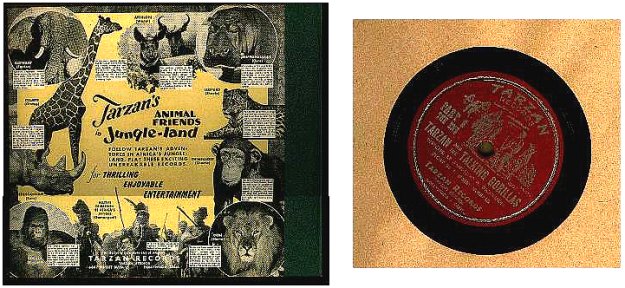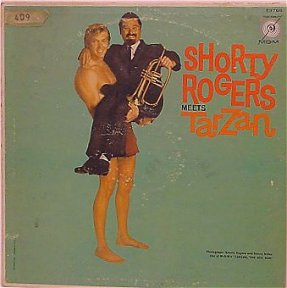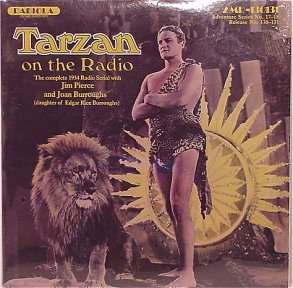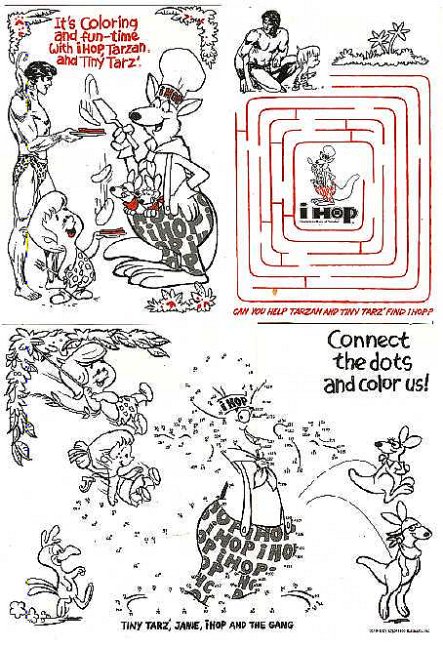 i-Hop coloring and puzzle give-away to keep the kids busy. Tarzan and Tiny Tarz'.
Copyrighted 1976 by Edgar Rice Burroughs Inc.
FROM THE BURROUGHS TARZANA ARCHIVE
Cave Girl Printing Plates

Original metal printing plates used in the actual printing process of the 1925 A. C. McClurg & Co. first edition of 1925 book, "The Cave Girl" These plates are from Chapter 13, "Homeward Bound", pages 321, 322, and 323: i.e. "He held toward Nadara in his open palm a little worn bag of skins of small rodents, sewn together with bits of gut. At sight of it both the girl and Waldo Emerson exclaimed in astonishment."
Ad Printing Plate of Copper and Zinc
An advertising announcement printing plate for
The Oakdale Affair and The Rider

The plate is 6 ¾ X 11 ½ inches and weighing: 2 lbs. 11.8 ozs.
A printed sheet from this plate went out to book dealers, and other retail stores that sold books throughout the U.S.A.

"The New 1937 Edgar Rice Burroughs Novel, Coming Feb 15, 1937. Two complete stories in one novel.

For twenty-three years the Edgar Rice Burroughs Novels have been standard sellers in the book market of twenty nations.

Never in these twenty-three years have the author and his works received the wide-spread publicity that they are receiving today.

The Oakdale Affair and The Rider will be heavily advertised in newspapers and reader lists and catalogs from coast to coast. It will be reviewed in some 300 newspapers and periodicals.

If you have not ordered a stock of The Oakdale Affair and The Rider, we suggest you fill in and mail the enclosed postcard immediately, addressing it to your jobber or to us.

DO THIS TODAY. EDGAR RICE BURROUGHS INC, Publisher, Tarzana, California. 286 Fifth Ave. New York, N.Y.
---
Tarzan at the Earth's Core Printer's Plate

An original copper on zinc with attached printers wood Graphic Printers Plate, from the book, Tarzan at The Earth's Core, a 1st edition Metropolitan from 1929-30.

A J. Allen St. John frontispiece illustration, the only illustration in the entire book. , has printers wood attached.
---
Chessmen of Mars Printing Plate

A genuine original printing plate used in the actual printing process of the Edgar Rice Burroughs 1st Edition 1922 book, Chessman of Mars ~ page 41 in the chapter, "The Headless Humans."

Sample text:
"Never in the memory of man or the annals of recorded history had such a storm raged across the face of Barsoom."

---
A Lost Angels Regular Membership Application
(ERB gave these out to worthy potential members.)

"Believing that the general interests of the San Fernando Valley can well be served by cementing of friendships among individuals, I hereby make application to become a Regular Member (Poor Devil) of the Lost Angels, an organization composed of men who are residents of or who are interested in the Valley, and if elected I promise to enthusiatically lend my active co-operation to the officers and members to the end that the Lost Angels may strengthn the ties of comradeship, encourage community neighborlinment and promote unity of civic purpose."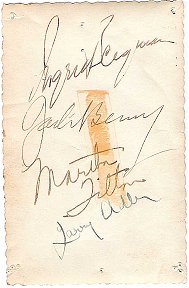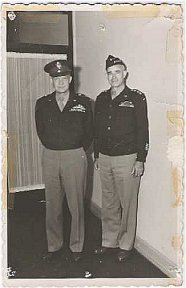 Pink Rabbit Massager

One of the most popular jelly vibrators in the world, and with good reason! Its simultaneous THREEFOLD STIMULATION sends even the coolest woman into ecstasy in an instant.

The Pink Tarzan has a rotating head, vibrating clitoris stimulator and a soft anal tickler. Rotation and vibration is fully controlled by two sliding controls.

Pleasure tools do not come much better than this.
Approximate retail value: £40
German-Made Tarzan Timexxx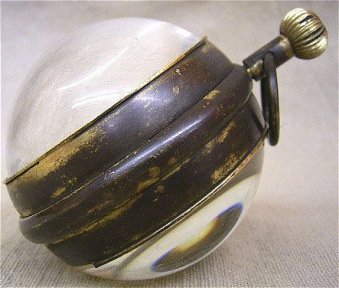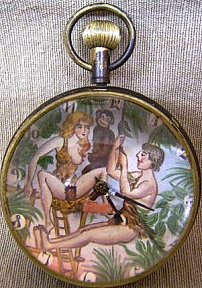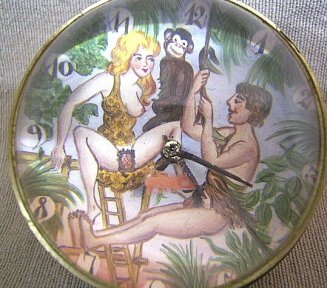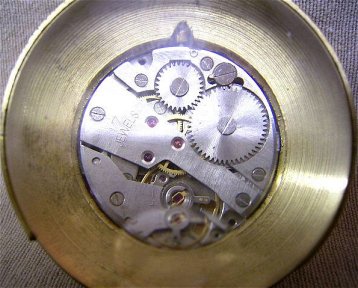 .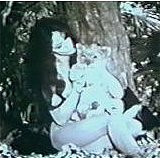 Tarzana the Wild Girl





WEBJED: BILL HILLMAN
Visit our thousands of other sites at:
BILL AND SUE-ON HILLMAN ECLECTIC STUDIO
All ERB Images© and Tarzan® are Copyright ERB, Inc.- All Rights Reserved.
All Original Work © 1996-2005/2010 by Bill Hillman and/or Contributing Authors/Owners