Official Edgar Rice Burroughs Tribute and Weekly Webzine Site
Since 1996 ~ Over 10,000 Web Pages in Archive
Volume 1268
GENERAL CHARLES KING TRIBUTE SITE
www.erbzine.com/king
Presents
ERB / Charles King Connection
Edgar Rice Burroughs Mentor. . . and Fan


GENERAL CHARLES KING
"Circumstances, chiefly. I wasn't long in finding out that keeping a family on retired captain's pay is a beggar's business. I had to go to work, so I took to writing."



EDGAR RICE BURROUGHS

"My son, Hulbert, had just been born. I had no job, and no money. I had to pawn Mrs, Burroughs' jewelry and my watch in order to buy food. I started to write my first story."
.
GENERAL CHARLES KING
(October 12, 1844: Albany, NY ~ March 17, 1933: Milwaukee, Wisconsin)

Soldier

King, who was credited with seventy years of active military service, was the only soldier in American history to serve in five American wars: The Civil War, Indian Wars, Spanish-American War, Philippine Insurrection and World War I.

Novelist

Author of over 60 books and hundreds of articles and short stories

Historian

His novels, although they all follow virtually the same plot, draw from personal experience and are exciting narratives full of accurate, detailed descriptions of army life and Indian wars in the American West.

King came from a military background. Both his father and grandfather had served in the military. His grandfather, Charles King, was also president of Columbia College, and his great grandfather, Rufus King, was Minister of England and served 20 years as a U.S. Senator.

His military career began during the Civil War when, as a teenager, he served as a mounted orderly for the Iron Brigade under his father, Brigadier General Rufus King of the Wisconsin Volunteers. He was appointed to West Point by President Abraham Lincoln. After graduating with a U.S. Army commission in 1866 he stayed on as instructor of military tactics.

By 1871 Lieutenant King was serving under General George Crook in the 5th Cavalry across Arizona and the northern states. During this time he became friends with the unit's scout -- William "Buffalo Bill" Cody. King was short in stature – standing just over 5 feet – but had plenty of courage to make up for his diminutive size. In an 1874 skirmish during the Indian Wars campaign he found himself pinned down by renegade Indians. He was shot in the arm, nearly severing it at the shoulder, and if not for the bravery of a fellow soldier, Sergeant Bernard Taylor, would have not survived. The injury plagued him, however, for the rest of his life.
While stationed in New Orleans he married Adelaide Lavender Yorke who bore him three daughters and a son. Upon returning to duty in the West he witnessed Cody's legendary duel with the Cheyenne warrior, Yellow Hand and served in the Nez Perce Indian Campaign of 1877. Still plagued by his arm injury, Captain King retired from active cavalry service in 1879 and went on to teach military science and tactics at the University of Wisconsin in Madison. It was at this time that he started writing a series of newspaper articles based on his experiences in the Sioux Campaign of 1876. These writings evolved into his first and probably most enduring book, Campaigning With Crook." In 1882, he was appointed colonel in the Wisconsin National Guard but his duties permitted him a home life and time to write more stories based upon his experiences in the Army. In May of 1886 his leadership of the Milwaukee Light Horse Troop was instrumental in the quelling of the Milwaukee labour riots. This event is also notable as being one of the first instances where the newly invented telephone was used to direct troop movements.

In 1892 King retired with the rank of colonel from his command of Wisconsin's Fourth Regiment of Infantry to take a position of commandant and military instructor at the Michigan Military Academy at Orchard Lake. Under his instruction his corps of cadets won national honours in competitive drill and riding. He spent only a brief time at the academy, but his influence on young cadet Burroughs would last a lifetime.

Regarding King, Burroughs wrote: "Charles King, writer of the best army stories ever were written; a man who has been an inspiration to me all my life because of his outstanding qualities as a soldier, a cavalry man and a friend." Burroughs felt he was forever in King's debt due to the way the Commandant handled young Ed's ill-conceived "desertion" from the Academy in April of 1892: "I crept fearfully through the woods, for all the time I heard the cavalry pursuing me... In Pontiac I hung around the railroad yards waiting for the Chicago train. Every man I saw was a detective searching for me and when the train pulled in and the inspectors passed along it with their flares, I knew they were looking for me, but I hid out between two freight cars until the train started."

On April 16th, King sent a telegram to the boy's father: "Your son deserted Thursday. Letter will follow." An excerpt from the follow-up letter read: "Cadet Burroughs' offenses have been most serious, but not irretrievably so. He has been reckless; not vicious. He has found friends here including the Commandant, who best knew the boy in the Cavalry squad and on drill, and it is not impossible for him to return and wipe out his past."


MMA Year Book Dedication

Burroughs later looked back on the incident: "I think it was the word 'deserted' in the telegram that got me, and the next day I was back at Orchard Lake walking punishment. But walking punishment has its compensations, one of which was that the old boys could not subject us to any of the refined and unrefined torture of hazing, which was carried on to an exaggerated extent at Orchard Lake at that time." Burroughs went on to excel in drill, riding, football and in writing assignments for Academy publications.

Upon graduation Burroughs was asked to stay on as assistant commandant and instructor. He wrote: "...I loved everything military. This little United States Infantry Drill Regulations was my bible and I took great pride in the military correctness and precision of my every act and word when on duty." Burroughs love of horses grew from the time he spent at his brothers ranch in Idaho, and from his respect of Charles King. He wrote: I used to try to emulate him (King). In the riding ring I rode my fool head off and nearly killed myself a couple of times in my anxiety to live up to what he expected of me as a horseman…"

Unfortunately King's fortunes had a sudden turnaround in 1893. His substantial royalties came to a sudden end when the Authors' Guild collapsed and the bank in which he had deposited most of his money also failed. His wife was confined to bed as a result of a serious leg fracture. To top it all off, most of his books and valuable papers were destroyed in a warehouse fire. He returned to Milwaukee to spend more time writing and to try to recoup his fortunes. He also resumed his series of military reappointments and retirements until he was re-commissioned as Brigadier General of Volunteers during the Spanish American War in 1898. In 1899 he led regiments in the Spanish surrender of the Philippines and the ensuing Insurrection. He was made Brigadier General of the Wisconsin National Guard in 1904 and later helped train troops to fight in World War I.

King's extraordinary military experiences of 70 years spawned an enormously long and successful writing career during which he penned over 60 books and hundreds of short stories and articles. He is recognized as being one of the first writers to establish the genre of the Western novel and perhaps more than almost any other author he based these stories on true life experiences. Although he portrayed Native Americans as being a savage and barbaric people, he showed great sympathy for their valiant resistance against the white invaders of their lands and the lifestyle that was being forced upon them. He was also a harsh critic of the many corrupt government officials who cheated the Indians by breaking so many broken and treaties.

King, as well as being one of the first great "Western" writers, also has the unique distinction of being the first person to author books by dictating into a sound-recording machine. In 1890, Sunset Pass was the first book published using this technique. King spoke into an Edison phonograph to create recordings on wax cylinder records that were later transcribed by his stenographer, Lucille Rhoades. Charles King was active in his writing career for decades, and it even afforded him a chance to once again work with his old friend Buffalo Bill in helping to write the screenplay for Cody's silent motion picture series: the "Indian War Pictures." In the mid-1920s -- the golden years of silent film -- at least five of King's stories were adapted to film: Fort Frayne ~ Under Fire ~ A Daughter of the Sioux ~ Tonio, Son of the Sierras ~ Warrior




---

Ed Burroughs and Charles King corresponded until King's death. A few examples follow:

Winter 1906: Ed writes to General King, now superintendent of St. John's Military Academy in Delafield, Wisconsin, requesting advice about obtaining a position as a cavalry instructor.
January 8, 1920: Ed writes that he is sorry to hear of King's broken leg after being hit by an automobile and laments that the drivers in California are just as bad. He describes his Tarzana Ranch of 540 acres overlooking the San Fernando Valley and situated a half-mile back from Ventura. He can see the lights of seven villages across the valley at night. He has good riding horses and the three children have Shetland ponies on which they rides regularly on the many trails across the ranch. He tells of there being coyotes and mountain lions on the property. Ed laments that his desire to sign up for the Great War caused much disruption in the family. He eventually had to settle with a role in which he trained recruits and that he had received excellent reports for his work.
October 23, 1928: Continuing his longtime correspondence with General Charles King, Ed sends him 84th birthday congratulations
January 31, 1937: General King's son, Rufus - a retired U. S. Navy commander, writes that he has come across many Burroughs items in his late father's cherished possessions. He would like to see ERB's ranch and horses. Ed replies admitting hero worship for General King but laments that he has sold his horses and subdivided Tarzana Ranch.
Gen. King, 87, Offers Hand in Marriage
Proposes: Brig. Gen. Charles King asks for hand of his secretary.
Oldest Graduate of West Point, Gen. Charles King, author of class of 1866,
was one of the many alumni who took part in recent graduation ceremonies.

Milwaukee, Wis., Nov. 7, 1931 --[Special]-- Brig. Gen. Charles King, 87, Indian fighter, author and veteran of five wars, tonight said he had proposed matrimony to Miss Lucille Rhoades of 92 1/2 28th street, and was eagerly awaiting her answer. The proposal was in a letter he sent while in the east recently, he said. Miss Rhoades is connected with a shorthand reporting firm and has acted as Gen. King's secretary. She stated she had not me the general since he returned from the east. She declined to discuss the general's proposal. "I'm sorry the news became public," said the general at the Carlton hotel, "Sometimes it seems it should be personal between the parties concerned. But I'm glad that I'm not the one who made it known."

His Aid for 40 Years
He spoke admiringly of Miss Rhoades. She was the only woman he ever met, who could make out a military report, and had done all his secretarial work for 40 years -- outside of three European trips that he made, he said. More than 250 short stories and 68 long stories written by Gen. King have been typed by her, he said.

"One of my daughters, to whom I had confided my feelings while down east, let the cat out of the bag. And, although I'm 87 years old, I'm still soldier enough manfully to admit the truth -- especially when it's something I'm so proud of as my attachment for Miss Rhoades." The general said that he had received no answer.

"Maybe it's too much for me even to hope for one," he said. "What would she want with an old dragoon like me? Now, if I were 30 years younger -- but what's the use of hoping for a thing like that? I think Miss Rhoades has the greatest respect for me, but whether her feelings go further -- well, that's the question for her to decide. If the answer is the right one, I cannot tell you how much happiness it will mean to me." The general said that his plans -- if the answer were the right one -- included a trip to Europe.

Son Approves Marriage
"I've been a soldier all my life," said the veteran. "I've tried to face all issues, whether personal or general, in an open manner. And that's why, as long as this has become public, that I'm expressing my opinion openly on it. Only I hope that it doesn't cause unnecessary embarrassment to Miss Rhoades." He had expressed this feelings, and his hopes in regard to Miss Rhoades to his son -- Commander Rufus King, U.S.N. -- while in the east, he said.

"My son heartily approved of the move," he said, "and jumped to his feet and said: 'Dad, she's splendid! My daughters also were enthusiastic, and wrote letters to Miss Rhoades." She was born during the civil war, according to the general. "It may be a vain hope," said the general , "but when I mentioned that to my son he quoted the old maxim that faint heart never won fair maiden."

Clipping from the Danton Burroughs Archive Ref: ERBzine 1198
On March 15, 1933, Charles King tripped over a rug in his home and fractured his shoulder. Two days later in the company of Lucille Rhoades and his nurse Leila Spade, he experienced a severe chill and died within minutes. He was buried with full military honours at Milwaukee.


General Charles King
1844-1933
Michigan Military Academy

The Michigan Military Academy, also known as the M.M.A., was an all-boys prep school in Orchard Lake Village in Oakland County, Michigan.

It was founded in 1877 by Captain J. Sumner Rogers, and closed in 1908 due to bankruptcy. During its peak years, it was known as the "West Point of the West." In 1858, Joseph Tarr Copeland, a retired Civil War general, purchased several acres of land and built his retirement home on the shores of Orchard Lake. The area was popular with tourists, so in 1871 General Copeland converted his residence into the Orchard Lake Hotel. Business was good for a few years but development in the area forced many vacationers to seek seclusion farther north and Copeland sought to sell his home and the 90 acres of land around it. Captain J. Sumner Rogers, who was a professor of Military Science and Tactics at Detroit High School, had wanted to establish a creditable military prep school in the Detroit area for some time. Seeing the opportunity at hand, Rogers bought the land with the help of some wealthy Detroiters, and in 1877 he established the Michigan Military Academy. He modeled the academy after West Point and its success was immediate.

The Michigan Military Academy immediately started attracting students from all over Michigan. By the early 1890s, students were travelling from as far as New England and west of the Mississippi River. A diploma from the Academy was seen as a very high honor. Many colleges and universities across the United States admitted an applicant automatically upon his graduation from the Academy. Discipline was high but there were many extracurricular activities and sports and the students were encouraged to participate. There were three levels of training: Infantry, Artillery, and Cavalry. The cadets had a busy schedule, even on weekends, but Rogers and his staff allowed for holiday parties and arranged dances with nearby all-girls schools. Many cadets could not take the stress and there were several hundred dropouts throughout the Academy's history. Many of the graduates went on to successful careers in the military and business. Over the course of its 30-year history, the Michigan Military Academy had 2,558 enrollments and 458 graduates.

During the Academy's later years, a massive building project was assimilated by Rogers. Unable to pay off the huge sums of money owed for the new buildings, the Academy quickly sunk into debt. Added to this, during two days in December of 1900, the students and teachers rebelled against Rogers for mistreatment and unsatisfactory meals. Rogers quickly fired several teachers whom he blamed for starting the rebellion, and from there things only got worse. Rogers died of ill health in September of 1901. Enrollment declined sharply and the Academy was closed in 1908.

Edgar Rice Burroughs entered the academy in 1892 and was noted for his rebelliousness. After attending the Academy for only a short time, he left without notice on a train bound for Chicago. As punishment, he was sent back to the Academy. After graduating he stayed on for a period of time in the role of Assistant Commandant before being posted to Arizona with the U.S. Cavalry.

Two years after the Academy closed, Fr. Joseph Dabrowski, the director of the Polish Seminary of Detroit, purchased the campus and moved his school there. The seminary has stayed there to this day. It is now called SS. Cyril and Methodius Seminary. The campus is also home to St. Mary's Preparatory and Madonna University of Livonia holds some classes on the campus.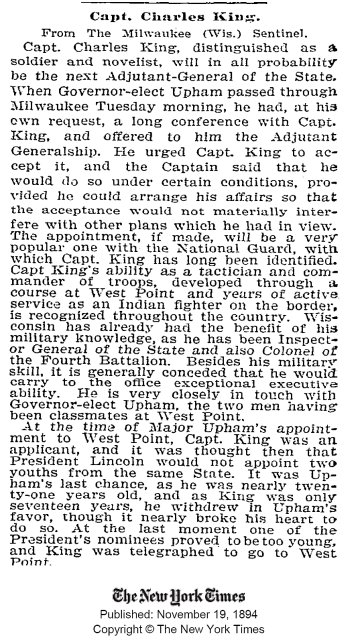 Charles King, 1844-1933
"His books are not art; they are photography."

Thus, Don Russell sums up the irony that while Charles King wrote over fifty novels, many of them of great popularity, none of his admirers -- nor even King himself -- ever thought of his writing as great literature. That narrative is a form of explanation -- bringing facts into a cause-effect relationship -- often accounts for a novel's validity and acceptance. But it is often the facts themselves, recounted to be recast in the narrative of memory, fantasy or history that gives a writer wide appeal. This may account for the fact that King's novels are regarded today as primary documents for any full understanding of frontier army life. For example, in describing his own book, Life and Manners in the Frontier Army, Oliver Knight, writes, "The real author is Captain Charles King, Fifth United States Cavalry, Ret., whose many popular novels of the day provide a qualitative dimension of social history that is not available anywhere else."

King's novels reflect the full gamut of military experience during the second half of the 19th century. The Iron Brigade draws on his early Civil War duties, Cadet Days, A Story of West Point, From School to Battlefield, A Story of the War Days, and others follow. Campaigning with Crook is probably King's most famous book because of its "vividness, stirring narrative, description of campaign hardshipsand attention to detail" as the author described the Fifth Cavalry during the Sioux War of 1876. Several novels grew out of King's experiences in the Philippines. Of special note in the University of Arizona Special Collections Library are his Arizona novels: An Apache Princess, Sunset Pass, A Wounded Name, Marion's Faith, Captain Blake, The Colonel's Daughter (King's first novel), Foes in Ambush, Starlight Ranch, and Tonio, Son of the Sierras.

Reference: University of Arizona Special Collections Brochure prepared by Louis A. Hieb - Head Librarian
The Charles King Timeline
1844
Born in Albany, N.Y., October 12. Son of Rufus King, a Major-General in the Civil War and editor of the Milwaukee Sentinel.
Grandson of Charles King, president of Columbia College (now University).
Great-Grandson of another Rufus King, a signer of the Declaration of Independence and once a candidate for President on the Federalist ticket.
1856
A "marker" for the Milwaukee Light Guard.
In 1932 the War Department credited King with 70 years of active military service.
1860
A volunteer mounted orderly with his father who, as a Brigadier General, was assigned a brigade in the defences of Washington
1866
Graduated from West Point, having received an appointment there from President Lincoln.
He then joined Light Battery D, First Artillery, in New Orleans in the midst of Reconstruction rioting.
1869
While on recruiting duty in Cincinnati, he played baseball with the first professional team, the Cincinnati Red Stockings.
King then became an instructor in tactics at West Point and was promoted to First Lieutenant.
1870
Transferred to the Fifth Cavalry which he joined at Fort McPherson, Nebraska.
1871
Appointed aide-de-camp to Colonel W. H. Emory in New Orleans.
1874
Joined Company K, Fifth Cavalry, at Camp Verde, Arizona.
Involved in fights with Apaches at Diamond Butte, May 21, at Black Mesa, May 20-June 5 and at Sunset Pass, November 1.
At Sunset Pass he was wounded and was carried out by Sergeant Bernard Taylor who received a Medal of Honor for the exploit.
1875
On leave for nearly a year recovering from his wounds, King rejoined his regiment at Fort Riley.
1876
Participated in the Sioux War of 1876.
On July 17, he directed a maneuver in which Buffalo Bill, the regiment's chief of scouts, killed Yellow Hand.
The subsequent fight at Hat Creek forced the Cheyennes back to their reservation.
King's regiment then joined Brigadier General George Crook's column, and King became acting adjutant of the 59th Cavalry during the Big Horn and Yellowstone expedition, and took part in its principal fight, at Slim Buttes, September 9 and 10.
1877
July 10 to August 10, King was acting adjutant general of General Wesley Merritt's command during the suppression of railway riots in Chicago.
September: Acting adjutant general in the Wind River column, 3rd Cavalry and 5th Cavalry, in pursuit of Chief Joseph of the Nez Perce.
1878
Stationed at Fort D. A. Russell, Wyoming
1879
Promoted to Captain and retired because of his wound.
1880
Appointed Professor of military science and tactics at the University of Wisconsin.
Publishes Campaigning with Crook.
1881
King was asked to do a serial on army life for the United Services Magazine.
It ran during 1881 and 1882 under the title "Winning His Spurs" and became a book as The Colonel's Daughter.
1882
Named Colonel and aide-de-camp to the Governor of Wisconsin.
In subsequent years he became inspector general of the Wisconsin National Guard and adjutant general of the state with the rank of Brigadier General.
He also taught at St. John's Military Academy and at Michigan Military Academy.
1890
With his "retirement" King turned to writing and by 1890 he was turning out novels at a rapid pace.
In this year he adopted the use of the Ediphone and became the first author to use a dictating machine.
Six books appeared with his name on the title page.
1892
Served as Commandant at the Michigan Military Academy.
Young Ed Burroughs was one of his students.
1898
Spanish-American War.
King is commissioned Brigadier General of volunteers.
On the way to the Philippines, he was temporarily first commanding general of the department of Hawaii.
King's brigade was in the midst of the fighting during the Philippine Insurrection.
Illness forced him to leave the Philippines and he was discharged on August 2, 1899.
1904
Commissioned again in the Wisconsin National Guard, King was credited with active service during World War I.
1929
Commissioned Major-General in the Wisconsin National Guard.
1933
Died March 17.
BACK TO:
General Charles King Tribute
INTRODUCTION AND CONTENTS PAGE
www.erbzine.com/king
From



tarzana.ca
The Fantastic Worlds of Edgar Rice Burroughs
| | | | |
| --- | --- | --- | --- |
| tarzan.com | ERBzine.com | DantonBurroughs.com | tarzan.org |
| burroughsbibliophiles.com | johncolemanburroughs.com | tarzan.com/tarzine | JohnCarterOf Mars.ca |
| erbzine.com/edgarriceburroughs | Weekly Webzine | Weekly Webzine | Pellucidar.org |
BILL HILLMAN
Visit our thousands of other sites at:
BILL AND SUE-ON HILLMAN ECLECTIC STUDIO
ERB Text, ERB Images and Tarzan® are ©Edgar Rice Burroughs, Inc.- All Rights Reserved.
All Original Work ©1996-2008/2010 by Bill Hillman and/or Contributing Authors/Owners
No part of this web site may be reproduced without permission from the respective owners.