Official Edgar Rice Burroughs Tribute Site
Since 1996 ~ Over 10,000 Webpages and Webzines in Archive
Volume 1167
Presents
OKAR'n'R 04
(Rescue & Respite ~ Rest & Recreation)
Most Burroughs fans are familiar with the
various ERB gatherings and conventions in the U.S.:
The Dum-Dum, ECOF, etc.
But more and more fans are becoming aware of a unique Canadian event -
OKAR'n'R: Rescue & Respite
which provides rest and recreation
for ERB fans who find themselves lost, stranded or under attack
while travelling in the wild northern regions of Okar - the Forbidden Land.
Our latest OKAR'n'R event plays host to
Joog, the Giant and his princess, Joogina
known by some by their Jasoomian names:
Dick and Ginnie Spargur

Joog and Joogina, the Spargurs, arrived in Winnipeg via train from Churchill in the far northern regions of Okar. To impress the two passengers from Dayton, Ohio, the "Bullet Express," from Churchill to Winnipeg via Pukatawagan, set amazing speed records and made the trip in record time -- only three hours late!

To celebrate we went immediately to Chinatown where Ginnie gave us all a lesson in chopstick technique. After a week of surviving on Beluga whale blubber in Churchill they were ready to tackle everything on the Dim Sum cart: chicken feet, shark fin soup, pork and shrimp dumplings, jelly fish, squid noodles, hundred-year-old eggs and sticky rice in lotus leaves. Joog's knowledge of Asian culinary oddities was impressive -- he didn't even attempt to eat the lotus leaf wrapping on the sticky rice packets. The only disappointment was that there was no southern-style pork brains a la the Clarksville ECOF adventure of a few summers ago. Before we left the table Ginnie demonstrated a another very practical use for chopsticks by showing how they could be used for after-dinner tooth brightening (see photo above)

First on the agenda was the mandatory ERB book crawl. The most successful stop on this literary safari was at the exclusive, appointment-only Greenfield Books. Dick had made numerous cyber purchases through this store's Website over the years and was looking forward to perusing their wares "in the flesh." Joog used his height to great advantage as he was able to peer into ceiling level shelves inaccessible to most customers, where he discovered a few rare dust-covered volumes -- lonely tomes that begged for a new home in the land to the south. We left Dick and Ginnie to explore downtown Winnipeg, while we attended son Ja-On's graduation from the Wellington College massage therapy program.

Wellington College graduation at the historic
Fort Garry Hotel complex.


Sue-On, Ja-On, Ja's tired little boy Soulin, Bill,
and our daughter China-Li
By the time we rejoined the southern giant and his princess a few hours later they were lounging contentedly in easy chairs in the McNally-Robinson Bookstore coffee shop, poring over an imported copy of USA Today. Having been isolated in the north for a week they were desperate for news from their homeland. By now we were ready for more sustenance but not before we strolled through one of the artsy districts of the city. We were headed for a Greek restaurant when we were sidetracked by a "retro-candy" store. By the time we entered the restaurant we were weighted down with bags of Cracker Jack, Pink Elephant and Big Top Popcorn, licorice cigars and pipes, Thrills (chiclet style gum with a soap taste), Pop Rocks (exploding candy nuggets), jelly babies, chocolate coated ants and coffee beans, coke in chewable wax bottles and a variety of novelty items, normally found only in the ad pages of old comic books. A two-and-a-half hour journey to the west on the Trans Canada highway brought us home before dark -- about 10 o'clock -- summer days are long in Okar.

After a warm, slobbery greeting by China-Li's giant four-legged white calot, Atticus, our guests were given a quick tour of the OkaR 'n' R digs and wearily retired to the guest room. We offered to customize the oak bed by cutting out leg room but our visitors graciously declined, saying they would manage somehow by dangling their feet over the foot board. They seemed to feel right at home among the Tarzan posters, stuffed mangani, and other jungle artifacts that decorated the room. We are especially proud of the hand-made jungle quilts that our friends Billy and Bonnie York presented to us at a Tarzana gathering a few years ago. The quilts are the envy of our friends and a topic of discussion among visitors to our lair.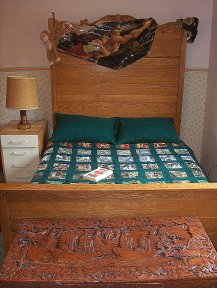 We spent Friday morning helping a service man install another satellite dish antennae to give us a few more channels at the computer desk in our ERBzine office. Then, after an exhausting, in-depth tour around the city of Brandon (20 minutes), we headed north on a wildlife photo safari to Riding Mountain National Park. The Spargurs got some good shots of bears and bison roaming the wild and along the highway, as well as in penned areas. The hunt was successful. We had barbequed bison steak for supper.
| | |
| --- | --- |
| Ginnie photographing a black bear at roadside | .Savage Cave Bear |

Joog trumpeting a buffalo call and
photographing the charging bulls


Sue-On and Ginnie on the trail through the
Bison compound at Lake Audy


Three buffalo hunters take a break from the hunt

.
| | |
| --- | --- |
| Joog and JoN attempt to breach the Bison enclosure at Minnedosa | Two bulls battle for supremacy |
| | |
| --- | --- |
| Joog arouses the curiosity of a bison cow and calf | Fearless Joog and Joogina among the herd: Milking time |
PIPER'S FAREWELL CEREMONY

On Saturday morning, before our departure for Winnipeg, our friend Don Roy -- a military piper, and China-Li's bagpipe instructor -- regaled our friends (and neighbours) with a special concert of Scottish melodies in our Amtorian Garden. China-Li did a few Highland Dance steps while Atticus wailed along mournfully with the pipes. After a short jam session we embarked on a journey that would eventually take Joog and his Princess to a southern-bound flier... but not before a day of exciting and often danger fraught visits to treacherous Okarian palaces, dense Manator-ban jungles and lavish tribal feasts.
HILLMAN STUDIO
Inspired by the exciting celtic music of the pipes, Joog and JoN descend
to the subterranean music room where they jam old jazz and pop standards.
ACROSS THE RIVER ISS
The wanderers take a footbridge across the River Iss, enter the courtyard of an Okarian palace
and become lost in the Manator-ban jungles.

The two warriors look for their princesses
who have wandered off into the jungle.


Joog rescues JoN
from the cluthes of the deadly plant men.


Joog and JoN climb to the upper
terraces to escape the jungle denizens.

Fearless Joog takes to the vines through the upper terraces
JoN goes along for the ride.


Joog the Mighty.
.
OKARIAN FEAST
On the final evening of the Spargur visit
Jed Raz of Okar and his princess bride threw a lavish banquet
in honour of the travellers from the southland.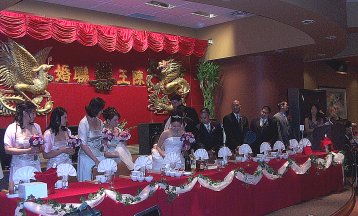 The start of an 11-course Okarian feast.
..


Okarian Jed and Princess make a ceremonial floral presentation
to their guests of honour, Joog and Joogina.
A few hours later, Joog and his Princess winged safely back to the land of O-Hi-O.
Their daring adventures and exploits across perilous Okar
will be recounted and remembered for many years by their northern friends.


Upon our return home we happened to glance into the now-empty guest room.
On the bed ~ framed by our York jungle quilt ~ was one of the rarest of Tarzan items.
Tarzan On Mars ~ a pastiche by John Bloodstone,
personally handbound by Richard Spargur.
We had admired this very limited edition
when it sold for over $300 at the Louisville Dum-Dum 03 auction.
Thanks Joog.

The expanded photo record of this visit is located at:
ERBzine 1167a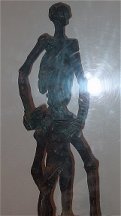 Previous OkaR 'n' R Adventures are featured at:
OkaR'n'R I
OkaR'n'R II
OkaR'n'R III
Take an online journey through Princess Dejah's Amtorian Gardens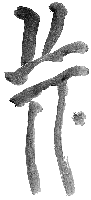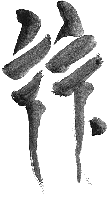 BILL HILLMAN
Visit our thousands of other sites at:
BILL AND SUE-ON HILLMAN ECLECTIC STUDIO
ERB Text, ERB Images and Tarzan® are ©Edgar Rice Burroughs, Inc.- All Rights Reserved.
All Original Work ©1996-2004/2010/2015 by Bill Hillman and/or Contributing Authors/Owners
No part of this web site may be reproduced without permission from the respective owners.