Part Five:
Getting from There to Here
I have a stack of fictional stories on my desk, beside me, as I write these comments. Although they got piled up here more or less by chance, their order turns out to be anything but random. The first text is a photocopy of manuscript romance written in America during the early 19th century and it includes some trailblazing descriptions of travel through space to other planets. Its title is Romance of Celes and its unpublished contents are attributed to a would-be author named Solomon Spalding. The story is not exactly science fiction -- it is a religious romance, complete with Christian angels, celestialized souls, and a cameo appearance of the biblical Jehovah, seated upon the heavenly throne of glory. This is precisely not the kind of story that Edgar Rice Burroughs would have ever dreamed of writing. The second book is a metrical epic, published in two volumes, by the British Poet Laureate, Robert Southey. He titled this offering to the muses Madoc. Among other things, it relates the fictional mass Christianization of a nation of pre-Columbian Meso-Americans by Welsh knights. This is another romantic creation with sub-plots that Mr. Burroughs would have naturally avoided. When ERB does take a brief, backward look at old Christendom, in Tarzan Lord of the Jungle, he preserves little more of that society's religion than a great stone cross, already an antique in the British Isles of medieval times.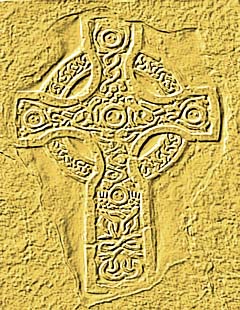 Ancient Welsh Stone Cross
Atop these two first two texts lies my bound internet print-out of H. Rider Haggard's She and Ayesha, the Return of She. Probably I do not need to describe these two volumes to most of my readers, except to say that they are both permeated with exotic religious themes, as well as repetitive representations of their British protagonists as being God-fearing Christians (well, at least in profession, if not always in their actions). While ERB might have written just such stories as these, I'm sure he would have deleted or changed 99% of their erudite theologizing, spiritual speculation and mystic dreams, ere he ever mailed off such submissions to his editors. Finally, perched precariously upon the stack is an old edition of Edwin L. Arnold's Phra the Phoenician, wherein the sword-wielding hero not only lives and "dies" numerous times, he also converses at length with a disembodied spirit, imploring her to tell him what things are like on "the other side." Again, while Old Burroughs might have found much in the way of raw story-telling material in this improbable novel, there are certain extraordinary portions he would have eliminated before he could have been satisfied in authoring such a tale.
Spalding, Southey and Haggard were all professing Christians and that fact is well evidenced in their writings, albeit it in lessening proportions as I read from the bottom of the bookish pile upwards. By the time I get to Arnold, the overt religious evangelizing has disappeared and I'm left reading what sounds like Spiritualism mixed with traces of Protestantism and a hint of respect for Eastern philosophies. The latter religious element is also present, dished out in heaping measures, in the second of my Haggard books. I've lived in the foothills of the Himalayas and frequented the fringes of the Tibetan Plateau, and it seems to me that the adventurous British author did a nice job in capturing at least the general flavor of Central Asian Buddhism. Burroughs does a much less convincing job portraying some pretentious aspects of Hindu mysticism in his Carson of Venus tales. While on the subject of Carson Napier, I perceive that I'd probably tip over my tower of tomes, were I to add to it an ERB Amtorian romance or two -- but their presence, as the final addition in my set, would complete the thematic evolution I've here been alluding to.

Divinity, Darwin and DNA
Recall the first conversation that La of Opar had with Tarzan of the Apes, when they were hiding out from her people in The Return of Tarzan. They spoke of her religion (well, I guess that La mostly spoke and Tarzan mostly listened) in the Mangani language. In a few short sentences the high priestess is able to tell the jungle champion pretty much all he needs to know concerning the Atlantean Flaming God and her religion's doctrines. Taciturn Tarzan does not take the trouble to tell La how, in his youth, he shot arrows into the heavens to save Goro the Moon, or how he struggled to comprehend the word G-o-d in his child's primer. A recitation of these childhood episodes lies beyond the dignity of the adult Lord of the Jungle. The mature Tarzan is the kind of noble, but non-religious, fellow whom Christian novelists Spalding, Southey and Haggard would have never written into their stories. Edwin L. Arnold might have found a place for the apeman in one of his strange tales, but only if John Clayton first professed a belief in ghosts and magic carpets.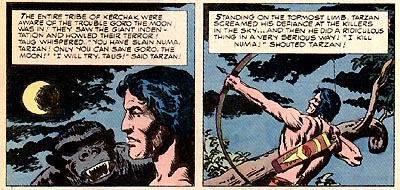 "Tarzan Rescues the Moon," Jungle Tales of Tarzan, #3, 1965
With La and Tarzan's theological conversation in mind, consider, for a moment, a few passages from Haggard's She, where the immortal High Priestess of Kor shares some interesting thoughts with Professor L. Horace Holly:
"So," she went on, "now... tell me of the philosophy of that Hebrew Messiah, who came after me..."
I did my best to expound to her the doctrines of Christianity, to which, however, with the single exception of our conception of Heaven and Hell, I found that she paid but scant attention, her interest being all directed towards the Man who taught them. Also I told her that among her own people, the Arabs, another prophet, one Mohammed, had arisen and preached a new faith...
"Ah!" she said; "I see -- two new religions!... Mankind asks ever of the skies to vision out what lies behind them. It is terror for the end, and but a subtler form of selfishness -- this it is that breeds religions... The religions come and the religions pass, and the civilisations come and pass, and naught endures but the world and human nature. Ah! if man would but see that hope is from within and not from without -- that he himself must work out his own salvation!..."
I did not care to try and discuss the question with her... How little chance, then, should I have against one whose brain was supernaturally sharpened, and who had two thousand years of experience, besides all manner of knowledge of the secrets of Nature at her command! Feeling that she would be more likely to convert me than I should to convert her, I thought it best to leave the matter alone

There are at least a couple of sentiments expressed by She Who Must be Obeyed, in this discussion, which Edgar Rice Burroughs might have happily endorsed, but he could have never placed such a train of words into the mouth of La of Opar. For that matter, I think that very few of his characters could have been made to utter such things. In her own self-centered way, Ayesha of Kor is wise -- not all-wise, but more ingenious than the learned Professor Holly, and infinitely more experienced than Ras Thavas and ERB's other masterminds. By penning alternating dialog for both Ayesha and Holly, their author is able to propound some weighty theological topics, not the least of which is one hinting that the personhood of Jesus might be more important than the dogmas attributed to him. H. Rider Haggard probably wasn't much more intelligent or imaginative than was Edgar Rice Burroughs, but Haggard wrote for a more literate audience and he could address "deeper" themes than ERB typically worked with. Haggard also wrote for a more religious audience than Burroughs did, and that allowed him to employ and develop spiritual sub-themes which would have only gotten in the way of the fast-paced action in an ERB tale.
Both Edwin L. Arnold and H. Rider Haggard lived and wrote during the Darwinian revolution in scientific thought. Both authors deal, in one way or another, with the idea of human social development over time, but neither man exploits the new idea of human evolution with even an iota of the energy and focus Edgar Rice Burroughs brings to the subject. Burroughs' dedication to Darwinian thought, coupled with his disinterest in spiritual experience, helps make him a child of the modern era. He writes for 20th and 21st century audiences. Despite their attempts at writing fantastic fiction for a contemporary readership, Arnold and Haggard belong back in the 19th century with Spalding and Southey. Burroughs' imaginative fiction has grown beyond the limits previously imposed by those earlier, more religious writers. In the process, the ERB-style story unfolded its wings under the sun of a new day in human thought. It gained the new life necessary to engage new generations of readers and to inspire new generations of fantasy and science fiction writers. In its development the fresh-minted brand of story-telling lost something. To the reverent follower of the biblical faith, the hyper-religious products of writers like Spalding and Southey read as flagrant fabrication, much of which verges upon sacrilege. Authors of Haggard's and Arnold's ilk abandoned this antique, Miltonesque technique well before the end of the 19th century. In doing so, they cut back on the trivialization of the biblical faith, but they also diminished biblical elements in their supernatural fiction. Perhaps that was a necessary trade-off in their quest for literary modernity, but much Judeo-Christian tradition and wisdom was necessarily left behind.
These are the conclusions I've distilled from reading the odd stack of writings sitting at my elbow. Had I perused a different set of old novels, perhaps my examples would be different, but I suppose I'd still be left with Edgar Rice Burroughs as the quintessential bridge between the old viewpoint, in which human beings were classed by scripture, phrenology or physiognomy, and the contemporary perspective, in which they are grouped by statistics, blood type and details of their DNA. Edgar Rice Burroughs grew up and did his adolescent reading in the final years of the Victorian era, but his adamant interest in Darwin, Edison, and human progress propelled his imagination into eras far beyond his life-span.

Here, There and Everywhere?
I keep going back to Bob Zeuschner's recent on-line article, to look for representations of Edgar Rice Burroughs making use of religious themes in his stories. Bob doesn't supply many examples, but he does say some interesting things:
For Burroughs, the term "religious" must stress the sense of awe and appreciation one feels when face to face with the raw impersonal power of Mother Nature in all of her untrammeled and even savage beauty... So, religion in Burroughs implies an intense subjective feeling of awe and amazement at the wonder and power of Nature....
We also know that ERB himself thought that Darwin was correct and human beings had evolved from simpler life forms, and that we were all part of nature. ("Religious Themes in the Novels of ERB," ERBzine 1120 Jan., 2004)

If these comments are correct, then ERB had no use for the personhood of God in his concept of authentic "religion." Does that mean that the author substituted, in his own philosophy, "the raw impersonal power of Mother Nature" for the personal God so many people believe in? Perhaps so -- I'm not well enough informed on the matter to come to any firm conclusions. I only recall one ERB statement that might shed some light upon his opinion: "It really does not make much difference what... [people think] about evolution... They cannot change it... It is an immutable law of Nature; and when we say that, it is just the same as saying that it is an immutable law of God -- that is, for those who believe in God -- for one cannot think of God and Nature as separate and distinct agencies."
What sort of "religion" might arise among the devotees of the "impersonal power" which disallows "God and Nature as separate and distinct agencies"? This premise seems to me to hold something more substantial than the predilections of the guy who says that he is going golfing or fishing on Sunday morning -- because that is his "nature worship." At the same time, the "impersonal power" appears to be something less specialized than the old native American veneration for the unspoiled out-of-doors, mysterious events and totem spirits. I picture the "impersonal power" Bob speaks of as being something like "The Force" of the Jedi Knights in the Star Wars cycle. Probably Burroughs would have approved of that sort of thing in escapist entertainment -- and he probably would have been intrigued with the tenet that "It" also had a "dark side."
There is another possibility in defining the "wonder and power of Nature... that we were all part of," and that possibility is pantheism. This is a theological concept not very well understood in the western world -- most monotheists tend to confuse it either with biblical omnipresence or with a pagan worship of innumerable spirits. But neither of these notions fits well with idea of the Divine being an "impersonal power." The concept of pantheism better fits with the non-rational, transcendental experience of being "one with Nature," or of being "one with the Universe." Some knowledgeable folks say that, once the "doors of perception" are opened, practically any person can arrive at the ecstatic realization that all things constitute a sentient Unity. Such a realization does not come from intellectual or emotional assent to others' doctrines; it comes with a human being's total abandonment of personal will and rational thought. If that sounds like craziness to some readers, they should not feel too alone -- I think that Edgar Rice Burroughs himself would have taken a very skeptical view of this "full-blown" portrayal of divinity-in-everything.
Still, Mr. Burroughs once published some remarks which border upon a lesser, more sensible sort of pantheism. Here are the thoughts he put into the head and heart of the adolescent Tarzan of the Apes:
[After killing the great serpent] Tarzan drank his fill... His mind reverted to the battle with Histah, the snake. It seemed strange to him that Teeka should have placed herself within the folds of the horrid monster. Why had she done it? Why, indeed, had he?...
What made him do such things? Somebody more powerful than he must force him to act at times. "All-powerful," thought Tarzan. "The little bugs say that God is all-powerful. It must be that God made me do these things, for I never did them by myself. It was God who made Teeka rush upon Histah. Teeka would never go near Histah of her own volition. It was God who held my knife from the throat of the old Gomangani. God accomplishes strange things for he is 'all-powerful.' I cannot see Him; but I know that it must be God who does these things.... And the flowers -- who made them grow? Ah, now it was all explained--the flowers, the trees, the moon, the sun, himself, every living creature in the jungle -- they were all made by God out of nothing.
And what was God? What did God look like? Of that he had no conception; but he was sure that everything that was good came from God... Yes, Tarzan had found God, and he spent the whole day in attributing to Him all of the good and beautiful things of nature (Jungle Tales of Tarzan, ch. 4)

"The God of Tarzan," Jungle Tales of Tarzan, #4, 1965
When the comic-book team of Pat Masulli and Sam Glanzman adapted ERB's "The God of Tarzan" to the medium of sequential art, in 1965, Masulli edited the original author's words in a manner that kept his abridgment true to Burroughs' primary message. In one panel he wrote "God is everywhere," and that is a fair summary of Burroughs' story. There is a reservation to be made in that statement, though -- "God is everywhere, so long as the things in that place are good." Radical pantheism finds the impersonal God even in the things that the human mind classifies as being "bad," but Tarzan's juvenile philosophy was not that far advanced.
In his Jungle Tales of Tarzan, Edgar Rice Burroughs is not trying to impose some personal variety of nature reverence or partial pantheism upon his accepting readers. Instead, I think he is using Tarzan as an Everyman, whose fictional experience condenses into a single short story the drawn-out experience of early humankind in fathoming a few aspects of the Divine. This is an ultra-rare example of positive theologizing in a canon of fantastic fiction wherein the author generally relegates religious thinking to the dustbin of fraud, manipulation and superstition. Imaginative fiction and human prehistory both find a requisite basis in conflict, struggle, defeat and triumph. In this struggle for success, some creatures and circumstances must necessarily be labeled "good" and others "bad."
Tarzan exercises heroic courage in saving the hapless apes from the great serpent. True heroism is essentially synonymous with successful (though sometimes heedless and tragic) self-sacrifice. But Tarzan (evolving humankind) also exercises loathing, hatred and brutality in struggling with the snake, a monster which he cannot concede being part of God's good creation. This example is not a pantheistic one -- not quite -- but it metaphorically reiterates the understanding that "one cannot think of God and Nature as separate and distinct agencies," and it records a pregnant moment in man's evolving consciousness of the Divine presence in all things. Young John Clayton achieves both a material and a spiritual triumph -- and that is more than enough for one Edgar Rice Burroughs story.
Burroughs jungle character puts together his limited experience with his limited studies to come up with his own definition of God. This God does not yet have a name, but "he" is an all-powerful, masculine-like being that is only partially separable from his creation. Along the way to his making this wonderful discovery, the apeboy discards a number of incorrect or incomplete concepts of what God might be. God is not the Moon, God is not a witch doctor, etc. I cannot help but be reminded of the biblical story of Elijah, in which the Israelite seeker discovers that the Lord is not the great wind, nor the terrible earthquake, nor the all-consuming fire; but, rather, an almost imperceptible revelation within Elijah's own consciousness.
Tarzan's God provides the apeboy with no special revelation -- other than his growing capacity for (and heightened perception of) pity and empathy. This heightened perception is almost the same as a "still, small voice," I imagine. If I read Burroughs correctly, he is equating God's revelation with creation as a whole and also with the triumph of Tarzan's new mental reflection upon that good creation. The apeboy's brain has arrived at the point of postulating an invisible, masculine, personal divine being; but in thinking such thoughts Tarzan is also abstracting, qualifying and limiting the "impersonal power" of Nature. The human mind evidently seeks to put a recognizable face upon the Ineffable. The omnipresent, faceless (but personal) God of the Yahwist and the Muslim is a concept still beyond the thoughts of Tarzan and his author, I believe. Burroughs no doubt knew of this sort of theology, but the most evolved idea he chose to place into the apeboy's cogitation, is that the creator God is invisible. The spirituality of the loftier realms occupied by eastern philosophy was unthinkable to ERB, and thus his fictional Tarzan does not make the mental connection between nature reverence and true pantheism. I'd like to believe that eventually he did come to that realization -- if not in his mind, then perhaps in his heart.