Battling the Beasts of Barsoom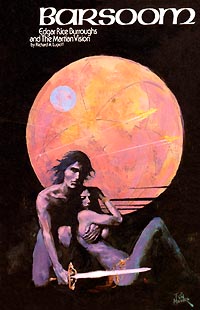 Although the thematic parallels presented by Leiber, de Camp and Lupoff may tickle the fancies (and fantasies) of some readers, such compilations and conclusions do not bring the Burroughs fan much closer to any reasonable idea about how the "Old Boy" wrote his feats of fiction. Uncle Dick dances around this important issue in his Master of Adventure, but provides no real answers. At least he admits that he discovered no "smoking gun" to conclusively demonstrate ERB's supposed dependance upon arcane Theosophical teachings or Edwin L. Arnold's indulgent inventions.
Belatedly Lupoff began to realize that certain literary influences might have animated the mind of Edgar Rice Burroughs long before he began to compose marketable heroic fiction. If this were indeed the case, the stimulation from outside sources may have stretched all the way back into the previous century, when the budding storyteller was yet a daydreaming juvenile. Back to the time when he may have read popular authors like Twain, Verne, Wells, Kipling and Haggard just for fun, with no thoughts of ever emulating their writings. Hear what Lupoff has to say near the end of his Master of Adventure:
Scholarly inquiries into Burroughs' life and works continue. In the area of sources, while all of those cited or suggested in the present volume may not have served as direct inspiration for ERB, many of them seem to have influenced him, and more remain to be found ... [among] other authors of their period....
According to Broadhurst, "Burroughs advertised in August of 1898 that he could supply readers in Pocatello with any periodical from America or elsewhere." ... Of Edwin Lester Arnold's books, for instance, 1898 would have been too early for Lepidus or Gullivar Jones but would have been in plenty of time for Phra or The Constable or Ulla, the reading of which might have whetted ERB's appetite for later books by the same author. By 1898 Burroughs might have stocked -- and read -- Haggard, Kipling, Swift, Verne, Wells, Harry Prentice, Helena Blavatsky -- Much research remains to be done... (XX "The Surprise in the Safe" pp. 300-301)


A Second Helping of the Lu-Povian Legacy
Uncle Dick took his own 1965 advice to heart and did some "further digging" into the story and stories of Edgar Rice Burroughs. The results of his further explorations may be had in his 1976 book, Barsoom: Edgar Rice Burroughs and the Martian Vision. This book is something more than just a mechanical expansion of the Mars sections of Master of Adventure. In his second book Uncle Dick provides a pretty good overview of ERB's red planet, along with a close inspection of each of the "standard" John Carter tales in the ERB canon. He also sets about determining where all of this came from, and reports that most of it came from the daydreams of the "Old Boy" himself -- that Barsoom was ERB's personal continuing fantasy and that he used a good deal of that imaginative escapism when he set down the words of the first few Martian novels on paper.
This seems to be to be a most promising yellow brick road to venture out upon, in seeking explanations for certain story elements in the Barsoom series. I feel much more inclined to follow this mental route than the ideas put forth by Camille E. Cazedessus -- that ERB's literary parallels with certain writers arise from his consciously trying to write better "hero-rescues-the-princess" stories than he was finding in the pulp fiction magazines of 1911. On the other hand, who can ever expect to learn much about a deceased author's private thoughts? There is great room for speculation here, and Lupoff deserves some credit for opening the door to a new way of considering the "origins problem." But I do not expect that inquisitive fans and serious readers will reach many mutually affirmed conclusions, based upon Lupoff's ideas and method. Consider this combination of quotes from Barsoom:
... Years later, seeing John Carter after a lengthy lapse of time, [the semi-fictional] Burroughs was amazed that his uncle had not aged visibly. Tall, dark-haired, gray-eyed, John Carter was youthful in appearance as ever, while Burroughs had grown from a boy into a man. But now that John Carter had died, there was a bit of mumbo-jumbo about his funerary arrangements at Burroughs' hands. No embalming was to be perfommed, the body was to lie in an open coffin, and the coffin was to be placed in a mausoleum with a door that could be opened only from the inside.
... there were a number of interesting aspects to John Carter's character, other than the many colorful adventures which he experienced on Mars. The foremost of these was his agelessness. He had the appearance of a man in his thirties... He apparently did not age from book to book in the series... The Martians themselves... are... characterized by amazing longevity but not by immortality per se. Not so John Carter. Even before the opening of the cycle he was of indeterminate age. He described himself as "a very old man." ... He may have been several hundred years old, or several thousand....
The "ageless warrior" is far from unique in fiction and myth; the closest analogue for John Carter is Phra the Phoenician, the title figure in a novel by the English writer Edwin Lester Arnold, published in 1890. Phra was astonishingly like John Carter -- or the other way around, considering the sequence of their debuts... Arnold gave Phra a very lengthy career... his adventures spanned many centuries and many episodes separated by periods of temporary "death."
There was a suggestion of death before John Carter's first journey to Mars. He returned to earth after a decade on Mars as a result of "dying" on Mars, and resumed his former, terrestrial body. As the cycle progressed this peculiar mechanism -- apparent death and astral travel culminating in what might be regarded as astral death and physical resurrection -- gave way to a simpler notion of psychically powered interplanetary flight in physical flesh... (pp. 14-15)

I see this as food for some very deep thought. Did ERB, in his initial period of authoring John Carter's adventures, consider having his hero seemingly die and then experience miraculous resuscitation a number of times? By "seemingly die," I mean the depiction of a wounded and expiring John Carter who slips into a lengthy healing coma and later emerges very much alive after months, years, or centuries of unconsciousness. There are several ERB stories in which something approaching this kind of immortality is presented or hinted at, but it is not exactly what John Carter experiences in his "lives" and "deaths." It is, however, exactly what Phra the Phoenician experiences in the one book devoted to his adventures. In the case of both authors (Arnold and ERB) readers might be excused for guessing that the writer was subject to a nagging preoccupation with death and the unknown answer to the question, "what lies beyond death?"
My own guess is that ERB at first toyed with the notion of lengthy healing comas for his hero, but eventually discarded that plot device for others that were less awkward to deal with in fast-paced heroic adventure. And, returning to the personal fantasy idea, would a young man like Burroughs have had any conceivable reason to use such a story device in his own daydreams, youthful imaginings, or adult fantasies? Short of his truly experiencing out-of-body or near death episodes himself, I can only picture Burroughs dwelling upon such ideas in his maturity -- I cannot quite envision his being preoccupied with such matters in his younger days, prior to taking up writing as a career.
Lupoff continues his "personal fantasy" train of thought thusly:
The Martian fantasy was originally "primitive" not in the sense that it was crude, but in the sense that it revealed Burroughs' primal dreams. The more closely the trilogy with which the cycle opens is examined, particularly A Princess of Mars, the more it becomes obvious that Burroughs was indeed transcribing dreams. The images, themes, visions and situations were created somewhere in his subconscious... Freudian... symbols are so powerful that they force themselves into the awareness of any reader beyond the age of twelve.
The womb-and-birth fantasy of the Arizona cave sequence, the "birth trauma" of John Carter's separation from his body, the transition through the void to the world (Barsoom), the constant titilation with nudity... the infantile projection of John Carter as a tiny crawling "child" among the "adult" sized green Martians...
But because his stories flowed from a natural well, rather than being carefully planned and outlined, they were frequently sloppy in structure, and in particular were marked with the presence of loose ends.... never fully worked out, never fully thought out. (pp. 15-16)
Yeah, I suppose I can buy that. At least for ERB's earlier writings. Someday a capable literary analyist should comment upon the the contents of the first two Mars stories, the first two Tarzan stories, and the first Pellucidar story, as a distinct body creative writing, comprising five mega-chapters in a cloudy revelation of the personal thoughts of Edgar Rice Burroughs. He was, at that early period, in the process of teaching himself how to write publishable fiction. And he soon learned how to do just that: he obviously did research and pre-plan the contents of many of his subsequent tales to match the needs and desires of editors and the reading public. So, I think that if what Dick is saying here holds any water at all, it must apply primarily to ERB's earliest works -- and to his first two or three Martian tales in particular. And, as I might have predicted, this is precisely where Uncle Dick hangs his reporter's hat for the remainder of his Martian Vision. The question thus expands from Leiber and de Camp's original inquiries about Barsoomian literary origins, to the more intimate query -- "Who is John Carter?"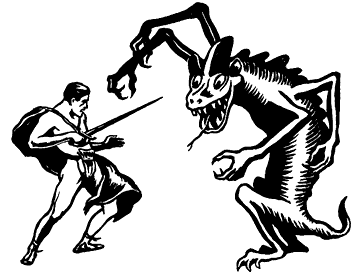 He's not so much just Phra, as Burroughs Himself

If Carter is ERB, he is obviously not the semi-fictional Burroughs who appears within the Martian stories at times. Nor is he the public Burroughs whom people saw and spoke with through the years --- Carter, according to Lupoff, is the inner ERB, the imagination of the author. According to Uncle Dick:
... John Carter was Edgar Rice Burroughs... in his most dearly imagined dreams. Burroughs was happiest when he was John Carter, and as John Carter he was happiest when he was on Mars. Patricia Loring, a popular-media journalist, made a very striking observation which bears directly on this point, when she completed reading the series. "John Carter doesn't show any particular regret at leaving earth," she remarked, "or any particular wish to get back there once he realizes that he's on Mars." ... [no] thought of getting home again... John Carter, in expressing his reaction to his translation, makes nary a mention of earth!
As a fictional device, that omission serves neatly to fix the reader's attention where Burroughs wanted it, on Mars, not earth. But if that had been a conscious device on Burroughs' part, he could simply have started the story off on Mars, without the use of the elaborate framing device.... (p. 25)
and --
Burroughs put John Carter on Mars. There he was at home. There Burroughs dreamed his dreams.
The John Carter stories were the first and the last that Burroughs wrote in his life, and while the demands of commerce drew from him more Tarzan books than those in any other series, the Martian cycle was the next most numerous. Further, he wrote himself into the Martian stories repeatedly, something that he did only rarely in ... the remainder of his works. Indeed, Burroughs clearly identified John Carter as his own blood relative, a kinship he offered to none other of his creations.... (pp. 62-63)

I still recall some of my earliest fantasies. They were not particularly complex or consistent. In them, one moment I was Robin Hood and the next moment, I was the Lone Ranger. I battled bigger, meaner, scarrier villains and wild beasts -- and I always won the battles. Such are the daydreams of a ten year old. By the time I was twelve my daydreams were of being a sea captain, sailing far off waters in search of pirates -- or of being Tom Corbett and flying to the Moon. The element of fantastic location was now there: I had my private imaginary realms, where other knights of the round table or other coon-skin capped frontiersmen could not intrude. And, not long after this, came the dream of rescuing some beautiful female -- one who would have to like me, because I'd saved her life. Exactly what I would do with her once she was safe from the pirates or the bug-eyed monsters, I wasn't quite sure. Those kinds of sequels started materializing within my head about the time I was first learning to shave.
Did ERB's private fantasies progress in a similar manner through his youth? Fight the monsters. Then fight the monsters in some never-never land. Then fight the monsters to save the girl. Then leave the monsters and hang out with the girl -- ??? In a rough sort of way, isn't that how the plot of the first Mars novel works itself out? Vernell Coriell once said that the story of Tarzan is the story of humankind's evolution, all condensed into the early life of one man. Is the story of John Carter the story of pre-pubescent imagination all condensed into the first chapters of "Under the Moons of Mars," supplemented by the more mature fantasies of post-adolescence, and laid out in a sequence of exciting events in ERB's own private never-never land?
So, where is all of this leading? Well, one path leads into ERB's own psyche, and perhaps the reader and literary critic should allow the Mr. Burroughs some privacy there. Another path leads through the evolution of any young person's escapist fantasies, especially when they are set in exotic realms where practically anything is possible. And a third path leads through the dark forest of evolution itself -- evolution of life, of animal reproduction, of intelligence, of human society, and of ultimate realizations. Does evolution enhance or negate religion? Does evolution ultimately produce beings more complex, more capable and more compassionate than their ancestors? What are the effects of a hostile or troublesome environment upon personal and species progression? Will goodness (and good bloodlines) win over badness in the end? If I had to take a wild guess, I'd say that these kinds of questions began to haunt ERB's daydreams at about the same time he took up writing for a living. I'd also say that concerns over avoiding death and prolonging life cast an early shadow over the entire panoply of imaginary adventures, fantastic escapes and fantastic triumphs. Richard A. Lupoff is not quite with me on all of this, but he's close enough to provide me with many more useful quotes.
Consider this one:
The social organization of the green men was intimately tied up with their breeding practices, a situation which of course has its analogue in every earthly society, human or animal. The urge to form families and to breed influenced Martian custom as well as earthly.
The green Martians were apparently not mammals. Burroughs said that there were only two mammalian species on the planet, and while he was somewhat coy about specifying what they were, it would seem that one was the "true" humans of Mars, and the other an animal....
It is not the oviparity of the green men which militates against their being considered mammals; there are oviparous mammals on earth for precedent. Rather, it is their complete hairlessness which suggests that they are not mammals...
Did the green women provide milk for their babies? Apparently they did not. (pp. 83-84)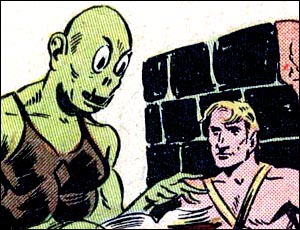 Four-limbed and four-bosomed Thark female with John Carter.
As (mistakenly?) drawn by Jim Gary. © 1939, ERB Inc.
The Beasts and Breasts of Barsoom

If I may jump back to the Theosophical teachings for just a second, I'd like to emphasize that they were very much interested in providing a story for human evolution that would help unite converts in a cosmic view that superseded biblical teachings. The early Theosophists present a fantastic explanation (but to many a believeable explanation) of how a certain kind of evolution, guided by spiritual powers, had produced the world and its sentient beings. To accept the Theosophists' cosmic view meant relegating both Darwin and the Bible to the status of half-truths and primitive interpretations.
Was this what Edgar Rice Burroughs was attempting to do with his otherworldly cosmogonies -- to create great, all-encompassing explanations for the existence of life and intelligence, that in no way depended upon traditional earthly understandings? If so, he may have found some hints about constructing such explanations in the writings of the Theosophists. And, if my theories of all this are correct, ERB may have been toying with these kinds of ideas before he ever sat down to write the first sentence of the first Mars tale.
But, no matter how alien a world and its inhabitants, so concocted, might be, the fantasy required some way for the interplanetary hero to experience romance and passion with the opposite sex in that alien world. Such a love episode would make practically, any pulp fiction story more marketable. And, you must now recall, Burroughs the daydreaming boy had become Burroughs the writing adult -- that green-skinned, flat-chested, bug-eyed Sola the Thark just wouldn't do in the eyes and heart of that gallant swordsman: John Edgar Burroughs Carter!
Lupoff says that the green Martians faded from prominence in the Mars series "as Burroughs became increasingly interested in creating the many little city-states of the red men and the other true humans." For example, "Tars Tarkas hung around as John Carter's friend and sometime ally, but one receives the impression that Burroughs simply changed his mind about the green men, starting them as leading players, then reducing hem to a supporting role, and finally banishing them to the wings of the stage." Or, in other words, "Burroughs first populated Mars with green goliaths, threw in some regulation sized humans after a while, then dropped the green men almost completely." I wonder why it worked out that way?
Did ERB fade the green Martians from his stories (consciously or unconsciously), as a sort of metaphor of their dead-end status in Martian race progression? Are they the transitory link between reptilian, non-sentient creatures and mammalian almost-humans? Both green and red Martians lay eggs, and so the civilized Barsoomians are not quite human in the earthly sense of the term. Theosophy allows for such an overlap in sub-races and root-races, (with the members of different races on the scale of evolution evidently still able to inter-breed). Near-human females on Mars are oviparous, but produce breast-milk; they apparently do not have menstrual periods, but do have pores and body hair. They seem to occupy a physiological niche immediately below earthly females in an unexplained parallel evolution from lower species. And yet, John Carter is able to father fertile children by the Martian Dejah Thoris. Probably the other earthman on Mars, Ulysses Paxton, could do the same with his full-breasted Martian consort. For more thinking (fantasizing?) along these lines, consult John Harwood and H. W. Starr's "A Scholarly Analysis of the Females of Barsoom," in the original Burroughs Bulletin, issue #14 (1963).
I cannot quite follow Lupoff's lead, in believing that ERB only invented his red Martians after writing several chapters of the initial Barsoomian novel. It may have worked out that way in ERB's earlier escapist fantasies, but I more or less think that his imagination developed earthman-compatible Martians before he began his writing. After all, Lupoff postulates that ERB was greatly inspired by Arnold -- if that was so, then it should be recalled that Arnold used only human Martians in his Gulliver Jones story. If ERB was inspired, to some extent by Arnold's Mars account, then that initial inspiration should have included human Martians, to carry through the developing fantasy of John Carter's adventures on Mars. It seems to me that this would have been the basis for both Arnold's hero and ERB's hero rescuing a human-like Martian princess. It does not seem logical, to assume that Burroughs wrote his story up to the point of introducing the mammalian beauty, Dejah Thoris, and only then became inspired by Edwin L. Arnold, so as to have Carter become as romantically involved with Dejah as Gully had been with Heru (or, as had the protagonists penned by authors Gustave Pope and John Q. Mawhinney with their Martians, if you follow the "origins" suggestions put forth by Sam Moskowitz and Camille E. Cazedessus). .
A final thought on Barsoomian buxomness -- If ERB's green Martians are reptiles, or something of that ilk, "Old Burroughs" didn't seem to mind their females being depicted somewhat like mammals in various illustrations authorized and copyrighted by Edgar Rice Burroughs Incorporated. Then again, he allowed some inaccurately drawn thoats, calots and green warriors to slip onto the published page, with nary a word of protest. After all, how could anybody tell J. Allen St. John to go back and re-paint Tars Tarkas with pop-eyes on the sides of his head? It may have been more true to the text and it may have been more true to the form of four-armed, weirdly-eyed, giant Theosophical Lemurians -- but, hey, it was all just a fantasy, after all!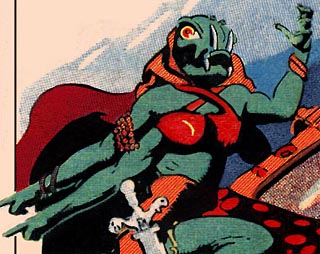 Sola the Thark -- as drawn by John Coleman Burroughs
© 1941 by Edgar Rice Burroughs, Inc.
Whaddya Think I am? A Mind-Reader?
Dick Lupoff wonders about Barsoomian telepathy. Did ERB introduce that element into his green Martian society, so as to allow John Carter to quickly communicate with his huge green captors? Was it put into the story just to make it seem especially unearthly? Or, did Burroughs simply carry over the concept from the Theosophists' Lemurians and Atlanteans? So far as I can tell, he did not get it from the younger Edwin Arnold -- though an open-minded reading of Edwin the Elder might leave the door of imagination open to almost anything, from the Mahabharata's ancient airships to Tibetan lamas' astral projections. But, there seems no answer to be had at this late date. Green Martians use telepathy to control their domesticated animals and they apparently use it now and then to communicate among themselves across short distances. But what does that say about telepathic powers? Are they a function of development at the lower or higher end of the evolutionary path?
Do the primitive plant men of the Barsoomian south pole communicate at all? Uncle Dick thinks that their lack of language sets them outside the limits of human evolution -- but then again, they are constructed rather like humanoids. Perhaps telepathy is a lower level function on Mars, and the plant men tell jokes among themselves that human beings cannot hear: "mind-games" of a silent sort. Whatever answer might be given, it seems that ERB only made use of telepathy in his Mars stories when it suited certain of his purposes. There may not be much the reader can learn from that. Nor from the ability of certain Martians (the white-skinned Lotharians) to summon up phantom beings by their exertion of mental energy. It all sounds very Theosophical -- but who knows for sure?
I half expect to one day see ERB's Kar Komak materializing on the "holodeck" of the Starship Enterprise, on television; and then refusing to dissolve back into binary code when the human game players cry "end program." But that would be just too fantastic, "Elementary, Dear Data," "Ship in a Bottle," Pygmalion and Galatea, Pinocchio, and the Velveteen Rabbit altogether notwithstanding.
Uncle Dick does make one interesting point in considering these kinds of Barsoomian paranormalities, however. He says that ERB never uses true magic in the Mars series. Impossible pseudo-science? yes -- occultists' mind over matter manipuations? yes -- but, sword and sorcery? no. There's plenty of "sword" to be had there, but precious little "sorcery." What little passes for magic, Lupoff labels "mystic." Again, this is reminiscent of things Theosophical, where claims of occult powers are juxtaposed with accounts true mysticism and claims of quasi-mysticism. What does it all men? Did ERB eschew the introduction of truly supernatural elements in his fiction, simply on the grounds of anti-religious principle? I haven't a clue, folks.
But it does seem utterly strange to me that John Carter and associates take all of these occult happenings in stride, never getting too curious as to how they originate. It would have made for an interesting chapter, if in the first Mars book, Carter had sought out some of the elusive Holy Therns in a Helium temple and asked their opinions as to why he was ageless, or could traverse the space between planets, or open atmosphere plant locks by sheer mental energy. But Captain John Carter is content to offer a little spilled blood to Ares on the battlefield altar, and let his religion end with that. Too bad. I'd love to delve into the deeps of spirituality with the greatest swordsman on two worlds, but he simply isn't interested. I strongly suspect that Ed Burroughs was interested, but didn't quite know how to go about discerning the sound of one hand clapping.
Did ERB once read the Theosophists to seek out possible answers about religion? Or, just to examine their imaginative accounts of evolution? Or, maybe not at all? Perhaps he learned all he needed to know by reading a couple of book reviews in the Chicago newspapers. We'll probably never know -- and that's kind of neat.

There's still one more page to be read this this series.