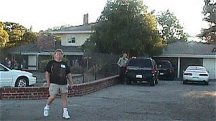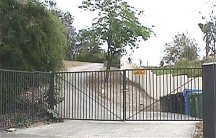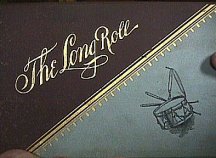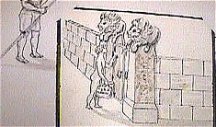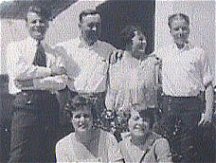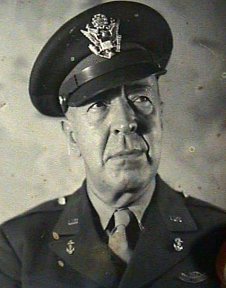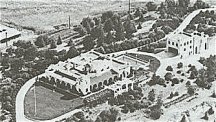 Saturday:
Summer Solstice and Danton Burroughs' Birthday
The longest day of the year is sure short in California. Back home we're used to about four more hours of daylight on this day. Curiously, John Coleman and Jane Ralston seemed to have a predilection for introducing their offspring to the world on the Summer Solstice: John Ralston ~ June 22, Danton ~ June 21, Dian ~ June 17.
As Danton was tied up for the early part of the day I went on a photo expedition: the old Topeka address where John and Mary had once lived, the treed grounds of what remains of Tarzana Ranch (actually the renovated detached building by the pool that served as a garage, ballroom projection room, film processing area and classroom), the modern reincarnation of the old Burroughs golf course, and a hike along some of the old ERB riding trails up to Mulholland Drive. Last summer during the ECOF convention we had gone on the full version of this hike in an expedition led by Tracy Griffin and Bruce Boxleitner. The temperatures during that hike were about 30 degrees higher and made for some tough going.
Danton's beautiful daughter Dejah was waiting to demonstrate her new Mac PowerBook when I returned to the house. Then, while Danton brought out and organized trunkfulls of Burroughs family memorabilia -- mainly from his dad's collection, I explored the amazing grounds around the house. The heavily wooded hillside property was comprised of stacked flagstone-covered tiers connected by winding paved walkways and stone steps. Most landings featured elaborate garden houses and remarkable statues, pillars, and unusual artifacts were scattered about in every available space. What started out as a simple stroll through the grounds took a full hour to complete.
The next six hours convinced me that the Burroughs legacy is in good hands. Ed Burroughs was an inveterate collector and compiler of everyday documents -- whether connected with his writing, art, letters, or family and social activities. The task of preserving the bulk of this wealth of material has fallen to the only descendant who appears to have the ability and interest to carry on the Burroughs family tradition.
We started with the stacks of collectibles scattered throughout the house. Even the items not related to ERB were of great interest to me as I came to realize just how much ERB's grandson and I have in common. We both have collections of vintage pinball machines, cash registers, barber chairs, juke boxes, gaming machines, rare books & comics, videos, old toys, pulps, photos, art, rare wood furnishings, unusual antiques & collectibles, stained glass, and 78 rpm records with blues, black gospel, classic rock 'n' roll, early jazz, etc. -- the difference being that his collection is 1000 times more massive. His latest pride and joy is a gigantic, colourful, wall-sized poster for The Adventures of Tarzan -- on heavy linen stock and in near mint condition despite its 80 some years of age. After another tour of the books, photos and memorabilia along the walls we settled in for what was probably Danton's most unusual birthday celebration ever.
Trunk after trunk yielded an endless cornucopia of surprises and curiosities. Occasionally we would find a rarity that previously had been overlooked or had been forgotten. Eventually digital images of each item should be stored and classified but for now we were content to share the excitement of discovery and to record some of the more unusual items with my camera. Many of the photos will be released on our Web pages but many more will be kept on file for reference or for future projects. To give some idea of the scope of these Burroughs archives I'll list a few of the things that stick in my memory after this session of information overload: Letters between all family members dating back well into the 1800s ~ Major George Tyler Burroughs' Civil War artifacts and photos ~ photos from every decade of the first half of the 20th century ~ ERB sketches and cartoons ~ MMA yearbooks and publications with text and art by Burroughs ~ ERB journals (daily, writing notes, camping tours, etc.) ~ awards & certificates ~ guest books from Tarzana, Bel Air, Hawaii ~ stacks of autograph books filled in by WWII acquaintances ~ photograph albums (family, Tarzana, Hawaii, Pacific atolls) ~ membership cards to secret societies and clubs ~ collections of cards, pipes, liquor labels, etc. ~ wartime articles, letters, and journals ~ business correspondence ~ Hollywood memorabilia ~ and much much more. (A representative sampling of this archive will be displayed in the accompanying photo galleries.)
A major discovery in this mass of material was previously unnoted booklets of pre-Minidoka writing and poems profusely illustrated by the author. This material will most certainly see publication in some form in the near future as it will be highly sought after by ERB historians and fans.
Our exhausting and exhilarating roller coaster ride of discovery and rediscovery slowed down only when we realized that neither of us had eaten anything all day. This birth day had been so jam packed that empty stomachs were ignored... till now... 10 pm. John, who had patiently sat off to the side listening to our exclamations and shared enthusiasms, was more than ready to join us in our trek for sustenance to California Pizza. Despite their hunger I couldn't interest them in sharing the rather unusual pizza I just had to try out: Peking Duck Pizza :- ( . . . but the pasta and beer were good : - )