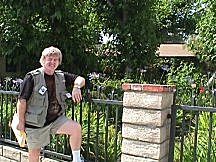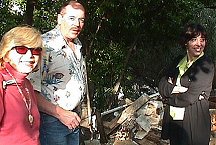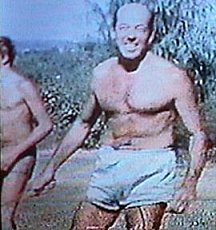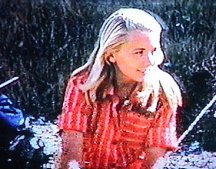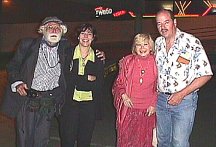 Wednesday: Photocopying & Burroughs Reunion Day
Wednesday involved a non-stop photocopying session from 10-4 in the ERB, Inc. offices. While Danton organized treasures in the fabled ERB Ventura warehouse and mined the best of his dad's collection, I manned the copier and opened countless envelopes containing correspondence between the Burroughs family going all the way back to the 1870s. I got the impression that many of these letters had not been reopened and reread by anyone for well over a century. Mixed in with this trove were other pieces of family memorabilia -- mostly from the John Coleman Burroughs collection: wedding invitations, photos, rare stamps and postmarks, business documents, hospital bills, brochures, Tarzan promotional booklets and postcards, work and journal notes for the various fictional worlds in Ed's novels, and even descriptions of everyday life on Tarzana ranch. What was, perhaps, the saddest letter was the one written by Ed's mother, Mary Evaline Burroughs during her month-long visit to Tarzana Ranch. She gave glowing descriptions of majestic Tarzana and the busy and happy lifestyle of the family. Most of the other letters, however, were sent home to Chicago from Yale, Idaho, Minidoka, Michigan Military Academy, and the various other locales in which the Burroughs brothers and other relatives resided in the last two decades of the 19th century. I took little more than passing note of the letter contents, as it was a full-time job to organize the material, carefully open each folded epistle, adjust each copy run for maximum contrast, and then to replace the documents in their original state. Deciphering much of the handwriting and making sense of obscure references will be a time-consuming process but the information promises to unravel many of the mysteries from this period of ERB's life.
I had previously arranged to have a Wednesday evening dinner with Mary and Stacy Burroughs, Danton's stepmother and stepsister. Danton had lost touch with them since the death of Danton's father back in the late seventies but when he learned of my plans for dinner he suggested that we all meet at his house, which Mary and Stacy had not seen, and then go over to Charlie G's for a late supper. Mary drove over from Pasadena, met up with daughter Stacy, and then joined me at ERB, Inc. From there we drove past the old Tarzana ranch and then took the winding trail up to Danton's "Hodgepodge Hall" residence with its sprawling wooded hillside tiers and mind-boggling collection of memorabilia and artifacts.
Description of the Danton Burroughs Victorian-style mansion is best done through the many photos that accompany this piece but a short Cook's tour is in order. A new wing is under construction so much of the contents that this new wing is to house are scattered and piled throughout the grounds and interior in a filing system privy only to Danton. A narrow trail past antique decorative lampposts and through piled-high collectibles leads to the large oaken front doors. Upon reaching the doors, the visitor has the option announcing his arrival by means of either rapping with the huge doorknocker or pulling a chain that rings a giant doorbell mounted on one of the twin oaken doors. Many of the large artifacts scattered about the property once graced the grounds and interior of the Burroughs Tarzana Ranch mansion. The doorbell had once played a prominent role in Burroughs family life. When rung, combinations of chain pulls would signify different signals that could be heard all through the house or for a good distance across the ranch. Each family member had his own identifying ring and other combinations would indicate messages such as "come for lunch," "emergency," "telephone," etc.
The host who answers the door has a startling resemblance to both his famous father and grandfather -- not only in physical appearance but also in the traditional Burroughs predilection for pack ratting and the filing of family treasures. Danton has amassed one of the world's largest private collections of vintage juke boxes and it is the neon light from these entertainment shrines from past eras that illuminates the four walls of the main room. This multi-hued rainbow effect is further enhanced by the sunlight entering through the splendidly ornate stained glass windows. Indeed these marvels of light enhancement along with the eclectic mix of amassed Burroughs collectibles give the entire house an almost shrine-like aura.
After a quick tour of the house -- any tour lasting less than a day has to be considered a quick tour -- we settled in to watch John Coleman home movies from the '50s. Most of the footage was taken at Catalina Island where the Burroughs family still maintain a vacation home. The featured performers were Jack and Jane Burroughs accompanied by the family clown, uncle Hully, and a very young Danton and his siblings and cousins. Danton had chosen this film for this evening's showing because many of the shots featured one of John Coleman's striking young art students, Mary.
Danton had reserved a table for our late-night dinner at Charlie G's so we piled into my rental Toyota and followed him down to Ventura. True to the Burroughs tradition, Stacy is also an avid collector of antiques. She and Danton spent most of the evening discussing this common obsession as well as reminiscing the good ole days and the times they had growing up together at the Burroughs Malibu beach house. Although Mary and I keep in touch via e-mail and phone it is always a treat to chat in person. Unfortunately, Sue-On, who so enjoys these visits, had to experience this meeting vicariously via my nightly reports through phone calls and e-mails. Also adding to the multi-thread table chatter were Danton's friends John & Donna Herman and John Westervelt. John Herman has had a long career in sports, having played pro football with the NY Giants and rounding off a lifelong career in athletics by teaching and coaching in California. As a curious aside, one of the teams John had considered joining before going to New York back in the '50s was our own Winnipeg Blue Bombers. Of the seven of us at the table, three of us are or have been university professors. Donna has taught art to student teachers. John Westervelt is a retired science prof from Harvard and UCLA. And I teach at Brandon University in Canada. John W. regaled Mary and myself with many stories from his teaching days as well as with his overseas experiences in WWII. John is known all over southern California for driving up to swap meets in one of his many antique cars and he always has photos of these beauties on hand to share.
Too soon the evening came to a close. We took some parting photos outside of Charlie G's. Mary and Stacy presented me with a huge goodies bag to take back to Sue-On -- munchies available only in Southern C. With hugs and goodbyes we promised to meet again in Louisville for Dum-Dum 2003. Day two had been a delight... the highlight of which had been Mary, Danton and Stacy getting together to reminisce after so many years.