Official Edgar Rice Burroughs Tribute and Weekly Webzine Site
Since 1996 ~ Over 10,000 Webpages in Archive

Master of Imaginative Fantasy Adventure
Creator of Tarzan and "Grandfather of American Science Fiction" .
Issue 0191
TARZANA DUM-DUM '99
Part 16
THANKS FOR THE MEMORIES
by
Bob Woodley (Tarak)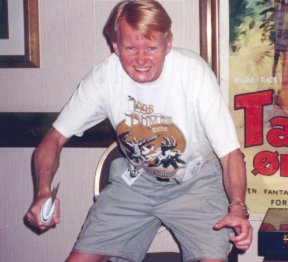 Thanks, for the memories,
Terrific was Dum-Dum,
So glad was I to come,
To honor he,
Our ERB,
I'll always travel some,
So thank you,
Everyone.
Thanks, to ERB, Inc.
I loved my visit there,
And couldn't help but stare,
The art and books,
I took such looks,
At shocks of blackest hair,
So thank you,
Danton B.
Thanks, go to Disney, too,
Although we all can see,
It's not pure ERB,
They surely can,
Fly my ape-man,
And that's enough for me,
So thank you,
(Walt) Disney.
Thanks, also to Bob Z.
For when you handed me,
TOA in First "E",
I took a look,
And my hands shook,
I'll own it happily,
So thank you,
Tardos Mors.
Thanks, go to Elmo, too,
You put up with my talk,
When others they would balk,
I understood
Those times you would
Go out and take a walk,
So thanks for,
All the laughs.
Thanks, to my good friend, Huck,
Your knowledge I can see,
Is priceless; well, for me,
I'm so alone,
Without you and Joan,
When I'm buying ERB,
So thank you,
AQP.
Thanks, for the rides I had,
From Wayne, and Edie too,
Whose car was red...or blue,
You drove me free,
To Tarzan see;
And Bill and Ray and Hugh,
I thank you,
For those rides,
Thanks, to our fierce Tublat,
I heard your mighty roar,
My eardrums still are sore,
If ERB,
Had heard it, he,
Would surely write some more,
So thank you,
Savage George.
Thanks to the Marriot,
You had a smoking room,
For mine and Elmo's gloom,
Those smoking rules,
Incense us fools,
And drive us to Barsoom,
So Thank you,
Mariott.
Thanks, to those Princesses,
To Dejah and to Joan,
Not watching film alone,
But with those girls,
While Tarzan whirls,
And makes poor Sheeta moan,
So thank you,
D and J.
Thanks, Jeddak of the North,
I'm glad we finally met,
I'll meet that Tangor yet,
Our hallway strife,
With Johnny's knife,
I never will forget,
So thank you,
JoN.
Thanks, to that other Jim,
You took such copious notes,
Are they filled with my quotes?
Shall they get lost?
Oh, such a cost,
When Tarak's words are motes.
I thank you,
OJT



Thanks, for "You Lucky Girl"
It certainly was fine,
The pleasure it was mine,
Though I was fond,
Of that cute blonde,
I listened to each line,
So thank you,
All involved.
Thanks, to L.A. SubERBs,
You guys are quite a crew,
The joys were more than few,
No Dum-Dum will
Eclipse this thrill,
All I can say is "Whew!"
So thanks to,
All of you.
And thanks, to the rest of you,
Too numerous to name,
To L.A. you all came,
You're all my friends,
It never ends,
Each year we feel the same,
So thank you,
Everyone.
And thanks, most to ERB,
For all of us you see,
Are friends because of thee,
No pleasure I
Can measure by
Those words you wrote "for me",
So thank you
ERB
For more great pictures of Dum-Dum '99 visit
TARAK'S ERB DUM-DUM '99!
featured at
TARAK'S LANDS OF ADVENTURE
The 1999 Tarzana Dum-Dum Features
1 | 2 | 3 | 4 | 5 | 6 | 7 | 8 | 9 | 10
11 | 12 | 13 | 14 | 15 | 16 | 17 | 18



WEBJED: BILL HILLMAN


Visit our thousands of other sites at:
BILL & SUE-ON HILLMAN ECLECTIC STUDIO
Some ERB Images and Tarzan© are Copyright ERB, Inc.- All Rights Reserved.
All Original Work Is Copyrighted © 1999/2004/2010 by Bill Hillman and/or Contributing Authors
No part of this web site may be reproduced without permission from the respective owners.