The First and Only Online Fanzine Devoted to the Life and Works of Edgar Rice Burroughs

Master of Imaginative Fantasy Adventure
Creator of Tarzan
and "Grandfather of American Science Fiction"
Issue 0180
DUM-DUM 99
DUM-DUM TALES OF TARZANA
Death Duel Pt. 5 ~ The Battle
Editor's Note: This version of the battle is from the Jeddak's POV ~
Tarak may have a slightly different perception of events.

---

!!! UMGAWA !!!
Tublat wails the unnerving ape call and
performs last ape rites for the combatants


the signal is given for the main event...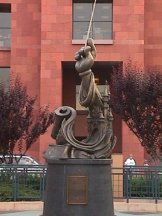 The meeting of the two tawny-haired giants...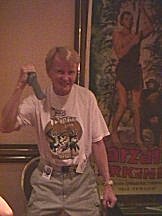 The mighty Tarak - Ruthless Barbarian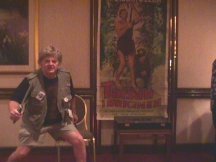 The not-so-mighty Jeddak - Shnook of the North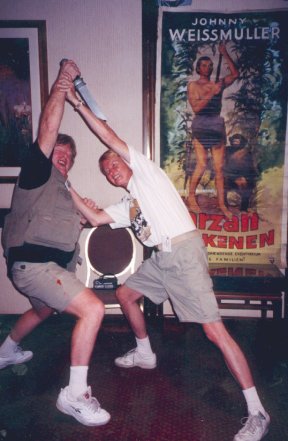 JoN gains possession of the deadly knife while
Tarak's steely fingers go for the throat of his ruthless opponent.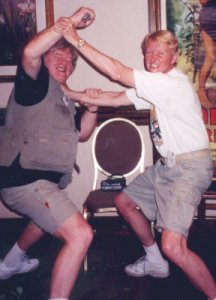 Finally the Jeddak's subhuman strength prevails...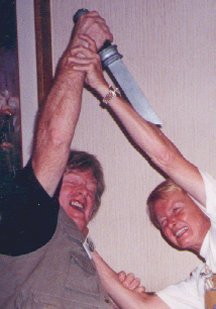 ...the razor-sharp blade plunges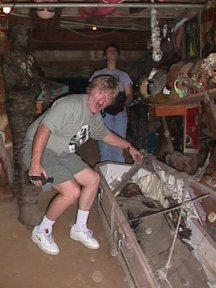 The mighty Tarak has fallen...
Tarzana is again safe from the terrible tongue of Toledo.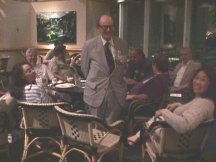 Party animal Professor A.Q. Huck Porter leads the
raucous victory celebration at the
after-fight party.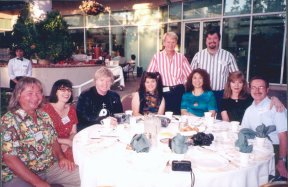 A pair of waiters in striped uniforms,
looking very much like a
resurrected Tarak and a civilized Ghak,
serve the victorious combatants
Watch for more Dum Tales from Tarzana
in future issues of ERBzin-e:

The Gorilla-Man in WallyWorld
Meet all your old friends from TA:
Terk O'Donnell
Sabor the Leopard
Greystoke the Despicable Villain
Lady Jane of England
Tantor the Climbing Elephant
... and more

Dum-Dum Banquet
(Where the Mangani Gather to
Tear Ferocious Chickens Limb from Limb)

The Den of Hucksters
(The Site of the Disappearing Loonie)

Ackermansion ~ Forry's House of Horrors
(Where JoN Encounters the Camera-Devouring Monster)

The 1999 Tarzana Dum-Dum Features
1 | 2 | 3 | 4 | 5 | 6 | 7 | 8 | 9 | 10
11 | 12 | 13 | 14 | 15 | 16 | 17 | 18

WEBJED: BILL HILLMAN
Visit our thousands of other sites at:
BILL and SUE-ON HILLMAN ECLECTIC STUDIO
Some ERB Images and Tarzan© are Copyright ERB, Inc.- All Rights Reserved.
All Original Work Is Copyrighted © 1999/2004/2017 by Bill Hillman and/or Contributing Authors
No part of this web site may be reproduced without permission from the respective owners.