Official Edgar Rice Burroughs Tribute Site
Since 1996 ~ Over 15,000 Webpages and Webzines in Archive
Presents
Issue 0118a

ERB-dom Index IV
Issues 76 - 104
Compiled by Bill Hillman as a reference for collectors and scholars
A Burroughs Biblio-Pro-Phile:
Camille (Caz) Cazedessus

"Science Fiction readers call themselves "fans", and
many publish "fanzines" about favorite authors, or sf in general.
I began my fanzine in 1960: ERB-dom, devoted to Edgar Rice Burroughs.

We won the Hugo Award in 1966 for Best Amateur Fanzine.

Recently, I enlarged my perspective to other authors of the old days (1880's-1930's)
and now you have a magazine titled PULPDOM.
The advertising section, mostly for individual fans and collectors, is called
The Fantastic Collector, and grew out of The Fantasy Collector,
an adzine of the 1960's, which grew out of The Fantasy Advertiser of the 1940's & 1950's."

"ERBdom - the legendary Hugo winning (1967) fanzine first published in 1960 is alive and well.
It is now renamed PULPDOM; a bi-monthly magazine for readers and collectors of those really old pulp magazines."

Camille (Caz) Cazedessus ~ Founder & Editor of ERB-dom & Pulpdom Fanzines

.
| | | | |
| --- | --- | --- | --- |
| ISSUE NO. DATE ~ COVERs | COVER DESCRIPTION: Front & Back | FEATURES ~ ARTICLE NAMES | CONTRIBUTORS |
.
76 ~ April 1974


John Carter of Mars
Oil painting by Reed Crandall
Inside: Tarzan and the Pool of Time
Colour page by Russ Manning

Mystery Under Sea
Oil painting by Walter M.Baumhofer
Inside: Children of ERB
Photo: USA SW Hully ~ Indian oil: JCB

House of Info: "Burrows", DC, ERBANIA, FF,
Barsoom and Back Again ~ art: 3 by Privitera
Letters: Strydom S. Africa, Roy Canada
Early British Paperbacks: Newnes '20s ~ 4 covers
8 colour Sundays: Tarzan in Pal-ul-don: 71.08.01-71.09.19
Fantasy Collector (ads & art: Jones, Staton, FF, Burian
Testing the Tarzan Tales: computing grade levels
Photo: Jim and Joan Burroughs Pierce: Tarzan holds Jane
Photo: Monument Valley, SW USA
Indian oil on canvas
The Children of E.R.B. ~ illustrated with 2 above
Caz
John F. Roy
Caz
Caz
Russ Manning
Caz
Patrick Dearen
ERB, Inc.
Hulbert Burroughs
John Coleman B.
Caz
.
77 ~ June 1974


Tharks vs Flyer
Neal MacDonald
Inside: Amtor Beasts
Rotik & Vere by NM

Winged Men Battle
by Privitera
Inside: Adrift in Pellucidar
G.M. Farley (Burian inspired)


The Beasts of Amtor ~ 2 illos by MacDonald
House of Info: TFG film, PBs, comics, toys, OTR
Michael Moorcock: minibio, photo, ~ Jim Cawthorn art 4
Mike Moorcock: Modern Master ~ Biblio ~ Cawthorn jacket illo
16 colour Sundays: Tarzan in Pal-ul-don: 71.09.26-72.01.09
Fantasy Collector (ads and art)
Haja: A Princess of Gathol ~ art by author ~ Huck reference
Corresp: language by P. Schuyler Miller ~ RGK sketch & plug
The Biblical Burroughs
Oddities About The Mucker text with McClurg ad illustrated
Photo: New Adv. of Tarzan 1935 ~ Brix et al, Guatemala
John F. Roy
Caz
Caz
Jay Bartos
Russ Manning
Caz
O. Raymond Sowers
Caz
John Harwood
Caz
ERB, Inc.
.
78 ~ September 1974


Mammoth Hunters
Painting by Zdenek Burian

Mammoth Hunters & Trap
Oil by Zdenek Burian
Inside: Tarzan of the Movies
Gordon Scott bio art feature

Info & Kaor!Other zines, Cochran, FF, stamp?
Leopard Skin and Loin Cloth
Art: Tarzan Rescued ~ full-page colour
Corresp: Paradise Lost a JC influence?: Starr ~ Hancks
Art: colour painting after Frank E. Schoonover
ERB and the Great White Hope ~ NY Times Review 22.02.19
Ad: "Where did ERB get such an astonishing type as The Mucker"
Ad: TA starring Lincoln ~ 1-page ad: 19.02.01
8 colour Sundays: Tarzan in Pal-ul-don: 72.01.16-72.03.05
Covers: Comics On Parade with Tarzan ~ b/w ~ Nos. 17 & ? late'30s
Art: Tarzan, Nkima, Jad on cliff
Tarzan in Equador ~ with 3 watercolours by Buffalo Kaplinski
Letter: Business letter to Bray of McClurg ~ 35.06.14
Caz
John Harwood
Paul Rivitera
Caz
Roland Trenary
Johnny Walker
A.C. McClurg
Newspaper
Russ Manning
United Feature
Bill Stout
James A. Clayton
ERB/Rothmund
.
79 ~ November 1974


Gods of Mars
By Gino d'Achille
Inside: A Princess of Mars
By Gino d'Achille
Photo: Danton's Collection

Tarzan and Jad-bal-Ja
By Reed Crandall
Inside: 4 oils from '35 & '36
By Walter M. Baumhofer

Barsoom Art: New Ballantine d'Achille cover choices
Info: Posters, Doubleday, Canaveral, Ace, Orth, TV
Poster: Land That Time Forgot new film
Art: First title page for LTF graphic novel
Corresp: Thuvia controversy ~ with mars art: by Spurgin
Art: JCB JC 1940 lost art:: 13 panels ~ JCB 1942 photo
Art: Tarzan full page sketch by DC artist
8 colour Sundays: Tarzan in Pal-ul-don: 72.03.12-72.10.15
Fantasy Collector (ads and art)
Art: Tarzan and bow by Texas artist
Rubimor: Tarzan Artist: analysis and sample Tarzan panel
Art: Sunday page b/w: 47.02.09: Jane's Braver
4 b/w Sundays: French "Junior" Feb. 1940: 1 Hogarth reprint
Walter M. Baumhofer: pulp artist ~ 1 photo, 4 colouroils
John F. Roy
Caz
A-I Films
Russ Manning
John F. Roy
Danton Burroughs
Jack Kirby
Russ Manning
Caz
Cliff Bird
Harry Habbliz
Rubimor
Andre Lignois
Caz
.
80 ~ February 1975


Apache
By Roy Hunt
Inside: Tarzan & Golden Lion
Photo: Pierce leads Waziri

Warlord of Mars
By Gino d'Achille
Inside: Green Man of Mars
By Michael Allen Call

Info: RM Caspak, Danton takes PM & Tz to vault
8 colour Sundays: Tarzan and Roman Ark: 74.03.31-74.05.19
Covers: War Chief: McClurg 1927 ~ Apache Devil Argosy 28.05.19
ERB's Apache Epic
Cover: Apache Devil ~ ERB, Inc. 1933
24 daily strips: Korak at the Earth's Core 71.11.29-71.12.25
Art: La, Tarzan and the Beast Men of Opar ~ full page
Fantasy Collector (ads and art)
Art: A Scene On Barsoom: ~ full page
Comics pages: France Junior: Feb 29 and Mar. 7, 1940
Famous Letter from H.P. Lovecraft: re: ERB ~ All-Story 14.03.07
Art: Tarzan in tree by C. Pardee & Banth vs Thoat by R. Spurgin
E.R.B. and H.P.L.
Art: Mahar, Perry, Innes & Sagoths: from At the Earth's Core
Art: 100 Ann. ERB montage from Australia
Caz
Russ Manning
Paul Stahr
Studley Burroughs
R.E. Morsberger
Russ Manning
Cliff Bird
Caz
Curtis Pardee
Andre Lignois
H.P. Lovecraft
Artists
William Fulwiler
Frank Frazetta
Jim Prasinov
.

81 ~ April 1975

John Carter & Woola
By Phil Normand
Inside: 3 movie stills
Land That Time Forgot

ERB: pipe and paper in 10s
Photo: Hulbert Burroughs
Inside: ERB Week
Photo: Danton & Gov. Wallace

News: mags, PBs, ERB Week, Forbes, DC, Drum Beat
8 colour Sundays: Tarzan and the Romans 74.05.26-74.07.14
History of ERB: Foreward: Through the American Mind. . .
Art: ERB with Tarzan and Golden Lion (Orth foreward)
ERB and D.H. Lawrence
Art: Korak: Son of Tarzan ~ on tree and vine
6 daily strips: Korak at the Eartth's Core: 71.12.27-72.01.01
Fantasy Collector (ads and art: George Evans, FF)
Art: Recognize the Tarzan Artist Style Contest
Comic Story: Balik over 8 pages
Art: Tarzan Jungle Map and Treasure Hunt board game 1933
Interviewing Bob Towne: London Express 74.12.09 ~ Dan Burroughs
ERB As An Existentalist
State of Alabama Proclamation: ERB Week: Photo Wallace & Dan
Caz
Russ Manning
Micahel Orth
Jim Garrison
William F. Wilbert
Wayne Vansant
Russ Manning
Caz
Cliff Bird
C. W. Bird
Slesinger
Ivor Davis
Jim McKee
Danton Burroughs
.

82 ~ June 1975

Tarzan & Volcano
By Russ Manning
Inside: 4 movie stills
Scott in Tz Greatest Adv.

Thark: JC of Mars
By Roland Trenary
Inside: LTF Sub
By G. M. Farley
Foldout of 8 movie stills
Land That Time Forgot

Info: BBs, Orth, Louisiana, Porges
8 colour Sundays: Tarzan and the Romans: 74.07.21-74.09.08
History of ERB: Vaults of Opar ~ Ch. 1 & II: with Normand JC illo
ERB portrait sketch
Argosy Page: Under the Moons of Mars by Norman Bean ~ Feb. 1912
Fantasy Collector (ads and art)
Cover: All-Story: October 1912 ~ Tarzan of the Apes Issue
Art: Tarzan sketch
Art: Tarzan and knife
Comic story: Balik (8 pages in colour)
Ads: Art:Newspaper serials TA 1913 & RT 1914 ~ Bowman Citizen, ND
Ad: 1932: Books that Made the Movies: TA cover - Tz Ape Man pic
Gum Cards: Tarzan of the Apes 1936 set Nos. 409-416
Covers: 8 ERB, Inc. First Edition jackets: St. John, Studley, JCB
Poster: Land That Time Forgot: 1975 film: Cawthorn & Moorcock script
LTF Movie Review: with Farley art. poster and 8 stills
Caz
Russ Manning
Michael Orth
Pit Capili
ER Burroughs
Caz
Clinton Pettee
Roy G. Krenkel
Val Mayerick
Cliff Bird
G. Busch
Country Gentleman
Slesinger
ERB, Inc.
A-I Pictures
Caz
.

83 ~ September 1975

Tarzan in Pellucidar
By Manning and Bird
Inside: 4 Tarzan belt buckles
2 Photos: ERB & Tarzan Statue

Apache Devil
By Michael Allen Call
Inside: John Carter
By John Weibel and Cliff Bird
Foldout: 2 Photos
ERB & Cord ~ Ape Man Pygmies

Info: Comics, art, BBs, ERB Art Studio, Porges, RM: LTF
ERB Centennial Dum-Dum Sept. 1, 1975 in L.A. report
Art: 2 Tarzan skteches
ERB: The Man Who Created Tarzan review
Many Splendored Worlds of ERB by Gail W. Bell
Corresp: Orth and Harwood ~ Porges vs. Orth
Through the American Mind with Camera, Gun & Knife III & IV
Art: Tarzan the bowman sketch
Tarzan Drum Beat Newsletter 1: Danton photo, Manning art
Tarzan Drum Beat Newsletter 2: Danton & Gov. Wallace photo:
Fantasy Collector (ads and art)
Man King Soloman Made: HR Haggard promo for new article
Colour comic story over 4 pages: John Carter & Princess of Mars
Colour & b/w comic story over 4 pages: John Carter of Mars GM
Art: Thark sketch b/w
2 Sundays: John Carter of Mars by a South American artist
20 b/w strips: Korak at the Earth's Core 72.01.03-72.01.25
4 PB covers: Ace (Boris) & Ballantine: DS, IB, WC, AD
Caz
Caz
Val Mayerick
Patrick Adkins
B.Y.U. Press
Caz
Michael Orth
Mosher
Bob Hodes
Bob Hodes
Caz
Normand/Garrison
M.A. Call
Sam Grainger
Phil Normand
Steve Patton
Russ Manning
Caz
.

84 ~ November 1975

Tarzan and the Champion
By Frank Frazetta
Inside: Tarzan the Ape Man '32
Photo: Weissmuller/O'Sullivan

ERB 100 Birthday: Sept. 1, 1975
6 Photos: Tarzans, JanesManning
Inside: Text: Greystoke Gazetteer
Foldout: Greystoke's Africa Map
By John F. Roy & Cliff Bird

Info: ERBANIA, comics, 8-track, UK PB, Newsbeat
Letters: Drum Beat & Orth Comments: S. Friedt, J. Harwood
Art: John Carter and dead Thark ~ one page b/w
Vaults of Opar: History of ERB ~ Ch. V
4 Pulp Covers: Argosy and Blue Book
Argosy Title Page: Feb 2, 1924 ~ Tarzan and the Ant Men
Cover art: J. Allen St. John: The Mucker G&D
Art: John Carter & white ape ~ one page b/w
8 Sundays: Tarzan: Korak & Madmen of Xuja: 72.04.09-72.05.24
Art: Warrior & Giant Bird ~ 1-page b/w
Ad Insert (Fantasy Collector now a stand-alone separate)
Art: Bandit of Hell's Bend~ 1-page b/w art
DJ Cover Art: The Monster Men ~ G&D ~ b/w full page
Pulp Covers: Blue Book: December 1927 & January 1928
20 Korak b/w strips: 72.01.26-72.02.17
Jim Pierce, Last Screen Tarzan Remembers: 72.04.25 Chicago
Art: Tarzan Battles Sabre Toothed Beast
Cover: Foreign edition of Princess of Mars
Comic art story over 4 pages b/w: Jungle Daze
Greystoke's Africa: Text, Glossary, map
Caz
Caz
Steve Patton
Michael Orth
Caz collection
ERB
J. Allen St. John
Ray Capella
Russ Manning
Neal MacDonald
Caz
Curtis Pardee
J. Allen St. John
Caz Collection
Russ Manning
Patrick Goldstein
Bob Maurus
Caz collection
Cliff Bird
John F. Roy
.

85 ~ February 1976

Tarzan, monkeys & Numa
By Hogarth (colour:Bird)
Inside: Back to the Stone Age
By John Coleman Burroughs

Tarzan and the Pool of Time
By Russ Manning (3 frames)
Inside: 2 b/w art pieces
Tarzan by Weibel ~ Zebras by ?


Intro: Tarzan Jr?, UK, AEC film, BB, BLB
Vaults of Opar: History of ERB Ch. VI
Title Page Liberty 33.11.18.: Tarzan and the Lion Man
8 Sundays: Tarzan: Korak & Mad Men of Xuja: 72.06.04-72.07.23
Pulp Covers: Blue Book: April-July, 1930: Fighting Man of Mars
Burroughs Bazaar (ads & art: Savage Fury ad, Danish Pool of Time)
Pulp Covers: Argosy: Pirates & Lost Venus, City of Gold, Jimber Jaw
Art: Tarzan & knife sketch
20 daily strips: Korak at the Earth's Core: 72.02.18-72.03.11
Tony Sgroi: Tarzan Artist ~ Whitman artist
ERB note found with manuscript for War Chief 1926
Lord Greystoke's Africa: corrections and additions
Caz
Michael Orth
ERB
Russ Manning
Caz collection
Caz
Caz
Mayerik
Russ Manning
Harry Habblitz
ER Burroughs
John F. Roy
.

86 ~ April 1976

Pellucidar Art by
Frank Frazetta

Inside cover Barbarian Warriors
by Frank Frazetta


Gods of Mars colour strip
by Phil Normand

(from the
Mickey Burwell Collection)

Special Art Issue: Contents and News
Letters to the Editor
Tazan Sundays: 72.07.30-72.09.03
Tarzan Dailies: 72.03.13-72.04.04
ERB Letters to brother Harry 1927 & 1929
Tarzan and the Golden Lion line art
Amtorian art
UK Tandem cover art: AEC & Pellucidar
Land Time Forgot film: 5 art scenes
Four rare unpublished illustrations
Under Moons Mars: 6 pages comic art
Tarzan and Native 1-page illo
6 Tarzan Strip Promotion Mats 1932
Land Time Forgot b/w comic cover
Pirate Blood art
In Tribute to Jesse Marsh
Marsh Tribute art
Tarzan sketches 2 and Marsh photo
Barbarian Warrior art
Vaults of Opar: Afterword
Tarzan sketches (4)
Tarzan Finds a Foe illo
Hunting the Cave Bear
Tarzan sketches (11)
Caz
Harwood, Rennagel
Russ Manning
Russ Manning
ERB courtesy Danton
J. Allen St. John
Neal MacDonald
paperback cover art
Maurice Carter
John Coleman Burroughs
Roland Trenary
Weibel?
Hal Foster
Russ Manning
Bob Mosher
Caz and Bob Mosher
Cliff Bird & B. Mosher
Jesse Marsh
Jeff Jones
Michael P. Orth
Thomas Yeates
Reed Crandall
Roy G. Krenkel
John Serverin
.

87 ~ June 1976

Tarzan Yell art from Jasoomian
By Nestor Redondo (colours by Bird)
Inside: Photo of ERB, Inc. office
ERB at desk with reference books

Cities of Gold and Ivory
Larry Hancks and Neal MacDonald
Inside: Son of Tarzan
Neal Adams preliminary sketch

Intro: Drum Beat 3, FF calendar, Boris, BB, Tz source?
Art: Tarzan at the Earth's Core ~ 1-page colour
Lost Cities of Tarzan: map, covers, Hancks, Bird, Owen art
Art: 15 Large Lost City Illustrations
Cover: Tarzan and the Forbidden City 1938 dj
Burroughs Bazaar (ads and art)
Ad: 2-page letter announcing ERB Library of Illustration
Clipping: Tarzan Swings Again ~ ERB, Inc. New Deals Mar '76
Clipping: Jungle boy remains more like monkey 76.05.15 Boston
15 daily strips: Korak at the Earth's Core ~ 72.04.05-72.04.21
Letter outlining Tarzan illustrator's amazing 32 years of strip art
Art: Gold Key Tarzan no. 197 ~ Oct. 1970 preliminary sketch
ERB characters and cartoons of his animals
2 Sundays: Tarzan: Korak & Mad Men of Xuja 72.09.10-:72.09.17
Art: 4-page comic story: 2 b/w, 2 colour: John Carter
Neal Adams: ERB artist ~ 1 full page art ~ 2 decorations: Mosher
Caz
Cliff Bird
John F. Roy
Larry Hancks
John Coleman B
Caz
Russ Cochrane
Variety,UK
Rocky Mtn News
Russ Manning
Paul Norris
Paul Norris
John Coleman
Russ Manning
Roland Trenary
Harry Habblitz
.

88 ~ September 1976

Pellucidar
By Frank Frazetta
Inside: ERB Grandson
Photo: Danton Burroughs

JC, Dejah, Thark
By Phil Normand
Inside: Two photos
ERB Museum ~ Printing Press

Clipping: Movie will show true Tarzan, Towne, Jenner
Intro: Cochran, Boris, JW, Crabbe, Lupoff, UK, Marvel
New CBS-TV Cartoon: Tarzan, Lord of the Jungle ~ art samples
At the Earth's Core film: review, ads, 9 photos
8 Sundays: Jane Porter Meets Tarzan: 69.12.21-70.02.08
Art: Tarzan fight ~ 1 full page b/w
Pulp title page: Tarzan and the City of Gold (conc): Argosy 32.03.12
Art: Tarzan and Thipdar ~ 1 page b/w
Mahars of Pellucidar by John Eric Holmes ~ Ace Books ~ review
Art: Woodcut ~ Inspiration source for JCB?
Ad: Jungle Tales of Tarzan graphic novel ~ text by ERB
Ad: ERB-dom back issues
Forgotten Vengeance of Tarzan ~ 4 Bob Owen illustrations
Tarzan and La? on vine ~ 1 full page art
15 daily strips: Korak at the Earth's Core ~ 72.04.22-72.05.09
Danton Burroughs
Caz
Caz
Caz
Russ Manning
Neal MacDonald
ERB
Bob Maurus
John F. Roy
Dan Fite
Burne Hogarth
Caz
John F. Roy
C. Bird
Russ Manning
.

89 ~ November 1976

John Carter fights thark for Dejah
By Ray Capella
Inside: ERB with arms crossed
Photo by Hulbert Burroughs

Tarzan, Mangani, Numa, Tantor
By Russ Manning
Inside: Photo
Russ Manning at Work

Kaor! Last Issue of ERB-dom: selling collection
How I'd Film Tarzan ~ with sketches: Pit Capili, etc.
Art: Johnny Weissmuller portrait
4 b/w Sundays: Tarzan Meets D'Arnot: 70.11.15-70.12.06
Art: John Carter leaps over Thark on Thoat ~ 1 page
Art: Dejah Thoris cross-legged, two moons, city ~ 1 page
Ras Thavas ~ with girl on flyer art by C. Pardee
Art: Tower of Thavas ~ 2 page spread
Cover Art: Tarzan the Invincible dj
Burroughs Bazaar: For Sale: Entire Cazedessus ERB Collection
Cover Art: Lost On Venus ~ dj
10 daily strips: Korak at the Earth's Core: 72.05.10-72.05.20
Art: Pellucidar Manning Graphic Novel cover foreign
Caz
Gene Roddenberry
Tom Yeates
Russ Manning
Curtis Pardee
C. Bird
John F. Roy
Larry Hancks
Studley Burroughs
Caz
J. Allen St. John
Russ Manning
Russ Manning
.

90 ~ December 1993

Modern Mechanics & Inventions
April 1929 cover adaptation

Famous Fantastic Mysteries
Phra the Phoenician by Arnold
Sept 1945 ~ Lawrence art
Inside: Jules Verne Companion
Peter Haining: Oct. 1979


Intro: ERB-dom 90 & Fantastic Collector 248: Re-birth explained
Whence John Carter: with UK NEL 1961 A Princess of Mars cover art
I. In the Beginning with title page of All-Story February 1912: Under the Moons
II: Lupoff View: with Phra and Gullivar pages and covers
Chapter titles compared: Princess of Mars ~ Gullivar ~ Phra ~ Journey to Mars
Various related Argosy covers
A Princess of Mars: A Review
Princess of Mars dedication to Caz from Frank E. Schoonover
How Tarzan Kept the Wolf from the Door: with 4 ERB photos: 29.11.30
After A Million Years: Ch. XXXVI: Argosy 19.01.18
PulpCon 22 comments
Big Slick SF Magazines
Paperback Collector: #25 Scion Science Fiction
A Jules Verne Must
Caz
Caz
Caz
Caz
Caz
Caz
Judi Caz
Schoonover
Lit Digest
Garret Smith
R. Loren Gould
Caz
Gary Lovisi
Caz
.

ERB-dom GALLERY ~ Issues 91-104
As the issues morphed into the new
FANTASTIC COLLECTOR
---
Click for full-size covers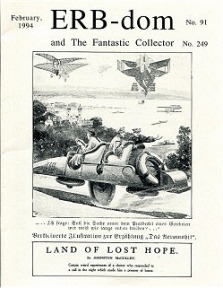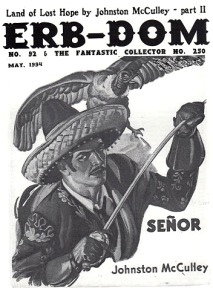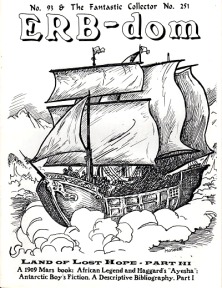 The New ERB-dom & Fantastic Collector format
continued until issue 105 when it became Pulpdom
~ a magazine that specializes in articles on and reprints
from classic pulp magazines of the early 20th century.
Caz has been a trendsetter and driving force in fanzine publishing since 1960.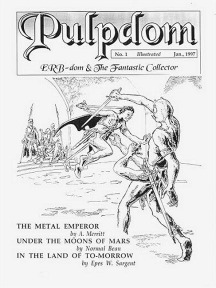 KAOR! ERB-dom lives on as Pulpdom! Published "on line only", Pulpdom!, Son of ERB-dom magazine, continues the celebration of ERB and his creations with short, medium and long illustrated articles about TARZAN, Pal-ul-don, the movies, BARSOOM, the new sequel books, the comics, the pastiches, nearly everything.

Send me an email at ridgefirecaz@gmail.com and I'll send you all 12 issues in pdf, or go to pulpdom.com and read #12 free, just published. I believe the enjoyment of the worlds of ERB should be revisited, discussed and relived every few months, and that's what Pulpdom does. ERB is more than a bookshelf of his works extensively indexed and listed with footnotes. Have more fun, view Pulpdom Online at pulpdom.com. ERB-dom & Caz still live, oh yes we do!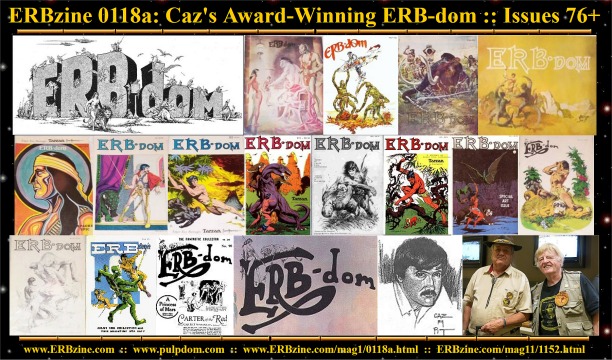 Click for full-size preview collage
Editor's Note:
All back issues of ERB-dom are available
from
Camille (Caz) Cazedessus
(Editor & Publisher of Pulpdom, Son of ERB-dom)
at:
Caz/Pulpdom/ERB-dom
5055 Hwy 151
Pagosa Springs, CO 81147

---
---
The ERB-dom Art Gallery Series

. WEBJED: BILL HILLMAN .


Visit our thousands of other sites at:
BILL and SUE-ON HILLMAN ECLECTIC STUDIO
Some ERB Images and Tarzan© are Copyright ERB, Inc.- All Rights Reserved.
All Original Work ©1996-2004/2021 by Bill Hillman and/or Contributing Authors/Owners
No part of this web site may be reproduced without permission from the respective owners.