Official Edgar Rice Burroughs Tribute and Weekly Webzine Site
Since 1996 ~ Over 15,000 Webpages in Archive
Volume 0051



A TIME LINE OF ERB's "OTHER BURROUGHS"
Compiled by Bill Hillman



A life history of "OB - the Other Burroughs"--
The Edgar Rice Burroughs gleaned from
prologues, introductions, forewords, and the novels themselves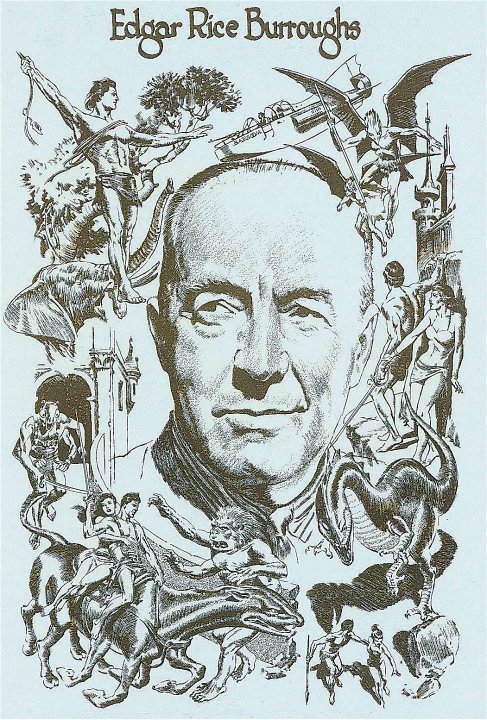 www.ERBzine.com/edgarriceburroughs


1855[A PRINCESS OF MARS]
* Born in Virginia

---


1860
* First recollections of meeting his great-uncle Captain Jack Carter.
(PoM Foreword) "My first recollection of Captain Carter is of the
few months he spent at my father's home in Virginia, just prior to the
opening of the civil war. I was then a child of but five years."


---


Early Years:
* Raised on his parents' plantation near Richmond, Virginia. Probably much of
the family fortune, land holdings, horses and stock of slaves were lost
during the war.

---

1870s
* OB, in partnership with his father, built up a string of general stores throughout the state.

---

1886 [A PRINCESS OF MARS]
* Inherited a fortune from Uncle Jack.
* Received Uncle Jack's manuscript describing his strange adventures on
Mars (Barsoom).
* Received Uncle Jack's Will that specified that his manuscript was
not to be unsealed until 1897 and its contents not divulged to the
rest of the world until 1907.
* OB disregarded instructions and opened the manuscript and released
it in book form soon after.


---


1855 circa 1900
* Resided at the old homestead (two hours by rail from Richmond)

---


1898 Richmond [GODS OF MARS]
* The first of many visits from John Carter. Carter related the story
of how he returned to Barsoom to rescue Dejah Thoris and become
Warlord of Mars.

---


1910[OUTLAW OF TORN - TARZAN OF THE APES]
* Visited Europe with his wife to carry out research at an old
monastery to obtain material for an historical novel set in England
during the reign of Henry III.
* Obtained documents and evidence from the British Colonial Office
in London concerning circumstances leading to the death of
John Clayton, Lord Greystoke, and the birth of his son, the
future Tarzan of the Apes.

---

1913 [ETERNAL LOVER - SON OF TARZAN - AT THE EARTH'S CORE]
* Guest of Lord Greystoke (Tarzan) at the Greystoke estate in British
East Africa in 1913, during the corresponding visit of Barney and
Victoria Custer of Beatrice, Nebraska.
* Moved on to North Africa to hunt lions, and stopped off at a small
west coast port to visit another friend, Herr Skopf, proprietor
of a local hotel
* Came upon the Sahara Desert camp of David Innes and his captive
Mahar from Pellucidar. Innes related the story of his adventures
at the Earth's core.
* Travelled to London to obtain supplies for Innes. Returned to Algeria
with books, weapons and supplies but was recalled to America on
important business before contacting the young New Englander again.

---

1914
* Returned to the Sahara where he searched unsuccessfully, for months,
for the Innes camp.

---


1916 [AN AUTO-BIOGRAPHY]
* ERB and his wife and three children embarked on a cross-USA
automobile safari in which they drove from their home in Oak Park,
Illinois to Los Angeles, California, camping most of the way.

---


1916? [THUVIA, MAID OF MARS]
* Moved to California where he bought a ranch which he called Tarzana,
in honour of his friend, Lord Greystoke.
* Visited by John Carter who told of the romance between Carthoris
(Son of John Carter and Dejah Thoris) and Thuvia of Ptarth.

---


1916[PELLUCIDAR]
* Returned to North Africa in response to a letter from Cogden Nestor
who had found a telegraph instrument buried in the sand. With the
help of English telegrapher, Frank Downes, they talked to Innes
for two months.


---


1917 Summer [THE LAND THAT TIME FORGOT]
* Vacationed in Greenland (on the advice of his doctor). Retrieved a
thermos bottle from the ocean with a message from Bowen Tyler
who was marooned on the unknown South Pacific island of Caspak
* Journeyed to Tyler's home in Santa Monica from where he sailed on
the yacht Toreador with Tom Billings.
* His mission to find Caspak and to rescue Tyler and his companions was a success.

---

1917 or 1918? [CHESSMEN OF MARS]
* Visited by John Carter who narrated the adventures of his daughter, Tara.

---

1918 [TANAR OF PELLUCIDAR]
* Developed a friendship with his Tarzana neighbour, Jason Gridley who
was an inventive genius. By means of Gridley's radio invention they
were able to contact Abner Perry in Pellucidar and receive accounts
of inner world happenings.

---

Post WWI - 1918+ [TARZAN THE UNTAMED - TARZAN THE TERRIBLE]
* Visited Lord and Lady Greystoke (London or African Estate) and learned
of their war-time and Pal -ul-don adventures.

---

1925 [MASTERMIND OF MARS]
* John Carter visited and delivered a letter from Ulysses Paxton
(now Vad Varo of Barsoom)

---

1927 or 1928 [FIGHTING MAN OF MARS]
* While operating the Gridley Wave device in Jason's absence
(on an expedition to Pellucidar), OB was in direct communication
with Paxton on Barsoom)

---

1930 [PIRATES OF VENUS]
* OB and his secretary Ralph Rothmund, met Carson Napier, a restless,
wealthy adventurer. Napier took off for Mars but his rocket landed
on Venus. OB was Napier's only contact (via mental telepathy) and
described his adventures on Amtor in a series of Venus novels.

---


Early 1930s
* In an attempt to escape the boring social engagements and business
pressures back in California, OB acquired a cabin near the headwaters
of the Little Colorado River in the White Mountains of Arizona.
* OB's R&R visits to the wilderness cabin gave him an opportunity to explore
the deserted canyons and cliffs where lay ruined cities of a long-dead race.
This was also the area once roamed by the great Apache Chief, Geronimo
and John Carter over 50 years ago.

---


1934[SWORDS OF MARS]
* John Carter visited the Arizona cabin and related more tales of Barsoom

---

1938 [SYNTHETIC MEN OF MARS]
* OB contacted Barsoom via Gridley Wave and learned of Dejah's serious
injury and Carter's desperate attempts to secure the services of the
master surgeon, Ras Thavas.

---

1940 [LLANA OF GATHOL]
* OB, now 85 years old, vacationed on Oahu, Hawaii. Here he received his
last known visit from John Carter. Carter relates the adventures of
his granddaughter, Llana.

---


1940 [TANGOR RETURNS]
* While at Oahu, phantom fingers on his typewriter wrote of Poloda, a
planet one-half million light years from Earth, and of the adventures
of a transplanted Earthman known as Tangor.

---

1940? [SKELETON MEN OF JUPITER]
* While at Oahu, OB probably received Gridley Wave transmissions
relating the story of Carter's adventures on Jupiter. Unfortunately,
contact was broken before all the facts had been received.

---

1967 [THE MOON MAID]
* OB (age 112) who has been head of the US Bureau of Communications
for many years, takes an airliner to Paris on undisclosed business.
This is at the end of the great conflict that has been raging, on and off,
since 1914 and the masses are celebrating the peace while governments
are trying to bring affairs back to normal.

---


1968 [THE MOON MEN (in Argosy)]
* Hunting expedition to Herschel Island in the Arctic to hunt polar bears.

---


1969 March [THE MOON MEN (in Argosy)]
* Rescued from an ice flow and a wounded polar bear by a cruiser of the
newly-formed International Peace Fleet. The ship had been instructed
to find OB by the President of the United States as the Secretary of
Commerce had died suddenly and Edgar Rice Burroughs had been
offered the post. The 114-year-old Burroughs accepted the position.
The Novels of Edgar Rice Burroughs, and the works of Roy, Cazedessus, Day, Fenton, Heins, Huckenpohler, Lupoff, Purges, Zeuschner, et al.
Since no more has been heard of Edgar Rice Burroughs since 1969, it can only be assumed that he is visiting his many friends on other worlds: Pellucidar, Barsoom, Amtor, or beyond...
We await his return.

Another Biographical Timeline by yet Another OB
Adapted from an Autobiographical Sketch by Edgar Rice Burroughs


* Born in Peking (his father was military advisor to the Empress of China)
* Moved to USA at 10 years of age (his knowledge of Chinese would serve him well
later in life as he pursued studies in Chinese philosophy and ceramics)
* Kidnapped and held by gypsies for three years but eventually escaped during
a storm by stabbing his captor Pedro through the heart
* Grateful parents took him on a year-long tour of Europe during which they
provided him with a tutor to facilitate his education
* Entered Yale upon his return to the US where he won heavyweight boxing
and wrestling championships as well as captaining the football team
* Graduated from Yale summa cum laude
* Attended Oxford for two years.
* Returned to the US and enlisted in the army where he earned the rank of
second lieutenant
* Posted to the 7th Cavalry where his first active service was with Custer
* Sole survivor of the battle of the Little Big Horn, escaping detection by being
pinned between two rocks under the carcass of a horse.
* Arrested for impersonating an officer when he reached an army post after
having eluded Indians for six weeks (he had been officially declared dead
after the battle and army regulations were unbending)
* Compelled to change his name to Edgar Rice Burroughs and start a new life
* Fought Apaches in Arizona
* Accepted a request from Henry M. Stanley inviting him to join his expedition to
Africa in search of Dr. Livingstone
* Anomynously donated 500,000 dollars to the expedition
* Became separated from Stanley's relief party and was captured by
Tippoo Tib's Arabs
* Captured by a tribe of cannibals after having escaped from the Arabs
* Held by the cannibals for three years who worshipped him as a god
because of his long golden hair and beard
* Learned the language of a group of large intellegent anthropoid apes who were
also held captive (This was to stand him in such good stead when he later
decided to record his experiences in the form of fiction.)
* Escaped to the coast where he shipped before the mast on a windjammer
bound for China
* Surviving a wreck off the coast of Asia, he eventually made his way overland
to Russia, where he enlisted in the imperial cavalry
* Saved the Czar from assassination by an anarchist and as a reward was made
a captain in the imperial bodyguard
* Married a lady-in-waiting to the Czarina
* Moved back to the USA - Chicago - after having been willed 8 million dollars
by his grandfather
* Now a very wealthy man, he took up writing as a pastime
* Moved to Tarzana, Southern California where they raised 11 children,
17 grandchildren and 3 great grandchildren.

Mr. Burroughs has often claimed that fame is nothing to him and that he feels he has lived a rather boring existence with too few adventures to be of interest to anyone.
He insists that he finds his greatest happiness in being alone with his violin.

A New Map of Barsoom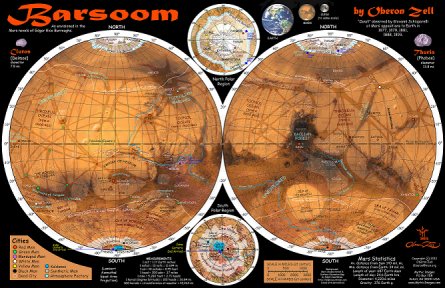 By Oberon Zell
First featured in ERBzine in 2012 at
www.erbzine.com/mag39/3937.html

The Fantastic Worlds of Edgar Rice Burroughs
| | | | |
| --- | --- | --- | --- |
| Tarzan.com | ERBzine.com | DantonBurroughs.com | Tarzan.org |
| burroughsbibliophiles.com | JohnColemanBurroughs.com | Tarzan.com/tarzine | JohnCarterOfMars.ca |
| www.erbzine.com/edgarriceburroughs | Weekly Webzine | Weekly Webzine | Pellucidar.org |
| John Carter Film News | ERB, Inc. Corporate Site | ERB Centennial | tarzana.ca |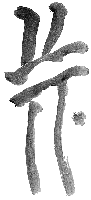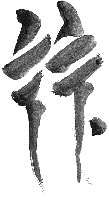 BILL HILLMAN
Visit our thousands of other sites at:
BILL and SUE-ON HILLMAN ECLECTIC STUDIO
ERB Text, ERB Images and Tarzan® are ©Edgar Rice Burroughs, Inc.- All Rights Reserved.
All Original Work ©1996-2006/2016 by Bill Hillman and/or Contributing Authors/Owners
No part of this web site may be reproduced without permission from the respective owners.