The First and Only Weekly Online Fanzine Devoted to the Life and Works of Edgar Rice Burroughs
Volume 013a




ON THE SILVER SCREEN Pt. 2
To enter Part 1 press below: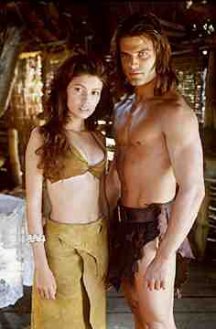 (...continued)
1955 TARZAN'S HIDDEN JUNGLE
(73 m) Gordon Scott - Vera Miles -- Gordon Scott's first Tarzan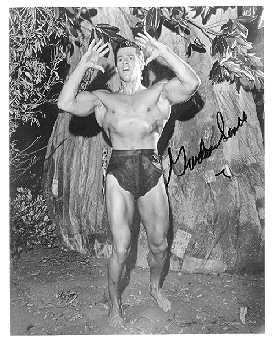 1957 TARZAN AND THE LOST SAFARI
(84 m) Gordon Scott. Betta St. John. In color.
1958 TARZAN'S FIGHT FOR LIFE
(86 m) Gordon Scott - Eve Brent.
1959 TARZAN'S GREATEST ADVENTURE
(88 m) Gordon Scott - Sara Shane. Filmed on location in Africa.
A young Sean Connery plays one of the villains.

---

1959 TARZAN, THE APE MAN
(82 m) Denny Miller - Joanna Barnes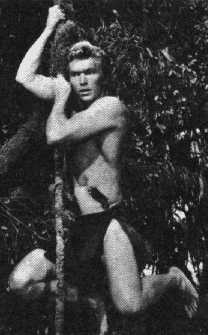 ---
1960 TARZAN THE MAGNIFICENT
(88 m) Gordon Scott. Betta St. John.
Jock Mahoney, who plays Tarzan in the next film, is the villain.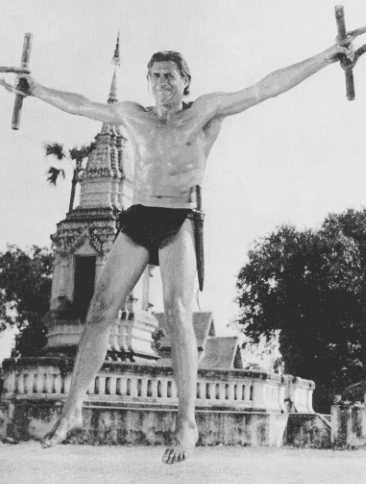 1962 TARZAN GOES TO INDIA
(86 m) Jock Mahoney.
1963 TARZAN'S THREE CHALLENGES
(92 m) Jock Mahoney - Woody Strode -- Tarzan goes to Thailand
---

1965 TARZAN'S JUNGLE REBELLION
(100 m) Ron Ely - Jason Evers - Lloyd Haynes -- From TV Series
---

1966 TARZAN AND THE VALLEY OF GOLD
(90 m) Mike Henry - Nancy Kovak -- James Bond meets Tarzan.
Fritz Leiber did an excellent novelization of the movie script..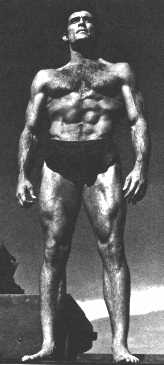 1967 TARZAN AND THE GREAT RIVER
(88 m) Mike Henry - Diana Millay
1968 TARZAN AND THE JUNGLE BOY
(90 m) Mike Henry.

---

1982 TARZAN, THE APE MAN
(112 m) Miles O'Keefe - Bo Derek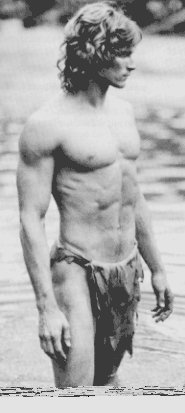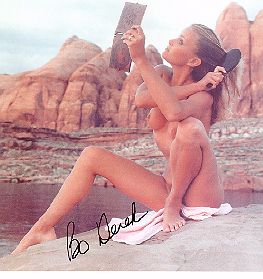 ---
1984 GREYSTOKE, THE LEGEND OF TARZAN
(129 m) Christopher Lambert - Andie McDowell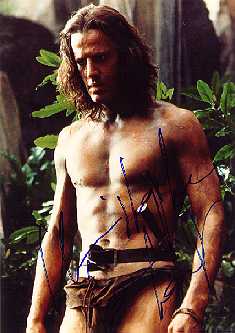 ---
1989 TARZAN IN MANHATTAN
TV Movie (100 m) Joe Lara - Kim Crosby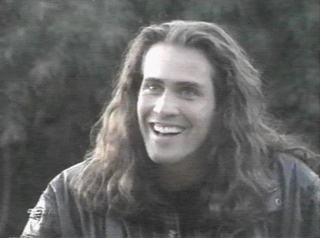 ---
1998 TARZAN AND THE LOST CITY
(105m) Warner -Casper Van Dien - Jane March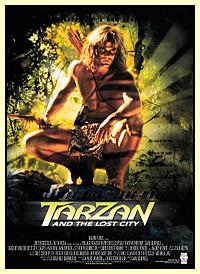 ---


Disney's Animated Tarzan Feature
released June 18, 1999
See a preview clip of the Tarzan movie at:
www.tarzan.com

Cast
Tony Goldwyn....Tarzan
Alex.D.Linz....Young Tarzan
Minnie Driver ....Jane
Nigel Hawthorne....Professor Porter
Brian Blessed ....Clayton
Rosie O'Donnell....Terkoz
Glen Close....Kala
Wayne Knight....Tantor the elephant
Lance Henrickson ....Kerchak

Plot
The movie follows Edgar Rice Burroughs' original vision expressed in Tarzan of the Apes: the story of a young boy raised in the wild by apes, who eventually searches for his human heritage. After Tarzan has been discovered by a British expedition which includes Jane, Tarzan has to decide to return to his English homeland or remain in the jungle. Much of the story is focused on Tarzan's childhood.

The Disney animation department employed a new computer generated 3-D, Deep Canvas process giving the jungle backgrounds depth but still containing the traditional hand painted look.
---
3. Other ERB Characters and Stories on Film
---
LAD AND THE LION
(1917) (b/w - Silent)
Director....Alfred E. Green
Writer: Edgar Rice Burroughs
CAST
Frank Clark.... Captain Tagst
Al W. Filson.... Shiek Ali-es-hadji
Cecil Holland... Colonel Vivier
Charles Le Moyne.... Dan Saada
Will Machin....William Bankington, (Lad)
Lafe McKee.... James Bankington
Gertrude Oakman.... Marie
Vivian Reed.... Nakula
Captain Richard.... Broot
---
OAKDALE AFFAIR
(1919) (b/w Silent)
Director: Oscar Apfel
Writer: Edgar Rice Burroughs
CAST:
Reginald Denny
Oscar Apfel
Jules Cowles
Eric Dalton
Charles Dewey
Edward Elkas
Maude Turner Gordon
Evelyn Greeley
Frank Joyner (III)
Mona Kingsley
Nick Long Jr.
Charles Mackay
Eric Mayne
Geo. E. Murphy
Eddie Sturgis
Corene Uzzell
---
THE LION MAN
(1936) (b/w)
Produced by: Normandy Pictures Corp. (USA)
Distributed by: Normandy Pictures Corp.
Directed by John P. McCarthy
Cast
Jon Hall (I) .... Ed Lion (as Charles Locher)
Kathleen Burke .... Eulilah
Ted Adams .... Sheikh Youssef Ab-Dur
Richard Carlyle .... Hassan El Dinh
Lal Chand Mehra .... Sheikh
Eric Snowden .... Sir Ronald Chatham
Bobby Fairy .... The Chatham Boy
Finis Barton .... Sherrifa, the captive
Written by Edgar Rice Burroughs (story The Lad and The Lion),
Richard Gordon, John Williams
---
Edgar Rice Burroughs'
JUNGLE GIRL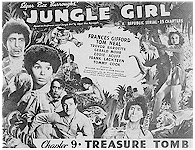 Based on the Famous Novel by Edgar Rice Burroughs
A Re-Release with FRANCIS GIFFORD ~ TOM NEAL
Trevor Bardette ~ Gerald Mohr ~ Eddie Acuff ~ Frank Lackteen ~ Tommy Cook ~ Robert Barron ~ Al Kikume
Associate Producer: Hiram S. Brown, Jr.
~ Directed by William Witney - John English
~ Music: Cy Feuer
RCA Sound System ~ A REPUBLIC SERIAL IN 15 CHAPTERS
JUNGLE GIRL CHAPTER TITLES
1. Death by Voodoo ~ 2. Queen of Beasts ~ 3. River of Fire ~ 4. Treachery ~ 5. Jungle Vengeance ~ 6. Tribal Fury ~ 7. The Poison Dart ~ 8. Man Trap ~ 9. Treasure Tomb ~ 10. Jungle Killer ~ 11. Dangerous Secret ~ 12. Trapped ~ 13. Ambush ~ 14. Diamond Trail ~ 15. Flight to Freedom
STORY
A JUNGLE PRINCESS RULES THE WILDS OF AN UNTAMED AFRICAN EMPIRE
Dr. Meredith (Trevor Bardette), an eminent physician, has been driven from civilization by the criminal activities of his twin brother. With his infant daughter, he has settled in the African jungle and in the ensuing twenty years, because of his ability to cure the native ills, has assumed virtual control of the Masamba tribes.
The tribes possess vast diamond mines which are coveted by a criminal element which is using Shamba (Frank Lackteen), a witch doctor jealous of Dr. Meredith's control over the tribe, as a tool to further their nefarious interests. They lure Dr. Meredith away from the jungle and he is murdered by Slick Latimer (Gerald Mohr).
To secure the sacred amulet which is believed by the natives to be the secret of Dr. Meredith's power, Shamba attempts to kill Nyoka (Frances Gifford), Meredith's daughter. Jack Stanton (Tom Neal), Latimer's former companion, rescues Nyoka and assists her in her efforts to recover the amulet, which is valuable because it contains the secret of the entry to the Caves of Nakros, where the diamonds are kept.
Nyoka, despite her life-long familiarity with the jungle beasts, is endangered when she poses as a Lion Goddess and almost is killed to satisfy the natives' desire for a human sacrifice. Latimer works with Shamba and with Dr. Meredith's twin brother, who poses as the former so successfully that even his own daughter fails to realize the deception.
Through fifteen thrill-packed episodes Nyoka, Stanton and Curly Rogers (Eddie Acuff) face dangerous adventures. Finally, the jungle wreaks its vengeance, the criminals come to violent ends and Stanton and Nyoka assure the natives that th ediamonds will be used for their good.

---
The Land That Time Forgot
(1975) Produced by: American International Pictures (90 m) - Kevin Connor: Director, Doug McClure: Bowen Tyler, John McEnery : Von Schoenvorts, Susan Penhaligon: Lisa Clayton, Keith Barron: Bradley, Anthony Ainley: Dietz, Godfrey James: Borg, Bobby Parr: Ahm, Declan Mulholland: Olson, Colin Farrell: Whiteley, Ben Howard: Benson, Roy Holder: Plesser, Andrew McCulloch: Sinclair, Ron Pember: Jones, Grahame Mallard : Deusett, Andrew Lodge: Reuther, Brian Hall : Schwartz, Stanley McGeagh: Hiller, Peter Sproule: Hindle, Steve James: First Sto-Lu
Screenplay by James Cawthorn & Michael Moorcock based on ERB's novel, Alan Hume: cinematography, Douglas Gamley: Music, John Dark: Producer
At the Earth's Core
(1976) Produced by: American International Pictures, Kevin Connor: Director, Keith Barron, Michael Crane: Jubal, Andee Cromarty : Girl Slave, Peter Cushing: Dr. Abner Perry, Helen Gill: Maisie, Cy Grant : Ra, Godfrey James: Ghak, Doug McClure: David Innes, Caroline Munro: Dia, Bobby Parr, Screenplay by Milton Subotsky based on ERB's novel, Alan Hume: Cinematography, Michael Vickers: Music, Maurice Carter: Production Design, John Dark: Producer

The People That Time Forgot
(1977) Sequel to The Land That Time Forgot -- Kevin Connor: Director, Tony Britton: Capt. Lawton, Sarah Douglas: 'Charly' Lady Charlotte, Dana Gillespie: Ajor, John Hallam: Chang-Sha, Doug McClure: Bowen Tyler, David Prowse: The Hangman, Milton Reid: Sabbala, Shane Rimmer: Hogan, Thorley Walters: Dr. Edward Norfalk, Patrick Wayne: Major Ben McBride, Patrick Tilley: Screenplay based on ERB's novel The Land That Time Forgot, Alan Hume: Cinematography, John Scott: Music, John Dark: Producer
---
4. BIOS OF TARZAN ACTORS
---
JAMES PIERCE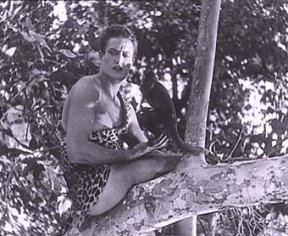 ---
JOHNNY WEISSMULLER: A TIMELINE BIO
---
1904 - Peter John Weissmuller is born in Windber, Penn. on June 2,
son of German immigrants
1912 - A skinny Johnny swims in a small bay of Lake Michigan near
downtown Chicago
1915 - Mistreated by the Brothers of St. Michaels, he attends Menier
Public School, Chicago
1916 - Johnny's height helps him pass for 14, the age required to join
the Y.M.C.A and use the pool.
1917 - Completely self-taught, his swimming ability attracts the
attention of a Hamilton Club coach.
1918 - Shy and quiet Johnny works his way from bellboy to elevator
operator at the Plaza Hotel
1920 - Illinois Athletic Club swimming coach Bill Bachrach discovers
Johnny and begins his training.
1921 - Long-haired John cuts his hair to swim better - wins his first
public race - 100 yd free style.
1921 - Weissmuller establishes his first world record:
150 yards in 1 min. 27 2/5 seconds.
1922 - JW named "Swimmer of the Year" and
IAC team breaks 13 world records in Hawaii.
1924 - JW wins 3 gold medals in swimming at the Olympic Games in Paris.
1927 - JW and brother rescue people from an excursion boat that
capsized in Lake Michigan.
1928 - JW wins two gold medals at the Japan Olympics.
1929 - He retires from sports to work for BVD Swim Suits.
1931 - Cyril Hume offers JW the part of Tarzan at the
Hollywood Athletic Club.
1932-1948 - JW is a popular movie hero in 12 B/W Tarzan movies.
1930s - JW is the star swimming and diving act in New York and
San Francisco Aquacades.
1942 - JW instructs navy frogmen at Long Beach and helps out at
the Hollywood Canteen.
1945 - "Swamp Fire" stars JW as a river boat pilot.
1949 - JW quits as Tarzan to become Jungle Jim in the movies and
later in a TV series.
1950 - AP chooses JW as the Greatest Swimmer of the First
Half-Century, 1900-1950.
1954 - JW refuses to coach the U.S.S.R Swimming Team.
1961 - Golfer JW is reported in financial trouble.
1963 - Marries fifth and last wife:
Getrudis Maria Theresia Elizabeth (nee Bauman).
1965 - Revival of Tarzan interest includes Weissmuller.
1971 - JW is guest of honour at the Burroughs - Tarzan Club.
1984 - Jan. 20 - Died of pulmonary edema in Acapulco after
a series of health problems.
~ Thanks to ERB-dom #60
For a more in-depth biography on Johnny Weissmuller visit:
http://www3.sympatico.ca/geostan/main.htm

---
Weissmuller not only had the physique but he had that kind of face -- sensual, animalistic and good-looking -- that gave the impression of the jungle... outdoor life. Undoubtedly, Johnny was the greatest of all Tarzans.
---Sol Lesser, producer of 16 Tarzan pictures
---
Maureen O'Sullivan was an ideal Jane with a figure that is greatly revealed in the second Metro picture ... but done so beautifully that it couldn't be criticized. As I recall the situation she is standing on a tree limb with Tarzan. He tugs at her garment, dives in the water and she dives in after him. Then she comes up from the swimming scene with breast exposed. It was done in such good taste ... I think that a kind of snobbishness developed afterwards with Miss O'Sullivan from her role as Jane. Maybe the public kidded her too much ... or maybe she thought it wasn't good acting. I don't know ... but I do know the movie audiences worshipped her.
---Sol Lesser, producer of 16 Tarzan pictures
---
As far as I know Ed liked the Tarzan pictures ... at least, he always seemed delighted and often expressed his amazement at the ingeniousness of the writers assigned to these movies.
---Sol Lesser, producer of 16 Tarzan pictures
---
GORDON SCOTT BIO
---
Real name Gordon M. Werschkul
Date of birth (location) 3 August 1927, Portland, Oregon, USA.
Height 6" 3'
Physical Education major Gordon Weschkul left the University of Oregon after one term. He became an infantry drill instructor (rifle, pistol and bayonet; judo and hand-to-hand combat; close order drill), then a military policeman. After his honorable discharge in 1947 he was a fireman, cowboy, and farm machinery salesman. In 1953, a Las Vegas lifeguard, he was spotted by a pair of Hollywood agents who introduced him and his 19-inch biceps to Sol Lesser who had already conducted 200 tests in search of a new Tarzan. The producer gave him a seven-year contract and a new last name. His three MGM Tarzans were run-of-the mill, but his two for Sy Weintraub through Paramount, marked a rebirth of the Tarzan character. The movies were well received. Weintraub was looking for a leaner, more thoughtful Tarzan so Scott moved on to a number of Italian strong-man spectaculars and spaghetti westerns, becoming a sensation in Europe. -
Spouse Vera Miles (1954 - 1959) (divorced) (his third marriage)
--- Biography writer Ed Stephan
---
Christopher Lambert
A timeless gaze and spontaneous acting talent brought Christopher Lambert to the public eye in the United States in 1984, with his commendable performance in the Hugh Hudson epic, "Greystoke: The Legend of Tarzan, Lord of the Apes."
The international actor, however, made his screen debut in 1980 in the French film, "Le Bar du Telephone," followed by "Legitimate Violence."
Christopher Lambert was born March 29, 1957, in Great Neck, Long Island. His
father, a UN diplomat, relocated to Switzerland when Lambert was two years
old.
Following a play he did at the age of twelve, Christopher Lambert knew his direction was in acting. Educated at boarding schools in Geneva, he went on to the prestigious Paris Conservatoire. Not interested in just treading the beaten path taught at the Conservatoire, he left his studies there after two years.
Soon after his departure from the Paris Conservatoire, Christopher Lambert was selected over many aspiring others for the role of Lord Greystoke, the hapless son of a father of great influence and genteel breeding, who is orphaned when his parents are stranded in a jungle to die, leaving him to be raised by apes, adapted from the classic novel by Edgar Rice Burroughs.
"Love Songs" with Catherine Deneuve followed the gripping "Greystoke." In 1985, his role in the Luc Besson movie, "Subway," won Christopher the Cesar, the French parallel of the Oscar. With the 1986 release of the fantasy/adventure, "Highlander," Christopher Lambert brought to life Gregory Widen's character, Connor MacLeod, an immortal who can only be killed through decapitation. Lambert's mysterious gaze and subtlety blended with the misty, mystical Scottish Highlands to create a cult phenomena, that ultimately spawned two more Highlander movies, a television series and an animated cartoon. Other movies he starred in include "I Love You," 1986; Michael Cimino's, "The Sicilian," 1987. "Priceless Beauty," 1988; Agnieska Holland's, "To Kill A Priest," 1988; a comedy, "Why Me?," 1989; "Highlander II: The Quickening," 1991.
By 1991, the Highlander following had grown and evolved into a force to be reckoned with. Christopher Lambert's return as Connor MacLeod was soon followed by the movie, "Knight Moves," a thriller; and "Fortress," a Stuart Gordon film, which became a major international box office success. "Fortress" proved to be Miramax's widest release to date at the time. Lambert then teamed with Mario Van Peebles in the 1992 action film, "Gunmen." 1993 saw the making of "RoadFlower," recently released on video.
In 1994, Christopher Lambert again returned to the screen as the immortal, Connor MacLeod, in "Highlander: The Final Dimension." The third movie in the Highlander trilogy relates MacLeod's life from his training by the sorcerer, Nakono, in the caves of Neri, through a number of milestones along the centuries to present time, when MacLeod finally conquers his arch enemy, Kane, and finds love and peace at last.
After shooting the third Highlander movie, Lambert completed "Mortal Kombat," a mythical journey, based on the popular video games in which he portrays Lord Rayden, a deity who involves himself in aiding a group of mortals in their quest to overcome the incarnation of ultimate evil.
Winter and early spring of 1995 saw him shooting "The North Star," in Norway, in which Lambert portrays a man who refuses to mine sacred land during the brutal, lawless era of the Alaskan Gold Rush.
Recently, Christopher finished shooting a thriller, "Adrenaline."
Christopher Lambert has a daughter, Eleanor, born in September of 1993
Besides other scripts currently in development, Christopher Lambert, an actor who believes in making movies that are pure entertainment, and in living every moment with passion, has become active in producing movies, with numerous forthcoming projects in acting and producing on the horizon.
Unlike Connor MacLeod, the Highlander, Christopher is not immortal but very human and mortal, indeed. Perhaps he can't answer, "who dares to live forever... who dares to love forever..." But with his unflagging spirit, heart and drive to act, to enter all the worlds and lives of the imagination, he dares to dream forever. And in so doing, he gives to others, "a shining glance of what should be."
---
5. Filmography Links for the Tarzan Actors
---
Gordon Griffith
Elmo Lincoln
Gene Pollar
P. Dempsey Tabler
James Pierce
Frank Merrill
Johnny Weissmuller
Buster Crabbe
Herman Brix
Glenn Morris
Lex Barker
Gordon Scott
Denny Miller
Jock Mahoney
Mike Henry
Ron Ely
Miles O'Keeffe
Christopher Lambert
Wolf Larson
Joe Lara
Casper Van Dien (see below) and CyberRoom 38
---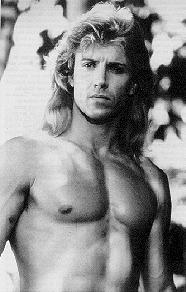 Wolf Larson
---
Dad found it hard to reconcile himself to the movie versions of the Tarzan stories, and never did understand the movie Tarzan.
He wanted Tarzan to speak like an educated Englishman instead of grunting.
One time we saw a movie together and after it was all over,
although the audience seemed enthusiastic,
my father remained in his seat and kept shaking his head, sadly.
--Joan Burroughs
---
To enter Part 1 press below: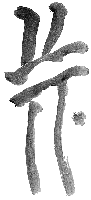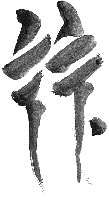 BILL HILLMAN
Visit our thousands of other sites at:
BILL & SUE-ON HILLMAN ECLECTIC STUDIO
ERB Text, ERB Images and Tarzan® are ©Edgar Rice Burroughs, Inc.- All Rights Reserved.
All Original Work ©1996-2004 by Bill Hillman and/or Contributing Authors/Owners
No part of this web site may be reproduced without permission from the respective owners.