ECOF 2017 and Dum-Dum 2017


Official Edgar Rice Burroughs Tribute and Weekly Webzine Site for Over 20 Years
Since 1996 ~ Over 15,000 Webzines and Webpages In Archive

Master of Imaginative Fantasy Adventure
Creator of Tarzan® and "Grandfather of American Science Fiction"
A NEW EDITION EVERY FRIDAY
March 3 - 9, 2017
.
. HILLMAN WEEKLY and MONTHLY WEBZINES .

ERBzine | Danton's Den | Tarzine | As You Were . . . (military) |
Join us on FaceBook Page and Twitter and FaceBook Group

JOIN US ON FACEBOOK: FaceBook Group

---
---
---
Feature 2: ERBzine 5873
WHAT IF. . .?
PULP COVERS
by Kurt Hathaway
---
---
---
---
---
---
Feature 8: ERBzine 2009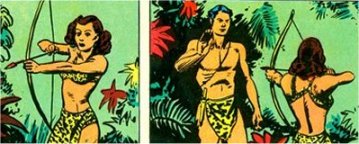 Guide to all the Maxon Tarzan Strips
---
This Week:
---
JOIN US ON FACEBOOK: FaceBook Group
This group has over 3,745 members

ERBzine Archive Weekly Updates
We are constantly going through our archives
to tweak and add/revise text and links.
POSTER COLLAGES (click)

ERBzine Archive Features

Feature 10: ERBzine 5844
JAPANESE ERB COVER ART
By Takebe:
STRANGE LANDS :: PELLUCIDAR
http://www.erbzine.com/mag58/5844.html

Feature 11: ERBzine
FRANK FRAZETTA HEROINES
ERBzine Collage Archive:
http://www.ERBzine.com/cards
Collage by Bill Hillman
From the ERBzine.com Art Galleries

Feature 12: ERBzine
ERB CARTOON COLLECTION
GALLERY NO. 6
http://www.ERBzine.com/cartoons/c06.html

Feature 13: ERBzine 5699
IN SEARCH OF ANGKOR WAT
Inspired by Edgar Rice Burroughs' Jungle Girl
27 Unique Modes of Travel
across 2700 Kilometres for over 27 days
http://www.erbzine.com/mag56/5699.html

Feature 14: ERBzine
ACE cover art by ROY KRENKEL
I. ERBzine 3330 : Earth's Core and Moon
II. ERBzine 3331 : The Planets
III. ERBzine 3332 : Savage Earth

Feature 15: ERBzine 1371
ERBzine CARD & POSTER MONTAGE ARCHIVE
http://www.ERBzine.com/cards
ERB: A LIFE IN PICTURES
http://www.erbzine.com/mag13/1371.html
Follow the Master of SF Adventure
with 100 photos documenting his 75 years

..

Feature 16: ERBzine
JOHN COLEMAN BURROUGHS
Feb 28, 1913 - Feb 22, 1979
Celebrating the 100th Anniversary of his birth
http://www.johncolemanburroughs.com
http://www.ERBzine.com/jcb

Feature 17: ERBzine 3014
The ERB, Inc.
Warehouse Fire
May 5, 1958
http://www.erbzine.com/mag30/3014.html

Feature 18: ERBzine
THE HILLMAN VIRTUAL TOUR OF
THE INTERNATIONAL
UFO MUSEUM
Roswell, New Mexico, USA
http://www.hillmanweb.com/ufo

Feature 19: ERBzine 5706a
Joe Kubert's
DC Tarzan Comics II
Nos. 227 Onward
http://www.erbzine.com/mag57/5706a.html
The above Archives were featured on our ERBzine Facebook.
and Twitter accounts this week
JOIN US ON FACEBOOK: FaceBook Group
This group has over 3,745 members
RECENT COMICS ARCHIVE ADDITIONS
www.ERBzine.com/comics
All-New Illustrated ERB Adventures ~ Subscribe Now
www.edgarriceburroughs.com/comics
.

..
LAST WEEK'S FEATURE LOGOS (click to enter)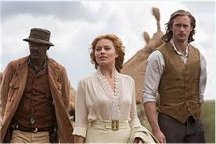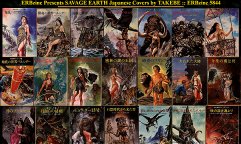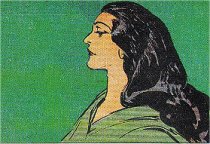 ---
ARCHIVE WALL MURALS
FROM OUR COLLAGE POSTER WALLS
www..hillmanweb.com/cards
www.erbzine.com/cards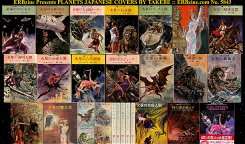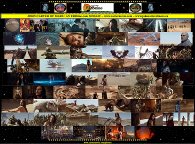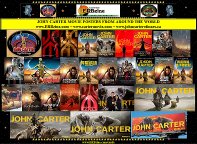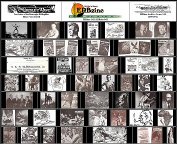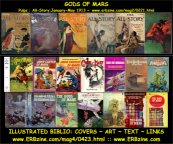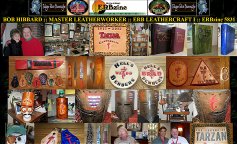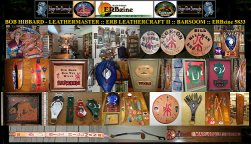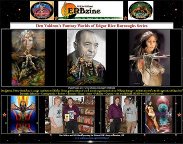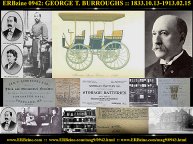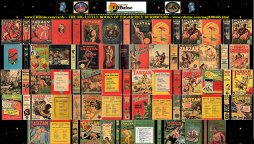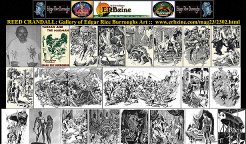 Click for full size

LAST WEEK:
Logo Archive for all 2015 Back Issues :: Also :: 2016 Back Issues
John Carter at the Core of Mars Intro to 14 Chapters
JAPANESE ERB COVER ART By Takebe: STRANGE LANDS :: PELLUCIDAR
Collated from our ERB Biblio Encyclopedia
www.edgarriceburroughs.com/comics
TARZAN AND JANE: Forever In Fashion: Part III
Sample Tarzan Sunday page by Hal Foster
FOR THE LOVE OF THE QUEEN ~ 1933.10.08
TARZAN SUNDAY PAGES CONTENTS I: 1931/1932 :: CONTENTS II: 1933
Read all of ERBzine's reprinted Rex Maxon Tarzan strips from the 1930s and 1940s
Tarzan and the Leopard Men
Contents and Titles Page
Rex Maxon/Don Garden R1-R150 (30 Dec. 1935-20 June 1936) (150 days)
ERBzine 6116: Strips 61-72
ERBzine ARCHIVE: WEEKLY UPDATES
Japanese ERB Cover Art: OTHER PLANETS: BARSOOM AMTOR
JOHN CARTER OF MARS Movie Stills
JOHN CARTER OF MARS Posters
GRIDLEY WAVE ARCHIVE 1-25
GRIDLEY WAVE ARCHIVE 26-50
GODS OF MARS
BOB HIBBARD MASTER LEATHERWORKER: TARZAN
BOB HIBBARD MASTER LEATHERWORKER BARSOOM
DEN VALDRON'S FANTASY WORLDS OF ERB
GEORGE TYLER BURROUGHS
Edgar Rice Burroughs' Father
AN ILLUSTRATED BIBLIOGRAPHY BLB
ERB BIG LITTLE BOOKS ~ Parts 1 and 2
REED CRANDALLBIRTHDAY
From the George T. McWhorter Tribute Site
GEORGE McWHORTER Presents THE BURROUGHS BULLETIN ARCHIVE
Bob Lubbers' Tarzan Strips CONTENTS



COMICS ARCHIVE
JOHN CELARDO CONTENTS
REINMAN/CARDY CONTENTS
HUNDREDS MORE COMIC BOOKS, SUNDAYS AND DAILY STRIPS
ERBzine COMIC ENCYCLOPEDIA
www.ERBzine.com/comics


AWARDS

Bill & Sue-On Hillman
Entertainers of the Year Award
For stage/TV/recording performances
in USA, England and Canada
Archive

---


Three Awards
Tarzan.com
March 9, 2005
ERBzine:
July 11, 2002
ERBzine.com/mag:
January 12, 2005


Lifetime Achievement Award
Louisville Dum-Dum 2003
ECOF Recognition Award 2011

---

BU 2013 Convocation

Brandon University Senate
Award
---
.

The Fantastic Worlds of Edgar Rice Burroughs
| | | | |
| --- | --- | --- | --- |
| Tarzan.com | ERBzine.com | DantonBurroughs.com | Tarzan.org |
| BurroughsBibliophiles.com | JohnColemanBurroughs.com | Tarzan.com/tarzine | JohnCarterOfMars.ca |
| ERBzine.com/edgarriceburroughs | Weekly Webzine | Weekly Webzine | Pellucidar.org |
| John Carter Film News | ERB, Inc. Corporate Site | ERB Centennial | tarzana.ca |


Our FanFare section is always open as a showcase for ERB fan comments and creative work...
Send your submissions to Bill Hillman
Tarzan@wcgwave.ca



!!! READERS PLEASE NOTE !!!
Tarzan® is the property of Edgar Rice Burroughs, Inc., Tarzana CA

These e-Fanzines have been posted as a non-profit bibliographic and biographic reference for ERB scholars, fans and collectors. Material not created by myself has been collated largely from other sites on the web -- and I believe it to be in Public Domain or to fall under the category of "product promotion" or "fair use". Everything has been collated into this on-line repository to promote interest in the works of Mr. Burroughs. If there is any objection to the way in which any of this material has been displayed, or if I have infringed unlawfully on any copyright, I will implement its immediate removal. Bill Hillman

---

WEBJED: BILL HILLMAN


Visit our thousands of other sites at:
BILL AND SUE-ON HILLMAN ECLECTIC STUDIO
ERB Text, Images and Tarzan® are Copyright ERB, Inc.- All Rights Reserved.
All Original Work ©1996-2017 by Bill Hillman and/or Contributing Authors/Owners
No part of this web site may be reproduced without permission from the respective owners.
Opinions expressed in articles on this site do not necessarily represent the opinions
of Edgar Rice Burroughs, Inc. or the editors of ERBzine.
ERBzine Weekly Webzine was endorsed by Danton Burroughs of Tarzana, California
as the Official ERB, Inc. and Tarzan®Webzine Site