SPECIAL EDGAR RICE BURROUGHS MEMORIAL ISSUE
Tarzan's Author, Edgar Rice Burroughs, Dies At Age Of 74 ~ March 19, 1950
Edgar Rice Burroughs ~ September 1, 1875 - March 19, 1950
Death was merely a state of mind. ~ ERB: Thuvia, Maid of Mars (1916)

Official Edgar Rice Burroughs Tribute & Weekly Webzine Site
Since 1996 ~ Over 5,000 Webzines and Webpages In Archive

Master of Imaginative Fantasy Adventure
Creator of Tarzan® and "Grandfather of American Science Fiction"
A NEW EDITION EVERY FRIDAY
March 17 - 23, 2006
Thousands of Back Issue Features in Archive: HERE

The Worlds of Edgar Rice Burroughs


.

THIS WEEK'S ERBzine CONTENTS

..
FEATURE 1: ERBzine 1514
Radio Free Venus
A 12,000-word article
by
Den Valdron
Ralph Milne Farley's Radio Series
Before Edgar Rice Burroughs wrote his Venus books, before Otis Adelbert Kline published his Venus series, there was one major pulp writer who wrote a series of Barsoomian adventures set on the planet Venus. This series was a deliberate homage to Burroughs Martian books, and its author was actually a close friend of Edgar Rice Burroughs.
The man was Ralph Milne Farley, and the series was the Radio Man books.

http://www.erbzine.com/mag15/1514.html

.
---
FEATURE 2: ERBzine 1627
Jeff "Elmo" Long's

Barsoomian Blade Archive
Vol. 1 ~ No. 7 of this much-prized collector's publication.
A collection of news items and fan fiction from Barsoom's Panthan Press
that first appeared on the Web in 1998.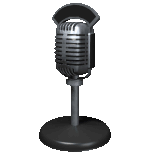 This week:
Fan Fiction II: Stories by
Rod Hunsicker ~ John R. Fultz ~ David "Nkima" Adams
Listen to the bi-weekly Podcasts of Elmo's Dateline Jasoom
via the vast Gridley Wave Network.
http://www.erbzine.com/mag16/1627.html
---
---
---
---
FEATURE 5: ERBzine 1612
DANTON BURROUGHS Presents
THIS WEEK'S JCB TARZANA TREASURE VAULT FEATURE
INTRODUCTION TO A PICTORIAL HISTORY OF
TARZAN OF THE APES by Edgar Rice Burroughs
PICTURIZED BY HAROLD FOSTER
Part XI: Strips 55-60 (conclusion)
http://www.erbzine.com/mag16/1612.html
---
---
FEATURE 7 Archive: ERBzine 0940
ERB: My Famous Father-ln-Law
By James Pierce

"He had no religious affiliation, and none of the family ever attended church to my knowledge. Mr. Burroughs was an agnostic, I believe, and unlike W. C. Fields, did not turn to the Bible toward the end of his life. A friend asked him, "What are you doing with the Bible, Ed?" "Looking for a loophole," was his reply. He did not believe in funerals. He requested no services and cremation. His wishes were granted. He requested his ashes rest beneath his favorite, very old oak tree, location of which is known only to his family."

http://www.erbzine.com/mag9/0940.html
---
FEATURE 8 Archive: ERBzine Bio
EDGAR RICE BURROUGHS: TIMELINE BIOGRAPHY
A day-by-day charting of the activities of ERB from
September 1, 1875 through March 19, 1950. . . and Beyond
Thousands of events ~ links ~ letters
www.erbzine.com/bio
---
---
---
LAST WEEK
(if you missed it go to Archive)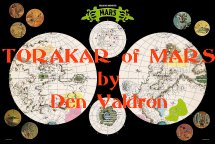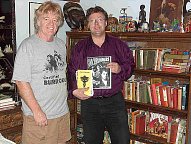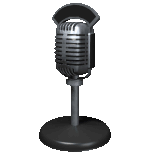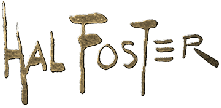 Jeff "Elmo" Long's Barsoomian Blade Archive ~ Pt. 6
TORAKAR OF MARS By Den Valdron Part XI: Chapters 41-45
Pulp Venus By Den Valdron
DANTON BURROUGHS Presents ERB's Tarzan of the Apes Picturized by Hal Foster- 49 -54
Ramblin's from Life's Highway by Ron Prindle:
ERB, Lew Sweetser & Sword Of Theosophy
Maria Elena Amid A Few All American Boys
In the Hall of the Mountain King: ERB & L. Frank Baum
Duane Adams' Summary of Tarzan Dell Issues 121 - 131 (Final Dell Issue)
Covers ~ Credits ~ Contents ~ Reviews & Commentaries ~ Links
Our ERB Fan Profile Series: Rick Johnson
Harold Foster Bio Tribute ~ Story Outlines of the 1930s ~ Title Caption Art & Links
Mahlon Blaine Illustrated Bibliography ~ Bio ~ Art Samples ~ Links ~Canaveral Art
AWARDS

Three Awards
Tarzan.com
March 9, 2005
ERBzine:
July 11, 2002
ERBzine.com/mag:
January 12, 2005


Lifetime Achievement Award
Louisville Dum-Dum 2003


Bill & Sue-On Hillman
Entertainers of the Year Award
For stage/TV/recording performances
in USA, England and Canada
.
NEXT WEEK:
Torakar of Mars by Den Valdron ~ Part XIII ~ Chapters 49-52
Barsoomian Blade Fiction Archive by Jeff "Elmo" Long
Radio Pellucidar by Den Valdron
Alternate ERB Titles
Dell Tarzan Annual Summaries by Duane Adams
ERB Puzzle Page II: Cross-ERB by Al Gross ~ Lost Titles by Bill Hillman
Danton Burroughs presents the Tarzana Treasure Vaults:

COMING SOON ~ IN THE WINGS
The Story of the Tarzan Yell by Bill Hillman
Radio Memorabilia
Dell Tarzan Summaries by Duane Adams
Rick Johnson Mars Articles
The ERB Boom of the '60s
News Clippings from Dale Broadhurst
ERB/Press Connection: Chicago Tribune Articles
ERB/Press Connection: ERB in the LA Times
Hal Foster: Mysterious Maiden II Comics Summary
Motes & Quotes Newzine
Articles by R.E. Prindle
Articles by Den Valdron
Profile Tribute on Stan Vinson
A Princess of Mars: A Graphic Novel Adapted and Illustrated by James Spratt
Bomba the Jungle Boy: The Tarzan Connection Part II
ERB Letters
.
Our FanFare section is always open as a showcase for ERB fan comments and creative work...
Send your submissions to Bill Hillman
Tarzan@westman.wave.ca



!!! READERS PLEASE NOTE !!!
Tarzan® is the property of Edgar Rice Burroughs, Inc., Tarzana CA

These e-Fanzines have been posted as a non-profit bibliographic and biographic reference for ERB scholars, fans and collectors. Material not created by myself has been collated largely from other sites on the web -- and I believe it to be in Public Domain or to fall under the category of "product promotion" or "fair use". Everything has been collated into this on-line repository to promote interest in the works of Mr. Burroughs. If there is any objection to the way in which any of this material has been displayed, or if I have infringed unlawfully on any copyright, I will implement its immediate removal. Bill Hillman

---

WEBJED: BILL HILLMAN


Visit our thousands of other sites at:
BILL & SUE-ON HILLMAN ECLECTIC STUDIO
ERB Text, Images and Tarzan® are Copyright ERB, Inc.- All Rights Reserved.
All Original Work ©1996-2006 by Bill Hillman and/or Contributing Authors/Owners
No part of this web site may be reproduced without permission from the respective owners.
Opinions expressed in articles on this site do not necessarily represent the opinions
of Edgar Rice Burroughs, Inc. or the editors of ERBzine.
ERBzine Weekly Webzine is endorsed by Danton Burroughs of Tarzana, California
as the Official ERB, Inc. and Tarzan®Webzine Site