NOTICES
---
Supreme Court Rejects Tarzan Art Case
http://washingtontimes.com/upi-breaking/20040322-105441-9423r.htm

WASHINGTON, March 22 (UPI) -- The U.S. Supreme Court Monday let stand a ruling that left the copyright of art in the "Tarzan" books with the estate of the author, not the artist. The artist, Burne Hogarth entered into an agreement with the estate of the author, Edgar Rice Burroughs Inc., in 1970 to create pictorial versions of "Tarzan and the Apes" and stories from the "Jungle Tales of Tarzan." Because the work was completed before the 1978 Copyright Act, the case was governed by the 1909 Copyright Act In 2000, Hogarth's estate and family filed suit against ERB Inc., asking a federal judge to assign them the copyright to the artwork. Hogarth was an independent contractor, not an ERB Inc. employee, they argued. Hogarth assigned his copyright renewal right to ERB Inc., they conceded, but died before that renewal came about -- leaving the renewal right to his family, his estate contended. A federal judge and a federal appeals court ruled for ERB Inc., and the Supreme Court denied review Monday without comment.
---
http://www.guardian.co.uk/worldlatest/story/0,1280,-3890534,00.html
Monday March 22, 2004 3:31 PM

WASHINGTON (AP) - The Supreme Court has ducked a copyright fight over Tarzan storybooks. Justices on Monday rejected an appeal from heirs of illustrator Burne Hogarth, who wanted a share of the rights to ``Tarzan of the Apes'' and ``Jungle Tales of Tarzan,'' both published in the 1970s. Tarzan was created by Edgar Rice Burroughs. Long before his death in 1950, Burroughs gave a family corporation control of the Tarzan likeness and rights to his 26 stories. An appeals court had said that the family business was the rightful owner of the two contested books because it commissioned Hogarth to do the illustrations. The case is Estate of Burne Hogarth v. Edgar Rice Burroughs Inc., 03-1009.
---
Blogger comments after the first ERB Inc. court victory, August 28, 2003
http://scrivenerserror.blogspot.com/2003_08_01_scrivenerserror_archive.html
---
Visit the Tarzana Community and Cultural Center: www.mytarzana.org
---
June Release
Completely Remastered for DVD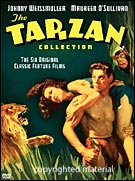 The Tarzan Collection ~ LIST: $59.92
Tarzan Boxed Set of 6 Films Starring Johnny Weissmuller
Tarzan, The Ape Man (1932) ~ Tarzan And His Mate (1934) ~ Tarzan Finds A Son! (1939) ~
Tarzan's Secret Treasure ~ Tarzan's New York Adventure ~ Tarzan Escapes ~ Tarzan Documentary
Also Being Remastered for DVD Release in June
Greystoke and Tarzan, The Ape Man (Bo)
Check out the latest releases from ERBville Press
The Man-Eater is now available
ECOF GATHERING, SACRAMENTO, CA ~ August 12-14, 2004 ~ Guests: Lupoff ~ J.E. Holmes ~ Yeates
DUM-DUM 2004: The date of the 2004 Dum-Dum at Fort Collins has been moved to June 25-27