Cyrano de Bergerac. Translated by Helen B. Dole. NY: T.Y. Crowell & Company, 1899.
Flyleaf inscription: "E.R. Burroughs, Chicago, January 17th, 1903."
Synopsis and Download
Cyrano Chicago 1903: Ed's sig Pub 1899
Cyrano de Bergerac by Edmond Rostand on Project Gutenberg
This book has a dedication take from the poem
Envoi by Don Marquis
A little while the grief and laughter,
The myrtle and the rose,
A little while... and what comes after
No man knows.

Still mounts the dream on shining pinion . . .
Still broods the dull distrust ,
Which shall have ultimate dominion,
Dream, or dust?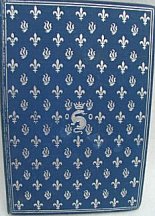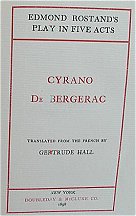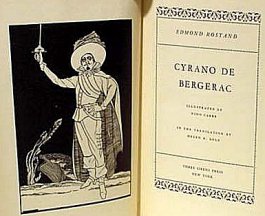 First produced in 1897, CYRANO DE BERGERAC takes place in the 17th century. Rostand's classic drama presents a complex hero--one who is in the tradition of both the swashbuckling adventurer and the sensitive, more modern thinker and self-questioner. Cursed with ugliness but blessed with sublime wit and poetic ability, the gallant Cyrano loves his cousin Roxanne, who loves the handsome but inarticulate Christian. By means of his own gifts with language, Cyrano selflessly helps Christian woo Roxane--and only when it's too late does she realize that the passion and eloquence she has prized belong not to Christian but to Cyrano, and that it is her grotesque cousin she has loved all along.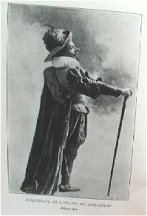 Savien Cyrano de Bergerac (1619-1655) French soldier, satirist, and dramatist, whose life has been the basis of many romantic but unhistorical legends. The best-known of them is Edmond Rostand's verse drama Cyrano de Bergerac (1897). Bergerac's major works were two posthumously published accounts of fantastic voyages, VOYAGE DANS LA LUNE (1657) and L'HISTOIRE DES ÉTATS ET EMPIRES DU SOLEIL (1662). According to Arhur C. Clarke, Cyrano must be credited both for first applying the rocket to space travel and, for inventing the ramjet.The real Cyrano de Bergerac had, in real life, very little in common with the hero of the Rostand play. He was born in Paris, and educated by a priest in the village of Bergerac. Later he was sent to the Collège de Beauvais. After acquiring fame as a dueller and Bohemian, he enlisted in the army at the age of 20. However, he was an individualist and had problems adjusting to discipline - Cyrano was an opponent of the war and death penalty. His humanitarian way of thinking was acknowledged by his contemporaries and the next generations. Le Doyen's portrait of him, made after Heince, shows a sceptically smiling man, with thin moustaches and a large nose. Cyrano was severely wounded twice, once at a fight with a Gascon Guard, and the second time at the siege of Arras in 1640. There he was hit in the neck with a sword and he never fully recovered from the wound. In the following year he gave up his military career and started to study under the philosopher and mathematician Pierre Gassendi. Influenced by Gassendi's theories and libertine philosophy, he wrote stories of imaginary journeys to the Moon and Sun, and satirized views, which saw humanity and the Earth as the center of creation. He also mocked Descartes' idea that animals are soulless machines. In his trip to the Moon Cyrano took off from the Earth in an apparatus festooned with firecrackers. There he is classified as a bird because he has two legs. In the second journey he is tried for the crimes of humanity by a court of birds. Cyrano defends himself saying that he is not a human being but an ape. In the 1650s Cyrano de Bergerac published two plays, LA MORT D'AGRIPPINE (1654), which was suspected of blasphemy, and LE PÉDANT JOUÉ (1654), from which Molière borrowed heavily for his play The Cheats of Chapin. Cyrano de Bergerac died in Paris on July 28, 1655. The cause of Cyrano's death was banal: a piece of plank dropped on his head. Only parts of his major work, L'AUTRE MONDE; OU, LES ÉTATS ET EMPIRES DE LA LUNE (Other Worlds: The Comical History of the States and The Empires of the Moon and the Sun, were published in posthumous versions. Other Worlds continued the Rabelaisian tradition of satire and was based on Lucian's A True Story. Henri le Bret, the author's friend, censored its heretical elements. In 1676 Cyrano's collected works appeared, which included a biting poem of Mazarin (1602-61), the famous French cardinal and statesman. Rostand's Cyrano de Bergerac describes the adventures of the 17th century nobleman, famous for his large nose and swordsmanship. "'Tis well known, a big nose is indicative / Of a soul affable, and kind, and courteous, / Liberal, brave, just like myself, and such / As you can never dare to dream yourself..." Cyrano desperately loves the beautiful Roxane, but agrees to help his rival, Christian, win her heart. The historians have pointed out that Rostand's portrayal of the hero was not truthful - Cyrano was a serious writer of philosophical romances and a virile lover. It is assumed, that the third volume in Cyrano Bergerac's series HISTOIRE COMIQUE, The History of the Stars, is lost or has been destroyed. Other parts were Comical History of the States and Empires of the Moon (1656) and Comical History of the States and Empires of the Sun (1661). The books, together known as L'autre monde, belong in the genre 'fantastic voyages', of which the oldest examples are the Sumerian Epic of Gilgamesh, from the third millenium BC, and Homer's Odyssey, from the first. Johannes Kepler's Somnium (1643), Francis Bacon's New Atlantis (1627), and Tommasso Campanella's City of the Sun were written in the 17th century. Cyrano's imaginary visits to the moon and sun satirized the people and politics of his own day. Cyrano is escorted on the Moon by the Demon of Socrates, who says: "If there is something you men cannot understand, you either imagine that it is spiritual or that it does not exists. Both conclusions are quite false. The proof of this is the fact that there are perhaps a million things in the universe which you would need a million quite different organs to know. Myself, for example, I know from my senses what attracts the lodestone to the pole, how the tides pull the sea, what becomes of an animal after its death." (from Trillion Years Spree by Brian Aldiss & David Wingrove, 2001) In the second book he lands on the Sun, managing to invent an explanation why the heat doesn't burn. He meets Campanella, author of Civitas Solis, to whom a woman tells that her husband has killed her child twice. He has not fulfilled his conjugal duty, because by refusing to make the child "come into existence, he caused him not to be, which was the first murder, but subsequently he caused him never to be able to be, which was the second. A Common murderer knows that the man whose days he cuts short is no more, but none of them could cause a man never to have been." Bergerac's works influenced several later writers, among them Jonathan Swift and Voltaire, whose fantastical Micromégas: Histoire philosophique (1752) satirized our world from the viewpoint of giant visitors from space.
Edmond Rostand was born in Marseille into a wealthy and cultured Provençal family. His father was an economist and a poet, a member of the Marseille Academy and the Institute de France. Rostand studied literature, history, and philosophy at the Collège Stanislas in Paris. In the 1880s he published poems and essays in the literary review Mireille. His first play, LE GANT ROUGE, was produced in 1888. Rostand abandoned his law studies in 1890 when his first book of poems, LES MUSARDISES, appeared. He gave it to the poet Rosemonde Gérard, a granddaughter of one of Napoleon's marshals, whom he married in the same year. Their two sons, Jean and Maurice, also became writers. Maurice Rostand (1891-1968) published poems, plays (Le procès d'Oscar Wilde, 1935), and novels. His memoirs, Confession d'un demi-siècle, appeared in 1948. Jean Rostand was a biologist, who published essays and manuals and treatises on various aspects of biology. His satiric portrait, Ignace, ou l'écrivain (1923), was about a hypersensitive writer, partly based on his father and brother. (see La Vie et l'œuvre de Jean Rostand by A. Juste, 1971)

Rostand's first successful play was LES ROMANESQUES (1894). It was produced at the Comédie Française and was based on Shakespeare's play Romeo and Juliet. Three years later produced Cyrano de Bergerac became his most popular and enduring work - at that time he was 29-year-old. L'AIGLON (1900), a tragedy based on the life of Napoleon's son, the Duke of Reichstadt, also became popular. During its first run in 1900, the famous actress Sarah Bernhardt played the title role. Bernhardt also acted in LA SAMARITAINE (1897), based on the biblical story, and LA PRINCESSE LOINTAINE (1895), a story about an unattainable princess and a troubadour hero, who dies in her arms. "The dream, alone, is of interest. What is life, without a dream." The character of the hero was based on life of the medieval troubadour Jaufre Rudel. Le Bargy interpreted Les Romanesques, and Coquelin headed the cast of Cyrano de Bergerac. With these works Rostand revitalized the old romantic drama in verse. Naturalism was the major movement in literature - it was the time of Zola - but Rostand took up old themes and followed the Romantic tradition of Victor Hugo. When Cyrano was performed, the enthusiasm at the premiere was unexpected - people wept and it is told that the author was pelted with ladies' gloves and fans.

Cyrano de Bergerac is poetic, five-act romantic drama in verse, set in the reign of Louis XIII. The central character, Cyrano, is a famous swordsman, and an aspiring poet-lover. "A great nose indicates a great man - / Genial, courteous, intellectual, / Virile, courageous." Because of his grotesquely large nose "that marches on / before me by a quarter of an hour," he is convinced that he is too ugly to deserve his adored Roxane. Cyrano helps his inarticulate rival, Christian, win her heart by allowing him to present Cyrano's love poems, speeches, and letters as his own work. Soon the romance starts, Christian whispers his own love from the shadows in glorious words that Roxane believes are his. But Christian realizes that it was not his own good looks but Cyrano's letters that won Roxanne. Before his death on the battlefield, Christian asks Cyrano to confess their plot to Roxane. Cyrano keeps their secret for fourteen years. As he is dying years later, he visits Roxane and reveals her the truth. "That night when 'neath your window Christian spoke / --Under your balcony, you remember? Well! / There was the allegory of my whole life: / I, in the shadow, at the ladder's foot, / While others lightly mount to Love and Fame!" - The play opened at the Porte Saint-Martin Theater in December 1897. Cyrano's gallantry was seen as the reincarnation of the true Gallic spirit and Rostand became a national hero.

In 1901, at the age of thirty-three, Rostand was elected to the Académie Française. However, Rostand found his fame and unwanted publicity hard to bear. Suffering from poor health, he retired to his family's country estate at Cambon, in the Basque county. He continued to write plays and poetry, but his subsequent works did not gain the popularity of Cyrano de Bergerac. In 1910 appeared CHANTECLER, a story from the animal world of La Fontaine. It told about a barnyard rooster who believes that his song makes the sun rise. The work was pronounced a failure, and the author started his retirement at the luxurious villa 'Arnaga'. Rostand died of pneumonia in Paris on December 2, 1918. His last dramatic poem was about Don Juan. The posthumously performed play failed totally.
http://www.kirjasto.sci.fi/rostand.htm

---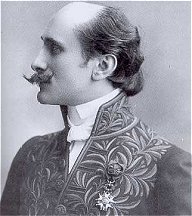 Edmond Rostand (1868-1918) Known both for his memorable dramatic works and for patriotic war poems, Edmond Rostand is one of France's great literary figures. His plays include "La Princesse lointaine" ("The Princess Far Away"), "La Samaritaine" ("The Woman of Samaria"), "Les Romanesques" ("Romantics"), "Chantecler" ("Chanticleer"), "L'aignon" ("The Eaglet"), an immediate success, and the posthumous "La Dernière Nuit de Don Juan" ("The Last Night of Don Juan"). His best known and most appreciated play is "Cyrano de Bergerac", published in 1897, which has been translated into practically every language. He was born on April 1, 1868 and spent his early childhood at the Thedenat School in Marseilles, an industrial city with colorful crowds, ports, and ships, which easily aroused his imagination. He was an avid reader, and he worshipped Walter Scott and Napoleon. His main diversion was a puppet theater he built at home, for which he built stage props and costumes. He attended the Marseilles Lycée from 1878 to 1884, during which time the Third Republic of France was establishing itself under the Constitution ratified in 1875. He was an outstanding student and showed a deep sensitivity for literary studies. The most memorable event of his lycée years was his consecration as "school poet," thanks to a translation into French verse of Catullus' poem to Lesbia's sparrow. He began publishing his first poems in 1994 in a small Marseilles magazine called Mireille. He spent the next two years at the Collège Stanislas in Paris. He was a great student there and was largely influenced by his professors, especially René Doumic and Boris de Tamenberg, who introduced him to Shakespeare and Musset. In addition to his professors, Rostand's family influenced him profoundly. Eugène, his father, an eminent economist and member of the Academy of Moral and Political Sciences of Marseilles and of the Institut de France, was also a poet and translator of Catullus. His uncle, Alexis, was well known in the music world for his piano compositions, oratorios, and opera. A taste for music and for rhythmic emotion and color is evident in Rostand's work. The family member who lent the most to Rostand's warm temperament was his paternal grandmother, a beautiful and highly sensitive Spanish woman of Andalusian origin. Rostand inherited his vivacity and his love for le panache from her. From her, Rostand sought, in his own words, "the smile by which one excuses oneself for being sublime." After his secondary studies, Edmond moved to Paris on the Rue de Bourgogne and began his law studies in order to satisfy his father and professors. After fulfilling his duties, Edmond made attempts at writing drama. The result was an unfinished tragedy in verse, "Yorick", as well as two acts in prose, "Les Petites Manies". Rostand's name became known to the general public, however, only in 1890, with the publication of his collection of poetry, "Les Musardises", which he had begun in 1888. Despite a certain fascination with the daydreams and delightful meanderings of imagination, the critics gave Rostand no encouragement. "Les Musardises" was not successful. He married Rosemonde Gérard the same year of "Les Musardises'" publication, and the work is dedicated to her. She was the daughter of one of Napoleon's marshals. An orphan, she was raised in a convent. She loved literature and composed poetry. She was the ideal companion for a poet, and a constant source of encouragement for him in the face of many failures. Their first child, Maurice, was born in 1891. That same year, Rostand retired to Cambo, in the Pyrenees, after being the recipient of the Legion of Honor. But it was Cyrano de Bergerac, written from April 1896 to January 1897, that marked Rostand's crowning glory. In 1901, he was elected to the French Academy. He was timid in society and a feeling of exile persisted in him. He had also become ill with pulmonary congestion. He felt that what he was experiencing, namely success and triumph, was the cruelest form of human anguish. In the midst of this anguish came such works as "Chanticleer" and the cold tragedy, "The Last Night of Don Juan". His isolation in Cambo inspired him to add a new concept to his poems: nature. In nature he discovered a new world and a symbolic life. When France entered the first World War in 1914, Rostand, certainly unable to fight, began writing vibrant, patriotic poems, even visiting the trenches in order to see first hand the destruction, blood, and suffering. The horrors of war had a profound impact on his physical and mental health. On December 22, 1918, six weeks after the armistice ending the war, Rostand died.

---
ROSTAND, GREAT FRENCH POET, DEAD: An obituary
This obituary was originally published in Theatre Magazine, Vol. 29, No. 1. Willis Steell. New York: Theatre Magazine Company, 1919. p. 12.

WHEN Edmond Rostand, the distinguished dramatic poet who died of pneumonia on December 2nd (1918), quitted Paris after his first world-renowned success, Cyrano de Bergerac, he gave out not the true reason for his exile to a magnificant estate in the Pyrenees, conditions of his health, but said explicitly that he was leaving the Capital of Art in order to get out of the reach of important interviewers, lionizers, et al.

In other words he took a leaf from the book of the English Tennyson and intended to cultivate his talents in seclusion. There is all the difference of nationality, however, in the way the Englishman carried out his scheme of a cloistered life and the way the Frenchman did. At Cambo, if one ever got so far, there was always a welcome from Rostand who seemed, indeed, to be glad of an excuse to break his literary rule and become a delightful host. Americans who traveled thither were never turned away and often when they went to see Rostand as a mere passing traveler they ended by the poet's warm invitation by becoming for as long as they could stay the poet's guests.

Eccentric as the great French poet must have been, for everybody in Paris thus describes him, his eccentricity was purely Gallic. He wearied of his own society quickly and like a later Montaigne he went up to his ivory tower not to compose anything but himself--in slumber. A real French hermit is an inconceivable human and Rostand was not a hermit in any foreign sense.

He loved the sound of cities and only delicate health took him out of it. Because of his predilection for crowds, his dramatis personae became the longest in modern times. The very basse cour had to be a thickly settled domain to attract him. Thus he filled a scene with cock and hen, pheasant and all the denizens of the farm yard when he set about the play which in the opinion of his countrymen gives him the surest claim to immortality Chanticler.

The poet began his magnum opus shortly after he had arrived at Cambo and made the acquaintance of his feathered friends. But he was seven years writing it and re-writing it and long before it reached a public, many of the circumstances attending its composition and production had won for him the reputation which he did not justly merit, that of an unreasonable eccentric. By its unwritten history, if by nothing else, the piece won him fame and money. The very rumor of it blew for the author a glorious bubble of reputation.

Younger than Balzac when he died, Rostand in his life and habit of work seemed the antithesis of the famous novelist. Work killed the one and rest the other, unless the seeds of disease were in the poet as he always said and probably believed. Born in Marseilles, he displayed little of the meridional Frenchman in his career but indeed his career is without precedent in the literature of France. Almost from the beginning his talents were recognized and at twenty-nine when he produced Cyrano de Bergerac his fortune was made.

That play came as a reaction. Pieces in verse are not uncommon in France where they are accorded a respectful hearing but no reward, and the dramatists when Rostand began as an author were frankly matter of fact and mercenary. Who would have dreamed that a five act drama in verse with a hero whom only littérateurs remembered, composed by a writer literally unknown (except to a circle of high brows and Sarah Bernhardt) would shove him at the age of twenty-nine into the close circle of the Immortals? But Cyrano de Bergerac is more than a poetic arrangement of a drama. It is drama understandable and to be understood at once by the public. He had not written one or two failures, including La Samaritaine, without learning the playwright's trade. He had learned it thoroughly and meant to avoid by immense technique the pitfall of the study drama. Cyrano is delightful reading but it is meant for the stage.

Only a few years had passed since his first essay had failed at the Cluny. It must have been a complete failure for no enterprising manager in the encouragement of later triumphs has dared to put on Le Gant Rouge with a hope to score by these. Only a few years, as lives go, even in high literature, passed before the success of L'Aiglon dotted the "I" and crossed the "T" of Cyrano. Then came a long rest, a quiet study of barn yard life which produced Chanticler. The victory of the much-heralded piece surprised even Rostand idolaters; the French pronounce it the high mark of their intellectual history. It has never had an adequate representation in an English version although several excellent translations exist. Whether or not with an English speaking company comparable to that which Rostand himself demanded for his play in France, it would win from us the same applause as at home may be doubted. For Chanticler is a sort of French idiom, not to be easily acquired by other races.
WILLIS STEELL
20 Ways to Insult a Nose