Amenities of Book Collecting and Kindred Affections:1924 Atlantic Monthly Press or Boston, Little, Brown & Co, 1928 ~ 133 illos plus frontis ). 410 pages
Signed ERB 1921 - written page numbers read 19 pages 65 74 etc
A Magnificent Farce ~ 1921 ~ Atlantic Monthly Press ~ 267 pages ~ Chapters include "What is the Matter with the Bookshop?", "Walt Whitman", "Meditation on a Quarto Hamlet", "A Sane View of William Blake", and more.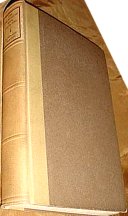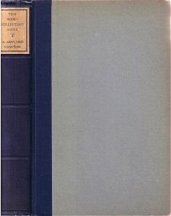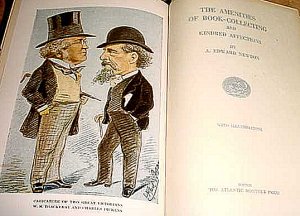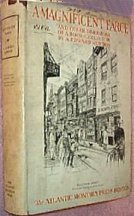 OTHER:
A Tourist In Spite Of Himself ~ 1930
The Greatest Book in the World, and Other Papers (author of The Amenities of Book-Collecting)
Derby Day and Other Adventures ~ 1934 ~ Boston: Little, Brown: A collection of essays on bookish & literary topic ~ 389 pages
.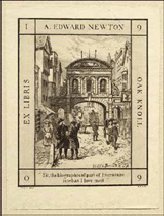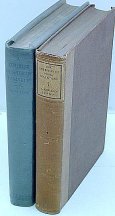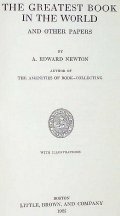 Newton's Views On Book Collecting:
"The buying of more books than one can read is nothing less than the soul reaching towards infinity, and this passion is the only thing that raises us above the beats that perish."
"Book collecting. It's a great game. Anybody with ordinary intelligence can play it: there are, indeed, people who think that it takes no brains at all; their opinion may be ignored. No great amount of money is required, unless one becomes very ambitious. It can be played at home or abroad, alone or in company. It can even be played by correspondence. Everyone playing it can make his own rules—and change them during the progress of the game. It is not considered cricket to do this in other games."
"Bibliographies are indeed not intended for average readers, be they gentle or simple. They are intended as tools for the scholar, weapons for the bookseller, and armor for the collector."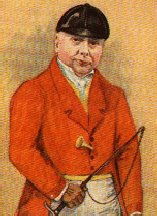 Alfred Edward Newton (1864-1940): Pennsylvania's ardent bibliophile and author Alfred Edward Newton was the leading authority on book collecting in the first half of the 20th century. Although Newton owned an electrical business in Philadelphia, he spent most of his adult life collecting first editions, manuscripts, and ephemera. At the time of his death, he had amassed over 10,000 volumes of material, and his collection was the highlight of the auction season. Newton penned his essays in an engaging and witty style, with contagious enthusiasm. Rather than writing as a stuffy unapproachable expert, Newton comes off as more of a genial companion to both the seasoned collector and budding neophyte. Once an academic remarked to Newton, "I am a scholar; to me a Photostat is as good as the original." Newton quickly responded, "Any man who would make a remark like that, would probably just as soon kiss a pretty girl through a piece of plate glass." Newton was decidedly the most read expert on collecting in his day, and perhaps since. The Amenities of Book Collecting and Kindred Affections, a classic of the books-on-books genre first published in 1918, is a charming collection of essays that set the tone for book collecting in the post-war era. In Derby Day and Other Adventures, Newton chronicles the activities of a book collector from Epsom Downs to Hearst Castle with copious references to the Bronte sisters, Benjamin Franklin, Henry E. Huntington, and Samuel Johnson. Greatest Book in the World and Other Papers offers more timeless essays on the world of books and book collecting. In End Papers: Literary Recreations, Newton offers diverse chapters like Forming a Library, Autographs, and Prolegomenon to a Bookseller's Catalogue, while offering assessments of authors like Charles Dickens, Anthony Trollope, Robert Louis Stevenson, and Laurence Sterne. This Book Collecting Game contains Newton's list of "One Hundred Good Novels," a decidedly unpretentious title. In addition to his books, he had numerous essays published in the Atlantic Monthly and the Saturday Evening Post.

Newton's books were widely read by businessmen -- of which AEN was a very successful one; most of the books communicate Newton's enthusiasm for English literature and for collecting books, especially association copies. They likely didn't help businessmen become better at business, but they did recruit lots of businessmen into being book collectors. I'd recommend starting with The Amenities of Book Collecting. When I was at Scotty's Castle in Death Valley some years ago, I took a close look at the books on the shelves. There was a copy of AEN's A Magnificent Farce; he was pretty popular in the 1920's and 1930's, especially among literary folks and educated businessmen. (Most of his essays were first published in Atlantic Monthly, which was THE educated person's magazine of the time.)


~ Correspondence from David Klappholz who is working on a Newton biography
.