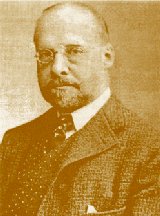 John Ames Mitchell: The Man Who Created Life
John Ames Mitchell was born in New York City on January 17, 1845. He died in Ridgefield, Connecticut on June 29, 1918 after a "stroke of apoplexy". His parents were Asa Mitchell and Harriet Ames. Both families had genealogies that could be traced proudly back through hundreds of years and many generations of distinguished achievers. At his death he was survived by his wife, Mary Mott Mitchell. He had displayed a gift for art at a very early age. He began his education at Phillip Exeter Academy and went on to further studies at Harvard Scientific School. There is no evidence that he graduated from Harvard. Records indicate he attended Harvard for only two years before launching himself into the study of architecture abroad. He then returned to the U.S.A. and worked as an architect in Boston for six years. Their he decided that perhaps architecture wasn't his calling and he returned to France. At th Atelier and the Ecole Des Beaux Arts he studied painting an etching. He felt this was more suited to his skills, having his worked during his architectural career as an illustrator of books. While in Paris he received an honorable mention for some of his etchings at the Paris Exposition.

Returning to the United States again he began to feel the need for more experts in the area of black and white drawing. This was one of the compelling forces that drove him to start LIFE MAGAZINE as a forum for art, humor and literature. Against the advice of friends he took his entire life savings, ten thousand dollars, and started publishing. His first issue hit the newsstands in January of 1883. He was going against the conventional wisdom of the day which told him that no respectable family would have a "joke" magazine in its home. That was something to be relegated to barber shops and low class persons. He overcame this stigma and eventually the magazine began to thrive. Mr. Mitchell resided for a time in Washington Square, in what is now the heart of New York City's Greenwich Village. This was his first of several homes in New York City. As his fortunes improved he would move to better houses in better neighborhoods. In fact he even purchased a vacation home in Ridgefield, Connecticut where he spent a great deal of his time.

These are the facts of Mr. Mitchell's life But they do not begin to tell the whole story of John Ames Mitchell. Perhaps one of the most important things to know about him was his extreme humanity. He went out of his way to help newcomers. Even when someone's work wasn't up to his standards his manner of rejecting them was unfailingly kind and encouraging. He was known to employ phrases such as, Do you think, Mr. , that this is the very best thing that you ever did?", or, "Really, Mr. that doesn't altogether steal my heart away." Beginning a rejection with such kindness generally inspired the young hopeful to go on to great heights. Another thing not generally known about him was his extreme love for children. He took a great interest in French orphans at the time of W.W.I. He also was inspired to create, con currently with Horace Greely of the New York Tribune, the Fresh Air Fund. This charity, which continues today, takes needy inner-city children and sends them on summer vacations in the country. One odd thing was his strong, almost violent opposition to the development and use of medicines, serums and vaccines for use in the treatment and prevention of disease. He was of the firm conviction that sanitation~best medicine, cure and preventative. This may have been due to his strong stance against the use of animals, especially dogs, which he loved, in research. He was a staunch anti-vivisectionist long before that became the well known cause it is today. Mitchell was a man with strong opinions and he was never shy about voicing them. As a result of his vociferous campaigning on different issues in almost every issue of the magazine, he, (and the magazine) were frequently at the center of lawsuits. Most of the time he emerged from these frays as the winner and this increased his popularity as a champion of causes that affected the whole of society.

In addition to his formidable skills as a painter, drawer, architect and editor he also published fourteen books. Some of these were fiction, some were collections of his essays and some were collections of drawings. In his novels, and to a large extent, his other books, the major criticism seems to have been that he was somewhat over sentimental and romantic. Even in his general attitude toward day-to-day living he was called childish and sentimental. Of course, no mortal is perfect. Mr. Mitchell was known to have a lot of his own prejudices and deeply held beliefs. These went hand-in-hand with his unabashed flag-waving patriotism. Careful reading of his works shows a complex man with many lofty ideas and admirable sensibilities. He was considered by virtually everyone who knew him to be a very kind, considerate man with a strong sense of justice and what was "right". An article such as this one can not hope to completely detail the life of such a remarkable man and there is no comprehensive biography about him. The material at our disposal comes from items such as newspaper stories, obituaries, A Catalogue of the Officers and Students at Phillips Exeter Academy, Harvard University files, The Oxford Companion to American Literature, A Reader's Encyclopedia of American Literature, The National Cyclopedia of American Biography and many other similar sources.