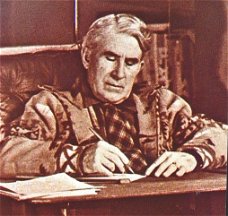 Zane Grey was a prolific American writer and pioneer of the Western as a new literary genre. Grey produced over sixty books, and almost as many have been published posthumously. In his works Grey presented the West as a moral battle ground, in which his characters are destroyed because of their unableness to change or redeemed through a final confrontation with their past. Grey's semioutlaw heroes were his most interesting creation, among them Lassiter in RIDERS OF THE PURPLE SAGE (1912), a gunman who has lost a girl he loved to a Mormon preacher, and Buck Duane, the agonized killer of LONE STAR RANGER (1915). Randolph Scott played a former outlaw in Fritz Lang's film Western Union (1941), based on Grey's novel. Grey's stories, set against the beautiful but harsh landscape of the West, have fascinated readers all over the world.

Zane Grey was born in Zanesville, Ohio. His father was a farmer and preacher, and mother a Quaker, of Danish background. Grey graduated from the University of Pennsylvania with a degree in dentistry in 1896, and practiced in New York City until 1904. During these years he started to write. Grey's first book, BETTY ZANE, was turned down by several published, and in 1904 Grey published it privately. The colorful frontier story was based on his ancestor's journal. After the book gained a critical success, Grey continued his family story in THE SPIRIT OF THE BORDER (1905). In his writing Grey was encouraged by his wife, Lina Elise Roth. They married in 1905. She supported his aspirations to become a professional writer. In 1908 Grey made a journey to the West with Colonel C.J. ('Buffalo') Jones, who told him tales of adventure on the plains. The trip was a turning point in Grey's career. He began writing Western novels in the tradition of Owen Wister and produced the first, THE LAST OF THE PLAINSMEN, in 1908. In 1912 the publishing company Harpers brought out Riders of the Purple Sage. It sold two million copies, was filmed three times, and became Grey's best-known western. Its formula, in which a tormented outlaw fights to protect the good and finds love, Grey used in many novels. Much of Grey's knowledge of the West was based on research or trips in the regions he wrote about. He also interviewed authentic residents of the Wild West. In 1918 Grey moved to California, and lived there for the rest of his life. He built a large, Spanish-style house in Altadena, and continued to produce the usual 100 000 words each month. While not writing, Grey fished in the South Seas, or hunter along the Rogue River in Oregon, or spent time on Catalina Island. According to some sources, he fished up to 300 days of the year. In TALES OF SWORDFISH AND TUNA (1927) he tells that he had exceptionally good luck in locating schools of large tuna. Grey died on October 23, 1939, in Altadena.

Grey's books dealt with settlers, cowboys, desperadoes, Indians, cattle drives, the advance of technology, family feuds, feuds between cattlemen and sheepherders, the bison hunting (The Thundering Herd), the defeat of the American Indian - all the aspects of West that later generations of writers and filmmakers utilized. Grey's style has been called antiquated, but it had much emotional power: THE ROARING U.P. TRAIL (1918) has been criticized for it melodramatic plot but acknowledged for its reliable historical description about the building of the transcontinental railroad. THE VANISHING AMERICAN (1925), Grey's own favorite work, recycled the idea of the noble savage familiar from The Last of the Mohicans. The social commentary on the treatment of American Indians on the reservation included also a love theme between a red man and a white woman. George B. Seitz's film The Vanishing American (1925) from Grey's novel was melodramatic but dramatized the progression of American Indian life, and their hopeless situation in a way that no film previously had attempted. In such short stories as 'The Great Slave,' 'Yaqui, and 'Tigre' Grey showed his knowledge of Indian tribes and their history and the peon system of Mexican plantations. In 'Tappan's Burro,' a story of a wandering gold prospector and his faithful burro, Grey masterfully described the beauty of desert plains, barren mountain country, and forest land. Grey sold 17 million copies during his life time. His non-fiction includes several tales of fishing. Grey left a number of manuscripts for novels, of which several has been published, among others THE REEF GIRL in 1977. Hollywood have used his books eagerly, according to one estimation 100 Western films have been based on Grey's stories. In the 1930s lowbudget Zane Grey films were highly popular and profitable for Paramount. Grey also wrote two screenplays, THE VANISHING PIONEER and RANGLE RIVER. Paramount had used the Zane Grey name as a draw since the silent era. Although Grey stories were low-budgeted, they were not meant only for juveniles. In the early phase of his career director, Henry Hathaway leant on Grey's stories and the actor Randolph Scott in several films. By 1935 they both were on their way to bigger productions. In Heritage of the Desert (1932) was in his fist starring role. Wild Horse Mesa (1932) was a tale of wild horse taming.Scott stops Fred Kohler who uses barbed wire to catch wild stallions. Under the Tonto Rim (1933) depicted a slow-witted cowboy who wins his manhood and the boss's daughter. In the romantic Western Man of the Forest (1933) Scott's pet lion helps him to escape from jail. To the Last Man (1933) was a story of a family feud healed by young love. Scott was austere and Shirley Temple made her debut. There is also a 'tastefully photographed' nude swimming sequence. The Thundering Herd (1933) was one of the best of Paramount's Zane Grey quickies. The story dealt with buffalo hunters and marauding Indians. Footage from William K. Howard's film from 1925 was used in the scene of the stampede of wagons across a frozen lake. The Last Round-Up (1934) starring Randolph Scott, was based on Zane Gray's novel THE BORDER LEGION. It told a story about a gang of rustlers and their boss who sacrifices his life for two young lovers. Stock footage from the silent version and Border Legion (1930) were used in the film. Fritz Lang's Western Union (1941) was beautifully photographed by Edward Cronjager.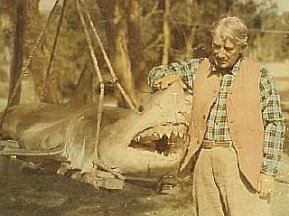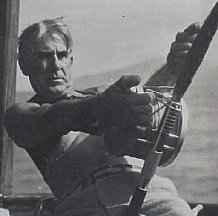 See the Hillman Zane Grey Tribute Pages