Charles Wellington Furlong Lt. Colonel M.I.R.C.
Famous adventurer, world traveller, author, artist, photographer of Americana and of the West
BIOGRAPHY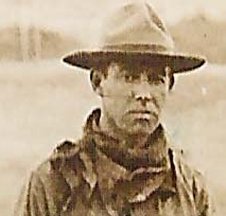 Charles Wellington Furlong was the first American and the second white man to explore the interior of Tierra del Fuego. In 1907-08, when Furlong made his first expedition in Patagonia and Tierra del Fuego, he lived among the primitive tribes of Onas and Yahgans, the southernmost people of the world. These tribes have long since disintegrated and the Indians are now almost extinct; but Furlong observed much of their way of life, and in this collection he has left a record that can be found nowhere else. Material here about the Fuegian tribes includes phonograph records of speech and song, dermatoglyphs (handprints and footprints), notes, published works, correspondence, and hundreds of photographs, including negatives and lantern slides, which describe in detail the Indians and their society. The artifacts he collected can be found in many American museums.

The books that were an important part of Furlong's collection are now to be found both in the Stefansson Collection and the general collection of the college. Noteworthy are Thomas Bridges's Yamana-English Dictionary, a proof copy of E. Lucas Bridges's Uttermost Part of the Earth, and an almost complete collection of the South American Missionary Magazine. From the latter, Furlong extracted a thousand cards of notes, which are arranged by subject and are included here.

Furlong returned to South America several times, and this collection includes material about the Tehuelches of Patagonia, hunting treasure in Bolivia, the penal colony in French Guiana, and expeditions in Surinam and Venezuela, as well as photographs and notes from his travels in other South American countries. There are also a few photographs and papers from his explorations in Africa, which he first visited in 1904, and the Near East, where in 1954 he was honored by the Turkish government for long service in that area.

In addition to being an explorer and anthropologist, Furlong was a painter, teacher, writer, lecturer, and soldier. Although most of the papers relating to his personal life and writing are held by the University of Oregon, and most of those about his career as a soldier and diplomatic aide are in the Hoover Institution at Stanford University, there are some papers in this collection relating to almost every aspect of his life and careers. One of his interests, represented here by correspondence, notes, and publications, is the controversy over whether Frederick A. Cook or Robert E. Peary reached the North Pole. Furlong believed that Cook tried to take credit for the work done by Thomas Bridges in compiling his Yahgan-English dictionary, which Cook, returning from the Antarctic, carried to Europe. Consequently, Furlong was always a strong supporter of Peary's claim, and some interesting correspondence resulted.

Furlong and Vilhjalmur Stefansson began a long friendship in 1908, when they both became members of the Explorers Club. Stefansson was, of course, interested in Furlong's work in the Sub-Antarctic, and in 1960 the Fuegian collection became a part of the Stefansson Collection in the Dartmouth College Library through the gift of William E. Clark. Clark's support also allowed Furlong to devote his time to arranging and annotating his photographs, and in 1962 Furlong was appointed Consultant to the Stefansson Collection. This collection of Furlong's papers, not including the books, occupies forty-eight boxes, about forty linear feet. There are no restrictions on its use.
From The Papers of Charles Wellington Furlong in the Dartmouth College Library

BIO CHRONOLOGY
1874 Born December 13, in Cambridge, Massachusetts, the son of Atherton Bernard and Carletta Eleanor (Wellington) Furlong.
1895 Graduated from Massachusetts Normal Art School.
1896-1904 Instructor in drawing and painting at Cornell University.
1899 Married Eva C. Earl.
1904 Explored in North Africa; discovered the wreck of the U.S. frigate Philadelphia in Tripoli Harbor.
1907-1908 Explored in Patagonia and Tierra del Fuego.
1909 Gateway to the Sahara published.
1910-1911 Traveled extensively in South America, exploring in French Guiana, Surinam, and Venezuela.
1915 War correspondent in North Africa, after having sailed a schooner across the Atlantic from the United States to Africa.
1917-1919 Served in U.S. Army as intelligence officer and was an aide to President Wilson during the Paris Peace Conference.
1921 Let `Er Buck published.
1923-1924 Attended Army War College.
1925-1926 Served with Tacna-Arica Plebiscitary Commission settling boundary dispute between Peru and Chile.
1926 Hunted treasure in Sacambaya River area of Bolivia.
1929 Promoted to Colonel, U.S. Army Reserve.
1930 Explored East and Central Africa, recovering relics of Sir Henry M. Stanley.
1933 Married Edith Virginia Calista Spinney.
1943 Served in the Military Intelligence Division of the War Department as consultant on the Middle East.
1960 Furlong Collection acquired by the Stefansson Collection, Dartmouth College Library.
1962 Appointed Consultant to the Stefansson Collection.
1967 Died, October 9, in Hanover, New Hampshire.