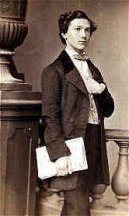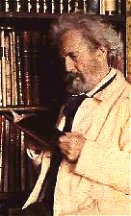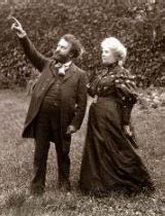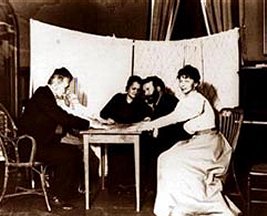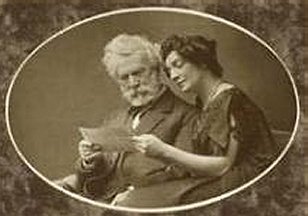 Nicolas Camille Flammarion (February 26, 1842 - June 3, 1925): was born in 1842 at Montigny-le-Roi in the department of Haute Marne, France. He first studied theology, but early got interested in astronomy. At age 16, in 1858, he wrote a 500-page manuscript, Cosmologie Universelle, and became an assistent of LeVerrier (the man whose calculations had led to the discovery of Neptune) at Paris Observatory. From 1862 to 1867, he temporarily worked at the Bureau of Longitudes, then returning to the Observatory where he got involved in the program of double star observing. This project resulted in publishing a catalog of 10,000 double stars in 1878.

Besides, Flammarion observed the Moon and planet Mars. In 1873 and 1885, he brought up the hypothesis that Mars' color might be attributed to vegetation. He published several popular books (L'astronomie Populaire in 1879, of which over 100,000 copies were sold and an English translation by J.E. Gore appeared in 1894, as well as a book on Mars, La Planète Mars, supporting the existence of "canals", built by an advanced civilisation, Vol. 1 in 1892 and Vol. 2 in 1909), and encouraged amateur astronomy. In 1877, Flammarion founded the Astronomical Society of France. In 1882, he was donated a private observatory and estate by a M. Meret who admired his work. In 1922, he was made a Commander of the Legion of Honor for his astronomical life-work. Camille Flammarion passed away on June 3, 1925 in Juvisy-sur-Orge (Essonne, France).

Flammarion was honored by the naming of a Moon Crater (3.4S, 3.7W, 74.0 km diameter, in 1935) and a Mars Crater (25.4N, 311.8W, 173.0 km, in 1973). Asteroid (1021) Flammario has been discovered by Max Wolf on March 11, 1924 and provisionally known as 1924 RG; also as A910 CE and 1977 UM from indepnedent findings. In 1877, Camille Flammarion had found and acquired Messier's personal copy and notes of the Messier Catalog from an old book store. He used this as reference for various works including a revised version of the catalog. Evaluating Messier's handwritten notes, he tentatively identified M102 with NGC 5866 before 1917, and in 1921, he added M104 to the Messier Catalog, which he identified with William Herschel's H I.43 or NGC 4594. This was the first of a number of additions to Messier's catalog.

Camille Flammarion, despite is scientific background as an astronomer, once stated "spiritualism was not a religion but a science", but in his last book 'Natural Unknown Forces', published in 1909, he admitted not to be able to give a complete and conclusive explanation of the phenomena observed by him for more than 40 years.

A DETAILED CHRONOLOGY
Public attention was first drawn to the Martian canals, mainly through the efforts of Schiaparelli and the French astronomer Camille Flammarion. However Percival Lowell kept the canals in the public's attention. Lowell was born into a wealthy Massachusetts family and was well educated (he graduated from Harvard). While he was aware of current astronomical theories, he seemed more interested in other matters (which included travels to Japan). He owned a small telescope, but there is no evidence he did any serious observing with it. However, Lowell was well connected; among his numerous acquaintances was the Harvard astronomer, W. H. Pickering. Lowell and Pickering corresponded with each other on the subject of Mars.
1893: Lowell was given one of Flammarion's books as a Christmas present. This book discussed what was known about Mars, including the canals and Flammarion's own ideas, in particular the suggestion that the canals might be signs of intelligent life. Lowell read the book and became obsessed with Mars.
1894: Only someone with Lowell's wealth and connections would take this obsession to the next step. Lowell decided to build an observatory he could use to study the red planet. He did not take the easy approach and build an observatory near his home in Boston; rather he considered many possible locations in an attempt to find the best seeing conditions. Seeing is a term used by astronomers; good seeing means there is little or no turbulence in the atmosphere. Even though he wasn't the first to understand the importance of good seeing, it wasn't widely understood at the time and Lowell made a large number of people aware of it. Lowell convinced Pickering to join him in a trip to Arizona to scout out possible locations. Pickering brought his assistant, Andrew Douglass and eventually the three of them set up an observatory near Flagstaff and conducted systematic observations of the red planet. These observations gave Lowell a well-deserved reputation as one of the best planetary observers. Pickering left the observatory after a couple years, but Douglass stayed until he was fired in 1901. That is when Douglass started doubting Lowell's canal observations. To fill the positions Lowell hired Vesto M Slipher, Carl Lampland and Vesto Slipher's brother Earl C Slipher as assistants.
In 1902 Lowell was appointed to the Massachusetts Institute of Technology as a non-resident astronomer. He could have just continued with his observations and be remembered as a skilled astronomer. However Lowell was not content to just observe. He had numerous theories, some of which involved canals and the intelligent creatures that supposedly built them. These theories were internally consistent and very ellaborate.
1906: Lowell publishes a book "Mars and its Canals." This book was widely read by the general public and goes into detail on Lowell's ideas on the canals. He claims the canals were built by Martians for the purpose of transporting water from the poles to the dry Martian plains.
1907: Alfred Russel Wallace (a well known biologist) responded with a book of his own in which he argued that Mars is completely uninhabitable. Wallace used measurements of the light coming from Mars and argued that Mars has a surface temperature of minus 35 degrees Farenheit. Lowell's claim that there was liquid water must be wrong. He also concluded that the polar caps consisted of frozen carbon dioxide not water ice as Lowell and many others had assumed.
1909: The available observations did not always support Lowell's ideas. There was growing doubt about the existence of the canals themselves, not to mention the rest of Lowell's ideas. When he encountered skepticism, Lowell became dogmatic and found new audiences for his ideas by giving public lectures, writing books and writing articles in popular magazines. Lowell became an outcast in the scientific community. However he had support from a few scientists. In particular, Flammarion was always sympathetic to Lowell and his ideas. He has become well known and respected by the general public. Lowell's activities discouraged many scientists, particularly in the United States, from studying Mars as it no longer seemed a "serious" subject worthy of scientific pursuit. However in Lowell's defense, some have argued that he deserves credit for developing modern planetology, a word Lowell invented. He originated the notion that the Martian climate has changed over time, a notion we now believe to be correct. He insisted that any theory of planetary evolution needed to account for changes in all the planets not just the planet a scientist happened to be studying. And he was the first to suggest that Mars is the best location to test theories of climate change. This might help scientists studying changing in the Earth's climate. In some respects Lowell was almost a hundred years ahead of his time. On the other hand, his ideas on possible Martian biology seem antiquated to the modern observer.

The canal controversy would not be completely resolved until spacecraft arrived at Mars. In the 1960's most scientists thought there were no canals on Mars, however there were a few exceptions, such as Earl Slipher. He wrote several books, some of which contained photographs. Slipher claimed these photographs had lines in the same place as the canals of Percival Lowell. One of these books was published as late as 1964. That same year, after a few U. S. and soviet failures, a U. S. spacecraft, Mariner 4, is the first to flyby Mars. In 1969, Neil Armstrong walks on the Moon. Some consider that a manned mission to Mars is the next step. However there are problems with the idea. A round trip would take two years. Enough fuel and water must be carried on board so the astronauts could survive and return to earth. The weight of that fuel and water adds to the expense. A one way manned trip to Mars (assuming one could find anyone to volunteer for such a thing) seemed manageable, but a round trip seemed too expensive and too difficult. To date, it has never been attempted, but the idea has been tempting and there are plans to send people to Mars (it remains to be seen if and when theseplans will succeed).

Since Mariner 4, the U. S. has sent several spacecraft which either flyby or orbit Mars: Mariner 6, 7 and 9, Viking 1 and 2, Pathfinder, the Mars Global Surveyor (MGS) and Odyssey. Odyssey was launched in April 2001 and entered orbit around the red planet in October 2001. These spacecraft along with several soviet spacecraft have returned thousands of photographs and a vast quantity of other data. In addition, a dozen or so meteorites are known to have originated on Mars. Analysis of these meteorites has supplied additional data.

We now have a very different picture of Mars. Some parts of Mars have numerous craters suggestive of Mercury and the Moon, but other parts of Mars have plains, volcanoes, canyons and river channels. The volcanoes and canyons are bigger than any other known examples, however there is a vague similarity between some of these features and similar features on the Earth. There was no evidence of canals or liquid water. However data prove Mars was warmer and had abundant liquid water in its early history. Today there is still water, but almost all is in the form of ice in the polar caps and below the surface (some locations on Mars may experience temperatures above the melting point of water, hence transient pools of liquid water are possible). There is also the possibility Mars may have had tectonic plates like the Earth does now (if so, they were active for only a 500 million years or so).

We now know that the atmosphere has a pressure that varies between 5 and 10 millibars (much lower than anyone had suspected until Mariner 4 made radar occultation measurements). It is almost entirely carbon dioxide, but contains some water vapor and other trace gases. The polar caps are partly water ice and partly frozen carbon dioxide, but there are differences between the northern and southern polar caps, as there is between a polar cap seen in the Martian winter and a polar cap seen in the Martian summer.

Since the canals are not real, why were Schiaparelli, Flammarion and Lowell (among others) so convinced they were real? There are some clues. First, Schiaparelli was colorblind and this may explain why he saw details others did not. Once Schiaparelli's results were known, the power of suggestion may have influenced other observers. Also, records suggest most observations of canals happened under poor seeing conditions or when small apertures were used. The canals disappeared under better conditions and larger apertures. Lowell preferred to reduce the aperture of his scope (which made observing the canals easier), but many of his critics used larger apertures.

There also have been a few tantalizing clues suggestive of life, but to date no proof that Mars has or ever had life. The most publicized of these clues was a meteorite that was given the designation ALH84001. ALH84001 is one of the dozen or so meteorites known to come from Mars and had what looked like fossils. Some scientists believe these fossils come from ancient Martian bacteria, however other scientists are not convinced. I should note that Viking photographs in the region known as Cydonia look like a human face, but MGS photographs of the same region look like a pile of rocks. A few non-scientists claim this is a structure built by Martians, however that is unlikely.

There is currently a spacecraft enroute to Mars; it was launched by Japan in 1998. There were some technical problems, but it is expected to arrive at Mars in late 2003.

Anyone with a telescope can attempt to observe Mars themselves. The best time to observe Mars is the couple months before and after opposition (the next opposition is in the year 2003). The rest of the time, it is difficult to see any detail. Every 15 years there is an exceptionally good opposition; the last one was in 1988, the next one is in 2003.

Observing Mars takes practice. Details become clear after a little acclimation. If the seeing is bad, you will not observe as much detail as when the seeing is good so patience is important. You should try to observe Mars as often as possible during the opposition, this will allow you to track changes in surface and atmospheric features. When you observe Mars, you may want to try sketching; this will train your eye to observe detail. Generally the polar caps are the easiest features to see, however you should see the maria and deserts as well. If you observe over long periods and are patient, you may see clouds, dust storms and various atmospheric phenomena. You may also notice changes in the polar caps and the maria.

If you have a good telescope and sharp eyes it may be possible to see the two moons, Phobos and Deimos. At best they have magnitudes 11 and 12, and are rather close to the bright red Mars.

Observers have seen various types of clouds on Mars. They are known by the labels blue, white, yellow and W-shaped. These labels can be misleading. Yellow clouds look yellow to the eye, however blue clouds do not necessarily look blue, white clouds do not necessarily look white and W-shaped clouds are not always W shaped. Yellow clouds are composed of dust and sometimes grow to cover much of the Martian surface, when this happens it is known as a dust storm.

Having the correct equipment will help your observations. If you wish to observe surface details, a dark yellow, red and/or orange filter is helpful. Violet and blue filters are helpful if you want to observe clouds and other atmospheric phenomena (but not yellow clouds or dust storms). Green filters are helpful for observing the polar caps and other white areas, yellow clouds and dust storms. If you have made either Jupiter or Saturn observations, you may want eyepieces that provide slightly more magnification than the eyepieces you used for Jupiter and Saturn.

One phenomenon worth mentioning is the violet clearing. When Mars is observed through a blue or violet filter, it usually appears as a featureless blob (but clouds can sometimes be observed). However on occasion (usually only once every few years) details on the surface appear. This lasts a few days; such events are known as violet clearings. It has been suggested this demonstrates a poorly understood change in the Martian atmosphere, but the best evidence suggests it has nothing to do with the atmosphere at all and is probably an optical illusion.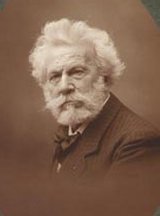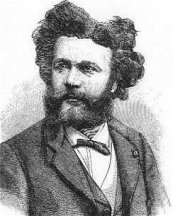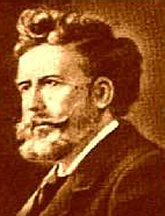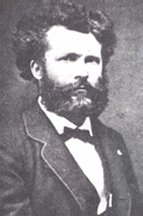 Go to the Flammarion Gallery:
The Man and His Work
ERBzine 3197a
---
Web Resources::
Flammarion: A French Site
Yahoo! Encyclopedia
An Observational History of Mars
New Astronomy
Flammarionmooncrater