The Golden Cocoon 1924 AL Burt (1st Harper & Brothers 1924)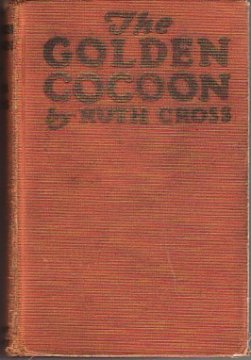 "Full of thrilling scenes and romance. The highs and lows, poverty and plenty and the hights and depths of human emotion" "The Golden Cocoon paints a grim picture of life in the cottonfields and an even grimmer one of the faculty at the University of Texas, "a backwash of incompetents whom life had rejected."
---
This routine Warner Brothers melodrama was based on the novel by Ruth Cross. Country girl Molly Shannon (Helene Chadwick) wins a college scholarship which was offered by Judge Gregory Cochran (Huntley Gordon). While attending the school, she falls in love with one of the professors, Renfro (Richard Tucker), but on the eve of their wedding, he deserts her. She wanders miserably through the night until she passes out in front of a notorious road house. Before she is taken in, she is seen by Bancroft (Frank Campeau), a politician. Molly's ordeal comes back to haunt her much later, after she and Cochran marry. Bancroft wants to use Molly's presence at the road house to stop Cochran from running for office. To save her husband, Molly disappears and pretends to have committed suicide. Just before the election, Renfro shows up and finds Molly. He is shot in a struggle -- but before he dies, he insists that Molly is completely innocent of any wrongdoing. Cochran's career is saved and he and Molly are reunited. ~ All Movie Guide
Mattie Ruth Cross (1887-1981), novelist, the oldest of four children of Dr. Walter D. and Willie Alta (Cole) Cross, was born in Sylvan, Texas, on December 25, 1887. After moving around the South while her father, a former high school principal, finished his medical education, Ruth returned with her family to Sylvan, in rural Lamar County, where she attended local schools. Strongly influenced by her mother, a music teacher versed in Greek and Latin, Ruth excelled in her studies and graduated Phi Beta Kappa from the University of Texas. She had enrolled in college in 1904 and worked her way through by teaching in small Texas and Oklahoma towns. When an eye malady impaired Ruth's vision, her mother traveled to Austin to assist with her coursework. After her mother died, Ruth depended upon friends to read and take notes for her. She was awarded a B.A. in creative writing in 1911 and then taught in Longview, emphasizing oral work in her Latin and German classes in order to spare her eyes. Writing fiction, however, remained her first ambition. After studying for a summer at the University of Chicago, she subsidized her creative efforts with stints as a housekeeper, travel companion, interior decorator, and real-estate broker in New York, Nevada, and California. Undeterred by almost a decade of rejection, she began selling her "cotton field" tales to Holland's magazine. Her literary career then bloomed quickly. In 1922 Louis B. Mayer based a movie on her short story "A Question of Honor." Two years later Harper published her first novel, The Golden Cocoon, which was greeted by favorable reviews and printed in five editions. After paying Cross $25,000 for the movie rights, Warner Brothers in 1925 filmed this saga of a farm girl from the Black Hills who survives heartbreak as the governor's mistress and then leaves her glamorous life in Austin to struggle as a writer in New York City. Flushed with the additional success of a one-act play on the Keith vaudeville circuit, Ruth Cross in 1924 married George W. Palmer, a horticulturist and financier. Together they bought and renovated Edendale, a forty-acre farm estate outside Winsted, Connecticut, home to fellow Texas writers Dorothy Scarborough,qv Annie Laurie Williams, and Maurice Crain. Over the next two decades, Cross published five novels: The Unknown Goddess (1926), Enchantment (1930), The Big Road (1931), Soldier of Good Fortune (1936), and Back Door to Happiness (1937). She also wrote two works of nonfiction, Eden on a Country Hill (1938) and Wake Up and Garden (1942), and numerous stories and articles for magazines. Always enthusiastic about her fruits and flowers, she contributed to Heinz's "Magazine of the Air" on WABC radio and broadcast an original program called "Your Garden and Home." Just before her husband's death in 1947, Cross sold Edendale. She lived for a few years in New York City and then moved to Winnfield, Louisiana, her mother's hometown, to be near the families of her sister and brother. In 1975 she donated her papers to Northwestern State University at Natchitoches, which a year later published her final book, The Beautiful and the Doomed. Although her first novel established Cross as a writer of note, her subsequent books did not live up to its promise. Drawing on memories of her childhood, she set many of her tales in "Law's Chapel," a fictional counterpart of Sylvan, and critics commended her realism and local color in both The Golden Cocoon and The Big Road. When her characters left Texas for Broadway and the big cities, however, her "riotous imagination" tinged the plot with melodrama in such books as Enchantment. But even when Cross was out of the critical eye, she continued to write; at the age of eighty-eight she was planning a novel about her psychic experiences. She died in Winnfield on September 30, 1981.