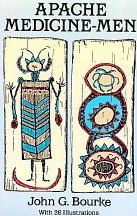 Apache Medicine-Men Washington. Extracted from 9th Annual Report of the Bureau of Ethnology for 1887-88. GPO. 1892 ~445-603 pages. Illustrations and six full colored lithographs of various magical artifacts of the Apache.

Classic of 19th-century anthropology covers role of medicine-men in treating disease, superstitions, paraphernalia, medicine-women, the use of tule pollen as sacrificial powder, clay-eating, sacred breads and cakes, the izze-kloth or medicine cord, medicine hat, spirit or ghost dance headdress, amulets and talismans, more.
Also analogous objects, rites, ceremonies in other cultures.
eText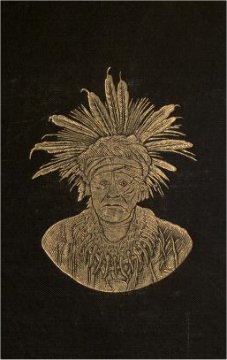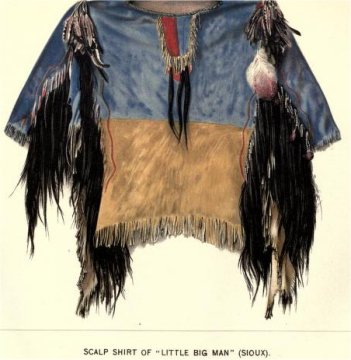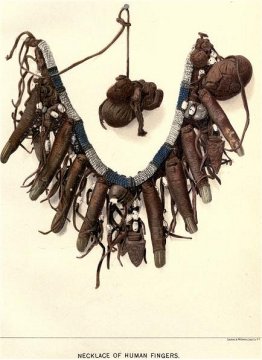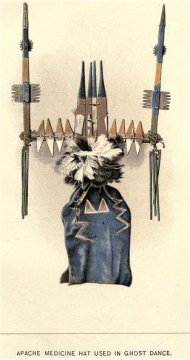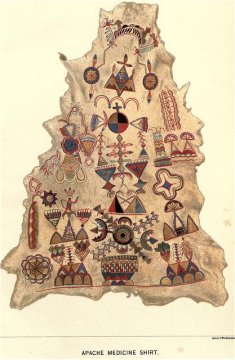 ---
OTHER:
On the Border With Crook ~ 1891 ~ New York, C. Scribner's sons ~ reprinted by Univ of Nebraska Pr (June 1971)
From 1870 until 1886 Captain John O. Bourke served on the staff of General George Crook, who Sherman described as the greatest Indian fighter the army ever had, a man whose prowess was demon-strated "from British America to Mexico, from the Missouri River to the Pacific Ocean." But On the Border with Crook is far more than a first-hand account of Crook's campaigns during the Plains Indian wars and in the Southwest. Alert, curious, and perceptive, Bourke brings to life the whole frontier scene. In crisp descriptions and telling anecdotes he recreates the events and landscapes through which he moved; he sketches sharp action-pictures not only of Crook and his fellow cavalrymen but also of such great leaders as Sitting Bull, Crazy Horse, and Geronimo. Perhaps most important, Bourke shows us how General Crook was able to achieve his most remarkable victory—how this man of war won and deserved the trust of the tribes he had subjugated.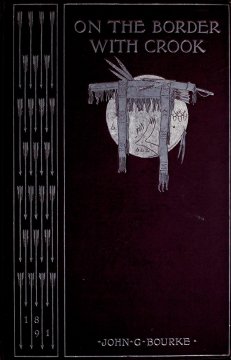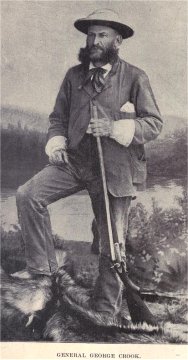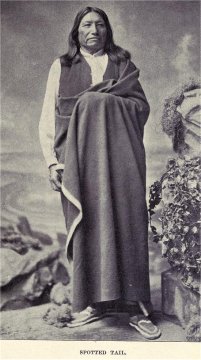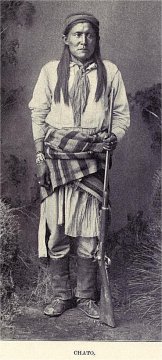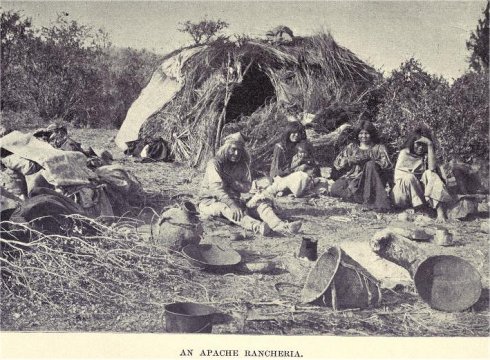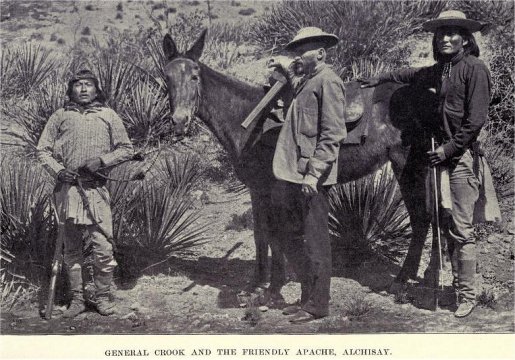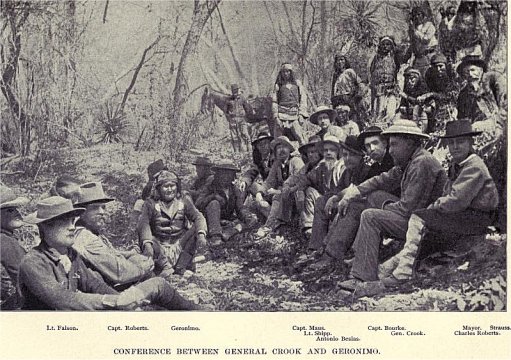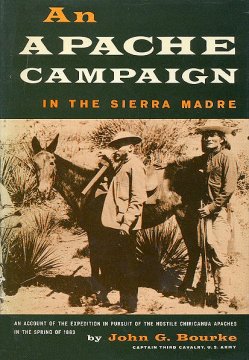 An Apache Campaign | Archive Edition (1886) New York, C. Scribner's sons
This short but fascinating chronicle written by an eye-witness and participant, tells the story of the United States Army's 1883 campaign against the Apache Indians in the Sierra Madre. Out-of-print and virtually unprocurable for many years, it unites in its pages three famous
figures in Western history Geronimo, the Apache; General George Crook, the greatest of our Indian-fighting soldiers; and John Gregory Bourke, one of the most sympathetic and best-informed writers on American Indian ethnology.
---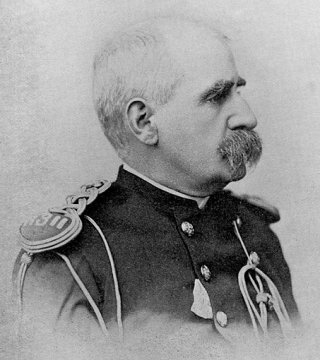 John Bourke writes of General George Crook, a legendary Indian fighter in post-Civil War Arizona, Wyoming, and Montanna. Bourke, who for most of the time was Crook's aide-de-camp, is an unabashed admirer of the General, but the book goes far beyond flattery and sycophancy. Bourke makes the reader admire Crook as much as he himself does, for Crook truly did possess unmatched stamina, experience, attention to detail and equal measures of sympathy for the Indians he was fighting and ruthlessness in his ambition to drive them onto the reservations. Bourke too admires the Indians, especially the Apaches. In fact, one of the book's high points is its almost anthropological descriptions of Apache life, the Arizona landscape, life in the frontier Army, and the social milieu of old Tuscon. The descriptions of Crook's campaigns against the Sioux and Cheyenne flag just a little, but only in comparison to Bourke's own rapturous discussions of life in the Southwest. The book that this compares best to is Eugene Ware's "The Indian War of 1864" (which I've also reviewed for Amazon). Ware, like Bourke, was a serving Army officer with a keen, sympathetic eye for all he saw in the old West. Both were involved in more hair-raising episodes than a dozen Hollywood action heroes combined. I too am a serving Army officer, and I can testify that none of my peers today has seen as much or writes so well.

The concept of Manifest Destiny took root during the Mexican American War, and assumed grander proportions following the Civil War. Gen. Crook had been a calvery officer whose services proved to be of considerable value, as much for his ability as for his compassion for the Indians. His job was to protect the settlers and subdue the Indians by locating them on reservations. The author was with Crook during his first and second Southwest campaigns as well as that of the Northern Plains. His love for his commander and appreciation of the Indians made him the perfect writer for the topic. Gen. Crook seems the ideal officer for the job, but was defeated, not by the Indians but Agents assigned, after the army had done its work, to reservations by Washington. The book is a wonderful description of the duty performed by Gen. Crook who, had his system been utilized, would have led to a better life for all. In the end, Bourke feels, Crook died of a broken heart. Important history, and a story too beautifully told to miss.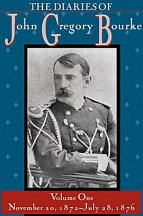 The Snake Dance of the Moquis of Arizona: Being a Narrative of a Journey from Santa Fe, New Mexico, to the Villages of the Moqui Indians of Arizona ~ reprinted by Kessinger Publishing (August 2003)
1884. The author has endeavored to present a truthful description of religious rites of the Moqui, the very existence of which is known to but a few of our people, and a narrative of incidents which may serve to entertain and amuse, if they do not instruct, those into whose hands this book may fall. The Moqui Indians inhabit seven different villages, situated a few leagues apart. In treating them all, it was impossible to avoid a seeming repetition of description, where the same apparel, food, arms and ceremonies were to be explained. This work is a narrative of a journey from Santa Fe, New Mexico, to the villages of the Moqui Indians of Arizona. Illustrated.
The Diaries of John Gregory Bourke: November 20, 1872, to July 28, 1876 ~ reprinted by University of North Texas Press (March 2003)
Wikipedia Entry
---
Courtesy of the United States Army:
Arlington Cemetery

John Gregory Bourke was first of all a soldier. At the age of sixteen (1862) he ran away from his comfortable, book-filled, Philadelphia home to enlist in the 15th Pennsylvania Cavalry. As a Private, he saw three years of Civil War action, receiving the Medal of Honor for his gallantry in action at Stone River, Tennessee.

Soon after mustering out in 1865, he received an appointment to West Point. He graduated in 1869, eleventh in a class of thirty-nine and received his Second Lieutenant's commission in his lifelong regiment, the 3d United States Cavalry. But for many years he served as aide de camp to the most thoughtful of Indian fighters — Brigadier General George Crook. Bourke began his relationship with his "great chief" in 1871, shortly after Crook arrived in Arizona. It was an assignment to his liking as it kept him in the field for almost thirteen years and at the center of the action against the Apaches of the Southwest and the tribes of the great plains.

In these campaigns he acted as both adjutant and engineering officer. It was not for his soldiering, but his scholarship, powers of observation, imagination, writing ability and an easy Irish humor that kept him alive in the consciousness of succeeding generations. During his career he was given time off from his field duties to live among and study the Indians of Arizona. A language scholar from the age of eight (Latin, Greek, and Gaelic), he added the Apache tongue to his inquiries.

In the last ten years of his life (1886-96), he wrote prolifically and added prominently to the inventory of our knowledge of native Americans. He was an anthropologist of the first order. Bourke has a certain spiritual kinship with present day military historians and museologists because he was a contemporary historian, recording his military experiences with insight and care, and because his interest in museums extended to a honeymoon tour of European museums in the early 1880s. He also is an inheritor of the tradition of the soldier-scholars who passed before him on the immense stage of the American West, men like Emory, Sitgreaves, Whipple and Parke who recorded their impressions and cataloged scientific data. An Apache Campaign (1886) and On the Border With Crook (1891) are fascinating accounts of military life on then an exotic and hard frontier. They are made all the more prominent by Bourke's sensibilities, his ear for dialogue and an imaginative literary style. The American Southwest and the American Army of the 1880s was a place of character and characters and John Bourke understood both. His sketches are always human and unfailingly capture the humor of the author and his contemporaries.

In 1888 two important players in the Geronimo campaign were both competing for the same job in the Inspector General's department. The position meant a promotion to Major. In September President Cleveland chose Henry W. Lawton to fill the assistant Inspector General post. Passed over was John Bourke who expressed some bitterness about not getting the job and promotion. Because he felt that many deserving officers had been overlooked, in 1894 Bourke turned down a retroactive brevet promotion to Major for his service in the Southwest.

Just two weeks before his fiftieth birthday, on 8 June 1896, Bourke died from an aneurysm of the aorta.
---

He served with the 15th Regiment of Pennsylvania Volunteer Cavalry during the Civil War, 1862-65. He then served with the 3rd United States Cavalry in the Southwest, 1869-96, and made intensive studies of Indian life while on military duty. He was awarded the Medal of Honor in connection with services during the Civil War. He wrote: "On The Border With Crook,"; "General Crook In Indian Country,"; "An Apache Campaign in the Sierre Madre." He died on June 8, 1896 and was buried in Section 1 of Arlington National Cemetery. His wife, Mary Bourke (1861-1927), is buried with him.

---
BOURKE, JOHN G
CAPT 3RD US CAV
VETERAN SERVICE DATES: Unknown
DATE OF DEATH: 06/08/1896
DATE OF INTERMENT: Unknown
BURIED AT: SECTION W SID SITE LOT 32 A
ARLINGTON NATIONAL CEMETERY
BOURKE, MARY
DATE OF DEATH: 04/01/1927
DATE OF INTERMENT: 04/01/1927
BURIED AT: SECTION 1 SITE 32-A-ES
ARLINGTON NATIONAL CEMETERY
WIFE OF JG BOURKE - 3RD U. S. CAVALRY
---
BOURKE, JOHN G.
Rank and organization: Private, Company E, 15th Pennsylvania Cavalry.
Place and date: At Stone River, Tennessee, 31 December 1862-1 January 1863.
Entered service at: Chicago, Illinois. Birth: Philadelphia, Pennsylvania.
Date of issue: 16 November 1887.
Citation: Gallantry in action.
Edgar Rice Burroughs Comments On The War Chief
Danton Burroughs found the following note with the manuscript for The War Chief:
"I have gone over the 'copy' carefully and have indicated a number of phrases, sentences and paragraphs deleted by them, which I wish to have retained.
The preparation of the manuscript required considerable research work and as it is necessary for the reader to be able to understand the viewpoint of the Indian, if he is to be in sympathy with the principal character, it is essential that much of the matter deleted should remain even though it draws comparisons that may be odious to some people of our own race and sometimes shocking to people whose religious convictions are particularly strong.
I should also call your attention to an Indian name and an Indian word concerning which the magazine editor and I seem not to agree.
The name is that of a famous Apache Chief, Mangas Colorado, variously spelled Mangus and Magnus. From a very old book I obtained the suggestion of the derivation of this name, which in Spanish means colored sleeves. The author supposed that the name may have been given to him by the Mexicans, either because of the garment he wore with colored sleeves or from the fact that his sleeves or arms were stained with the blood of his victims.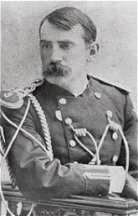 The other word to which I refer is Izzo-Kolth, which the magazine editor insisted on changing to Izze-Colth. My authority for this spelling is an article by John G. Bourke, THE MEDICINE MAN OF THE APACHES, which appeared in the annual report of the Bureau of Ethnology for 1887 and 1888.
The magazine editor deleted what evidently appeared to him tiresome descriptions of Indian customs, such as burial ceremonies and the decoration of the bodies of medicine men, but as there is not a great of this and I believe that it is all based on good authority, it should be permitted to remain."